Paper Jams and Self-Discovery
Margaret, the main character in Nathan Alan Davis' Origin Story, works at the Services Corporation by day, where she provides services. By night, Margaret works at The Burg, where she provides burgers to drive-thru customers. She also doesn't know who her birth parents are. She's an ethnically ambiguous woman stuck between two artificial, corporate worlds, struggling to find her place. What perfect fodder for a comedy!
When Margaret begins a relationship with a new team member in the Services Corporation's HR department, she begins to take stock of the human resources in her life, learning that finding and building her family are integral to writing her own origin story. Throughout the play, she's accompanied by an ensemble of endearing characters who are each searching for their own direction. Conversations about the unique complexities of their lives, as they muddle through their days and nights in their respective corporate worlds, offer up surprising existential insights and turns of events.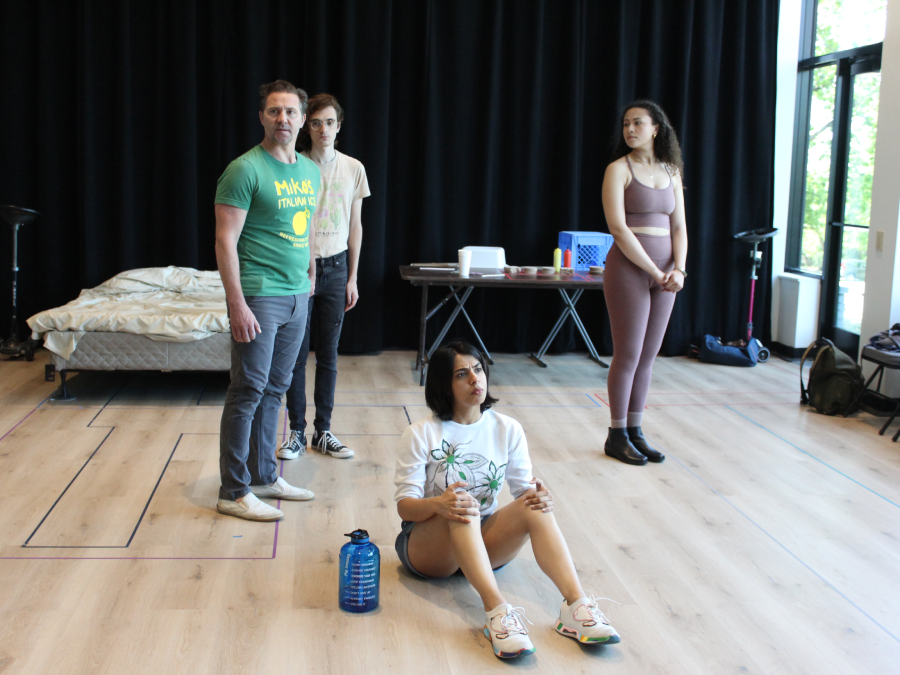 (From left to right) Josh Odor (Dex), Michael Lepore (Bobby), Shonita Joshi (Anita) and Amira Danan (Margaret) in rehearsal for Origin Story.
This laugh-out-loud play is one of two world premieres debuting this season at the Playhouse, and it's written by one of the nation's hottest playwrights. In 2018, Davis was named one of the "Black Male Writers for Our Time" by The New York Times Style Magazine. The acclaimed list honored men who are "producing literature that's essential to how we understand our country and its place in the world right now." In 2023 alone, he has world premieres of three new plays debuting across the country: Eternal Life Part 1 in Philadelphia, The High Ground in Washington D.C. and, of course, Origin Story here in Cincinnati.
Although Origin Story is premiering this year, various versions of the script have been in development since 2016. The play had numerous workshops and readings where Davis had the opportunity to hear the play read aloud and receive feedback from actors and directors. One director of a 2021 reading at The Road Theatre Company in North Hollywood loved the play so much, she wanted to see it produced. Fortunately for us, that director was Joanie Schultz, Playhouse Associate Artistic Director.
Schultz is no stranger to developing new work. She says, "The favorite work of my career has been working from conception to production with a playwright. [It's] an honor and a creative joy that only comes along once in a while."
Her approach to directing is perfect for creative exploration of what a brand new play could look and sound like. Of her directing ethos, she explains, "I try to be collaborative, straight-forward, trustworthy, respectful and sensitive. I try to be intuitive and articulate, and to lead with an open heart and a clear vision. I try to bring out the best in my collaborators and listen to the information they each bring to the project… I think the process is as important as the product when it comes to making theatre."
(From left to right) Piper N. Davis (Assistant Director) and Joanie Schultz (Director) in rehearsal for Origin Story.
Here's an illustrative simile: Like how a blueprint is a representation of what a building will look like in space, the script serves as an instruction manual for eventual performance. For brand new plays, there's no model that already exists of what the play could look or sound like. The atmosphere fostered by Schultz in the rehearsal room allows for the potential that exists on the page to be actualized in its full glory on the stage.
The resulting world of the play, aided in no small part by Chelsea M. Warren's clever scenic design, is eerily, unnaturally corporate. It's the perfect container for Margaret's existential crisis. How does she find meaning in her life? Will she ever find a place where she belongs in the world? Does she have a greater purpose than to be the copy machine whisperer? It might just take stepping outside of the corporate world for Margaret to find her answers.
Origin Story makes its world premiere in the Rosenthal Shelterhouse Theatre May 20 through June 25.
Cover photo of Amira Danan for Origin Story by Tony Arrasmith/Arrasmith & Associates.