A Theatre for Everyone
The Playhouse is for everyone, and we recognize that some of our patrons may have special needs. We offer several services to these patrons including:
• Infrared sound enhancement system in the Marx Theatre and a Hearing Loop System in the Rosenthal Shelterhouse Theatre

• Large print programs
• Wheelchair accessibility to both theatres and all public areas
• Audio-described and signed performances (listed below)


Funding for this program is provided by: The Manuel D. and Rhoda Mayerson Foundation and Bartlett Wealth Management.
Box Office
513-421-3888
800-582-3208 (Toll Free)
513-345-2248 (Telecommunication Device for the Deaf)
Patrons who are deaf, hard-of-hearing, deafblind or speech disabled:
Dial 711 to connect to our Box Office at 513-421-3888 via Ohio Relay services.
HOURS BY PHONE:
Monday: Noon – 5 p.m.
Tuesday - Saturday: Noon – 8 p.m.
Sunday: Noon – 2:30 p.m.
Audio-Described and Signed Performances

Audio-Described Performances
The Playhouse was the first theatre in Ohio to offer regularly scheduled audio description for the visually impaired. Trained volunteers describe the visual elements of the production via a closed-circuit receiver that is approximately the size of a deck of cards and fits in a jacket pocket or on the lap. A small earpiece fits into one ear, allowing patrons to hear dialogue, music and other sound effects. The description is timed to avoid interfering with dialogue. Before the show and during intermission, show and actor information are shared.
This service is free and generally is offered on the third Saturday of each production in the Marx Theatre. See dates below. A receiver, and instruction in its use, can be found at the Manuel D. and Rhoda Mayerson Foundation patron services booth in the Rosenthal Plaza. Subscriptions for the audio-described series are also available.
Please check back for the 22-23 season dates!

Signed Performances
Each Marx Theatre production is generally signed on the third Sunday of the show's run. Funding for this program is made possible by Bartlett Wealth Management. Subscriptions for the signed performance series are also available.
Please check back for the 22-23 season dates!
Where should I sit?
The interpreter stands toward the bottom of aisle 5. If you select a seat in aisle 2 or 3, you can face both the interpreter and the stage at the same time.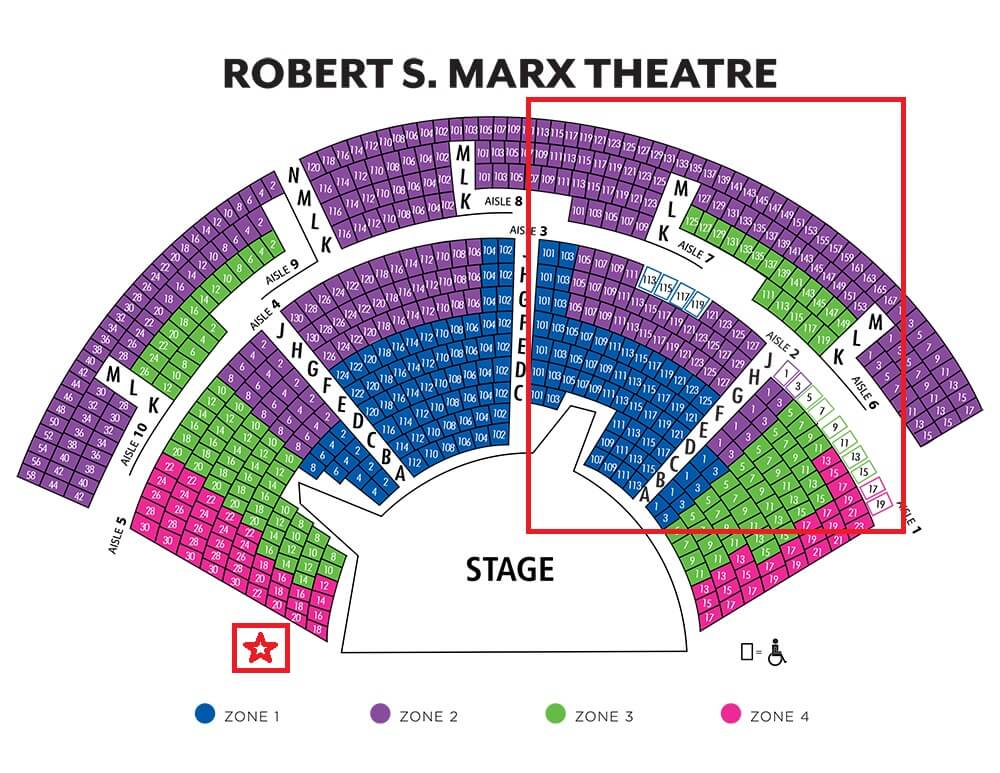 Hearing Enhancement System

The volume of any performance in the Marx Theatre can be raised thanks to Telex infrared assisted listening systems. This service is free and uses the same technology used for audio description in the Marx Theatre. Receivers can be picked up from a House Manager once inside the theatre.
We are excited to share that the Rosenthal Shelterhouse Theatre now has a Hearing Loop System! This system sends the production's audio from an overhead microphone on stage (or from a performer's microphone) directly into a hearing aid or cochlear implant. The system strives to provide a clearer, cleaner sound and does not require a headset, as it works with the T-Coil or Telecoil that many hearing aids come equipped with. A T-Coil is a tiny wireless receiver inside many hearing aids and is accessible via the programming button or switch on your aid. If you have never used your T-Coil, it is recommended that you consult your audiologist to confirm it has been activated and to learn how to access it. If you cannot access your T-Coil or do not have hearing aids, please ask one of our House Managers for a Loop Receiver which you can use to receive the system at the performance.
We are dedicated to providing the best service possible to our audience members. If you need further help, we would be happy to speak with your audiologist and assist in any way we can.
Accessible Parking

Parking for those with disabilities is located in front of the main entrance, as well as in the Playhouse parking garage. Parking for persons with disabilities is limited and must be reserved and paid for in advance. All vehicles using these spaces must display a valid disability placard. Wheelchair seating in the theatres is subject to availability and should be requested at the time of ticket reservation.

Facility Accessibility

The Playhouse is fully equipped to accommodate patrons with mobility impairments in both theatres. A curbside drop-off area offers direct access to the street level Box Office, lobby and elevator to the theatre level.
Telecommunication Device for the Deaf
We are proud to partner with

Ohio Relay

– a free service for patrons who are deaf, hard of hearing, deafblind, or speech disabled to call using relay services. Dial 711 and ask to call the Playhouse's Box Office at 513-421-3888.
How to Connect:
• Dial 711 to connect with a relay operator.
• Give the relay operator our Box Office phone number: 513-421-3888.
• The relay operator will then dial the Box Office.
• The relay operator will relay the conversation between you and a member of our Patron Services staff.
Photo credits: Bruce Cromer and Nick Rose in A Christmas Carol; Photo by Mikki Schaffner. Promotional photos by Tony Arrasmith/Arrasmith & Associates. The cast of A Christmas Carol; Photo by Mikki Schaffner.