One Night on a College Campus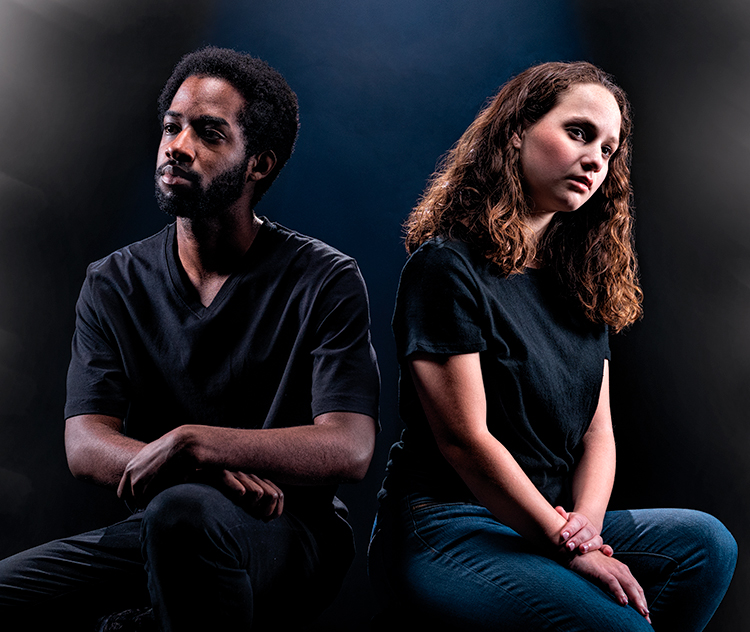 In an interview with American Theatre magazine, playwright Anna Ziegler says, "I'm often drawn to stories that examine the nature of 'the truth,' in which multiple perspectives reveal the impossibility of a single definitive version of events." Through richly drawn characters and poetic prose, Ziegler unpacks complex themes and ideas with honesty and a deep sense of humanity. So compelling is Ziegler's approach that the New York Times writes, "She is fair-minded and philosophical… reluctant to prefer one argument when she can see the virtue in another." In Actually, a play that investigates a sexual misconduct case on a college campus, this perspective has never been more potent.
Actually is a provocative drama that finds two college students, Amber and Tom, navigating tricky conversations about consent, gender and race. It's their freshman year at Princeton University, and they're starting to buckle under the weight of everyone's expectations. They party heavily to cope with mounting pressures until one shared evening of flirting and drinking ends in a sexual encounter that may or may not have been consensual. Before either of them can fully grasp what actually happened, they're swept up in nerve-rattling university judicial process that changes the course of both their lives.
The play received its world premiere in 2017, and it played off-Broadway at Manhattan Theatre Club just a few months afterward. It has since been produced at nearly a dozen theatres around the country, eliciting thoughtfully written critical praise along the way for its inescapable timeliness and fair-minded treatment.
"Actually's great strength, and its great heartbreak, is that it allows us to see both Amber and Tom so fully," New York Magazine writes. "There is brightness in this play, and in these people, and to see its sparks overwhelmed by such fearful and familiar shadows is shattering. In moments, it's even revelatory."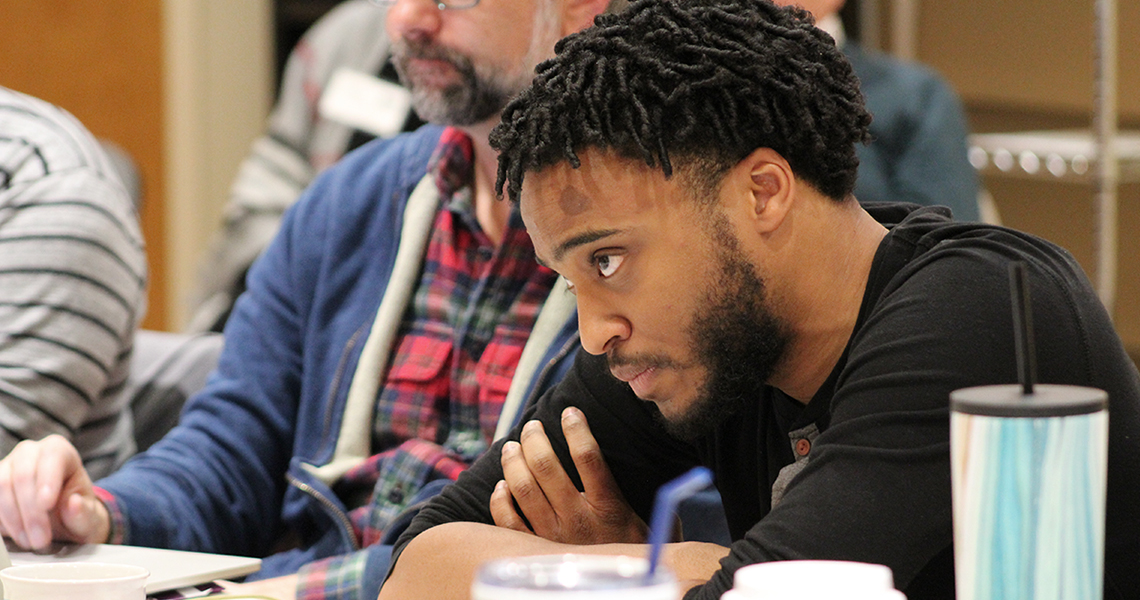 Tyler Fauntleroy (Tom) at the first rehearsal table read for Actually.

Although Actually takes place at Princeton, it's not hard to imagine it taking place at almost any American college at this moment in time. It draws a gripping narrative out the real-life precariousness of university administrations handling sexual assault cases as Title IX violations, either in addition to or outside of the courtroom. Between the years 2011 and 2016, Title IX policies and requirements changed dramatically for federally funded colleges, prompting heated discussions (and, in many cases, protests) of campus safety, power-based crimes and problematic social cultures. Additionally, Actually was written and published as rhetoric of the "Me Too" movement swept across society and high-profile cases of sexual misconduct dominated news media.
Ziegler calls the backdrop of Actually "hugely important" yet also "beside the point." She writes in an author's note, "The play, to me, not only holds up a mirror to a certain moment in time... but also hopefully speaks to a larger and more timeless question about who we are as men and as women and what forces drive our actions."
Answers to that timeless question can be found in characters Amber and Tom. Not only do they each share their perspective of the evening in question, but they also share intimate details of their lives up to that point. Many of these details reveal how they view the world and how the world treats them in return; Amber is a Jewish woman, and Tom is an African-American man. Between key scenes of the evening at the center of the story, they communicate their stories by directly addressing the audience. "In some ways, I've been on trial my entire life," Tom confesses in his first direct address. Later, Amber reflects, "I realize it's my default state: this zone of wanting something and not wanting it at the same time."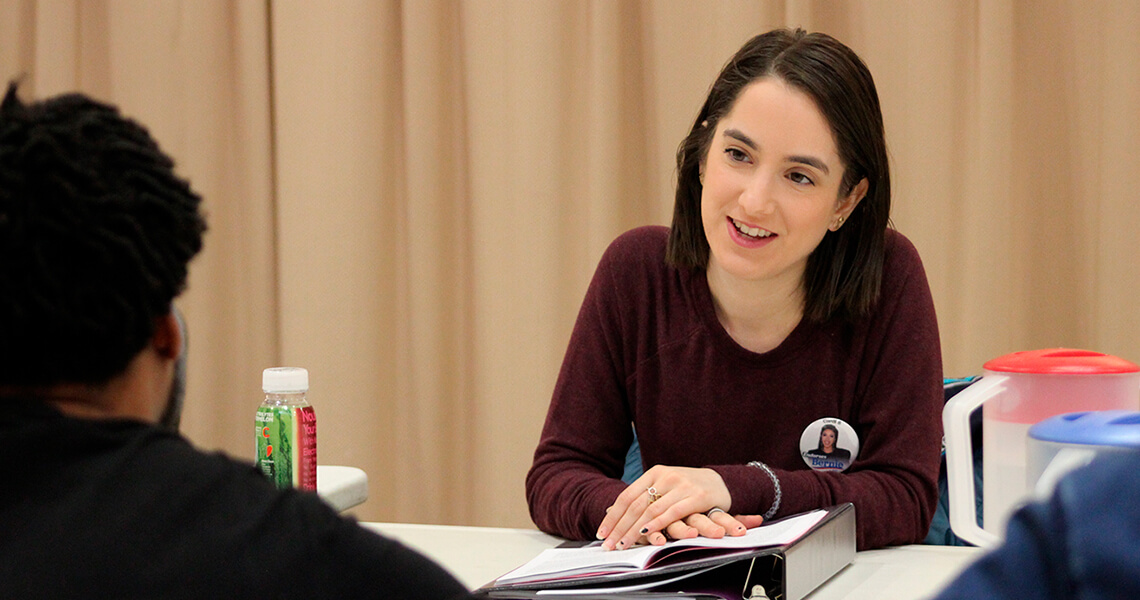 Remy Zaken (Amber) with Tyler Fauntleroy (Tom) at the first rehearsal table read for Actually.

By showing Amber and Tom working through their fears and uncertainties onstage, Ziegler echoes a generation of young adults who are grappling with discussions of sexual violence and its intersections with gender and race.
"More than anything, I was interested in these two characters and in investigating what led each to the moment in question — how society and personality converge to create a combustible mix of self-doubt and the desire to fit in, and how, as a result, good people can end up compromising themselves and others," Ziegler explains to American Theatre.
Actually is directed by Cincinnati-based theatre director Bridget Leak. She has worked frequently with local theatres to stage productions that address the subject of sexual violence, including a show titled Slut Shaming. That story is about how small-town communities further victimize survivors of assault. It was named The Artists' Pick of the 2014 Cincinnati Fringe Festival and has been produced by Xavier University twice.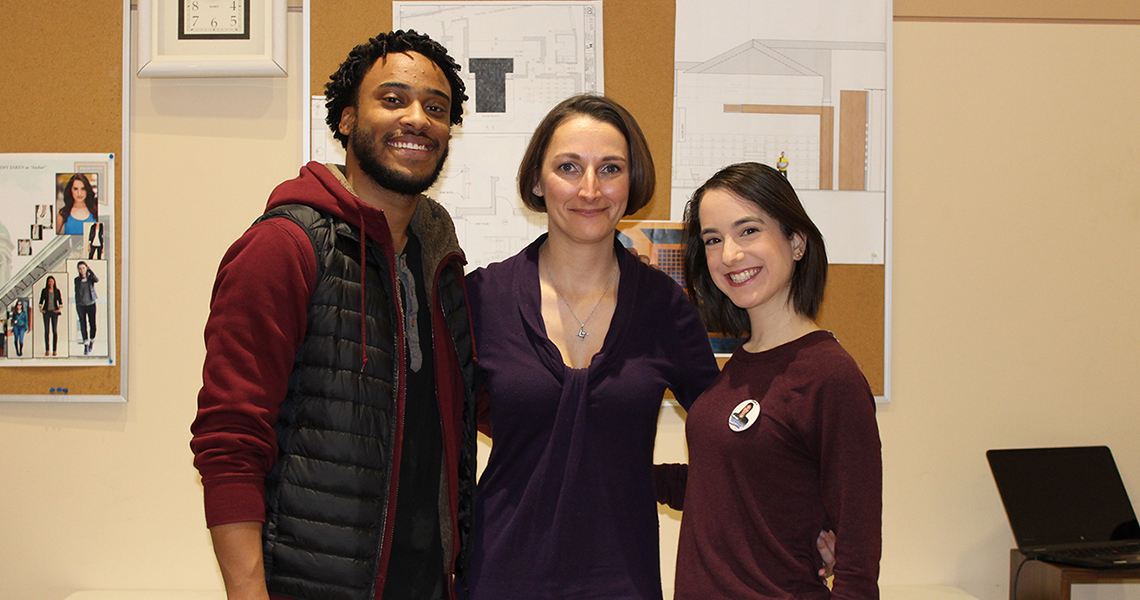 Tyler Fauntleroy (Tom), Director Bridget Leak and Remy Zaken (Amber) at the meet and greet for Actually.


On her approach to Actually, Leak says, "It is about achieving that perfect balance, making sure that each side is heard evenly, even though the audience is walking in with their own experiences and biases towards gender, race and sexual consent." Leak also describes how, for better or for worse, there are "too many resources available" about this topic between news stories, exposés and firsthand accounts. She's referencing various memoirs about racial identity and nonfiction books about sexual violence.
Ultimately, she says she's relying on the richness of Ziegler's text to guide her. After all, it's a script that critics have remarked on in great detail. Broadway World calls it "penetrating and harrowing." The Toronto Star describes it as "bold and sympathetic." The Washington Post says it is "openhearted and intellectually curious." And The Journal Inquirer writes, "When you decide who was telling the truth, the important question isn't who is right, but why did you choose that person? That is what makes Actually so important… This is what great theatre does: It challenges our view of not only the world but of ourselves."
To learn more about the Playhouse's production of Actually, visit our production detail page.