5 Questions With R. Ward Duffy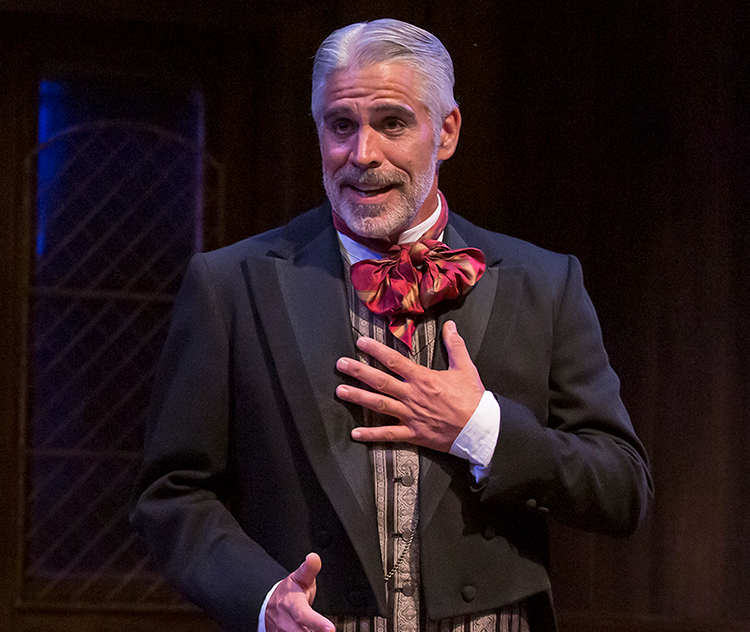 Ward plays Jeremiah/Dr. Jerome Dupont in Jennifer Blackmer's adaptation of Margaret Atwood's Alias Grace, directed by Blake Robison.
Ward is overjoyed to be returning to the Playhouse for his eighth production, having previously appeared in To Kill a Mockingbird, Speaking in Tongues, Othello, The Understudy, A Flea in Her Ear, The Caine Mutiny Court Martial and A Christmas Carol. In New York, Ward has appeared at Manhattan Theater Club, Lincoln Center, New Dramatists and the Cherry Lane Theatre, among others. Regional credits include Admissions, As Bees in Honey Drown and Twelve Angry Men (Repertory Theatre Of St. Louis); As You Like It, The Three Musketeers and One Flew Over The Cuckoo's Nest (Pioneer Theatre Company); Good People, The Other Place and Race (TheaterWorks Hartford); True West (Banyan Theater Company); The Immigrant (George Street Playhouse); as well as productions for the Missouri, Indiana, Asolo and Merrimack Repertory theaters and Portland Center Stage and The Old Globe. Television and film credits include Madame Secretary, Blindspot, Blue Bloods, Shades of Blue, Law & Order: Criminal Intent and SVU, Last Ferry, You Can't Have It All and the upcoming Diamonds and Rust. He lives in New York City with his wife, actress Henny Russell, and their dog, Bailey.
---
How long have you been acting and where did you receive your training?
I did my first play in kindergarten: Noah's Ark. The title role. Said role consisted of starting the two songs that comprised the entirety of the play. I started the same song twice. I heard that the afternoon kindergarten Noah didn't make that mistake but he was, otherwise, a thoroughly pedestrian Noah.
I got my Actors' Equity card 31 years ago in my second year of grad school at the Florida State University/Asolo Conservatory for Actor Training. I received my MFA in Acting from the Asolo after graduating from Siena College with a BA in English.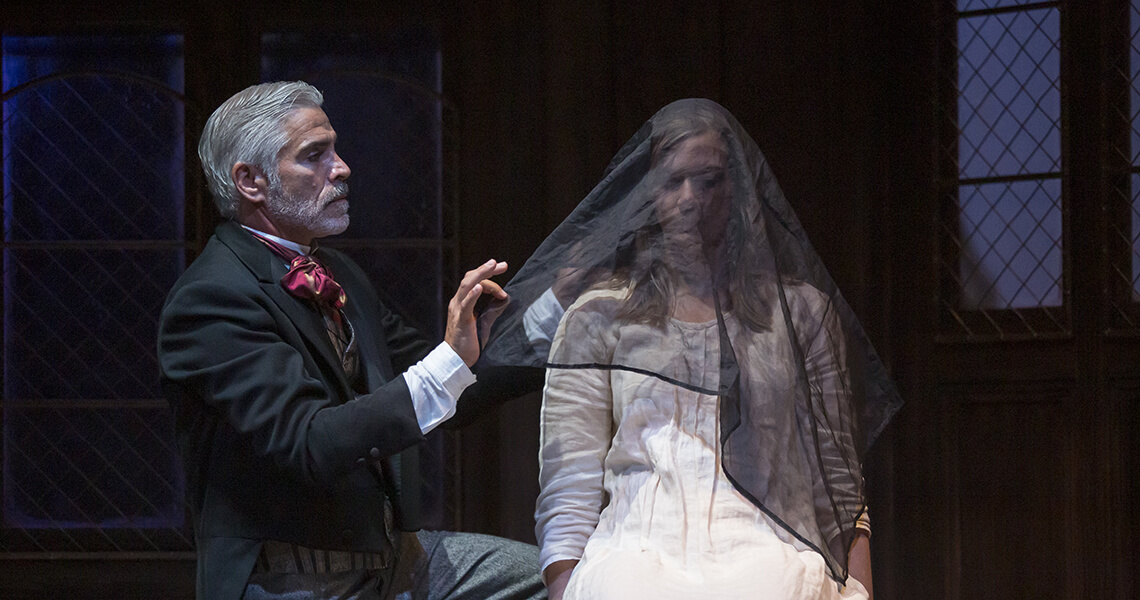 R. Ward Duffy (Dr. Jerome Dupont) and Caroline Hewitt (Grace Marks) in Margaret Atwood's Alias Grace. Photo by Mikki Schaffner.

When did you know you wanted to be an actor and what's your favorite part of the job?
I don't think I was sure I wanted to be an actor until I was one. Despite my inauspicious beginnings, I acted all through high school and college. But I also played baseball and football and rugby and basketball. I would get bored very quickly doing just one thing. I was an English major at Siena because it was one of the few subjects that didn't bore me — it came easily to me, and they said I had to pick something if I wanted to play baseball. But baseball became a job with fall ball and winter workouts and spring ball, and I missed football and acting. So, I played rugby, which wasn't nearly as demanding on my time, and did plays and was going to take the LSATs and go to law school when I graduated. Then my father died out of the blue the spring of my junior year. I was the youngest of four and the last one in the house, and going into debt to go to law school at that moment in time didn't seem to me the thing to do. My theatre teacher at Siena, Mark Heckler, suggested I should do the University Resident Theatre Association auditions for grad school. I did them and got offers to go to grad school for free for a couple of years.
So, new plan: Go to grad school for acting for a couple of years for free, then go to law school. Because everyone knows you can't make a living as an actor. But a funny thing happened at the Asolo. It's a regional theatre not unlike the Playhouse, and we as students were working with the professionals that were jobbed in for shows. And most of these professionals didn't have two nickels to rub together but… they were happy. They loved what they did to pay the bills. They loved coming to work each day. And they were good people. And then I pictured myself in 10 years if I went to law school and wanting to do a sailor's dive out a 10-story window in a real expensive suit (nothing against lawyers — my family is thick with them – just different strokes for different folks). Acting seemed the better choice.
Favorite parts of the job are many. The people you get to work with are, as a rule, wonderful human beings. It's an un-masterable task and therefore always challenging. I get to ponder (and I love to ponder) for endless hours the work of people much smarter than myself who are asking questions about what it is to be human. Politicians give us answers, religions give us answers — the best theatre gives us great questions. And I get to dump those questions into the laps of a new group of people every night.
What is your all-time favorite role you've performed and why?
Just one, huh? That's not easy… No, I can't say just one because it's not true. There isn't one. There are many. Iago in Othello (which I had the pleasure of doing in the Shelterhouse Theatre one of the times I played him) is one of them because of the complexity of the character and the amount of work demanded. The 1,300 lines of verse isn't that hard — it's the 13,000 choices to be made because it's Shakespeare and he gives you 10 valid options for almost every line. The 1,300 lines are the tip of the iceberg seen above water; the 90 percent of the iceberg's mass under the water is the work that goes into those 1,300 lines.
Jamie in Long Day's Journey Into Night because of how it captures the New England souls I grew up with. Ditto for Mike in Good People. I've done that play four times, and although it may make my agent insane, I'll say yes to the next one, too. McMurphy in One Flew Over the Cuckoo's Nest is fun just because of the amount of raw energy the character demands. Lee in True West was a blast. And of course, right now, if I had to pick just one… it'd be Jeremiah.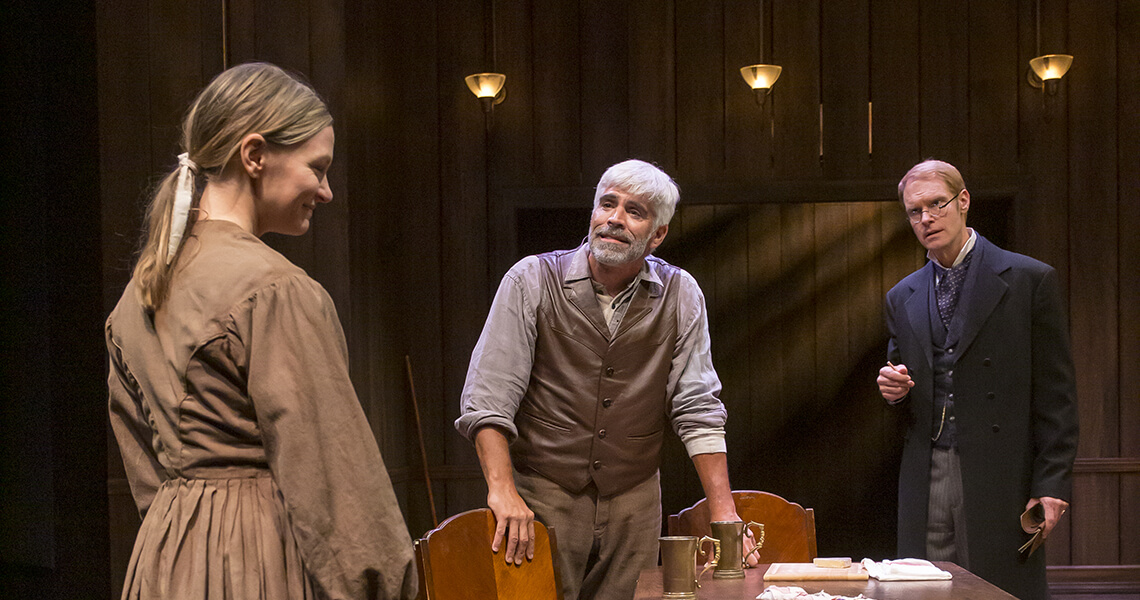 Caroline Hewitt (Grace Marks), R. Ward Duffy (Jeremiah) and Grant Goodman (Simon Jordan) in Margaret Atwood's Alias Grace. Photo by Mikki Schaffner.

What role have you been dying to play?

I don't have any single role that pops to mind. Partly because of self-care, I think (I don't generally spend a lot of time thinking about what I don't have), but also because I really fall in love with the characters as I work on them. That being said, I think I'd enjoy George in Who's Afraid Of Virginia Woolf?; Tyrone, and in some years Hogan, in Moon For The Misbegotten; a Falstaff; anybody in Glengarry Glenross.
What has been the most interesting part of working on Alias Grace so far?
Watching and working on how a great story is translated to a different medium. Jennifer did a masterful job with the play, retaining the truth and essence of the novel. And this required, at times, to thoroughly create anew in order to faithfully bring that truth onto the stage. One would think it is a seemingly straightforward proposition, but it isn't. At times, it's like asking, "What's the sound Van Gogh's 'Starry Night' makes?" Or, "What's the color of Rodin's Thinker?" The creativity required and delivered has been astonishing. All the designers' work required that level of creativity. And Blake's staging has done the same — bold choices and images that are wholly new yet thoroughly of the truth and essence of Alias Grace. And the same goes for the actors and their choices. How do I capture the essence of what might have been paragraphs of description about a character and translate that to the action of the stage? It's been fascinating and a joy.
---
To learn more about the Playhouse's production of Margaret Atwood's Alias Grace, visit our production detail page.
Pictured at top: R. Ward Duffy in Margaret Atwood's Alias Grace. Photo by Mikki Schaffner.