Embracing New Rehearsal Techniques in ALIAS GRACE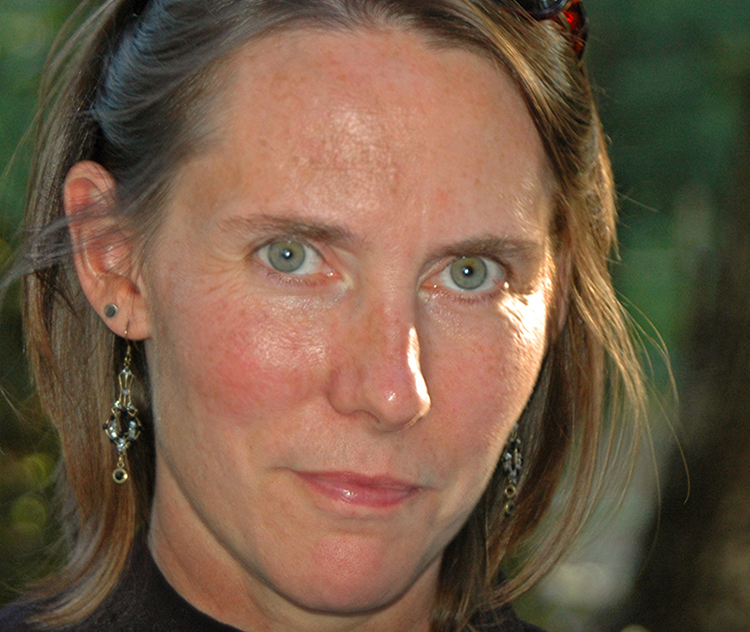 Margaret Atwood's Alias Grace follows Grace Marks, who, at 16, is accused of murdering her employer and his lover — but she claims to have no memory of it. After the arrival of psychologist Simon Jordan, who is determined to unlock her memories, Grace recounts what she can of the events leading up to the double homicide. What unfolds is a tightly wound tale about a woman who is determined to define her own reality while others (both men and women) impose their own perspectives and judgment upon her. To best portray the complex dynamics of Grace's relationships, Director Blake Robison brought in Movement and Intimacy Coach Casey Sams to work with the cast and production team on the play's most physically demanding scenes — many of which involve intimate moments between characters.
"I think any time you have intimate moments that need to be portrayed onstage, you have to do that with a great deal of care and respect for the actors," says Robison. "You have to create a safe environment in which everybody can execute the physical moves that are needed to tell the story but do so in a way that's repeatable and in a way that the actors feel safe and cared for."
That's where Sams comes in. As Movement and Intimacy Coach, she's responsible for overseeing the comfort and safety of the actors during such scenes onstage while also staging physical action that supports the vision of the director and playwright.
"My job is to make sure that both of those needs are being met all of the time, that one side isn't being compromised," explains Sams, "and to make sure that all of the actors are one-hundred-percent on board with what they're being asked to do for their character and themselves as people."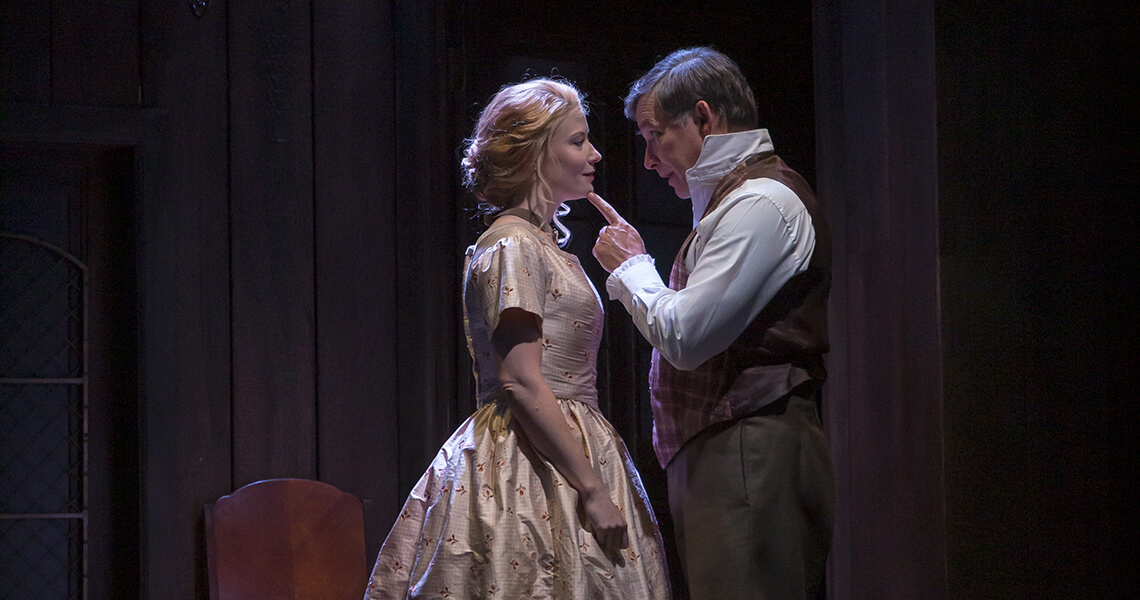 Tess Talbot and Nick Rose in Margaret Atwood's Alias Grace. Photo by Mikki Schaffner.

The role of intimacy coach is relatively new in the theatre industry. While movement and fight coordinators have long been hired to stage moments of physical action, there hadn't been an established space for choreographing intimate moments until recently.
"For forever, it seems, we've brought in specialists to deal with moments of violence onstage because they have the potential to hurt somebody. Intimacy is the exact same way," says Sams. "We may not accidentally wound someone with a knife, but we still have the potential to hurt them emotionally, mentally or even physically."
Partially influenced by the "me too" movement, more and more theatre artists have been expressing a need to work in environments that prioritize safe, respectful and equitable dynamics between actors, directors and production teams. Sams explains that, often times, actors do not express their personal discomfort or concern while rehearsing an intimate or sexual moment because they don't want to cause tension with their professional peers, and they don't want to be viewed as difficult to work with by the directors and theatres who hire them.
In response to this need, recently founded organizations like Theatrical Intimacy Education, Intimacy Directors International and The Guide to Stage Intimacy offer resources and training to artists and production professionals in theatre, as well as film and television. Their efforts have influenced many like-minded professionals while educating folks in each respective industry who are new to the approach. Last year, HBO announced that all scenes involving sex and intimacy would be overseen by Intimacy Directors International co-founder Alicia Rodis. Following suit, SAG-AFTRA announced this past summer that they would standardize a set of guidelines for intimacy coordinators.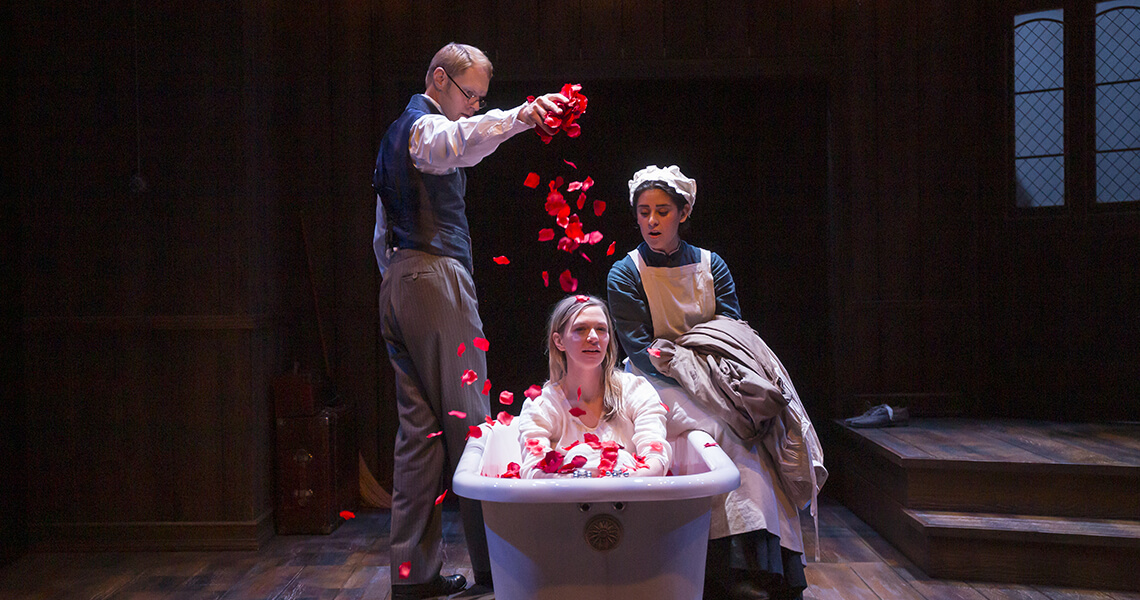 Grant Goodman, Caroline Hewitt and Andrea San Miguel in Margaret Atwood's Alias Grace. Photo by Mikki Schaffner.

Robison embraces the direction of the role: "Now, in this day and age, we've come to understand that having a person who focuses solely on intimacy makes an enormous difference in people's comfort level and in creating that safe environment where everybody can do their best work."
Says Sams, "It's a relatively recent thing that we're more sensitive to the fact that everybody who comes into the rehearsal room has lived a life that has, at one point or another, had some kind of difficult situation or trauma, and we want to try our best to be respectful of the history that they bring into the room."
Sams has been working as a theatre director, choreographer and movement coach for over 25 years. She began training as an intimacy coach with Theatrical Intimacy Education last year. Her process includes pre-production work to identify which moments in the script may require her expertise. She then begins working with the actors by establishing an environment where each person's boundaries are clarified and respected, and where consent is always asked for before a physical action. She also works with the actors to develop "placeholder vocabulary" to use while rehearsing a scene before working on any intimacy that may be involved.
Robison has worked with Sams on numerous productions over the years. Their most recent collaboration was Sams' role as Movement Coach in the Playhouse's production of Peter and the Starcatcher in 2015. Sams says the production of Alias Grace has been "tremendously rewarding." Given the story's themes of gender-based inequality, she adds, "It's really satisfying to know that the actors don't feel like that in the rehearsal room. They're leaving rehearsal knowing that their work is being valued and that the tone of the play isn't leaking into their personal lives."
---
To learn more about the Playhouse's production of Margaret Atwood's Alias Grace, visit our production detail page.
Pictured at top: R. Ward Duffy and Caroline Hewitt.