Becoming Grace: A Q&A With Caroline Hewitt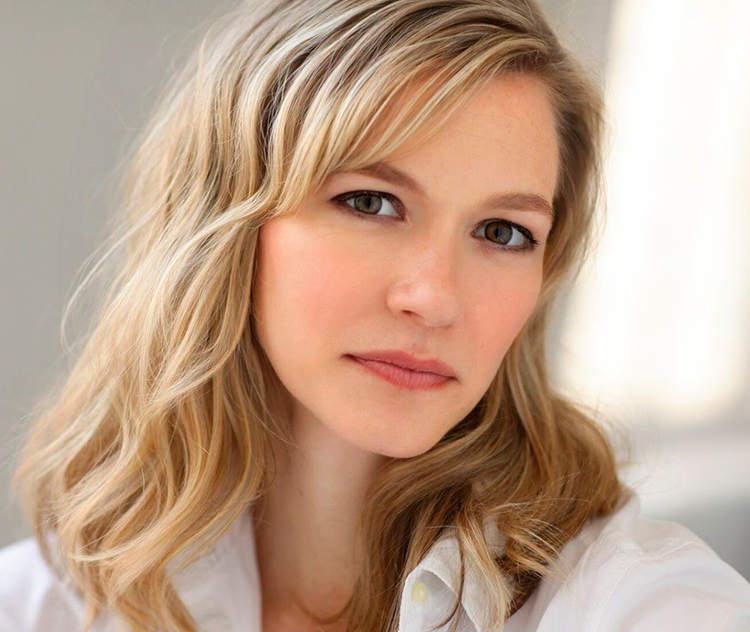 Caroline plays Grace Marks in Margaret Atwood's Alias Grace.
Caroline is pleased to be making her Cincinnati Playhouse in the Park debut. Her Broadway credits include Junk and The Front Page. Off-Broadway credits include Lazarus (New York Theater Workshop and King's Cross Theater in London), Tamburlaine (Theater for a New Audience), Against the Hillside and Good Results… (Ensemble Studio Theater). Regionally, Caroline has worked at Arena Stage, The Alley Theater, Baltimore Center Stage, American Conservatory Theater and many others. She has appeared on television in Ava Duvernay's mini-series When They See Us, and in New Amsterdam and The Blacklist. She will be in the upcoming Netflix series The I-Land. She holds an MFA in Acting from the American Conservatory Theater and a BA in French from Vassar College. Caroline adapts novels into plays, and she will be one of four actors in her adaptation of Howard's End, which receives its world premiere at Portland Center Stage in the spring of 2020. She is currently adapting Edith Wharton's The House of Mirth into a play for five actors.
---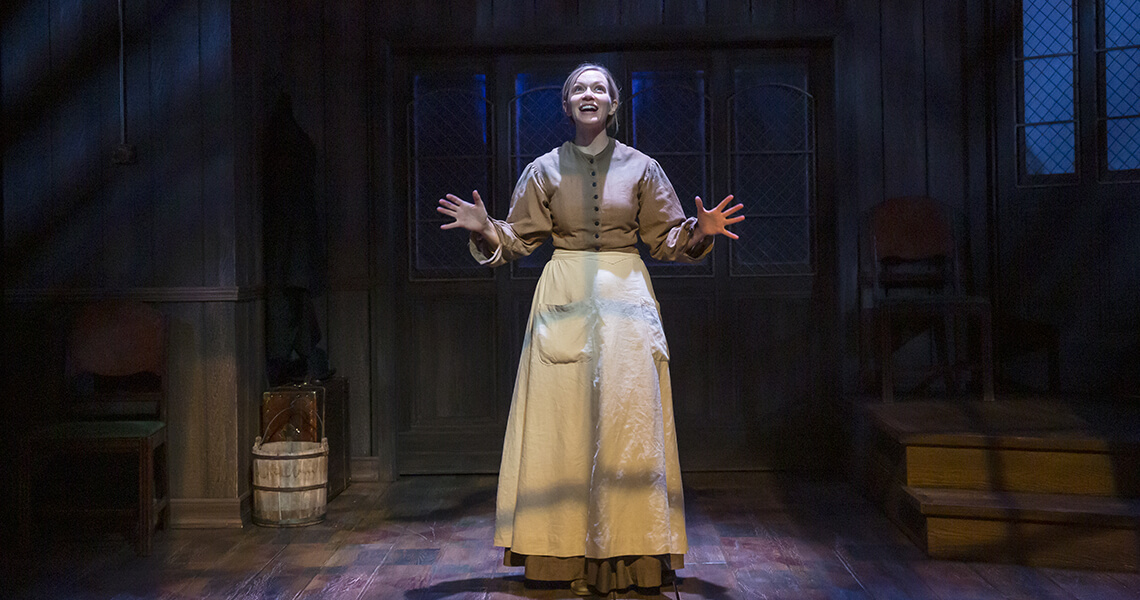 Caroline Hewitt (Grace Marks) in Alias Grace. Photo by Mikki Schaffner.

Grace Marks is an incredibly complex character who has many layers to her personality. When you first read the script and began rehearsals for the play, what was your initial interpretation of her? How has that interpretation evolved since then?

My initial interpretation was that she is a woman whose experience and truth have been flattened by the pressures around her. She has had to hide parts of herself and has been forced to confront the ways that other people see her, without having a voice to respond to those interpretations of who she is. The play does an amazing job of allowing her moments of finding her voice and others when she must hide it to survive.
My interpretation has become more complex: I have enjoyed mining her moments of joy, fear, love and excitement in the memories she recounts and also in the present. While I still feel she has been pressed into a margin by those around her, I am enjoying exploring the ways she fights to keep who she is alive within the small space she is allowed.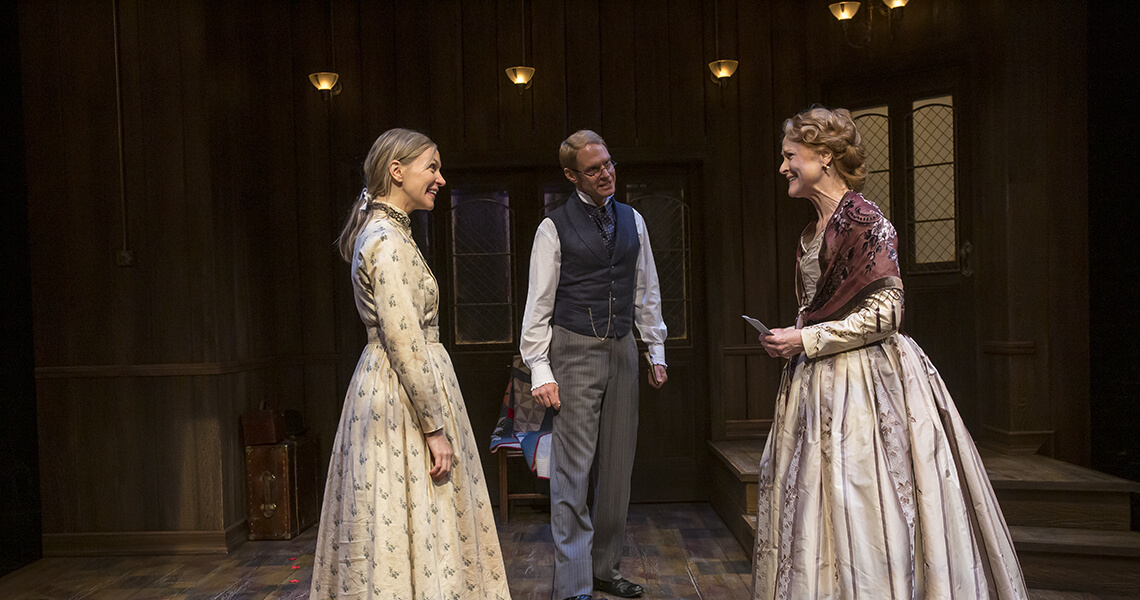 Caroline Hewitt (Grace Marks), Grant Goodman (Simon Jordan) and Annie Fitzpatrick (Mrs. Rachel Lavell) in Alias Grace. Photo by Mikki Schaffner.

Playwright Jennifer Blackmer has remarked how Margaret Atwood's characters are "riddled with inconsistencies and ambiguity." She also remarked that these traits make "wonderful vehicles for actors." In what ways do the characters' complexities affect your approach as a performer?

Yes! That's a great way of putting it. I think in many kinds of storytelling, and often in life as well, there is a feeling that people have to conform to the way their personality or experience dictates: Certainly, I like to find a through-line for "who my character is," but what's really exciting is that most people are deeply inconsistent. The character is a person with dimension, not just a streamlined idea. In short, I don't worry about "justifying" the inconsistencies — I embrace them because they are what make characters (and people!) human.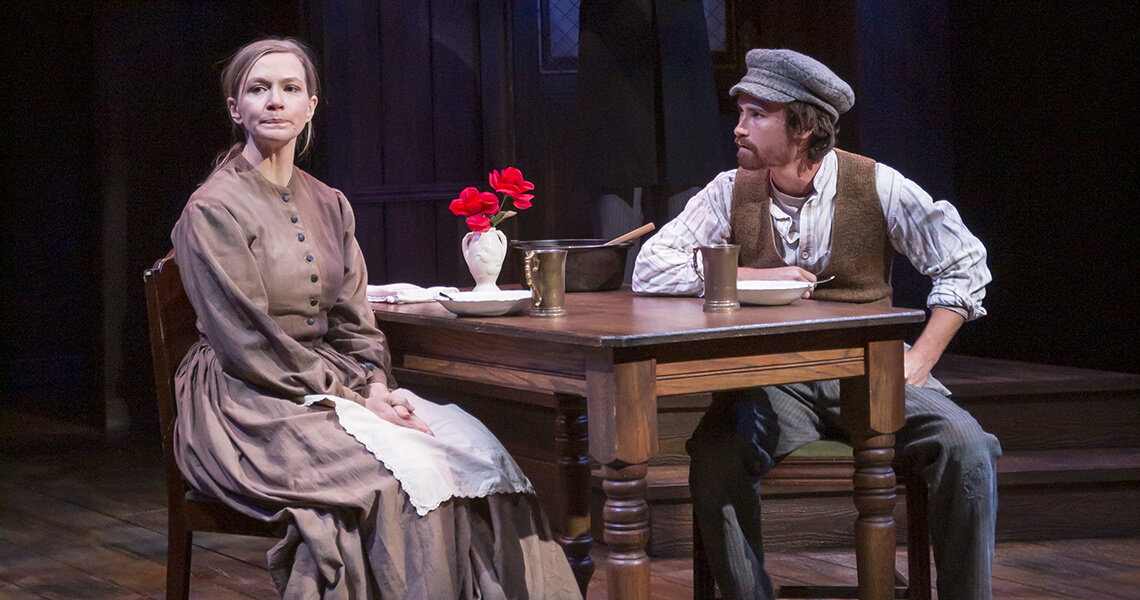 Caroline Hewitt (Grace Marks) and Damien Boykin (James McDermott) in Alias Grace. Photo by Mikki Schaffner.

In a 1996 interview about the novel, Atwood said what intrigued her about the tale of Grace and James McDermott was the way public opinion was universally agreed upon for the man, but that public opinion was split about the woman: Either she "instigated it all" or she was an "innocent victim." Where do you find your personal opinion landing about Grace?

Oh man, I'm actually hesitant to say because I don't want my opinion to affect other peoples' interpretations! What the audience thinks is more important than what I think. That said, I believe that part of my work as an actor is finding deep compassion for each character I play. Grace is trying to survive despite the assumptions that others attach to her. I agree with what Atwood is implying: The truth is almost always more complicated than a simple binary of "victim" or "perpetrator."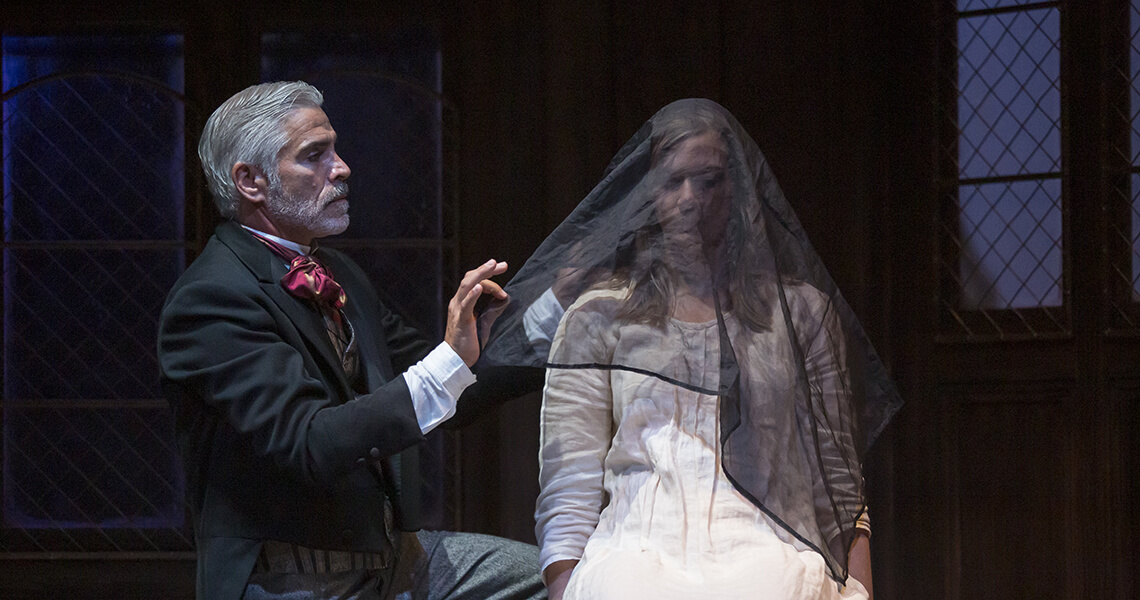 R. Ward Duffy (Jerome DuPont) and Caroline Hewitt (Grace Marks) in Alias Grace. Photo by Mikki Schaffner.

Director Blake Robison has said that what makes Grace powerful is her determination to live on her own terms, despite the many different narratives that have been imposed upon her. He also added, "You don't need a sociology degree to draw the line to modern times." As the actor who embodies Grace in this production, how do you think her story resonates with audiences today?

I hope audiences are able to reflect on their own impulse to label Grace a "victim" or a "perpetrator." And I really hope they understand that she, like each of us, is complicated. There are many moments in the text (what we might now call "micro-aggressions") that our production highlights, and larger moments of injustice toward the women and servants in the play. Our society is just beginning to have conversations about the power imbalances that women and minorities have been experiencing for hundreds of years (if not longer!). Playing the role, these struggles are at the forefront of my mind — I hope they resonate with audiences as well.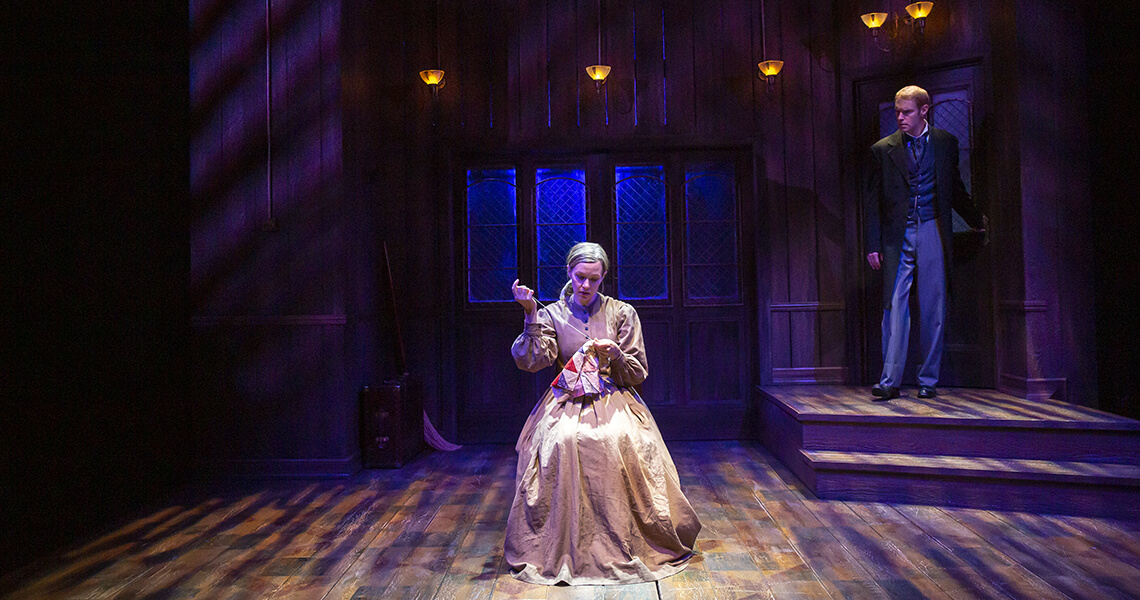 Caroline Hewitt (Grace Marks) and Grant Goodman (Simon Jordan) in Alias Grace. Photo by Mikki Schaffner.

The play features a tightly wound mystery plot with rich language and dialogue. Grace, in particular, unravels much of the plot through her interviews with Simon and the memories she describes. Do you have a particular line (or scene) that you look forward to delivering the most in each performance?

There is a sequence in the middle of the second act that is very long — Grant Goodman, who plays Simon Jordan, and I are on stage through many small scenes for about 30 pages (in fact Grant is on for much longer — all of act two without a break!). It is difficult: The other actors do a brilliant job bringing their energy into each bit of the scene, and Grant and I worked with Blake carefully to create the momentum that powers us through this arc into the last part of the play. At first, I dreaded this stretch of the show: The words need to come quite quickly and precisely, and there are so many sharp emotional twists and turns, and a lot of moments that are of similar tone but different meaning and value. But after performing it for a couple of weeks, now I love the challenge: It's like getting on a roller coaster and trying to recite a poem — thrilling and hard!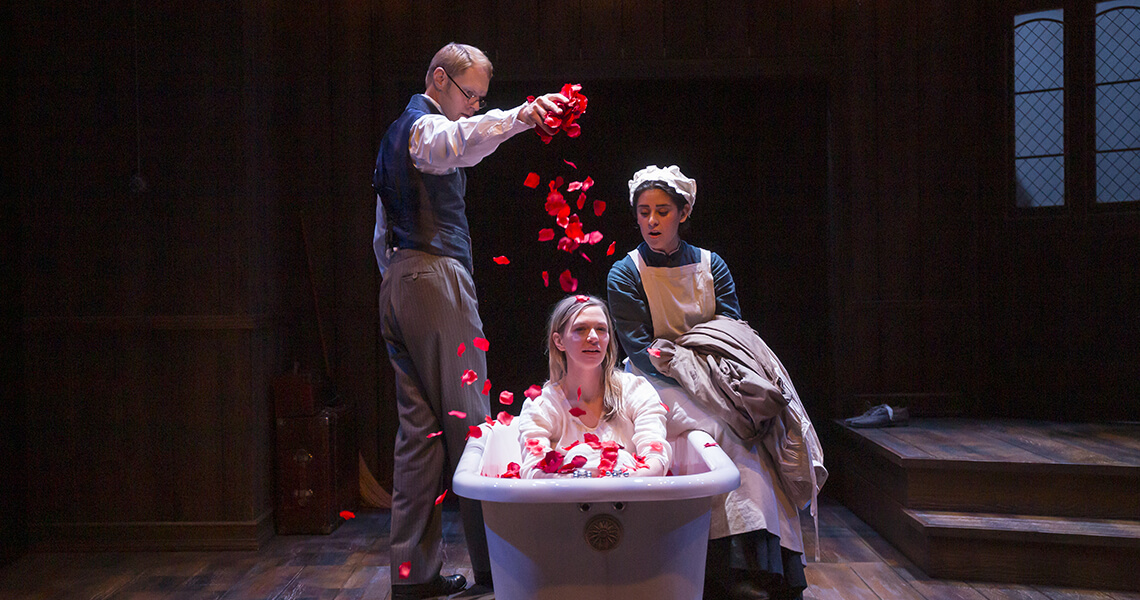 Grant Goodman (Simon Jordan), Caroline Hewitt (Grace Marks) and Andrea San Miguel in Alias Grace. Photo by Mikki Schaffner.

What do you feel has been the most interesting part of performing in this show?

People's reactions to the questions the play raises have been interesting. I've been surprised by how many people want a clearly defined answer to exactly what happened. Jennifer, the playwright, does a beautiful job leaving the audience with questions. That has been one really satisfying element of playing Grace: Many versions of her truth are possible. It's been interesting to notice when people aren't comfortable not knowing. Grace has a line about it: "People want a guilty person. They don't like not knowing." Maybe at some level, answers are more satisfying than questions.
---
To learn more about the Playhouse's production of Margaret Atwood's Alias Grace, visit our production detail page.