A Whip-Smart Comedy of Conflict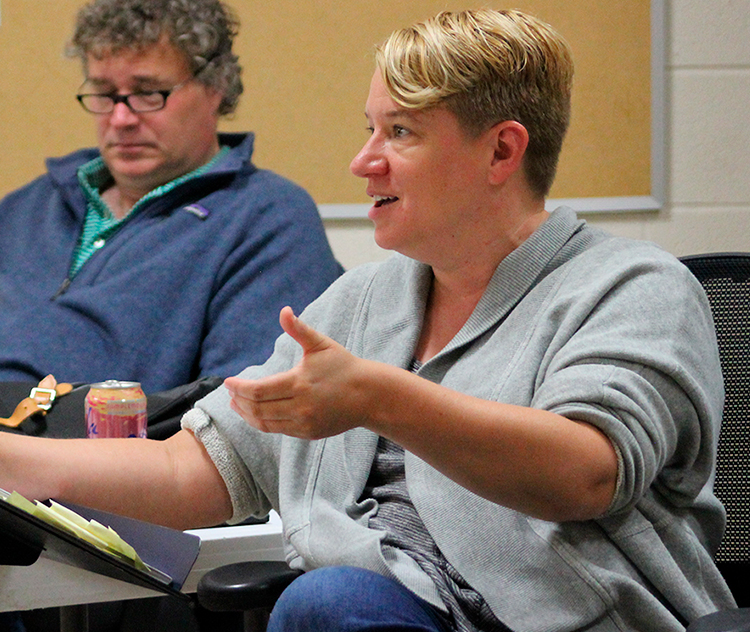 Director Wendy C. Goldberg delivers her perspective on The Lifespan of a Fact.
Wendy is an Associate Artist with Cincinnati Playhouse in the Park, where she has directed Doubt, Durango, Leveling Up and Circle Mirror Transformation. She also serves as the Artistic Director of the National Playwrights Conference, where she leads the National Directors Fellowship program at the Eugene O'Neill Theater Center. Her directing credits include multiple productions at the Goodman Theatre, Guthrie Theater, Actors Theater of Louisville, Denver Center for the Performing Arts, Papermill Playhouse, Philadelphia Theater Company and Arena Stage, where she was the Artistic Associate from 2000-2005. Wendy was a performance director of Rockstar Game's worldwide phenomenon, Red Dead Redemption. Wendy served on the Executive Board of Stage Directors and Choreographers Society for 13 years and is President of TheFrontOffice — an entertainment development company specializing in cross over content from theatre to digital platforms. She holds a Master's of Fine Arts from UCLA's School of Theater, Film and Television. For more information please contact thefrontoffice@icloud.com.
---
The Lifespan of a Fact finds three characters on equal footing throughout the story between editor Emily Penrose, fact-checker Jim Fingal and author John D'Agata. How would you describe each of these characters and their relationship to one another?
They are each trying to do their job very well. However, their styles and ideals collide. The piece examines what happens in the alchemy between art and journalism and the process of artistic creation and journalistic expression. They are all intertwined within the same mission, to get the article "right" and in on deadline.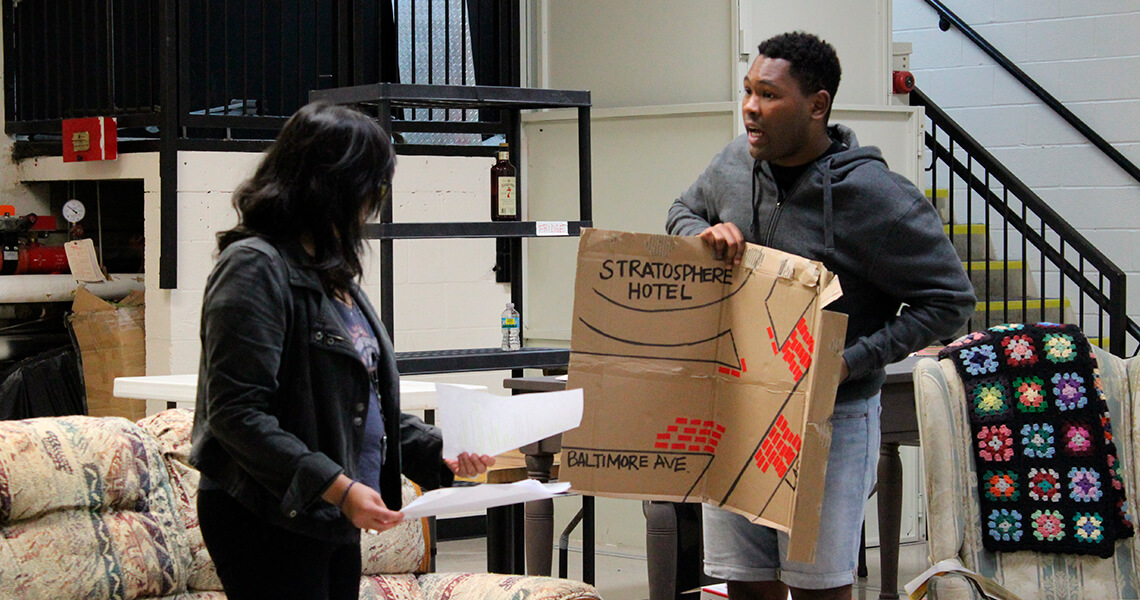 Kate Rigg (Emily Penrose) and JuCoby Johnson (Jim Fingal) in rehearsal for The Lifespan of a Fact.

The script is a fast-paced one-act that's full of verbal tête-à-têtes and whip-smart, blistering comedy. What features and characteristics did you specifically look for when casting the roles of Emily, Jim and John in this production?
As a director who is responsible for telling a new version of this story — amongst the first post- Broadway productions of the play — I'm always looking for a new angle inside what was landed on for the initial production. In the original, all the characters were white, so my first order of business was to try to create a world (our world actually) that embraces diversity, and you'll see that reflected immediately in the actors in this world. However, this play isn't about race. It's about status, truth and how we perceive and understand truths. I needed strong actors who could fully embody their characters and play the fast-paced nature of it — that could commit to the pursuits of their higher truths with great skill and wonderful comic timing. Also, when it's just three people, you want good humans in the room. JuCoby, Kate and David are those people.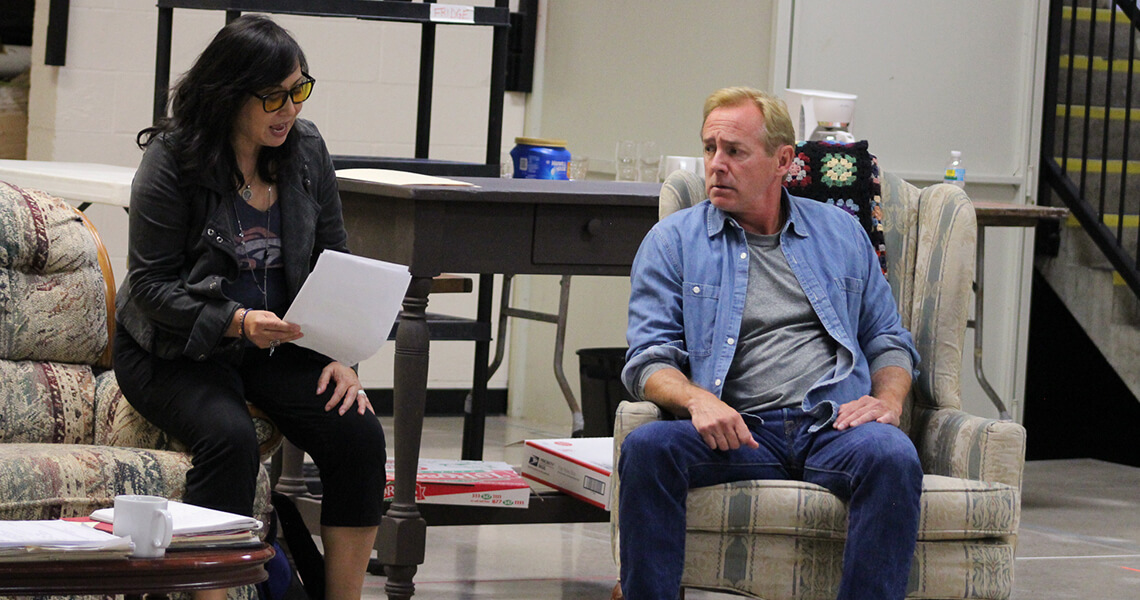 Kate Rigg (Emily Penrose) and David Whalen (John D'Agata) in rehearsal for The Lifespan of a Fact.

While there is comedy written throughout, The Lifespan of a Fact still addresses mature and sensitive topics that are mainly present in D'Agata's essay. As the director, how do you balance the comedy with more dramatic moments?
It's all in the timing and work with the actors to fully invest in the material and to help orchestrate the moment-to-moment work. As a director who loves actors, I enjoy helping to shape stories collaboratively and yet have that both inside/ outside perspective on the story itself to shape it.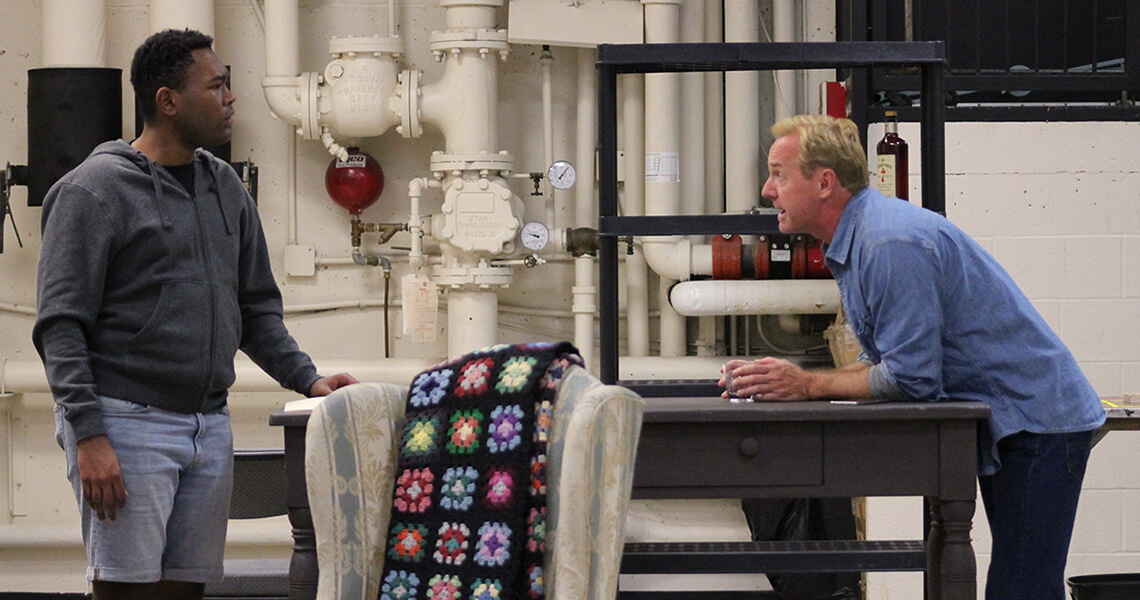 JuCoby Johnson (Jim Fingal) and David Whalen (John D'Agata) in rehearsal for The Lifespan of a Fact.

Many reviews of The Lifespan of a Fact call it timely and culturally relevant. An article by the theatre non-profit TDF says the show "sounds like it was written about where we are right now," even though it "was inspired by reallife events that predate Twitter." In your opinion, what aspects of the story especially resonate today?
I think we are living in a time where we are told the facts are fake and that truth is somehow subjective at all times. So, the central conflict and views in the piece feel like they are issues we are wrestling with in our current culture.
---
To learn more about the Playhouse's production of The Lifespan of a Fact, presented by Moe & Jack Rouse and Randolph Wadsworth, visit our production detail page.