A Battle of Fact vs. Fiction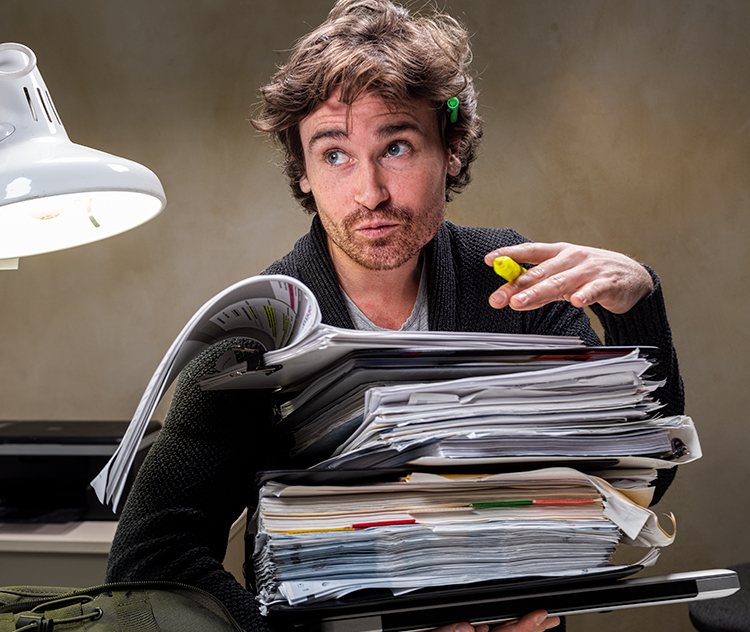 If you open the book The Lifespan of a Fact, you'll see the following quote isolated to a single page: "True words are not beautiful." The quote is credited to the Chinese philosopher Lao-tzu. On the next page, you'll find a second quote, also isolated to a single page and also from Lao-tzu: "Beautiful words are not true." These competing thoughts set up the reader for a heated debate that unfolds across the book's 123 pages and poses a simple question: How negotiable is a fact?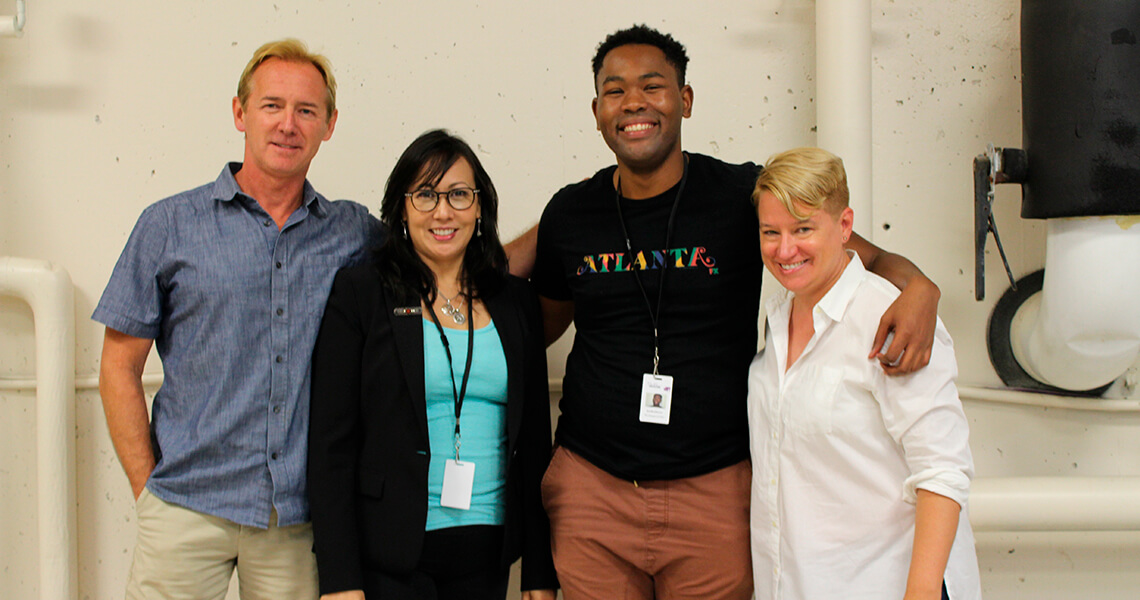 David Whalen (John D'Agata), Kate Rigg (Emily Penrose), JuCoby Johnson (Jim Fingal) and Director Wendy C. Goldberg at the meet and greet for The Lifespan of a Fact, presented by Moe & Jack Rouse and Randolph Wadsworth.

Based on real-life events and people, The Lifespan of a Fact tracks the controversial publication of an essay that was written by acclaimed nonfiction author John D'Agata and fact-checked by Jim Fingal, then an intern at The Believer magazine. The book is cleverly formatted. It includes a first draft of the essay as well as a tense discussion about truth and accuracy — a discussion that's printed in the margins of the text itself, reflecting the extensive conversations that took place between the two men. As Fingal points out factual inaccuracies and problematic embellishments throughout the writing on the page, D'Agata fires back rationale for why he took certain creative liberties. D'Agata is, as he iterates multiple times, an essayist and not a journalist.
Playwrights Jeremy Kareken, David Murrell and Gordon Farrell were inspired to render the book into a play based on how engaging they found the argument of truth to be. They wondered what it would be like to watch the debate play out onstage.
"Audiences do have a tendency to pick sides," Kareken told Queens Courier. "We have a great deal of sympathy for both points of view." He added that another motivating factor was to engage folks in conversation about storytelling and truth.
Costume renderings by Costume Designer Jen Caprio at the meet and greet for The Lifespan of a Fact, presented by Moe & Jack Rouse and Randolph Wadsworth.

The play begins with magazine editor-in-chief Emily Penrose reviewing a draft of D'Agata's essay. Titled "What Happens There," the work of nonfiction covers the suicide of a teenager named Levi Presley and explores the gritty reality of living in modern-day Las Vegas. She pens an email to her staff in the first scene, seeking a fact-checker. "The right volunteer will QUICKLY comb through it for press next Monday," she writes. "Find me your best person. I'll buy them a pack of red pens." The scene then moves swiftly into Emily's first meeting with Jim, whose eagerness to take on the job is more than obvious. But her request — "QUICKLY" — proves to be much more challenging than she thought. The deeper Jim goes into combing the essay, the more unexpected complications and questions of ethics arise between himself and John, between himself and Emily, and eventually between John and Emily. Altogether, the stage is set for the ultimate showdown of fact versus fiction.
This contemporary comedy debuted on Broadway in 2018 and starred Daniel Radcliffe as Jim, Bobby Cannavale as John and Cherry Jones as Emily. Critics flocked to publish their praise: The New York Times hailed it as "terrifically engaging;" the Washington Post called it "a smart, rib-bustingly funny play;" and The Daily Beast remarked, "it is intelligent, thought-provoking and challenging to the audience: the theatrical equivalent of the best kind of fiendish board puzzle or chewy dinner-party topic."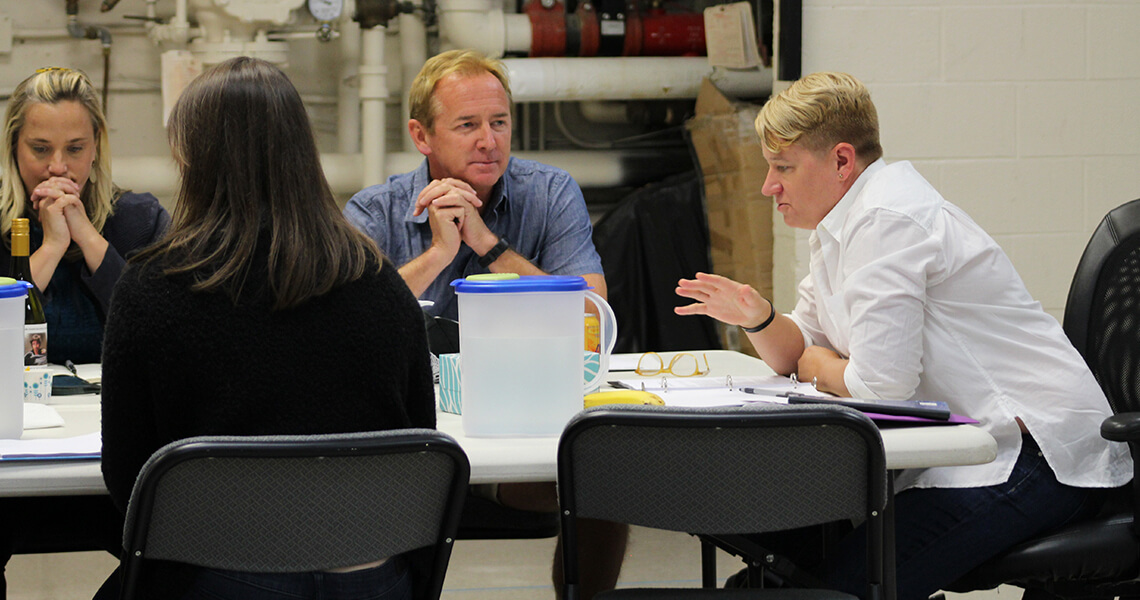 Director Wendy C. Goldberg addresses the cast at the meet and greet for The Lifespan of a Fact, presented by Moe & Jack Rouse and Randolph Wadsworth.

The Playhouse's production is directed by Associate Artist Wendy C. Goldberg, whose work has been seen here in Leveling Up, Circle Mirror Transformation, Durango and Doubt.
"What's great about the play is that you're never quite sure where it's headed," says Goldberg. "It's so well-constructed that the audience never gets ahead of it and never knows where the twists and turns will lead. It's so satisfying in that way!"
Various publications have observed that folks who see The Lifespan of a Fact tend to engage in light sparring matches after the final curtain. One article even printed the headline, "Why does the audience exit this play arguing?" When asked about what she wants Playhouse audiences to experience, Goldberg says, "I am hopeful this production creates a similar response. I do love plays that do not necessarily resolve but rather keep us in a moment of conflict and tension that we then wrestle with beyond the finish of the piece."
Written with lightning-fast pace, The Lifespan of a Fact is a highly engaging comedy that's full of verbal tête-à-têtes that will leave you with plenty to chat about long after you leave the theatre. Promised the Washington Post, "You'll find yourself happy to have your preconceptions disturbed and assumptions unsettled."
---
To learn more about the Playhouse's production of The Lifespan of a Fact, presented by Moe & Jack Rouse and Randolph Wadsworth, visit our production detail page.