Spotlight on Margaret Atwood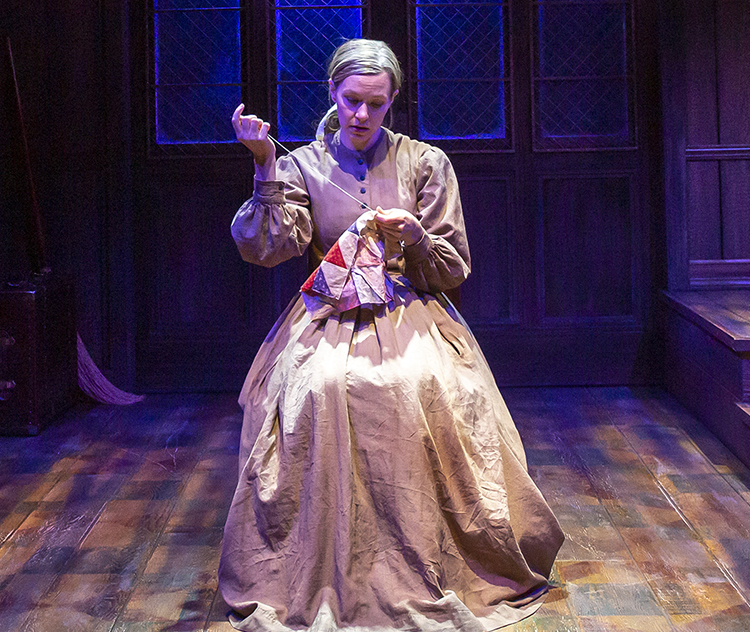 Margaret Atwood is one of the most prolific storytellers of our time with more than 50 titles to her name. She is best known for her blunt, occasionally sardonic, feminist perspective, and for crafting speculative fiction that's inspired by historical events. Common themes in her work include survival, dystopia, religion and women's experiences in the world from Greek mythology to Shakespearean tales to futuristic societies.
In her 1996 novel Alias Grace, Atwood revisits one of the most notorious true crimes in Canadian history. Sixteen-year-old serving maid Grace Marks was accused of murdering her employer and his lover in 1843, and she was imprisoned for life. After serving 15 years in prison, Marks begins meeting psychologist Simon Jordan, who hopes to uncover her memories.
Read more about Atwood's storied life and literary career, and experience the Playhouse's spine-tingling adaptation of Alias Grace in the Rosenthal Shelterhouse Theatre until Oct. 27.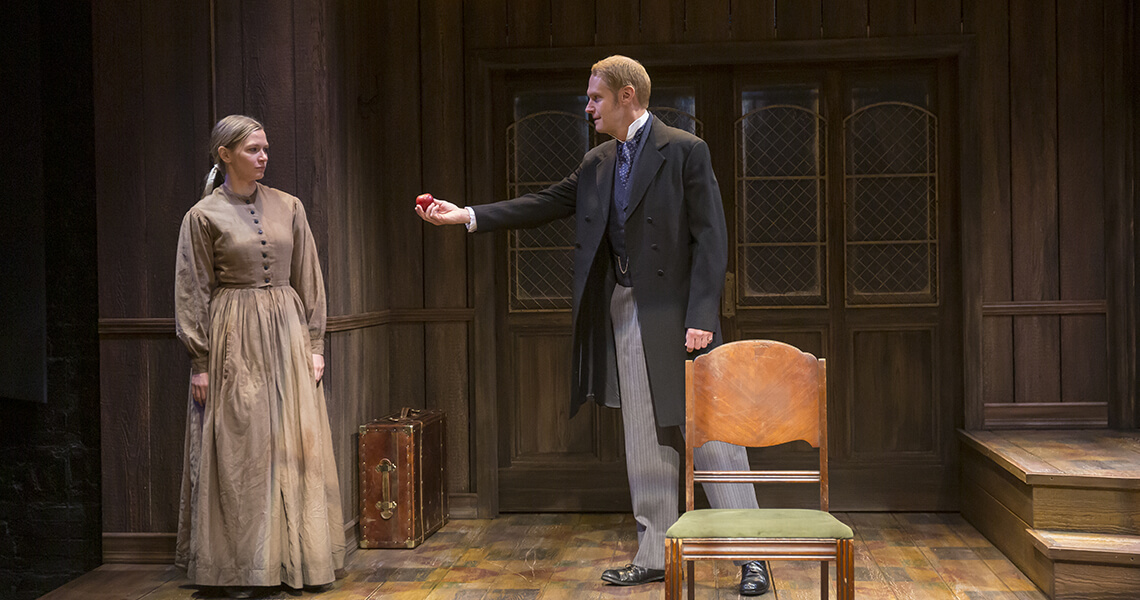 Caroline Hewitt (Grace Marks) and Grant Goodman (Simon Jordan) in Alias Grace. Photo by Mikki Schaffner.

Upbringing and Education
Atwood was born in 1939 and grew up in different regions of Canada, moving between her family's primary residence in Toronto and the northern Canadian wilderness. Her father was an entomologist, and her mother was a dietician and nutritionist. Atwood devoured books as a child — particularly because of her occasional separation from mainstream society — and played imaginative games with her brother to pass the time.
"Of course, children think of anything that happens to them as normal life, so you don't think of yourself as isolated, and I certainly didn't," Atwood said in an interview. "That was just how we lived. So, on the other hand, that meant that I wasn't properly socialized. Other little girls complained of having to wear pink frilly dresses. I longed for a pink frilly dress and just didn't get one! I got overalls."
When Atwood was in high school, she determined that she was going to be a writer, having spent years writing amateur stories and poetry as a child. She attended Victoria College at the University of Toronto and went on to Radcliffe College to earn a master's degree in English Literature. While she attended Radcliffe, she published her first collection of poetry, Double Persephone, in 1961.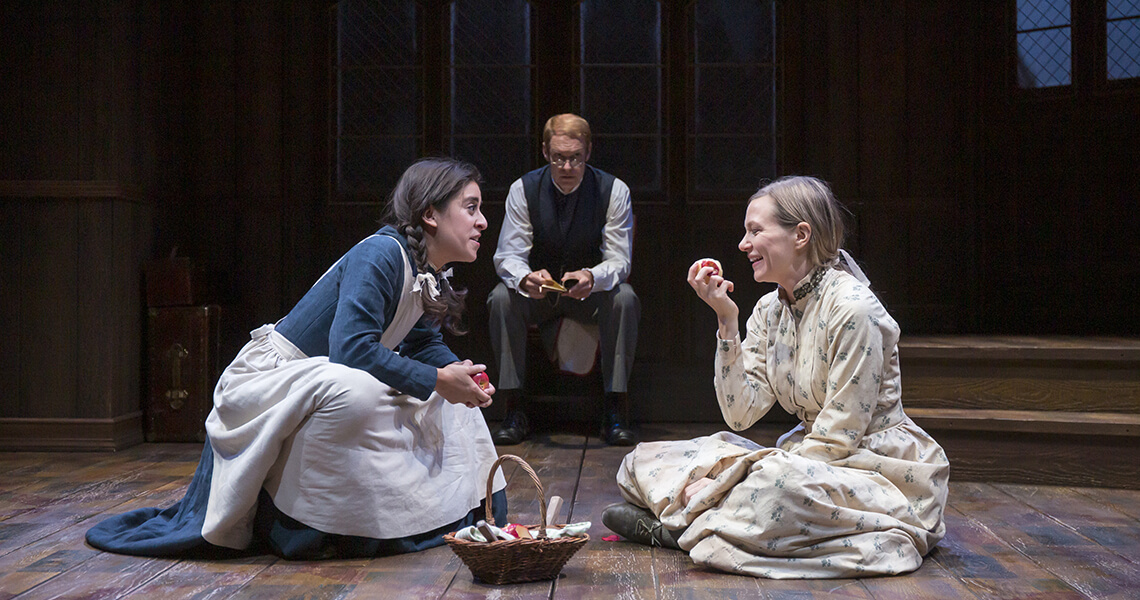 Andrea San Miguel (Mary Whitney), Grant Goodman (Simon Jordan) and Caroline Hewitt (Grace Marks) in Alias Grace. Photo by Mikki Schaffner.

Early Publications
In 1966, Atwood published The Circle Game — a collection of poems that earned her the prestigious Governor General's Award. Two years later, she published another collection of poetry titled The Animals in That Country. Her first novel, The Edible Woman, was published in 1969. The satirical book follows a young woman who crafts consumer surveys at an advertising firm and finds herself taking a radical stand against consuming food. Kirkus Reviews wrote that the novel is "disconcerting, faintly ominous, and moving with the greatest of ease from the expected to the unexpected." Oscillating between poetry and prose, Atwood spent the next few years writing both. She published four poetry collections between 1970 and 1975, as well as her second novel, Surfacing, in 1972. In 1977, she published her first collection of short stories, titled Dancing Girls.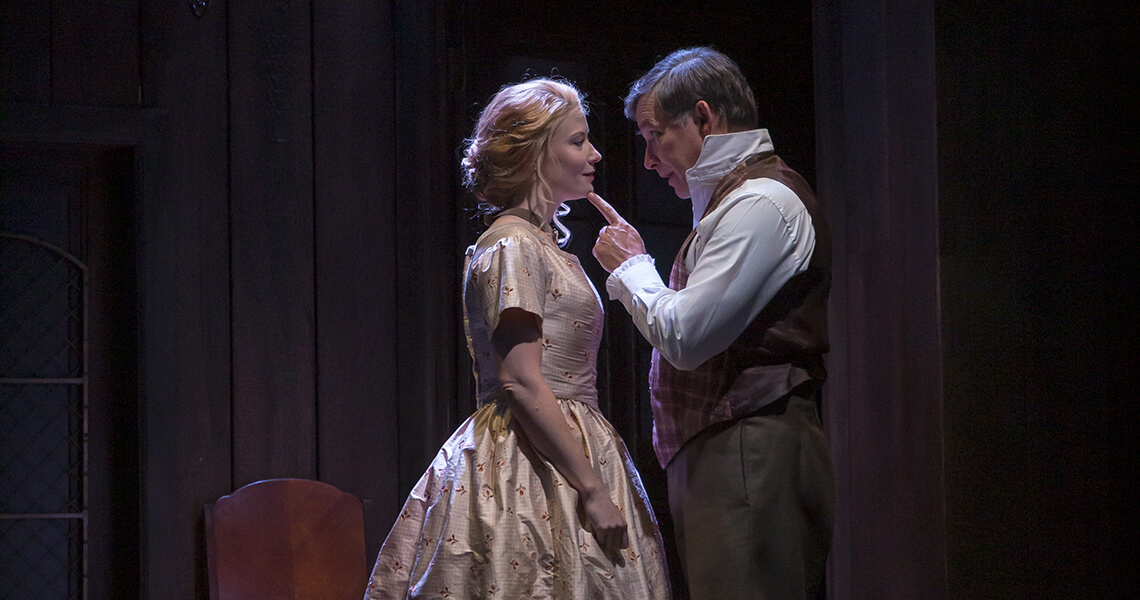 Tess Talbot (Nancy Montgomery) and Nick Rose (Thomas Kinnear) in Alias Grace. Photo by Mikki Schaffner.

Well-known Works
One of Atwood's most well-known works is her 1985 speculative work of fiction, The Handmaid's Tale — a haunting portrait of a dystopian future that takes place in the Republic of Gilead. Due to society's declining birthrates, the republic's theocratic totalitarian party forces fertile women — "handmaids" — to produce children.
In an interview, Atwood described the novel's responses: "It had three different reactions. In the U.K. — who had already had a religious civil war and weren't about to have another one — said, 'Jolly good yarn!' In Canada — a perennially anxious country — they said, 'Could it happen here?' And in the U.S., they said, 'How long have we got?'"
Hulu adapted the novel into a television series in 2017. It has received almost universal critical praise and has won 13 Emmy Awards to date. The New York Times said the series is "a cautionary tale, a story of resistance and a work of impeccable world-building. It is unflinching, vital and scary as hell." The show premiered its third season in June.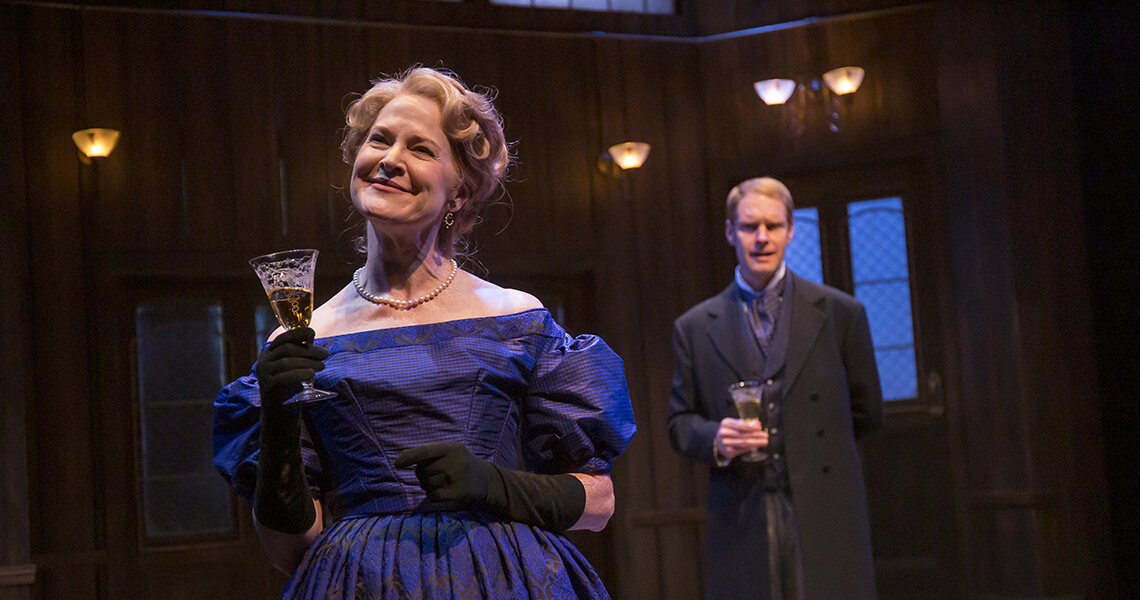 Annie Fitzpatrick (Mrs. Rachel Lavell) and Grant Goodman (Simon Jordan) in Alias Grace. Photo by Mikki Schaffner.

In addition to The Handmaid's Tale, Atwood has written several more works that have received critical praise, awards and adaptations for the screen and stage.
Novels
• Cat's Eye (1988)
• The Robber Bride (1993)
• The Blind Assassin (2000)
• The Penelopiad — The Myth of Penelope and Odysseus (2005)
• The MaddAddam trilogy: Oryx and Crake, The Year of the Flood and MaddAddam (2003 to 2013)
• Hag-Seed – Shakespeare's The Tempest, retold (2016)
• The Testaments – Sequel to The Handmaid's Tale (2019)
Poetry
• Two-Headed Poems (1978)
• True Stories (1981)
• Interlunar (1984)
• Morning in the Burned House (1995)
• The Door (2007)
Short fiction
• Murder in the Dark (1983)
• Bluebeard's Egg (1983)
• Wilderness Tips (1991)
• Good Bones (1992)
• The Tent (2006)
• Moral Disorder (2006)
• Stone Mattress: Nine Tales (2014)
Graphic Novel
• Angel Catbird (2016)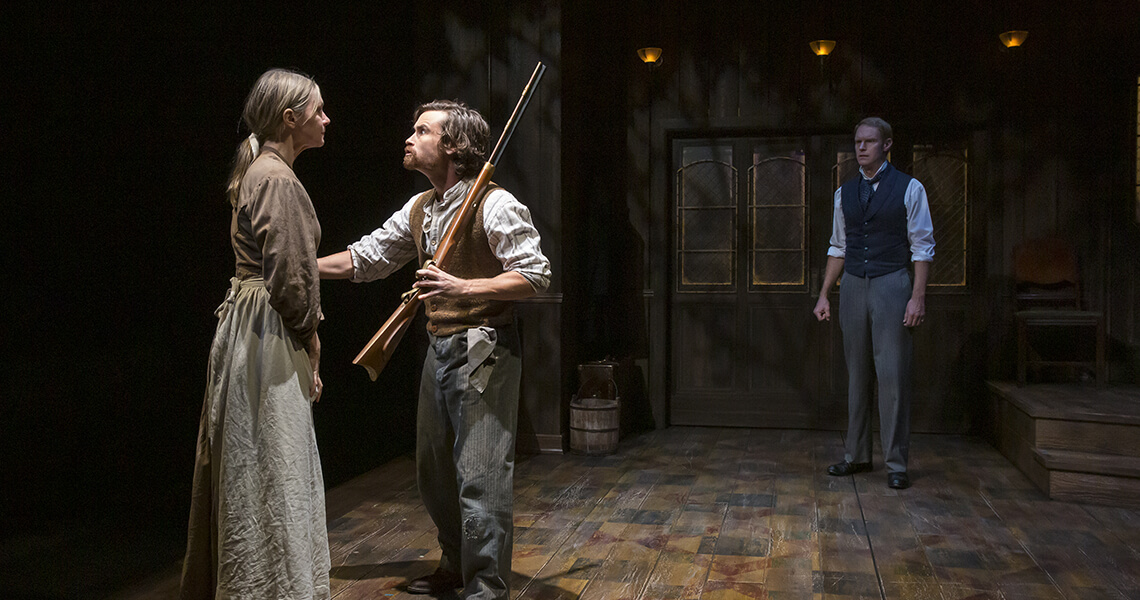 Caroline Hewitt (Grace Marks), Damien Boykin (James McDermott) and Grant Goodman (Simon Jordan) in Alias Grace. Photo by Mikki Schaffner.

Critical Praise
See what critics have written of Atwood over the years.
"Denying Emerson's maxim that the true art of life is to skate well on surfaces, she shows the depths that must be explored if one attempts to live an examined life today." — The New York Times
"It is vividly written, acutely observed and is very possibly the most intelligently tongue-in-cheek novel of the year. It is as good as ever to hear Margaret Atwood's dry, droll, spiky voice." — Salman Rushdie on The Robber Bride
"The Blind Assassin takes Atwood fans to all their favorite places — and ups the ante. This is a dark masterpiece in which tension comes from the sharp juxtaposition of worlds and in which futuristic fantasy interrupts and reflects a disquieting reality." — Salon on The Blind Assassin
"Atwood provides the elements of a walloping good read: suspense, mystery, titillation, and a fully crafted but never ponderous historical milieu." — St. Louis Post-Dispatch
"Atwood takes many trends which exist today and stretches them to their logical and chilling conclusions." — Houston Chronicle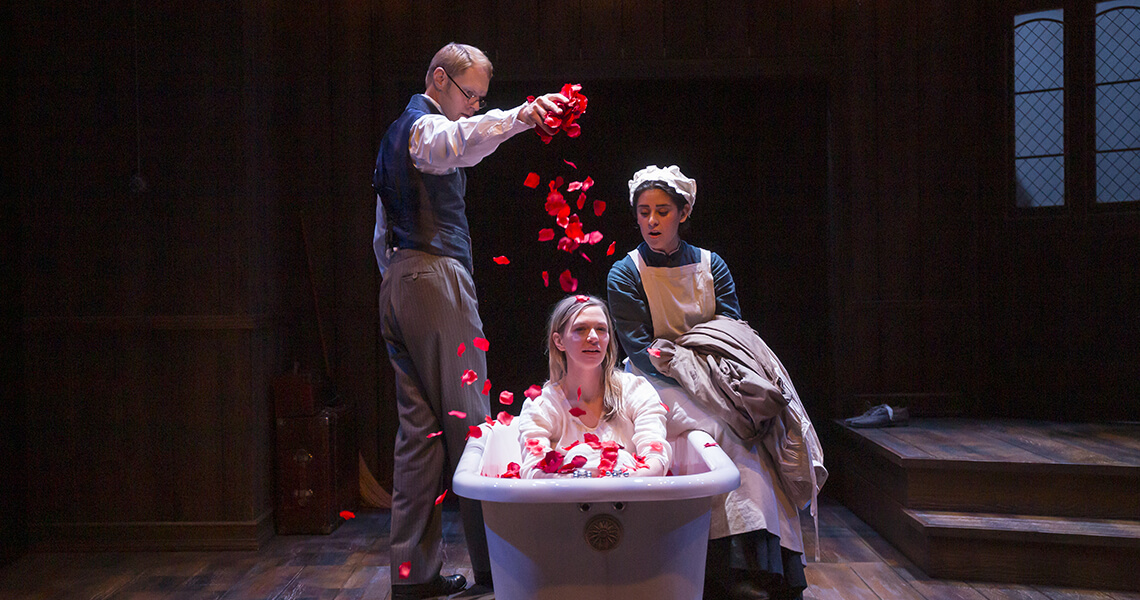 Grant Goodman (Simon Jordan), Caroline Hewitt (Grace Marks) and Andrea San Miguel (Mary Whitney) in Alias Grace. Photo by Mikki Schaffner.

Notable Awards
Throughout her decades-long writing career, Atwood was won numerous awards and recognition from around the world.
• President's Medal, University of Western Ontario (1965)
• The City of Toronto Book Award (1977)
• Governor General's Award (1986 for The Handmaid's Tale)
• Ms. Magazine Woman of the Year (1986)
• Humanist of the Year Award (1987)
• Foundation for the Advancement of Canadian letters (1989 for Cat's Eye)
• Order of Ontario (1990)
• Commemorative Medal for the 125th Anniversary of Canadian Confederation (1992)
• Govern of France's Chevalier dans l'Ordre des Arts et des Lettres (1994)
• National Arts Club Medal of Honor for Literature (1997)
• Booker Prize (2000 for The Blind Assassin)
• Edinburgh's International Book Festival Enlightenment Award (2005)
• Chicago Tribune Literary Prize (2005)
• Kenyon Review Literary Achievement Award (2007)
• Canadian Booksellers' Lifetime Achievement Award (2012)
• Institute for Arts & Humanities Medal, Pennsylvania State University (2014)
• Election to the American Academy of Arts and Letters as an Honorary Member (2015)
• Ivan Sandorf Award for Lifetime Achievement (2017)
• Franz Kafka International Literary Prize (2017)
• LARB/UCR Lifetime Achievement Award (2019)
In addition to these awards, Atwood has been awarded honorary degrees from such prestigious colleges and universities including Smith College, Mount Holyoke College, University of Leeds, Oxford University, Cambridge University, Harvard University, National University of Ireland, School of Philosophy of the National and Kapodistrian University of Athens, and University of Edinburgh.
---
To learn more about the Playhouse's production of Alias Grace, visit our production detail page.