Playwright's Notes by Jennifer Blackmer
Jennifer Blackmer adapted Margaret Atwood's novel Alias Grace, which takes over the Rosenthal Shelterhouse stage on Sept. 14. Below are her artistic notes which have been printed in the show's programs.
---
I generally resist writing program notes; I prefer to let the play speak for itself, trusting that what I want to say has been successfully translated onto the stage — if I haven't achieved that, then 500 words in a program probably won't matter. In the case of Alias Grace, however, the story and the characters didn't originate with me; this is my first adaptation, and it's proven to be one of the most challenging and rewarding projects of my career, a seesaw ride balancing my utter reverence for the novel and its creator with my own storytelling, every choice weighted down with expectation: Will true fans miss this or that character, moment or line? Does it stand on its own as a play? And why does such a rich story, told so beautifully in transcendent prose, need a stage version anyway?
I'll leave those first two questions for you, the audience, to ponder; but I'll take a stab at that last one.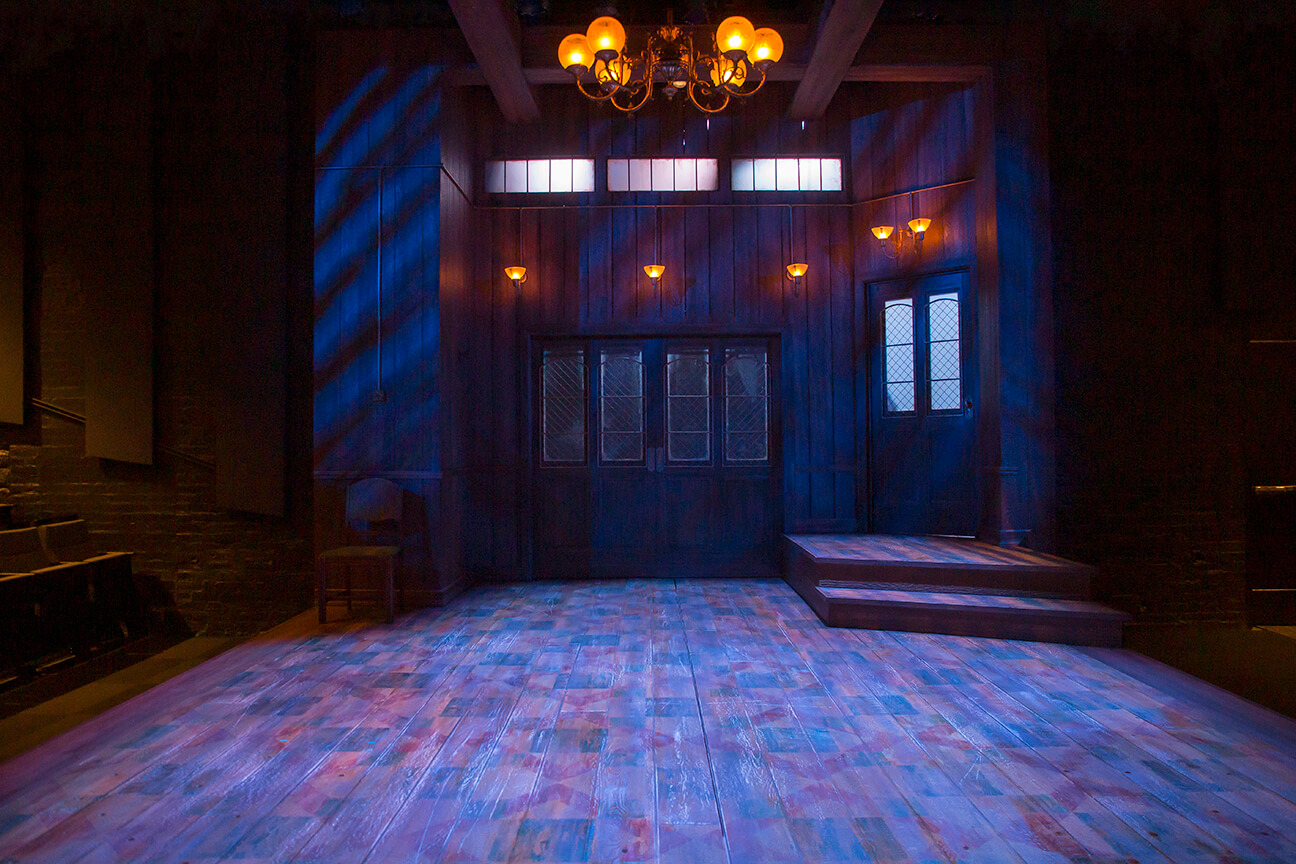 The set of Margaret Atwood's Alias Grace. Photo by Mikki Schaffner.

I was working as a bookseller in Chicago (at the now sadly defunct Borders Books and Music) when Alias Grace was published. I'd been obsessed with Atwood since my adolescent feminist sensibilities first encountered The Handmaid's Tale, so, of course, after I unpacked and shelved that first shipment, I took a copy home and devoured it. In my mid-twenties, I was still searching for my own artistic identity, trying to grasp what stories I wanted to tell theatrically, and most days my brain was a fiery crucible of confusion and need. The beauty of the novel moved me in ways I literally couldn't articulate — I wanted… No, I longed… for something… But what?
Fast-forward 14 years: With some moderate success under my belt, my friend and colleague, producer Brian Nitzkin, nonchalantly asked if there was anything I was interested in adapting. Normally I'm a let-me-think-about-that-and-get-back-to-you person, so I was genuinely surprised at how quickly I blurted: "Margaret Atwood's Alias Grace," like something in the back of my brain had been patiently waiting for him to come along and ask the question.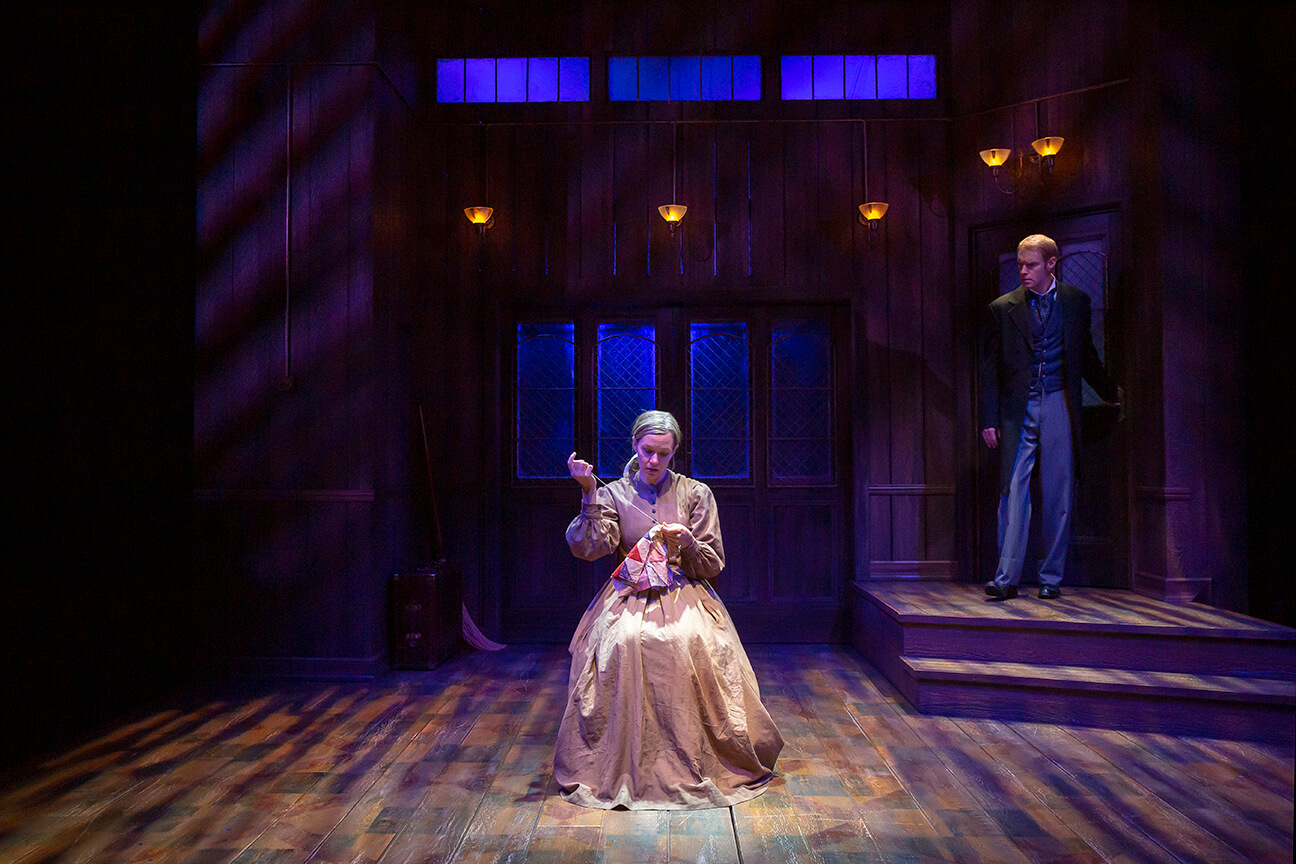 Caroline Hewitt (Grace Marks) and Grant Goodman (Simon Jordan) in Margaret Atwood's Alias Grace. Photo by Mikki Schaffner.

And now, of course, Margaret Atwood's stories are experiencing a Renaissance of sorts in our current political climate, as they should. But for me, her project goes deeper. Several years and countless drafts later, I think I have a better handle on the aesthetic response that washed over me in my Chicago apartment. Grace Marks contains multitudes; we all do. Beneath its beauty, Atwood's prose reveals exquisitely complex characters riddled with inconsistencies and ambiguity, wonderful vehicles for actors. Grace's relationship with Simon is an intimate yet epic roller-coaster ride that anchors a difficult story questioning the nature of truth, perfect for the stage. Most importantly, however, Atwood's story is propelled by a woman who refuses to be a victim, a woman who eludes every attempt to define her, a surprising, smart, funny and charming woman who is, quite possibly, a murderer.
What more could anyone want from an evening at the theatre?
---
To learn more about the Playhouse's production of Alias Grace, visit our production detail page.