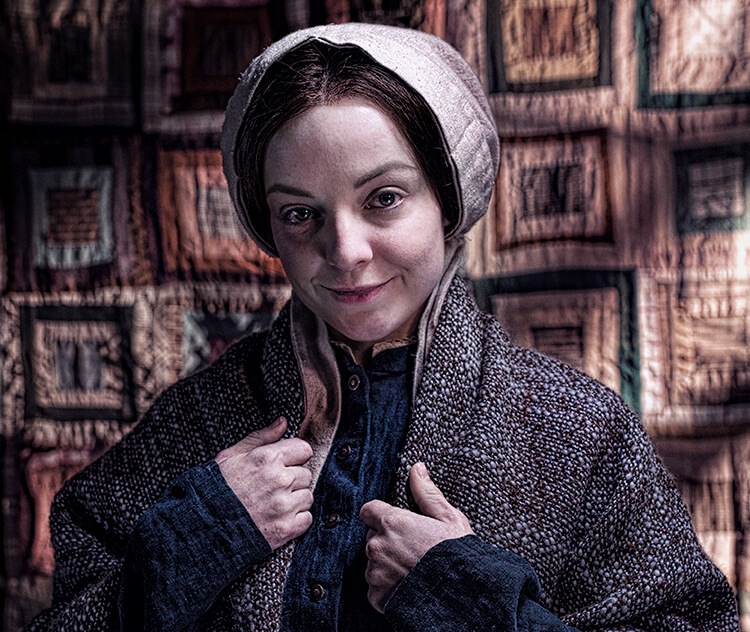 On July 29, 1843, wealthy farmer Thomas Kinnear and his housekeeper Nancy Montgomery were murdered at their home in Ontario, Canada. The murders alone were shocking, but the suspected killers and their association with the deceased took the crimes from frightening to salacious. Their stable-hand, James McDermott, and their 16-year-old serving maid, Grace Marks, had fled the Ontario farm to New York after the murders, taking a slew of Kinnear's valuables with them. It was alleged that they were a couple, on the run and tragically in love. Months later, McDermott and Marks were found, arrested and tried for each of the murders.
An enthralled public followed the trials closely, and they made swift assumptions of everyone involved. They commented on Marks' youth and beauty, McDermott's rank as a lower-class laborer, and even Kinnear and Montgomery's scandalously improper romantic relationship. McDermott claimed that Marks had masterminded the plot, but Marks claimed that she had no memory of the events, which only fueled more gossip of and vitriol towards the accused. In the end, amidst a swirl of speculation, McDermott and Marks were both found guilty. But history has revealed that the public and the court only knew a fraction of the whole story, and what remained has been left to true crime lore.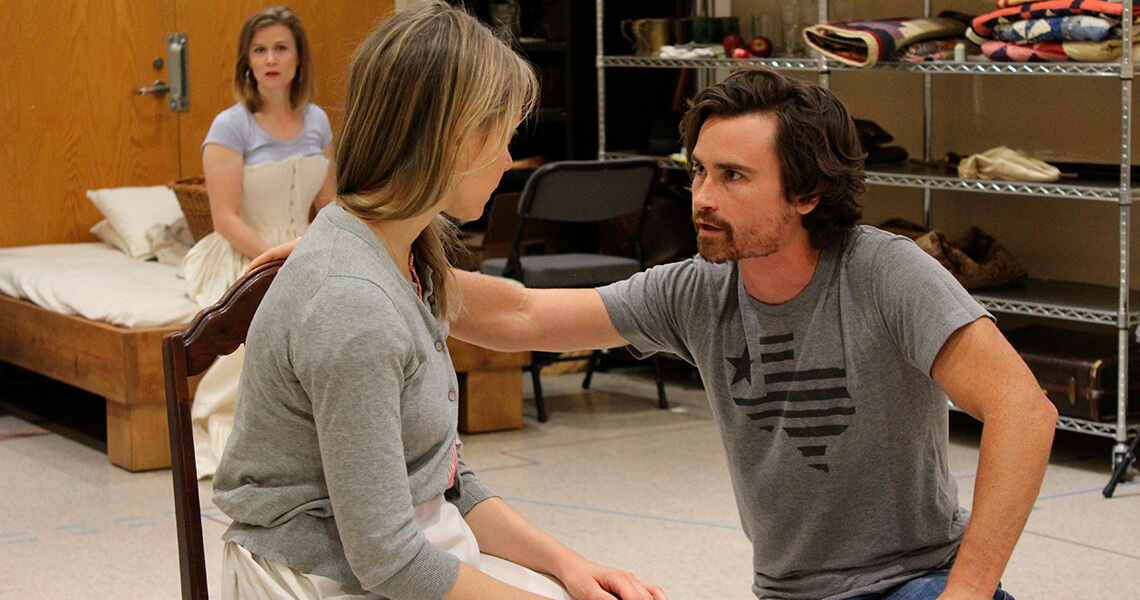 Tess Talbot (Nancy Montgomery), Caroline Hewitt (Grace Marks) and Damien Boykin (James McDermott) in rehearsal for Alias Grace.

Master storyteller Margaret Atwood revisits the crime as the basis of her best-selling 1996 novel, Alias Grace. In an interview with CBC News, she explains that what intrigued her most about the story was the overarching narrative of the crimes.
"In murders in which there are a man and a woman involved, public opinion usually goes in the following fashion: Everybody is agreed on the man, but opinion is usually split about the woman," says Atwood. "One side: 'She instigated it all. She's the female demon.' The other side: 'She is an innocent victim coerced by force, circumstance and fear.'" In her novel, Atwood cracks that story wide open, allowing a different perspective to emerge.
The Playhouse's adapted production of Alias Grace is penned by Jennifer Blackmer and directed by Blake Robison. In the script, 15 years have passed since Marks was convicted, and she has spent her time in state-run prisons and asylums as the subject of various medical reviews. The story begins with the arrival of psychologist Simon Jordan. Using personal interviews, he sets out to uncover Marks' memories. But as her story unfolds, Jordan finds himself plummeting down a frightening path of shocking revelations.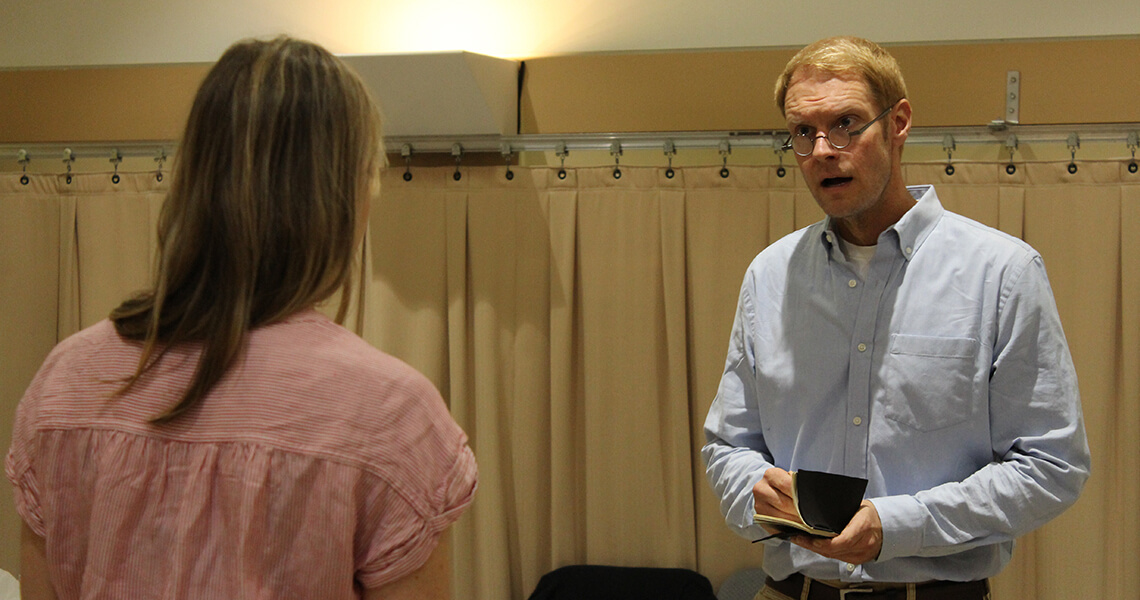 Caroline Hewitt (Grace Marks) and Grand Goodman (Simon Jordan) in rehearsal for Alias Grace.

"Atwood's prose reveals exquisitely complex characters riddled with inconsistencies and ambiguity, wonderful vehicles for actors," says Blackmer. "Grace's relationship with Simon is an intimate yet epic rollercoaster ride that anchors a difficult story questioning the nature of truth, perfect for the stage."
The production features a naturalistic, 19th-century setting that moves fluidly between Jordan and Marks' meetings and scenes from Marks' memory. Acoustic folk music is played throughout, as the eight-person cast performs a haunting crime ballad of Marks' chilling tale. Altogether, Alias Grace seeks to answer just who Marks really is while investigating how others' speculation influenced her story.
"Atwood's story is propelled by a woman who refuses to be a victim," Blackmer says, "a woman who eludes every attempt to define her, a surprising, smart, funny and charming woman who is, quite possibly, a murderer."
R. Ward Duffy (Jeremiah/Dr. Jerome Dupont), Caroline Hewitt (Grace Marks) and Annie Fitzpatrick (Mrs. Rachel Lavell) in rehearsal for Alias Grace.

Robison aims to amplify that notion while tying it to contemporary themes.
"Grace is powerful because she lives on her own terms," says Robison. "Society, and especially the men in society, cannot accept that. Everyone seeks to make Grace who they want her to be, to impose their narrative onto her. Is she a murderer or a victim? A figure to be punished or pitied? A sexual object or a unique individual? You don't need a sociology degree to draw the line to modern times. That's why Atwood is resonant and meaningful and popular all over again."
Indeed, you could say that Atwood is having a "moment" in pop culture, even though readers and critics alike have been devouring her books since the 1960s. The Emmy Award-winning, Hulu series adaptation of her 1985 novel, The Handmaid's Tale, began its third season in June. More than 30 years after its publication, Atwood's long-desired sequel to the novel, titled The Testaments, releases on Sept. 10.
With Alias Grace, Atwood's historical and spine-tingling mystery unravels in the intimacy of the Rosenthal Shelterhouse Theatre. Explore this riveting story up close in an immersive setting unlike any other. To learn more about the show, visit our production detail page.