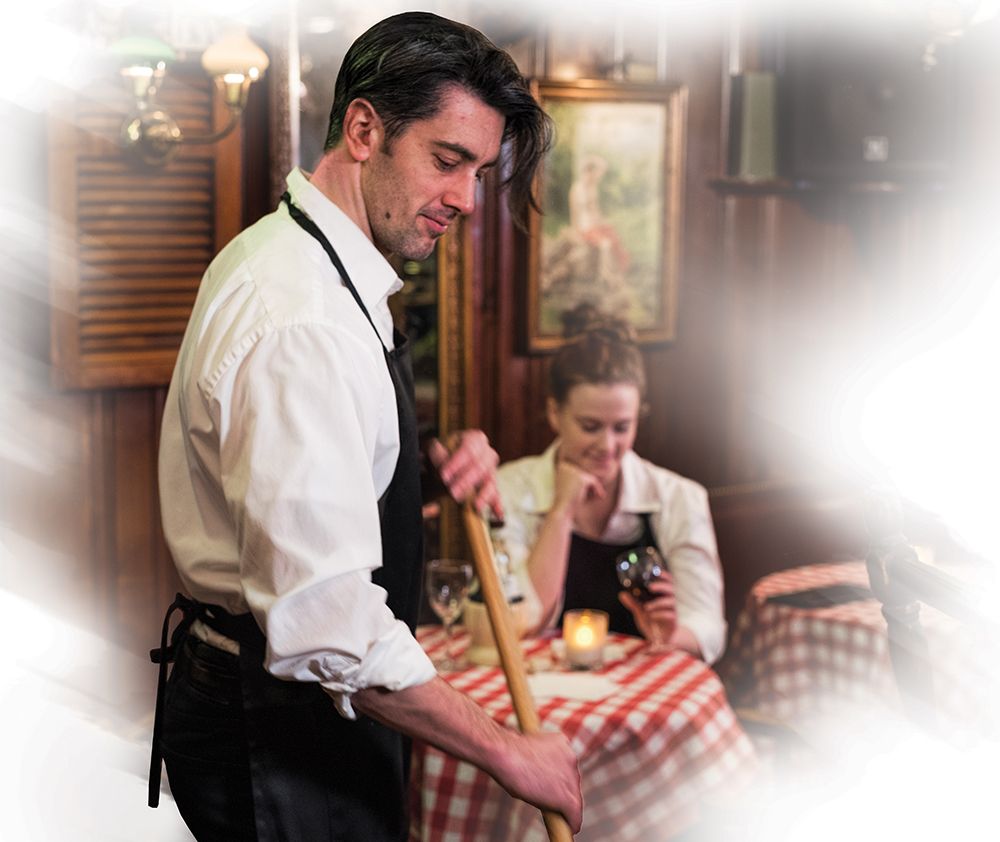 In the twilight hours of an ordinary night on a normal day, a thunderstorm covers the region. The date is May 5, present day. The location is Frankie's, a small Italian restaurant that's closed for the evening. Two characters, Lina and Roberto, enter onstage. She is an emotional person and a dreamer, and he is a poetic and generous Italian immigrant. We are about to experience their fate-filled love story — imagined in three, different realities.
Written by playwright Audrey Cefaly and directed by Playhouse Artistic Director Blake Robison,
The Last Wide Open
is a cleverly rendered romance that sweeps the audience up into alternating scenarios wherein fate places Lina and Roberto together at the same time. Described as "a love song in three movements" by Cefaly, this uniquely built play explores romance, happiness and the ways the universe conspires to bring us together.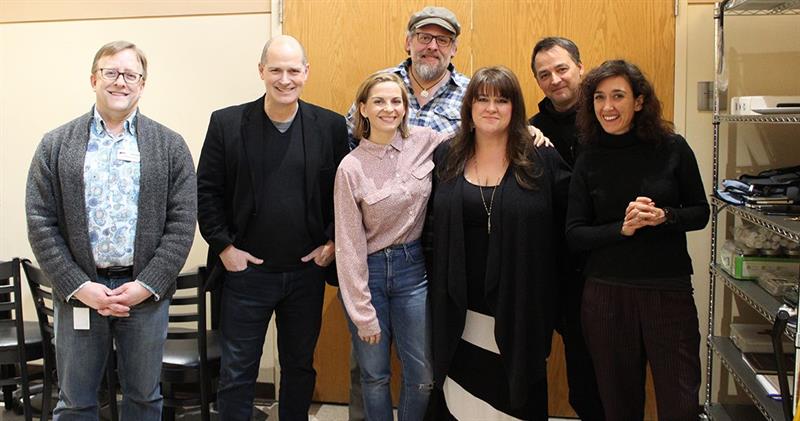 Costume Designer Gordon DeVinney, Artistic Director Blake Robison (who will direct The Last Wide Open), Kimberly Gilbert (Lina), Composer/Sound Designer Matthew M. Nielson, Playwright Audrey Cefaly, Marcus Kyd (Roberto) and Set Designer Jo Winiarski at the company meeting for the world premiere of The Last Wide Open.
Throughout the course of the play, Lina and Roberto find themselves on completely different life paths. In movement one, Roberto speaks in broken English and works as a dishwasher at Frankie's, while Lina is a lonesome waitress who is seeking direction. In movement two, Roberto has recently immigrated to America and struggles with the distance from his loved ones, while Lina faces an impending marriage that may not be the right fit. In movement three, Roberto has been in America for years and works towards his doctorate, and Lina is a nurse who is skeptical of love and relationships. Yet no matter the circumstances, both characters keep meeting at their own personal crossroads and unexpectedly helping each other along similar paths.
"The setting is realistic, but there's a magical element to the storytelling," says Robison. "Roberto and Lina step out of the story on occasion to let the audience know where they stand and to restart the story under slightly different circumstances. And there are songs. Love songs. Because it's a love story."
With
The Last Wide Open
, Cefaly joins the ranks of many notable playwrights whose work has
premiered
at the Playhouse. Such playwrights from recent years include Deborah Zoe Laufer (
Leveling Up
and
Be Here Now
), Lauren Gunderson (
The Revolutionists
), Karen Zacarías (
Native Gardens
), Keith Josef Adkins (
Safe House
), Martín Zimmerman (
Seven Spots on the Sun
) and Roberto Aguirre-Sacasa (
Abigail/1702
), among others. This history of producing new work has been a hallmark of the Playhouse's artistic legacy since 1960. Robison continues that legacy with The Last Wide Open, while also making strides towards inclusivity, diversity and gender parity in our theatre's programming.
"Audrey has a distinct and poetic voice. Her characters feel. They ache. They long for happiness," says Robison. "
The Last Wide Open
began as a short, 15- to 20-minute play called
Clean
. When Audrey told me that she wanted to expand it into a full-length work, I jumped at the chance to collaborate with her."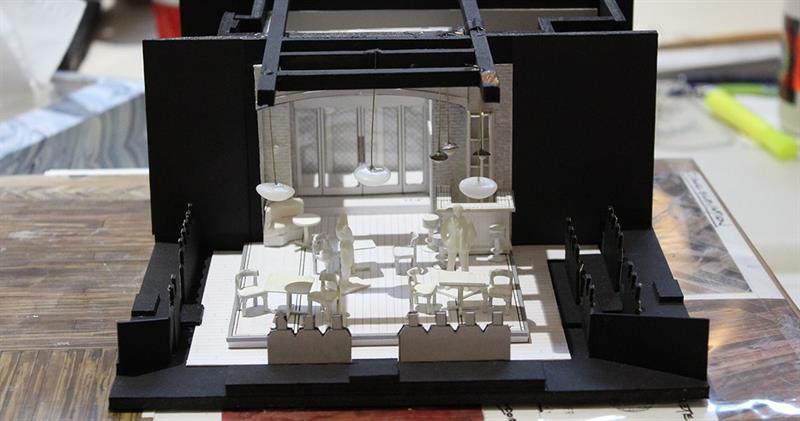 Set model for the world premiere of The Last Wide Open by Set Designer Jo Winiarski.
Cefaly describes herself as a Southern playwright who focuses exclusively on character-driven stories, many of which take place in the Gulf Coast region. She says in an interview with
Theatre Washington
that she writes about "the common man — waitresses, bartenders, mill workers." She explains further, "these are everyday characters experiencing everyday struggles. My character-driven plays are centered around relationships — they seem to resonate with all kinds of people, which I rather like."
"In this play, I'm drawn to the heartache of the characters and to the fierce love that pulls them through their difficult lives," says Robison. "With each 'movement,' we ask ourselves, 'what will it take for these two souls to find each other?'"
The Last Wide Open
features original songs with lyrics written by Cefaly and music composed by sound designer Matthew M. Nielson, who has collaborated with Robison on many productions over the years. The script includes thought-provoking scenes in which Lina and Roberto perform acoustic songs about love and loneliness on ukulele and guitar. Playhouse audiences will recognize Nielson's most recent work this season as part of the romantic musical landscape of
Miss Bennet: Christmas at Pemberley
and the tension-filled soundscape of
Misery
.
Presented on the Shelterhouse stage,
The Last Wide Open
begins preview performances on Feb. 9, with opening night held on Valentine's Day, Feb. 14.
To learn more about this world premiere, visit our
production detail page
.