Made in Cincinnati: A Q&A With KJ Sanchez
The world premiere of
Cincinnati King
is written and directed by KJ Sanchez.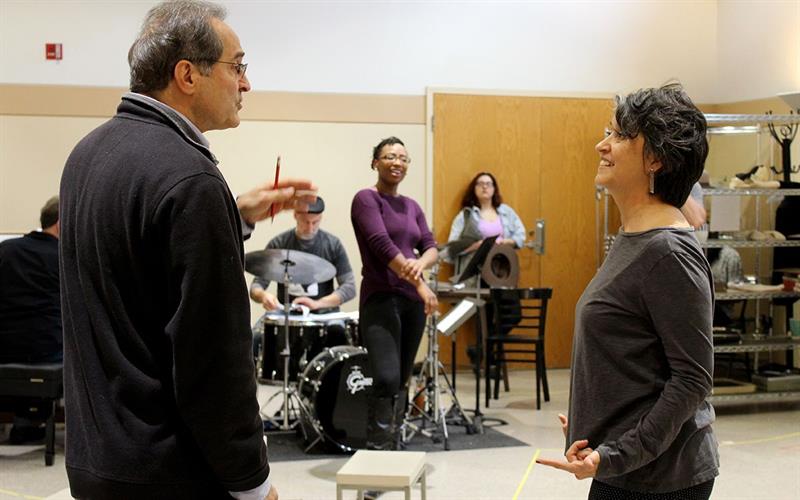 Neal Benari (Syd Nathan) and Playwright/Director KJ Sanchez in rehearsal for the world premiere production of Cincinnati King.
KJ is an associate artist at Cincinnati Playhouse in the Park. Directing credits here include
Jane Eyre
by Polly Teale,
Sex With Strangers
by Laura Eason,
Sherlock Holmes and the Adventure of the Suicide Club
by Jeffrey Hatcher, the world premiere of
Seven Spots on the Sun
by Martín Zimmerman,
Joan the Girl of Arc
by Darrah Cloud and
Venus in Fur
by David Ives. As a playwright, she has been produced at Asolo Repertory Theatre, Berkeley Repertory Theatre, Actors Theatre of Louisville, Two River Theater, Baltimore Center Stage, Round House Theatre, Washington Ensemble Theatre, Cornerstone Theater Company and off-Broadway at Urban Stages Theater and HERE Arts Center. Other recent directing credits include
Quixote Nuevo
by Octavio Solis at California Shakespeare Theater;
The Upstairs Concierge
by Kristoffer Diaz at The Goodman Theatre in Chicago;
The Diary of Anne Frank
and
Noises Off
at Milwaukee Repertory Theater; along with Quiara Hudes'
Water by the Spoonful
at the Studio Theatre in Washington D.C. KJ is the voice of many characters in the cartoons
Dora the Explorer
and
Go, Diego, Go!
She is a Fox Fellow, the 2012 Douglass Wallop Fellow, an Albert Award nominee and an NEA/TCG Career Development Program for Directors recipient. She is currently an Associate Professor and Head of Directing at University of Texas at Austin.
---
Cincinnati King tells the story of Syd Nathan and the artists and musicians of his Cincinnati-based studio, King Records. The landmark label helped pave the way for the birth of rock 'n' roll. That legacy, though, is often overshadowed in rock history. What inspired you to document this biographical story? Why is it an important story to tell?
First, I was so inspired by the dedication and commitment of others in the community who have been archiving this information for years and years. I have a big debt of gratitude to them. I don't want to give away too much, because much of what I found inspiring I have put into the play, but I'll say this: Syd Nathan is one of the most fascinating people I have ever studied. The chutzpa! A man with nothing more than an eighth-grade education — who knew nothing about making records and did not come from money — to accomplish what he did is incredible. But, of course, it was his irascible and problematic leadership style that might have also been the demise of the empire he built. And that is what's so compelling to me: his humanity and that we, as very real people, are very human and we make terrible mistakes. We do great things, but we also make terrible mistakes, and that is one of the things I focus on.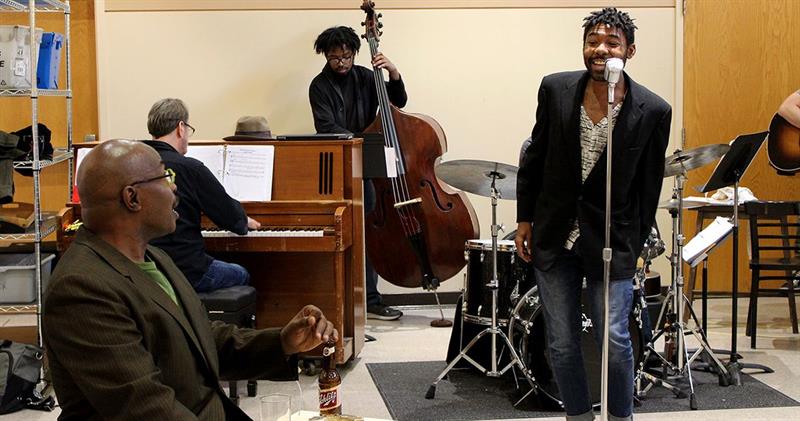 Stanley Wayne Mathis (Philip Paul), Ralph Huntley (Pianist), Terrell Montgomery (Bassist) and Richard Crandle (Little Willie John) in rehearsal for the world premiere production of Cincinnati King.
This production reflects years of research and interviews performed by you, local community members, and Playhouse staff and board members. Tell us about your personal experiences with working with the community and with researching King Records' history. How did this research shape the story?
In so many ways. Of course, some of the transcriptions went right into the dialogue in the play. But even the interviews that did not become dialogue have had an impact. An example: I heard from several people that Syd had a big round desk. And then the story goes that James Brown bought this desk. So, in our set design, I wanted Syd behind that big, intimidating, desk.
You are founder and CEO of American Records, a theatre company that chronicles moments in American history through theatrical storytelling. Tell us a little more about the mission of American Records and how Cincinnati King fits into its repertoire.
Our mission is to make work that chronicles our time, work that serves as a bridge between people. This sits right in the center of that mission. Philip Paul is a national treasure, and this play hopes to chronicle some of his story. At the same time, there are fictional representations in the show that aim to be a bridge between those who were there and lived it and a new generation who are now self-producing their own work, in many ways just as Syd did it. We are back to a moment of "do-it-yourself-ness" that was at the genesis of King Records.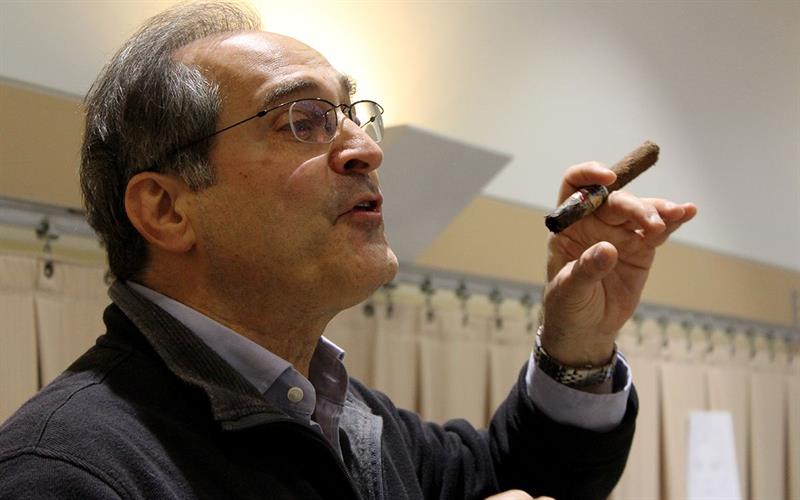 Neal Benari (Syd Nathan) in rehearsal for the world premiere production of Cincinnati King.

Cincinnati King provides in-depth, behind-the-scenes tales of such hits as "The Twist," "Blues Stay Away From Me," "Fever" and other classic tracks. Tell us about how the music functions onstage and what audiences can expect to experience live.
They should expect extraordinary performances! Some of the songs are sung in the context of the recording studio, with Syd screaming at his recording artists while they are prepping to record. Others are in the context of performance. Our cast is incredible, and all songs will send chills up your spine... I promise.
Tell us about the characters in the story. How would you describe each of them? How would you describe their relationships with one another?
The three main characters are Philip Paul, Syd Nathan and Little Willie John. The play starts with Philip Paul ending a set and coming downstage to talk to us, as if we are interviewing him. Then the ghost of Syd busts in onstage and decides that he needs to be interviewed, too, so he can "set the record straight." So, you can see that it is one-part documentary play (in that all of Philip's dialogue came from those interviews), but of course, Syd's lines are fiction, based on what I know about the real person. It's a mash-up. I want to note one thing in particular: I don't in any way want people to think this is the definitive "King Records story." I decided to go deeper with fewer people, to focus on the drama and the personal, emotional stories. I hope this play inspires more movies and plays about all the incredible King Records artists.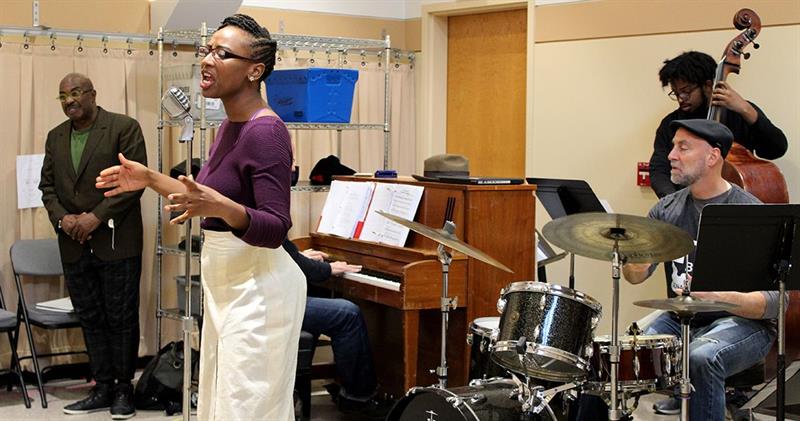 Stanley Wayne Mathis (Philip Paul), Anita Welch (Woman), Terrell Montgomery (Bassist) and Richard Livingston Huntley (Music Director/Drummer) in rehearsal for the world premiere production of Cincinnati King.
Lastly, if you had to describe this show in three words, what would you choose?
It's about music.
---
To learn more about the Playhouse's production of
Cincinnati King
, visit our
production detail page
.