5 Questions With Mary Jo Mecca
Mary Jo Mecca plays Robyn in
The Roommate,
a wickedly funny comedy about what happens when the wheels come off.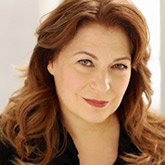 Mary Jo is pleased to be making her Cincinnati Playhouse in the Park debut. She recently created the role of Estelle Axton in the premiere of
Soul: the Stax Musical
at Baltimore Center Stage. Other regional leading roles include
Pride & Prejudice
/Mrs. Bennet (Center Stage);
Gypsy
/Rose (Farmers Alley Theatre);
Brighton Beach Memoirs
/Kate (Portland Stage Company);
Superior Donuts
/Randy Osteen (Geva Theatre Center);
Body Language
and
Bridgeboy
(The Active Theatre, NYC);
Tess
(New York Music Festival);
Mary Poppins, My Fair Lady, Big River, Hello Dolly, Damn Yankees
and
Sister Act
(Music Circus);
Sweeney Todd
(Casa Mañana Theatre);
White Christmas
(Syracuse Stage);
Little House on the Prairie
(The Guthrie Theater);
A Christmas Carol
(Westport Country Playhouse);
Death of a Salesman, Sganarelle, The Jealous Husband
and
As Bees in Honey Drown
(Interact Theatre);
Man of La Mancha
(Alabama Shakespeare Festival);
Amour
(Goodspeed Opera House);
Last of the Red Hot Lovers
(Seven Angels Theatre);
Jekyll & Hyde
(Alley Theatre);
Stand-up Shakespeare
(Odyssey Theater Ensemble); Jerry Herman's
Showtune
(Pasadena Playhouse);
Into the Woods
(Connecticut Repertory Theatre); Jonathan Larson's
Blocks
(Westbeth Theatre); and
Funny Girl
(University of Montana). Recordings include
Easter Mysteries
and
Mr. Confidential.
On television, she has appeared in
The Tap, Law & Order, Law & Order: Trial by Jury, Frasier, Oh Baby!
and
Guiding Light
; film credits include
Holes
. Visit www.maryjomecca.com.
How long have you been acting, and where did you receive your training?
Does the second-grade production of "Star Light, Star Bright" (the poem) count as a first production?
I moved to New York City when I was 18 years old, with a few dollars and a dream. I did not know my way around the business or know anyone who was in it, so I feel like I have always been on the hunt for art.
I went to Marymount Manhattan and took my first dance class with a woman named Miss Aida Lioy. I had a background in gymnastics, but Miss Lioy took my untrained body and molded me into a dancer. She sent me out into the city to study independently. I believe her belief and push became the seed of my entire artistic journey. I have studied dance, acting and voice with several teachers.
The greatest teachers of all were the seasoned actors I watched from the wings when I got started. I was a sponge for their stories and a witness to their artistry.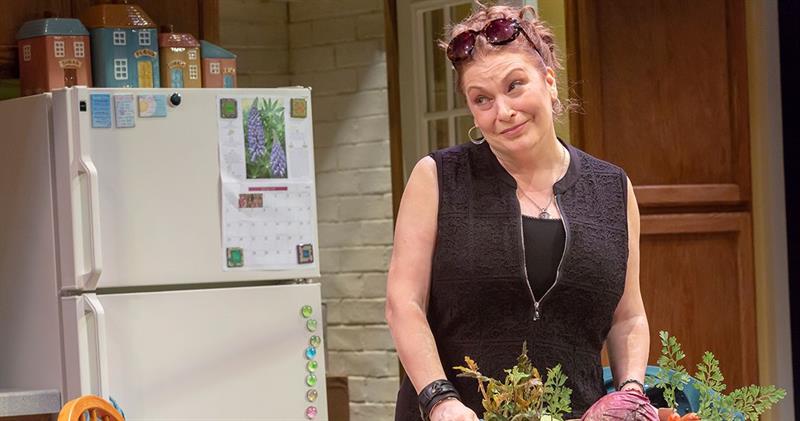 Mary Jo Mecca in The Roommate. Photo by Mikki Schaffner.
When did you know you wanted to be an actor, and what's your favorite part of the job?
I think I was very young when I got the bug, but there was not any sort of information or knowledge available to me to even be aware that it was possible.
My father was a huge influence on me. He sang in a barbershop chorus and could often be found learning his "part" in the giant wingback chair in our living room. He also had an insatiable appetite for classical music, harmony, a good story, and he could play any instrument he put his mind to. He was a tool and die maker by trade, but his everyday life was full of art.
I think my love for being an actor came from the many hours I spent with him. I would sing melody, so he could check his part, and we both had an insatiable appetite for acting out, just trying to make each other laugh. On the maternal side, my Irish mother had a skill for weaving a story full of sharp wit and heartbreaking details.
You could literally get out of trouble in my house if you could tell a good story and if it was funny… Well, you could get a total pass! I honestly think my desire for being an actor came from my family and how we interacted and our love of a good STORY.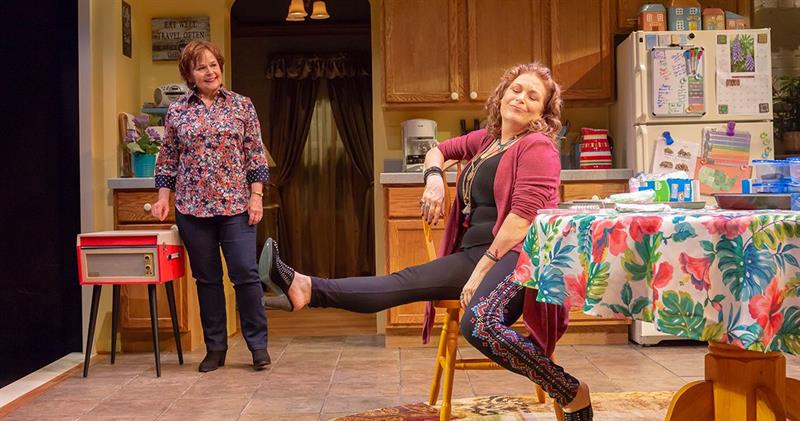 Margaret Daly and Mary Jo Mecca in The Roommate. Photo by Mikki Schaffner.
What is your all-time favorite role you've performed, and why?
Today, Robyn in
The Roommate
is my favorite because I am living it right now. Robyn is trying to change the course of her life at a time in her life when a change of course can feel like climbing Mt. Everest. She is attempting to deconstruct habitual patterns that worked in the past but are completely destructive to herself and her current relationships. She is trying to do this change "cold turkey" by dropping herself into a new environment that she feels will be safe. In meeting Sharon, she starts to feel that change is possible. She makes a real connection with someone that doesn't involve a life of crime… until it does. Through humor, they navigate this "odd couple" relationship, but ultimately Robyn has to face that real change involves more than "location."
Every show that I do offers an opportunity to learn something new about myself personally or as an artist. Walking in someone else's shoes for a time can really open a person up to the challenges we all face as individuals and reinforces how we are all connected.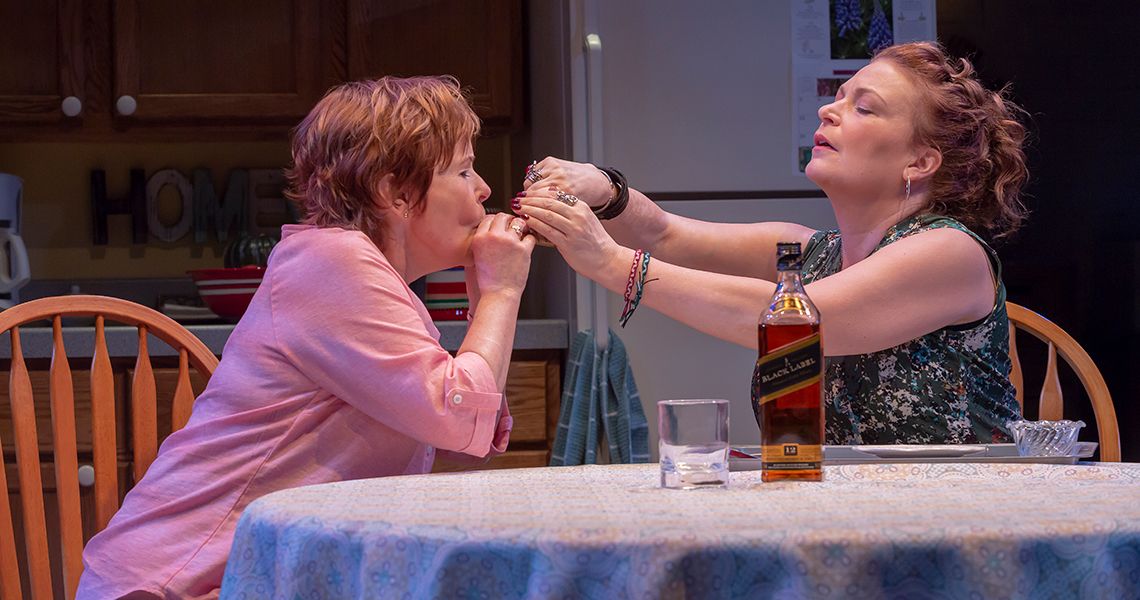 Margaret Daly and Mary Jo Mecca in The Roommate. Photo by Mikki Schaffner.
What role have you been dying to play, and why?
I recently had the opportunity to play Estelle Axton in
STAX: The Stax Musical
at Baltimore Center Stage. Estelle Axton was one of the founders of the STAX record label and the first female record producer. There is a strong push to get the STAX story to Broadway, so that is the role I am dying to play… again… but on the great White Way!
What has been the most interesting part of working on The Roommate so far?
I loved working with our director Tracy Bridgen! She fearlessly led the talented Margaret Daly and myself to discover the heart of this play. Tracy was constantly uncovering the nuances of this seemingly "unlikely" friendship, finding the humor and the heart, and she kept the doors of creativity open for our own discoveries. Also, we had an all female crew, helmed by Andrea L. Shell (our stage manager), Morgan Becker and Meredith Russell (our stage management interns) and our backstage DIVAS — Deb, Julia, JP and Kacey!
Shout-outs to: Tracy Christensen (costumes); Anne Mundell (set); Phil Monat (lighting); Lindsay Jones (sound).
To learn more about the Playhouse's production of
The Roommate
, visit our
production detail page
.