5 Questions With Kenneth Early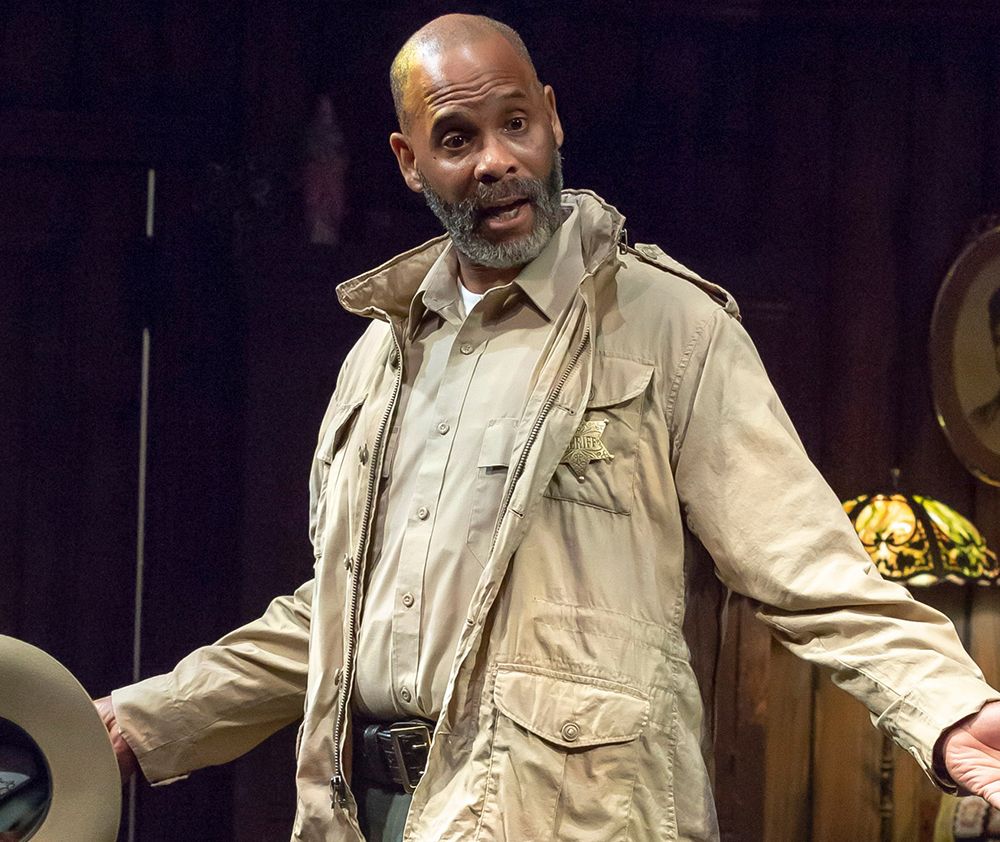 Kenneth Early plays Buster in
Misery
.
Kenneth is grateful to be on the Cincinnati Playhouse in the Park stage once again. His other Playhouse credits include Philmore in
Jitney
and Reverend Sykes in
To Kill a Mockingbird
. A Cincinnati native and resident, Kenneth's other regional credits include: Ira Aldrigde in
Red Velvet
, Sam in
The Whipping Man
, Phileas Fogg in
Around the World in 80 Days
, Aldrin in
Dancing Princesses
, Caterpillar in
Alice in Wonderland
and Brooks in
Grey Gardens
, all at Ensemble Theatre Cincinnati; Crooks in
Of Mice and Men
, Reverend Sykes in
To Kill a Mockingbird
and John Prentice Sr. in
Guess Who's Coming to Dinner
, all at Cincinnati Shakespeare Company; Bill Ray in
On Golden Pond
at The Human Race Theatre Company in Dayton, Ohio; Death and Radio Voice in
Pluto
, Maddox in
Harry and the Thief
, Jesus in
The Last Days of Judas Iscariot
and Man 2 in
Adding Machine: A Musical
, all at Know Theatre Cincinnati. Across the pond (Ohio River) his credits include Sam in
Master Harold and the Boys
at Falcon Theatre; Padre in
Man of La Mancha
, Revita Glory in
Church Girls
, Jesus in
Godspell
and Officer Murray in
The Odd Couple,
all at Northern Kentucky University. Kenneth would like to thank family and friends for their love and support.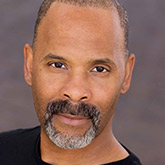 How long have you been acting, and where did you receive your training?
I would have to say that I've been seriously working at developing my acting since 1996 when I left the theatre department at Northern Kentucky University to become an acting intern at the Warehouse Theatre under the direction of Jack Young. But I was very hard-headed and wasn't one to apply myself when I attended The School for the Creative and Performing Arts and Cincinnati College Conservatory of Music (CCM). I received wonderful training from both places but was eventually kicked out because of my laziness. But during my time at CCM, I made a decision that changed me as a theatre artist forever. As crazy as it may sound, I decided to actually prepare for an audition. I learned a comic monologue, went in for the audition and got a call back. The cold reading didn't go so well but getting the callback did something for my confidence. It taught me that preparation is important to your success in this industry, and I've been moving forward ever since.
When did you know you wanted to be an actor, and what's your favorite part of the job?
I wanted to focus more on my acting when I finally began to understand that the foundation to singing and dancing is acting. How can you live in these given, heightened circumstances that live performance calls for when you have nothing to connect you to the emotion that's so clearly woven into the lyrics, movement or text of a character? You can sing heaven down, dance the tile off the floor, but if there's no emotional connection to it, the singing is just a song; the dancing is just beautiful movement and the text just words. So, the best thing about acting for me is what I think and feel about a character and bring that into rehearsal to be crafted by myself and the director.
Kenneth Early and Barbara Chisholm in Misery. Photo by Mikki Schaffner.

What is your all-time favorite role you've performed, and why?
I've enjoyed playing many characters throughout my career, but Jud in
Oklahoma!
has to be my favorite. First, just to sing the music by Rogers and Hammerstein is incredible. But to breathe life into such a broken, misunderstood and socially awkward character like Jud was an amazing experience and would love to do it again.
What role have you been dying to play, and why?
I've always wanted to perform The Viper Drag song from
Ain't Misbehavin'
. In the original musical, it's performed by Andre De Shields. They don't have character names in the musical, just an ensemble of five singers performing the music of Fats Waller. I'm a musical theatre performer at heart, and that song for me embodies everything I love to do.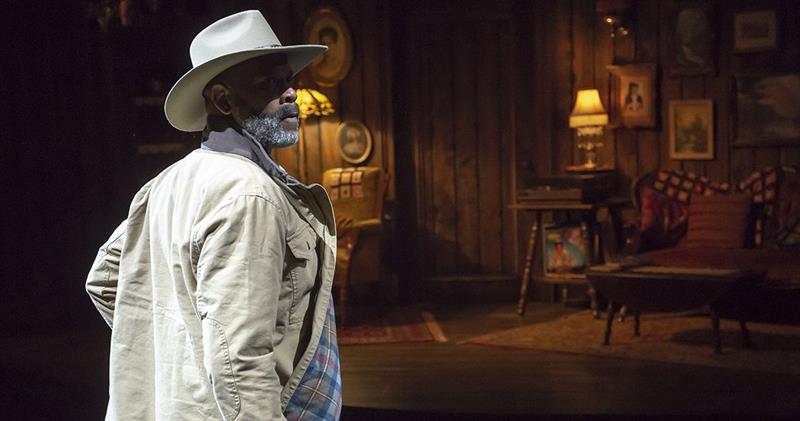 Kenneth Early in Misery. Photo by Mikki Schaffner.
What has been the most interesting part of working on Misery so far?
I have to say my favorite part about working on
Misery
is working with Blake Robinson. It's been nice getting to know him as a director and spending time with him outside of the rehearsal process. I'm glad that we've gotten to know each other a little better as individuals and artist; and that makes for a good foundation to build upon.
To learn more about the Playhouse's production of
Misery
, visit our
production detail page
.