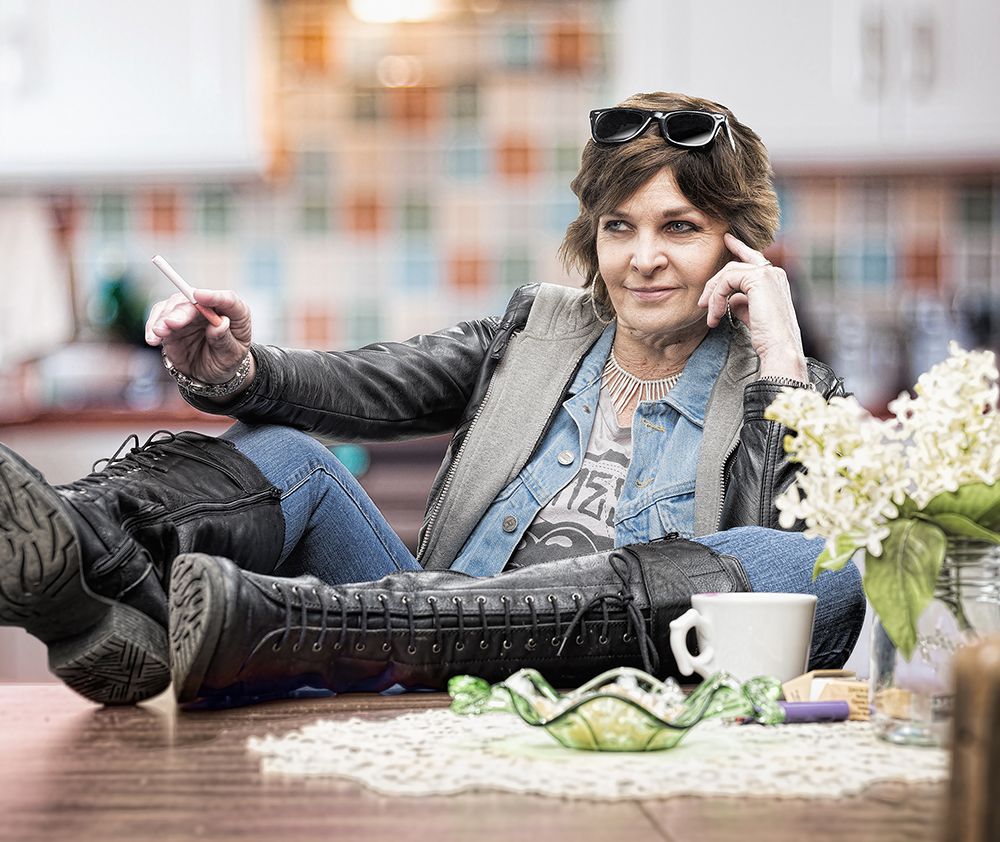 How far would you go to change your life? In
The Roommate
, we meet Iowa homemaker Sharon at a low point. Fifty-four, recently divorced and nearly estranged from her son, Sharon is ready for a shake-up. When she takes in a roommate — Robyn, a 50-something slam poet fresh from New York — Sharon feels inspired to make drastic and exhilarating changes.
As she learns more about her mysterious new boarder, Sharon taps in to a deep-seated desire to abandon her comfort zone and live a life of danger and adventure. Says the
L.A. Times
, "The whimsical setup might suggest we're heading into a modern descendant of
The Odd Couple
, but there's a more slyly subversive agenda in play as Robyn's emerging secrets lure Sharon into breaking bad."
The Roommate
cleverly navigates the rocky roads of change and hilariously examines what happens when the wheels come off.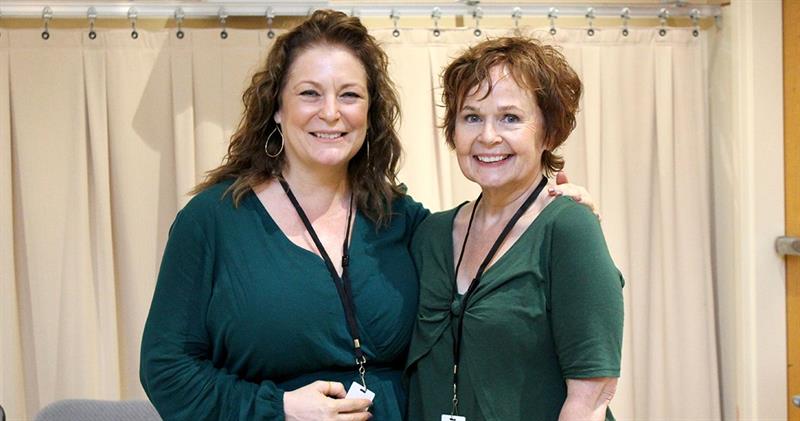 Mary Jo Mecca (Robyn) and Margaret Daly (Sharon) at the first rehearsal for The Roommate.
Playhouse audiences may remember the 2017 world premiere of
All the Roads Home
, also written by Jen Silverman, whose star continues to rise.
The Roommate
opened Louisville's Humana Festival of New American Plays in 2015 and was adored by audiences and critics alike; it has since received many productions including Chicago's Steppenwolf Theatre Company. Silverman has received The Kennedy Center's Paula Vogel Playwriting Award and recently landed the prestigious Playwrights of New York (PoNY) fellowship.
Silverman is ardent about giving voice to women through her writing and especially about showing women's lives as complicated and authentic. As she recently told
American Theatre
, "Women are allowed to be on stage as long as they're talking about their husband. I'm interested in the territories that these exceptions are taking up and being part of that conversation. And that to me feels personally and politically and artistically important." In
The Roommate
, Silverman also tackles the lack of meaty, interesting roles for women in their fifties.
The Playhouse is proud that each of its Shelterhouse plays this season is penned by a woman.
"In recent years, we've focused on bringing women's voices to the forefront of our season programming," says Artistic Director Blake Robison, recalling recent work by playwrights Anna Ziegler, Deborah Zoe Laufer, Lauren Gunderson, Carson Kreitzer, Karen Zacarías and more. "Jen is part of a new generation of writers whose voices deserve to be heard in our nation's large institutional theatres. She has a singular voice. Her characters are vivid and their stories intertwine in elegant and unexpected ways."
Four of this season's five Shelterhouse plays also see a woman in the director's chair.
The Roommate
director Tracy Brigden has had a long and fruitful career as a theatre artist, including developing new works and directing contemporary plays for off-Broadway and regional theatres. She considers
The Roommate
the type of play she most enjoys realizing on stage.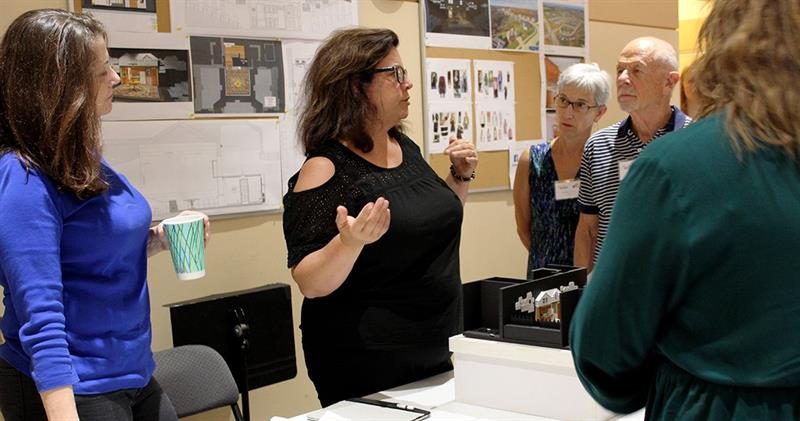 Anne Mundell (Set Designer) and members of the cast and Play Team look on as Tracy Brigden (Director) describes the concept for the set design of The Roommate.
"It checks all the boxes for me: it makes you both laugh and cry, it's a universal story told in a very specific context, there are juicy roles for two extraordinary actresses to really dig into," explains Brigden. "I think my experience with this type of play allows me to get all the elements in the room — the script, the actors and a good ground play — and then basically step out of the way and let the magic happen."
While
CityBeat
called Louisville's production of
The Roommate
"funny and contemporary," the play is also touching and timeless, grappling with our innate need for confidence, self-worth and transformation. In Silverman's words,
The Roommate
examines, "what it takes to get to a point in your life, whatever that point is, where you look at your life and you realize, I cannot do this anymore, I can't live this life, I can't wear these clothes and walk through my day in this way that I've been doing."
Brigden adds, "At its core,
The Roommate
is about the fact that we can reinvent, reimagine, begin again, at any age, and the impulse for taking the first step can come from the most unlikely places. And even when it seems all is lost, you can open your eyes to find yourself in a better place than you ever imagined."
To learn more about the Playhouse's production of
The Roommate
, visit our
production detail page
.