Director Blake Robison chats with us about taking the spine-tingling story of Misery from the page to the Marx stage.
Audiences have been introduced to Stephen King's Misery through the original novel and the film adaptation. Now, the story comes to the stage. Tell us about how this production shares similarities with and diverges from these two renderings.

On stage, the story benefits from the immediacy of theatre. The novel's descriptive passages about the house and the environment are translated into scenic design. Lighting and sound create dramatic tension. You can feel it all around you. Like the film, our stage version places full focus on the characters. Their tense psychological dance is the heart of
Misery
.
Barbara Chisholm (Annie Wilkes) and David Whalen (Paul Sheldon) listen as Blake Robison (Artistic Director and Misery Director) discusses the tension within a scene from the show.
This story contains some iconic moments that people remember. What makes bringing them to life through theatre different and special?
I think people are curious about the "hobbling" effect and how it'll be done onstage. If you go back and watch the film, it's a quick moment but a memorable one! We're working with Broadway's best team for stage fighting and effects. I don't want to spoil anything, but suffice it to say, this moment in the play will be thrilling but not gruesome. I want the audience on the edge of their seats, not running for the door.
You've cast Barbara Chisholm as Annie Wilkes and David Whalen as Paul Sheldon. Playhouse audiences last saw Chisholm as the witty and lovable Erma Bombeck in Erma Bombeck: At Wit's End, and they last saw Whalen as the charming and funny Ned Alleyn in Shakespeare in Love. Tell us about what motivated your casting choices for this production.
Barbara and Dave are two of my favorite actors. This play will allow our audiences to see the incredible range that they have. If you saw
Erma Bombeck
, you know that Barbara can be chipper and playful. Annie spends much of the play that way, until we see her dark side emerge. Likewise, we've seen David as a swashbuckling leading man in
Shakespeare in Love
, but now he'll be stuck in a bed for much of the play!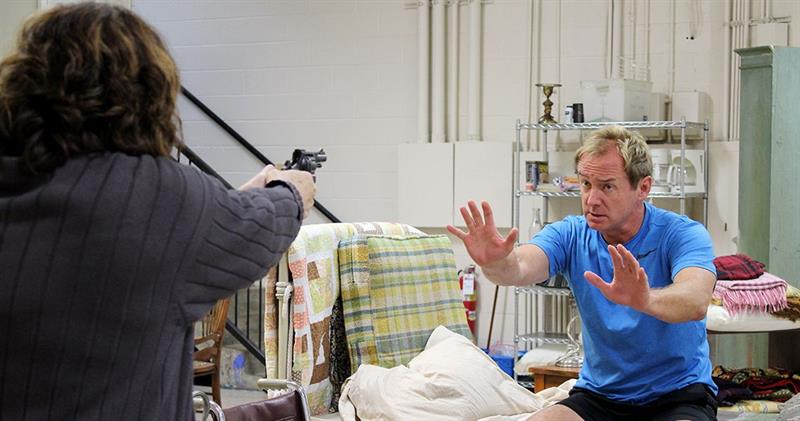 Barbara Chisholm (Annie Wilkes) and David Whalen (Paul Sheldon) rehearse a scene from Misery.
Despite the chilling nature of the story, there are still moments of dark humor throughout the script. As director, how do you work with the actors to make comedic moments funny in an otherwise tense story?
A little comedy is vital. It balances the story and makes the characters more human. I suspect there will be a certain amount of "gallows humor" in rehearsal because that's what you need to do to deal with the events of the play. We all know each other pretty well. The comedy will come naturally.
Whether or not someone is a Stephen King fan, why should folks see the production and what do you hope they'll take away from it?
Initially, I loved King for the supernatural element of his novels: the vampires of
'Salem's Lot
, the frightening apparitions of
The Shining
, etc. But Misery is different. It's a psychological thriller with no monsters — just human beings in extremis. In that respect, it's closer in nature to the great stage thrillers of the 20th century — plays like
Wait Until Dark
and
Dial M For Murder
. I hope that we can bring in Stephen King fans to join our loyal Playhouse audiences and enjoy the ride together.
To learn more about the Playhouse's production of
Misery
, visit our
production detail page
.