5 Questions With Jeffrey M. Bender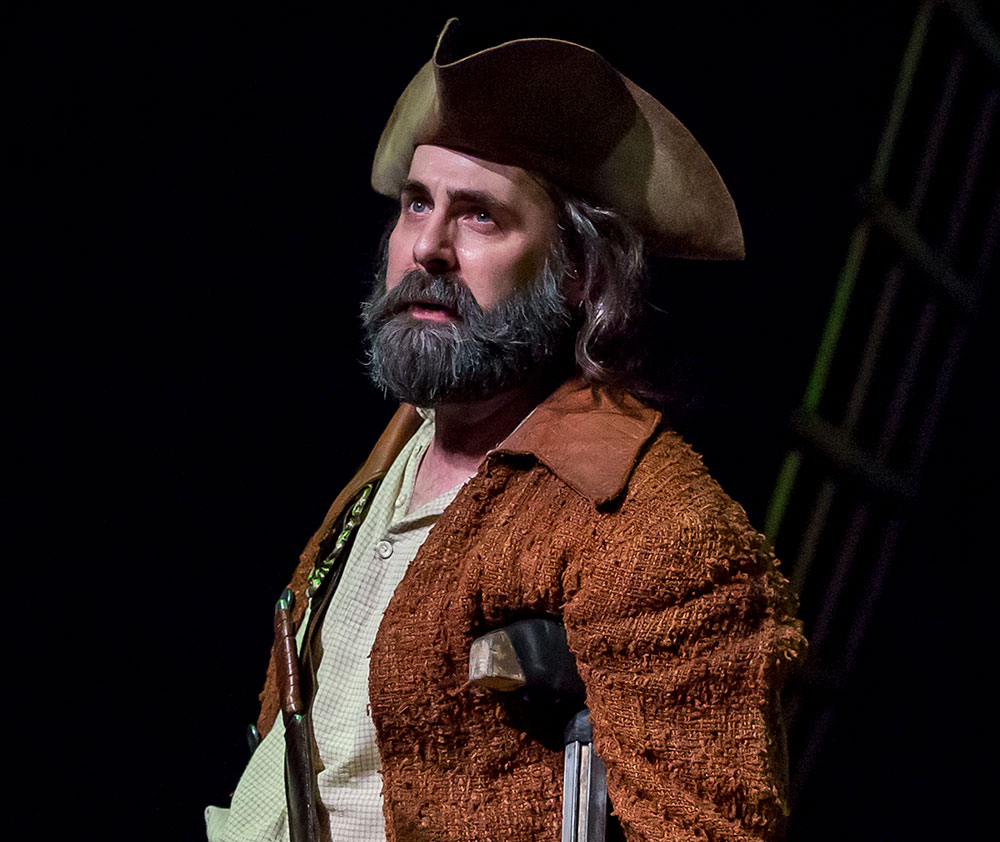 Jeffrey M. Bender plays Long John Silver and Jim's Father in Ken Ludwig's
Treasure Island
.
Jeff is thrilled to be making his Cincinnati Playhouse in the Park debut. His Broadway credits include
A Time to Kill
and
Cymbeline
. He was also a featured stage fighter in
Cyrano de Bergerac
at The Metropolitan Opera. Jeff has been a company member of The Shakespeare Theatre of New Jersey for over 18 years as both actor and director in productions that include
What the Butler Saw, Merchant of Venice, Love's Labour's Lost, Much Ado About Nothing, The Alchemist, The Tempest, Fallen Angels, Oliver Twist, Accidental Death of an Anarchist, The Servant of Two Masters, The Rivals, Life of Galileo, Enrico IV
and
The Complete Works of William Shakespeare (abridged)
, to name a few. Regionally, Jeff has played leading and supporting roles at Denver Center Theatre Company, Arena Stage, The Old Globe in San Diego, Seattle Repertory Theatre, Portland Stage Company and numerous regional and New York City theatre companies. On television, he has appeared in
The Detour
. Visit
jeffreymbender.com
.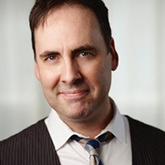 How long have you been acting, and where did you receive your training?
I've been acting professionally since I graduated from the University of Michigan in 1998. However, the first role I ever played was "the first snowball of the season" in fourth grade. I had to wear a big snowball suit complete with white tights and I had to sing, "I'm the first snowball of the season," to the tune of "Take Me Out to the Ballpark." It was very traumatizing, but apparently I did very well because they gave me the role of Santa Claus the following year!
When did you know you wanted to be an actor, and what's your favorite part of the job?
It wasn't until late into college that I realized I wanted to act. My mother taught AutoCAD at Lansing Community College, which meant that I received free tuition there. It also meant that I could take all sorts of classes from astronomy to bartending. I did well in both and I came very close to pursuing astronomy, but when I took an "Intro to Acting" class, I was hooked. What hooked me then, and what continues to be my favorite part of the job now, is making people laugh. I love more than anything to make a theatre full of people — who may not have anything in common — cry with laughter. It's a wonderful feeling when I'm able to make those people forget about the cares of the world and fill that moment with happiness, however brief that may be. Have you ever told a joke? How good did it make you feel when they laughed hysterically? Now multiply that feeling by 350 or however many people are in the audience!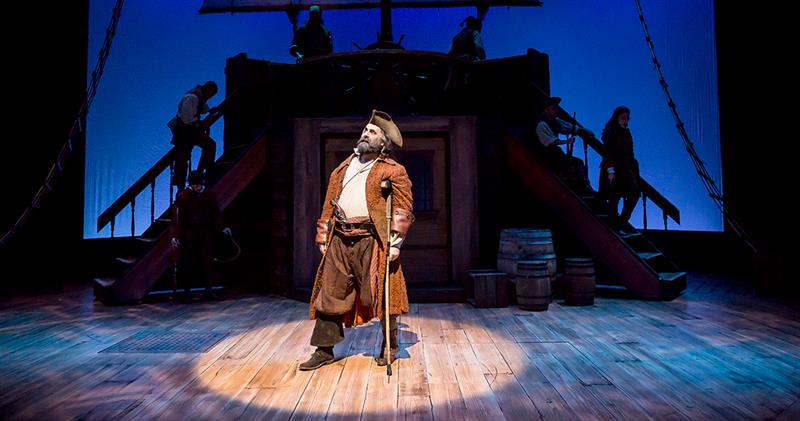 The cast of Ken Ludwig's Treasure Island; photo by Mikki Schaffner.
What is your all-time favorite role you've performed, and why?
Would it be OK if I say Long John Silver? Truly, it has been one of my favorite acting experiences of all time. From working with the incredible cast and Blake Robison to performing in front of an audience, it really is my favorite to date. Previous favorites include Dogberry in
Much Ado About Nothing
, Don Armado in
Love's Labour's Lost
and Lancelot Gobbo in
Merchant of Venice
, to name a few.
What role have you been dying to play, and why?
One of my career goals is to play all of the clown roles in Shakespeare. As you might have noticed in my answer to number three, I play a lot of Shakespeare's clowns. I tend to gravitate towards comedic characters — specifically, physically comedic characters. There are quite a few comedic roles in Shakespeare and I've played a lot of them, but the one that continues to elude me is Bottom in
A Midsummer Night's Dream
. I just haven't been in the right place at the right time when a production of it is being done. However, the role I'm saving for last is Touchstone in
As You Like It
. In my humble opinion, I think he's one of the hardest clowns in Shakespeare to figure out and I'm just not ready to play him yet.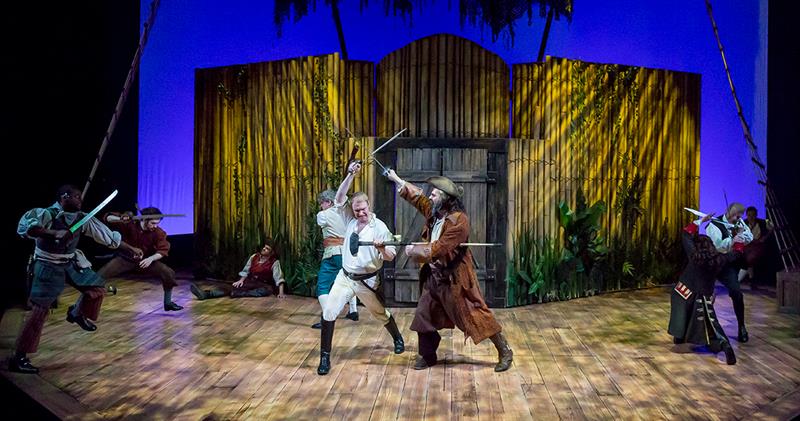 The cast of Ken Ludwig's Treasure Island; photo by Mikki Schaffner.
What has been the most interesting part of working on Treasure Island so far?
The rehearsal experience. I've never been in a stage combat-heavy production that had the luxury of so much time to work on the fights. When we rehearsed, we would work with Blake during the day, take our dinner break and then come back and work on fights in the evening. In most shows that I've worked on, fight choreography was done when/if they could fit it into the rehearsal day. Sadly, it's not always a priority in some productions. It can sometimes be an afterthought. Not with
Treasure Island
! Drew Fracher was given ample time to choreograph, rehearse and perfect each fight for this show and he did an incredible job with it. It meant that we had long rehearsal days, but it was worth every minute of it!
To learn more about the Playhouse's production of Ken Ludwig's
Treasure Island
, visit our
production detail page
.