The Adventure of a Lifetime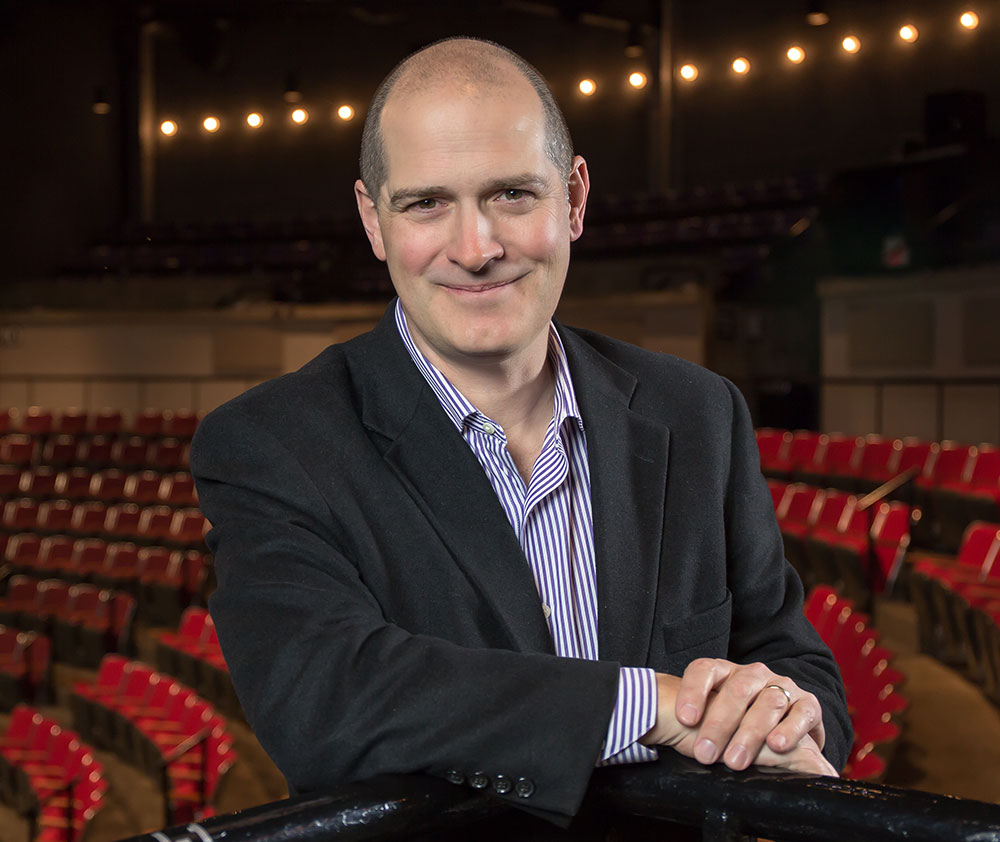 Director Blake Robison chats about the enduring appeal of
Treasure Island
.

What was your first encounter with the story of Treasure Island?
I remember my mother read it to me when I was very young, and then I saw the old, black-and-white film version. I love all of the classic adventure stories —
The Three Musketeers, Shipwrecked, The Count of Monte Cristo
— but
Treasure Island
is the best of the bunch!
The cast and artistic staff in rehearsal for Ken Ludwig's Treasure Island.
Why did you choose to close the Playhouse season with this show?
What excites you about directing it? It's been a priority for me that the Playhouse offers some multigenerational fare every season, in addition to
A Christmas Carol
. Bringing these stories to life onstage allows families to enjoy the theatrical experience together. When a kid is 8, 9 or 10 years old and able to sit through a full-length play, we want to provide that opportunity. This story appeals to the kid in all of us.
You've helmed the script before, when you were the artistic director at Round House Theatre. What's different about returning to the play more than 10 years later?
Ten years ago, my then 7-year old saw the play a dozen times. My office was on the balcony level of Round House, so I would work at my desk while he slipped into the back row. It was fun. He's 17 now and finishing up high school (at Walnut Hills), but my other son is now 12 years old and ready for the theatre. I told him he has to go for the record and see it 13 times.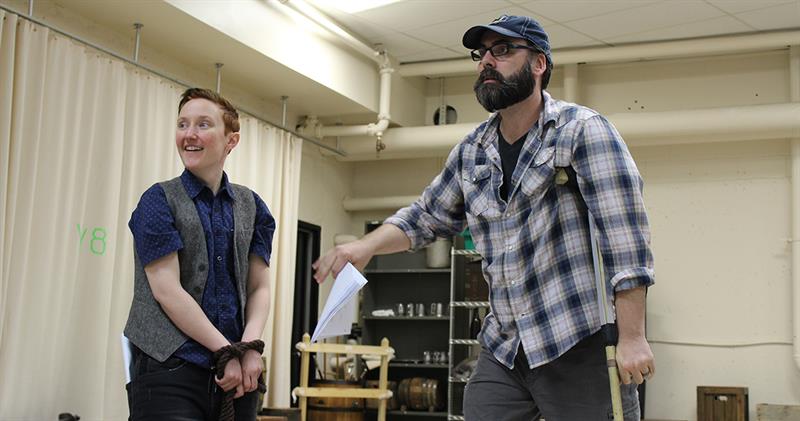 Em Grosland (Jim Hawkins) and Jeffrey M. Bender (Long John Silver/Jim's Father) in rehearsal for Ken Ludwig's Treasure Island.
There are several theatrical adaptations of Robert Louis Stevenson's classic novel. What do you like most about Ken Ludwig's take on the story?
Ken's version is all about adventure. It's a faithful, straightforward adaptation. Additionally, he's leaned into the father/son relationship that Jim develops with Long John Silver — who becomes a sort of surrogate parent for young Jim. One thing they share is a love of Shakespeare, so the dialogue is peppered with fun and relevant Shakespeare quotes. And, of course, there are awesome sword fights.
Though best remembered for its exciting fight scenes and treasure hunt, Treasure Island is also a coming-of-age story. How does this journey play out in Ludwig's version?
When I was first working on the script a decade ago, Ken Ludwig said to me, "Remember, Blake, at the end of the day it's a simple story. Boy meets Pirate and goes on the adventure of a lifetime." It really is that simple. Along the way, Jim gains knowledge and perspective. He sees the bad and good side of humanity. He steps up and takes action when necessary. He finds his own moral beacon. These are the things we want for all of our children. It's just that Jim does them under extraordinary circumstances!
Austin Reed Alleman (George Merry/Bailiff's Son/Bristol Sailor) and Em Grosland (Jim Hawkins) in rehearsal for Ken Ludwig's Treasure Island.
Both the book and play span multiple settings that include a pirate ship, an English tavern and an island jungle. How will the production's design work to bring that world to life on the Playhouse stage?
There's a certain expectation that audiences have for
Treasure Island
. We want to see all of those things — or at least see representative visuals that evoke each location. Ours is a
big
production. Scenic designer Jeff Modereger has created a clever and intricate set that rotates, shifts and transforms into all of these locations. The fantastic period costumes by Matt LeFebvre root us in 1774. The sound and lighting will fill it all out in thrilling and evocative ways.
Treasure Island is the quintessential pirate tale that, in many ways, set audience expectations from Peter Pan to Pirates of the Caribbean. Why do you think this story has remained so popular for so long?
I think it's because the protagonist is a kid, a young man on his own, trying to find his way in the world. That's the spine of all of these stories — whether it's Peter Pan refusing to grow up or Jack Sparrow following his crazy, supernatural compass.
Treasure Island
lays the foundation for all of it.
What would you say to young people who might be discovering the story for the first time?
Enjoy the ride!
To learn more about the Playhouse's production of Ken Ludwig's
Treasure Island
, visit our
production detail page
.