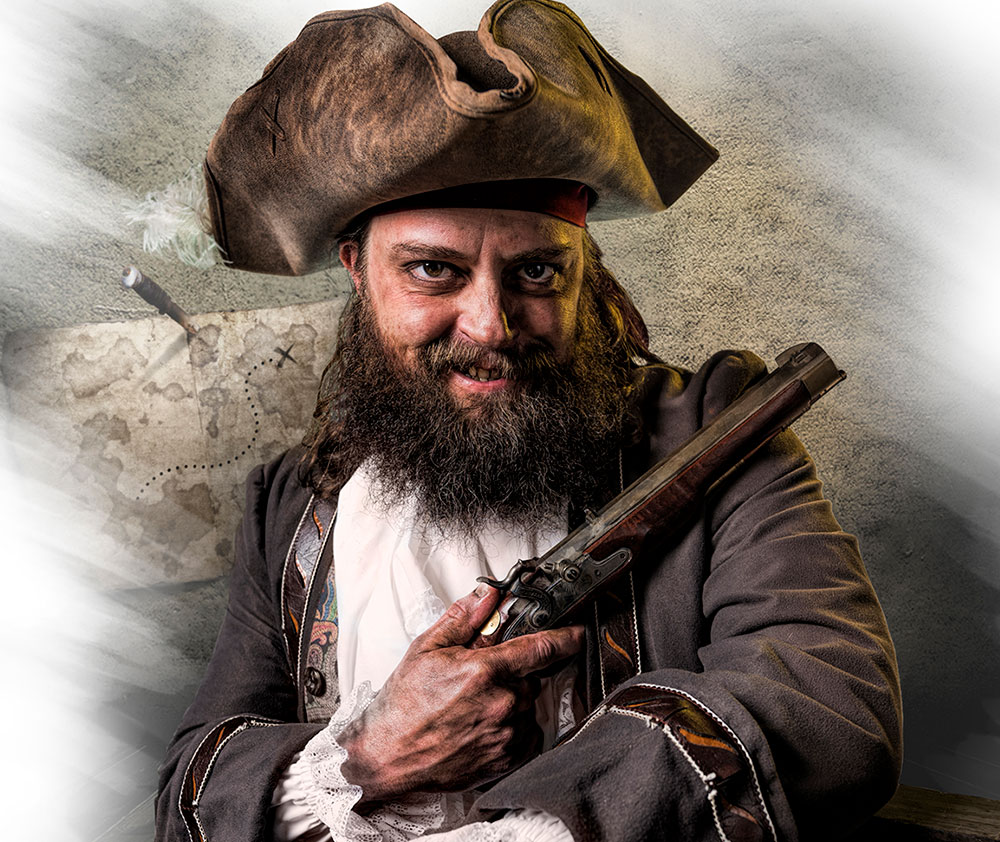 When you open the pages of author Robert Louis Stevenson's first novel, you'll find this epigraph, an enticement of sorts addressed to "the hesitating purchaser" of his book:
If sailor tales to sailor tunes, storm and adventure, heat and cold,
If schooners, islands and maroons, and buccaneers, and buried gold,
And all the old romance, retold exactly in the ancient way,
Can please, as me they pleased of old, the wiser youngsters of today:
— So be it, and fall on!
Stevenson needn't have worried about enticing those "wiser youngsters" of 1883, when
Treasure Island
was published in book form and rose to near instant fame. At the same time, he hardly could have imagined that his classic yarn would remain as popular with young and young-at-heart readers more than 135 years later. Arguably the greatest adventure story ever told,
Treasure Island
leaps to the Playhouse stage in a larger-than-life production helmed by Playhouse Artistic Director Blake Robison to close out this season's Marx Theatre lineup.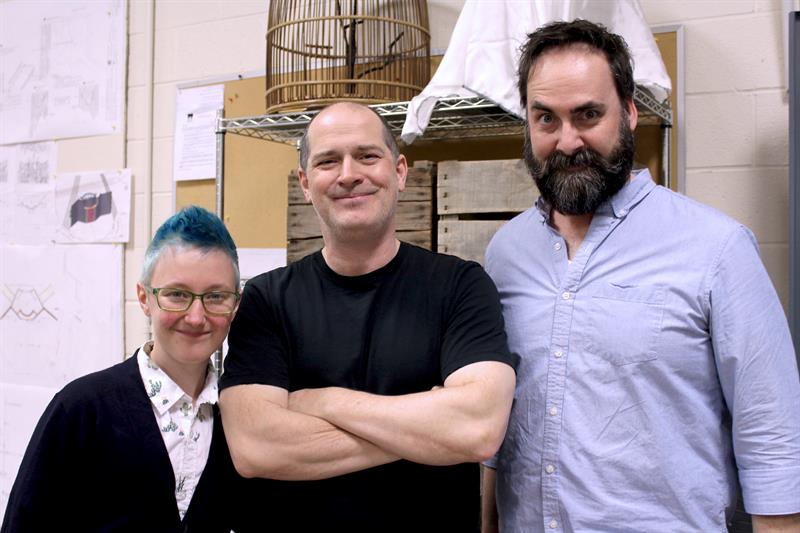 Em Grosland (Jim Hawkins), Director Blake Robison, Jeffrey M. Bender (Jim's Father/Long John Silver) at the Playhouse's Meet and Greet for Treasure Island.
In many ways, Jim Hawkins, who acts as our guide into the world of
Treasure Island
, is just your typical teenage boy. He is, perhaps, a little older and wiser than his mere 14 years would suggest due to the sharply felt loss of his beloved father. Jim yearns for more excitement than he finds on the sleepy south coast of England. Yet, he happily takes on greater responsibility in helping his mother run the family's Admiral Benbow Inn in Black Hill Cove.
Jim's quiet, routine life is upended when the ragged, mysterious Billy Bones wanders unexpectedly into their tavern. Bones brings with him a chilling warning: Jim must alert him at once should he witness the appearance of a sailor with one leg, a man who Bones hauntingly describes as a friend to "no livin' creature."
Though the one-legged man frequents Jim's nightmares, an entire crew of pirates follows Bones to the inn's front door. When they arrive, Jim uncovers what's been hiding in the lining of Bones' old sea chest: a treasure map pointing to hundreds of thousands of dollars in gold, silver and pearls. To track down the treasure, Jim must embark upon a dangerous sea voyage. He'll discover not only money and gems, but also treachery, betrayal and even mutiny lurking around every corner.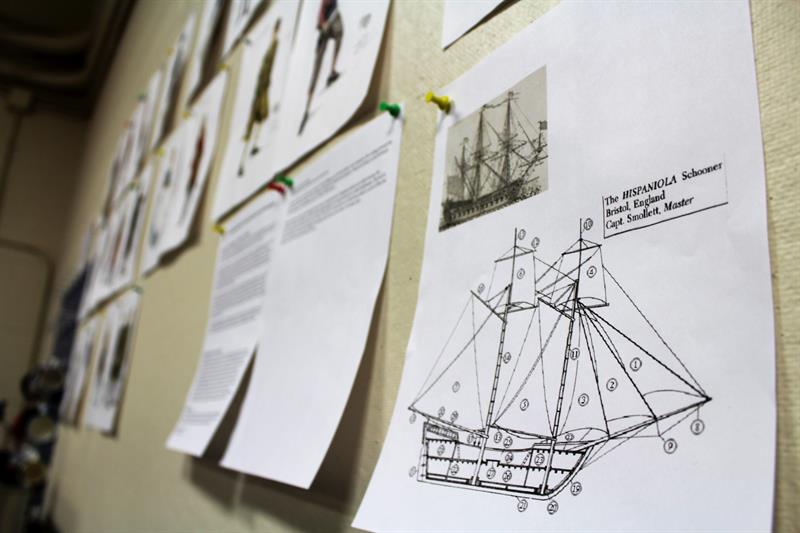 Costume renderings and set model references for Ken Ludwig's Treasure Island.
Like many feats of creativity, the plot for
Treasure Island
was inspired by a simple challenge — Stevenson's desire to stave off boredom for his 12-year-old stepson, Lloyd. As a diversion one rainy afternoon while on holiday in Scotland, the two created an island drawing and a treasure map, but Lloyd wanted to explore more of the tale. Borrowing elements from authors including Daniel Defoe, Washington Irving and Edgar Allan Poe, and adding allusions to real-life pirates such as Blackbeard and Israel Hands, Stevenson expanded their story until it blossomed into a full-blown narrative and then novel, which was initially serialized in 18 installments of the boy's magazine
Young Folks
.
Treasure Island
is filled with unforgettable characters but is best known for a singular creation, described by a reviewer as "one of the most remarkable pirates in fiction." Whether you prefer the villainy of Captain Hook or the charm of Captain Jack Sparrow, you owe a debt of gratitude to Stevenson, for his invention of Long John Silver established the popular image of piracy for an entire genre of works that followed.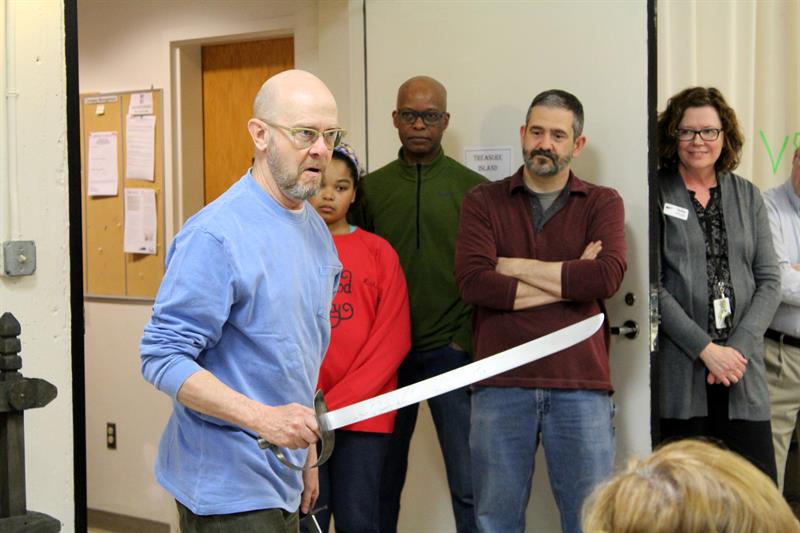 Fight Choreographer Drew Fracher demonstrates the various types of production weaponry at the Playhouse's Meet and Greet for Ken Ludwig's Treasure Island.
Stevenson's pirates force their enemies to walk the plank as their ships fly the Jolly Roger. They seek treasure maps where an "X" marks the spot. They sing "yo-ho-ho, and a bottle of rum" and keep parrots for pets. His pirates are simultaneously vicious and charismatic — a deliciously dichotomous blend that may help to explain why we remain so enamored by their exploits to this day.
"What could be better? We love pirates!" playwright Ken Ludwig, who authored this adaptation of Treasure Island, told Samuel French. "They're fun. They're crazy. They're the first antiheroes, aren't they? They're bloodthirsty. They kill people. They do terrible things. They steal things. But we're rooting for them. We're in love with them. And Long John Silver is a great example of that."
It's safe to say that 21st century youngsters — having grown up in the age of the internet, video games and unprecedented achievements in film CGI — are the wisest bunch yet. Consequently, they may also be the most difficult to entertain. But
Treasure Island
still manages to mesmerize, making it a perfect theatrical adventure for the entire family.
To learn more about the Playhouse's production of Ken Ludwig's
Treasure Island
, visit our
production detail page
.