Bruce Cromer on Making A CHRISTMAS CAROL Sing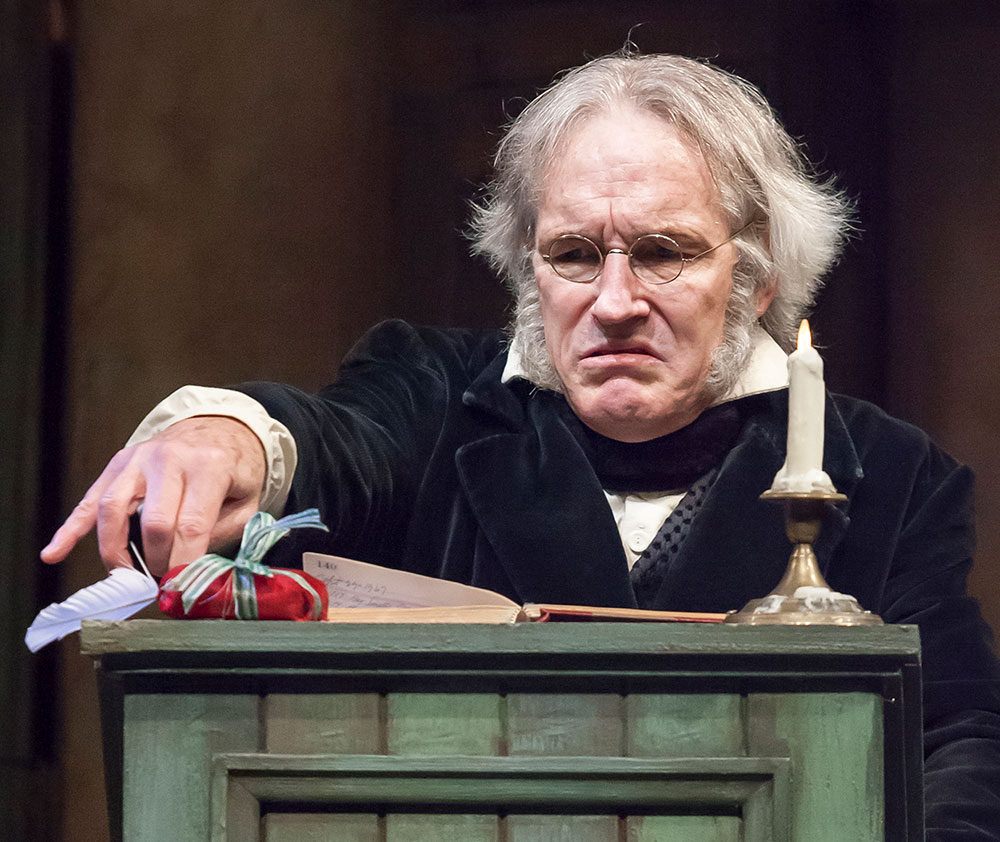 Bruce Cromer returns for his 13th season as Ebenezer Scrooge this holiday season. Last year at this time, we published his reflections on what he enjoys most about the Playhouse production of
A Christmas Carol
, and his thoughts still ring true today.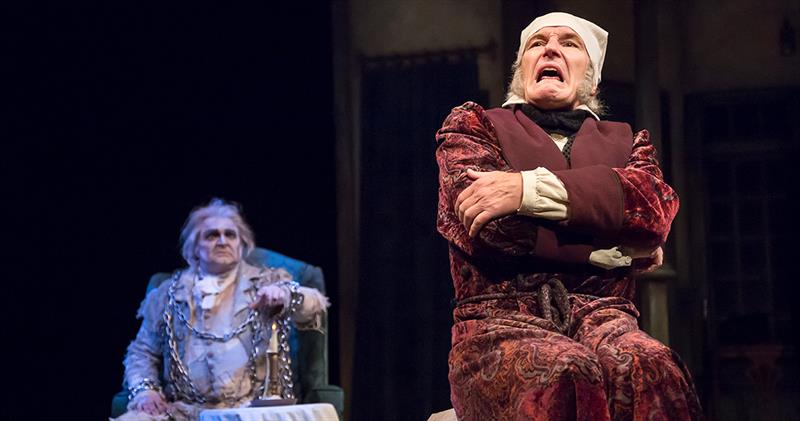 Gregory Procaccino and Bruce Cromer in A Christmas Carol. Photo by Mikki Schaffner.

What part of working on A Christmas Carol, from the first day of rehearsal to closing night, is your favorite?


It's easier to name the few elements of rehearsals and performances that I don't enjoy as much; there are so many wonderful parts of the process that always rev my engines, charge my batteries and plaster a huge, goofy smile on my face. The meet-and-greet, preceding our first read-through, is an exciting sea of new and familiar faces, parents of the children and the staff and crews of the Playhouse. We stand in a huge circle in the Marx Rehearsal Hall and introduce ourselves. In the midst of that first reading, as the cast gathers around a rectangle of tables and chairs, you hear new voices (many young and high-pitched) and new choices. That's the moment when we're first telling the story, for that particular year's version of
A Christmas Carol
, to each other, for each other, with each other. Those are always my most nervous hours of the rehearsal process, when I most doubt my ability to do justice to Charles Dickens' artistry. But, by the end of the reading, I know that the talent in the room and the story, with all the production elements to be added, will work magic once again.
What do you enjoy most about acting alongside children?
Kids bring a freshness, an innocence, an open mind and heart to the show, their characters and the ensemble. That's a major spice of the yuletide soup. Director Michael Evan Haney ideally casts young people who lack the veneer and artifice of performers but own the necessary skills and personalities of actors: they need volume, energy, diction, an ear for the dialect, a remarkable level of consistency and concentration — and they must love the work.
Some of the children, in the past, have performed the show (like the adults) when they were ill or injured; they are not required to do so. We have understudies to cover their parts, but they want to go on with the show. My first Tiny Tim, when I began as Bob Cratchit, was 6-year-old J. Patrick Naylor, who felt sick during one
A Christmas Carol
performance; he never missed a scene or a line, but went straight back to his mom and the dressing-room cot when he was offstage. Amazing. Inspiring. That memory has gotten me through some rough nights as Scrooge.
Benny Mitchell, Bruce Cromer and Livvy Steubenrauch in A Christmas Carol. Photo by Mikki Schaffner.
What's the best thing about working with director Michael Evan Haney?
Michael is such an actor's director, because he began his long theatrical career on stage, doing what we do every night. He knows the craft, its nuances, the necessary blend of objective and subjective choices and what will work for the audience and the individual actor. He loves to play in rehearsals and sift through possibilities to see what a new cast member or a different interpretation of a scene with returning "vets" will do; sometimes one fresh choice tumbles all of the remaining dominoes in a new way.
Michael's collaborative genius comes from a clear vision of what the ultimate product could and should be, mixed with an educated, open-minded, heartfelt enjoyment of the rehearsal process. I absolutely adore hearing his final proclaimed advice before our run-throughs: "Make it sing!" He's our beloved conductor and one of my most prized friends and theatrical colleagues. (Michael has directed me more than anyone else in my 35 years in the profession. My wife Carol is the only other human being who so often tells me what to do, when, how and why.)
In your opinion, what makes our production of A Christmas Carol unique?
The script and the way Michael has developed the realization of it over the decades is the foundation for the Playhouse production of
A Christmas Carol
's singular heart. It does justice to Dickens, with an unexpected depth of humor, anguish, soul-searching and spiritual salvation, but with comic glee and eccentric characterizations. It works on many levels for many generations of audiences. And it's rich enough in substance and style to make people want to see it again and again. The family of the cast and crew make it a gift to the families in the seats, experiencing it together, as if it were the first time the story was told and lived.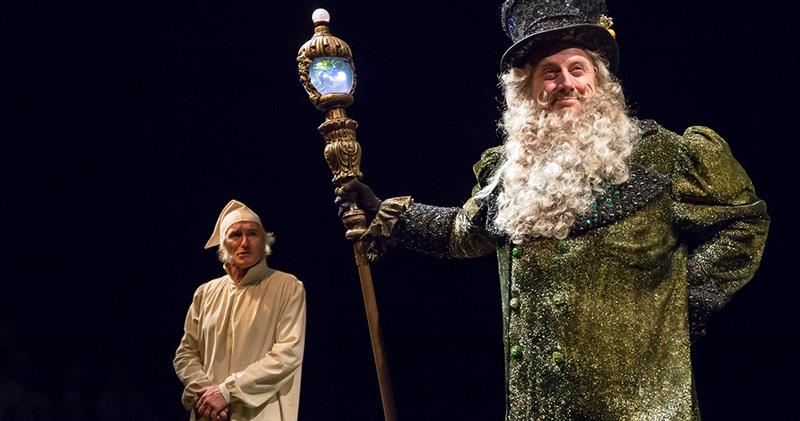 Bruce Cromer and Douglas Rees in A Christmas Carol. Photo by Mikki Schaffner.

What is your favorite line in the show, and why?
That seems to change every year, depending on what I've been through in the preceding nine months before rehearsals begin again. This year it truly will be "God bless us — every one!" The year 2016 has been a rough year for the country in so many ways: politics and events have divided us, made some of us feel polarized from fellow Americans and the world. Dickens'
A Christmas Carol
asks us, via the small prayer of a child, to wish blessings on all of our fellow travelers in this existence, on this planet and beyond. There are some performances when, as Scrooge, I feel such a flood of humanity wash over the Playhouse when those words are spoken. It's an always needed invocation for peace, tolerance, understanding and love.
To learn more about the Playhouse production of
A Christmas Carol
, visit the
production detail page
.