5 Questions with Dale Hodges
Dale returns to Cincinnati Playhouse in the Park having recently appeared in
To Kill a Mockingbird
(2016). Since joining Actors' Equity in 1974, Dale has worked in New York and many theatres around the country. She was in the Broadway productions of
Equus
and
Benefactors
, the off-Broadway productions of
Top Girls
and
A Woman in Mind
, and she toured with Anne Jackson and Eli Wallach in Ayckbourn's
Absent Friends
. In Cincinnati, where she now lives, Dale's credits include Vivian Bearing in
Wit
, The Fool in
King Lear
, Mary Tyrone in
Long Day's Journey Into Night
, Big Edie in
Grey Gardens
, Violet in
August: Osage County
, Volumnia in
Coriolanus
and 23 seasons of
A Christmas Carol
. Last April, Dale played Ethel Thayer in
On Golden Pond
at the Human Race Theatre in Dayton, and in July she was Martha Brewster in
Arsenic and Old Lace
at Peterborough Players in New Hampshire. In 2014, she was nominated by the Cincinnati Playhouse as a Lunt Fontanne Fellow at Ten Chimneys in Wisconsin.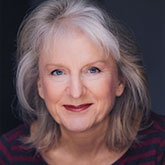 1. How long have you been acting, and where did you receive your training? 2. When did you know you wanted to be an actor, and what's your favorite part of the job?
I started acting as a hobby when I was a teenager but the idea of doing it as a profession snuck up on me slowly. I was a good secretary in a London office — 50 words-per-minute typing, 100 words-per-minute Pitman's shorthand — but I wasn't having much fun. My hobby fed something deep in my soul and, after hours, when people began to tell me I had some performing skills, I began to listen. So, I auditioned for and got accepted at the East 15 Acting School, a 3-year conservatory housed in a lovely Georgian mansion on the outskirts of the city. After that there was no going back. In 1972, I moved to New York, and in 1974, I joined the professional union Actor's Equity. I've been working in the theatre ever since.
3. What is your all-time favorite role you've performed, and why?
Vivian Bearing in
Wit
is an amazing role and I was lucky enough to be the right age to play her in Ed Stern's Shelterhouse production in the year 2000. The playwright, Margaret Edson, knew exactly what she wanted to say, and the piece is so well constructed and written with such heightened language and poetry that it's like going to the emotional gym. I said to a friend, "She's given me everything but a mad scene," and my friend answered, "Oh, make no mistake — she's given you a mad scene, too!"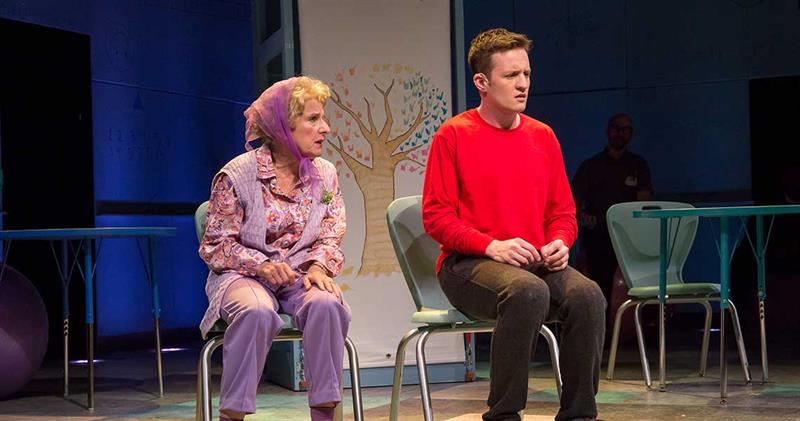 Dale Hodges, Nick LaMedica and Michael Baxter in The Curious Incident of the Dog in the Night-Time. Photo by Mikki Schaffner.

4. What role have you been dying to play, and why?
As a woman of "a certain age," it's hard to say what I'm still dying to play because there's not a whole lot of strong female roles left. Post-Restoration dramas offer some good comic seniors worth reviving: Lady Wishfort in
The Way of the World
, Mrs. Malaprop in
The Rivals
, Mrs. Hardcastle in
She Stoops to Conquer
. Maggie Smith once said that at her age all that's left are "the grotesques," and if I could have a crack at Alan Bennett's
The Lady in the Van
, which she played so brilliantly both on the stage and in the film version, I'd be in heaven. So often in contemporary plays, older women are portrayed as either on the way out or losing their marbles, which is an irony, really, because as we all know, in real life we women live longer than our male counterparts! A couple of years ago I had the chance to play Vi in
August: Osage County
and was grateful to Tracy Letts for writing a wonderfully hideous mother who's certainly not going without a fight. I look for mature female feistiness wherever I can find it! And humor is always good, too!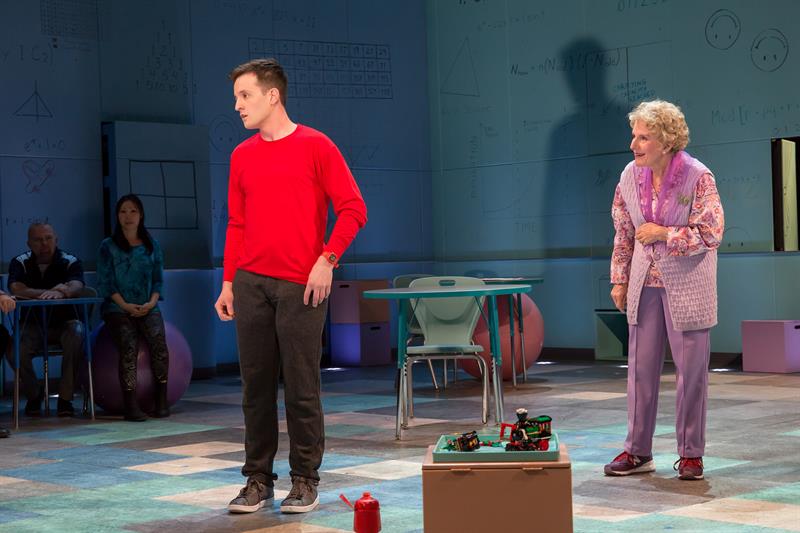 Kevin Cutts, Ka-Ling Cheung, Nick LaMedica and Dale Hodges in The Curious Incident of the Dog in the Night-Time. Photo by Mikki Schaffner.

5. What has been the most interesting part of working on Curious Incident so far?
The most interesting part of working on
Curious Incident
has been the evolving nature of the rehearsal experience, and as I sit onstage each night, I can remember how each of the creative ideas that our director Marcia had, was tried out, evaluated and successfully integrated into the finished piece. The subject of the play is endlessly fascinating, but being part of a devised choreographic process to bring the text and Christopher's view of the world to life in this way has been a different and challenging opportunity, and I'm extremely grateful and proud to be involved in this lovely show.
To learn more about the Playhouse's production of
The Curious Incident of the Dog in the Night-Time
, visit our
production detail page
.