Erma Bombeck Reading List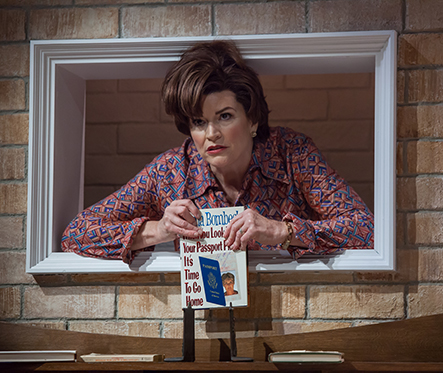 Did you leave
Erma Bombeck: At Wit's End
laughing, reminiscing on your own household comedy hours or feeling an urge to fight for the Equal Rights Amendment? We've compiled a list of books in case you're still wanting more daily life amusement, or if you're curious about the feminist movement of the 1960s and '70s.
Bombeck Classics
I Lost Everything in the Post-Natal Depression
The Grass is Always Greener Over the Septic Tank
If Life Is a Bowl of Cherries, What Am I Doing in the Pits?
Eat Less Cottage Cheese and More Ice Cream: Thoughts on Life from Erma Bombeck
I Want to Grow Hair, I Want to Grow Up, I Want to Go to Boise (Children Surviving Cancer)
When You Look Like Your Passport Photo, It's Time to Go Home
A Marriage Made in Heaven, or Too Tired for an Affair
Forever, Erma: Best Loved Writing from America's Favorite Humorist
Comedic Memoirs
Operating Instructions: A Journal of My Sons First Year
by Anne Lamott
The Blue Jay's Dance: A Memoir of Early Motherhood
by Louise Erdrich
Is Everyone Hanging Out Without Me? (And Other Concerns)
by Mindy Kaling
Housebroken: Admissions of an Untidy Life
by Laurie Notaro
Not That Kind of Girl: A Young Woman Tells You What She's "Learned"
by Lena Dunham
Does This Beach Make Me Look Fat? True Stories and Confessions
by Lisa Scottoline and Francesca Serritella
Fictional Life-Humor
Life's a Beach
by Claire Cook
Feeling Sorry for Celia
by Jaclyn Moriarty
Miss Julia Renews Her Vows by Ann B. Ross The Nest
by Cynthia D'Aprix Sweeney
Confessions of a Domestic Failure
by Bunmi Laditan
Where'd You Go Bernadette
by Marie Semple
Second-Wave Feminism
The Feminine Mystique
by Betty Friedan
The Bell Jar
by Sylvia Plath
The Second Sex
by Simone de Beauvoir
SCUM Manifesto
by Valerie Solanas
The Golden Notebook
by Doris Lessing
Our Bodies, Ourselves: A Book by and for Women
by Boston Women's Health Book Collective
To learn more about the Playhouse production of
Erma Bombeck: At Wit's End
, visit the
production detail page
.
Barbara Chisholm in Erma Bombeck: At Wit's End. Photo by Mikki Schaffner.