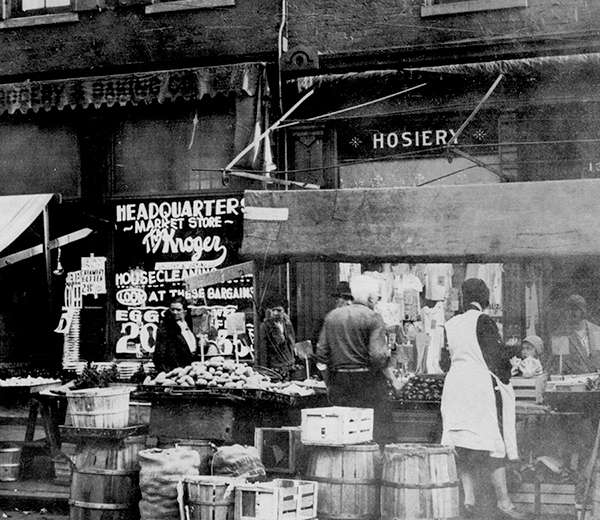 The West End is written by Cincinnati-born playwright Keith Josef Adkins and tells the story of five characters who live in the historic area of town in 1941. At that time, the region grew daily as Black Americans migrated from the Deep South to forge new lives in northern cities. Simultaneously, German residents faced growing hostility as the U.S. teetered on the brink of World War II.
Committed to telling the tale with profound authenticity, Adkins drew from historical events and real, influential figures that have shaped Cincinnati's history. The characters in the play may be fictional, yet the world they navigate is rich with historical references. Take a closer look.

---
PEOPLE AND ORGANIZATIONS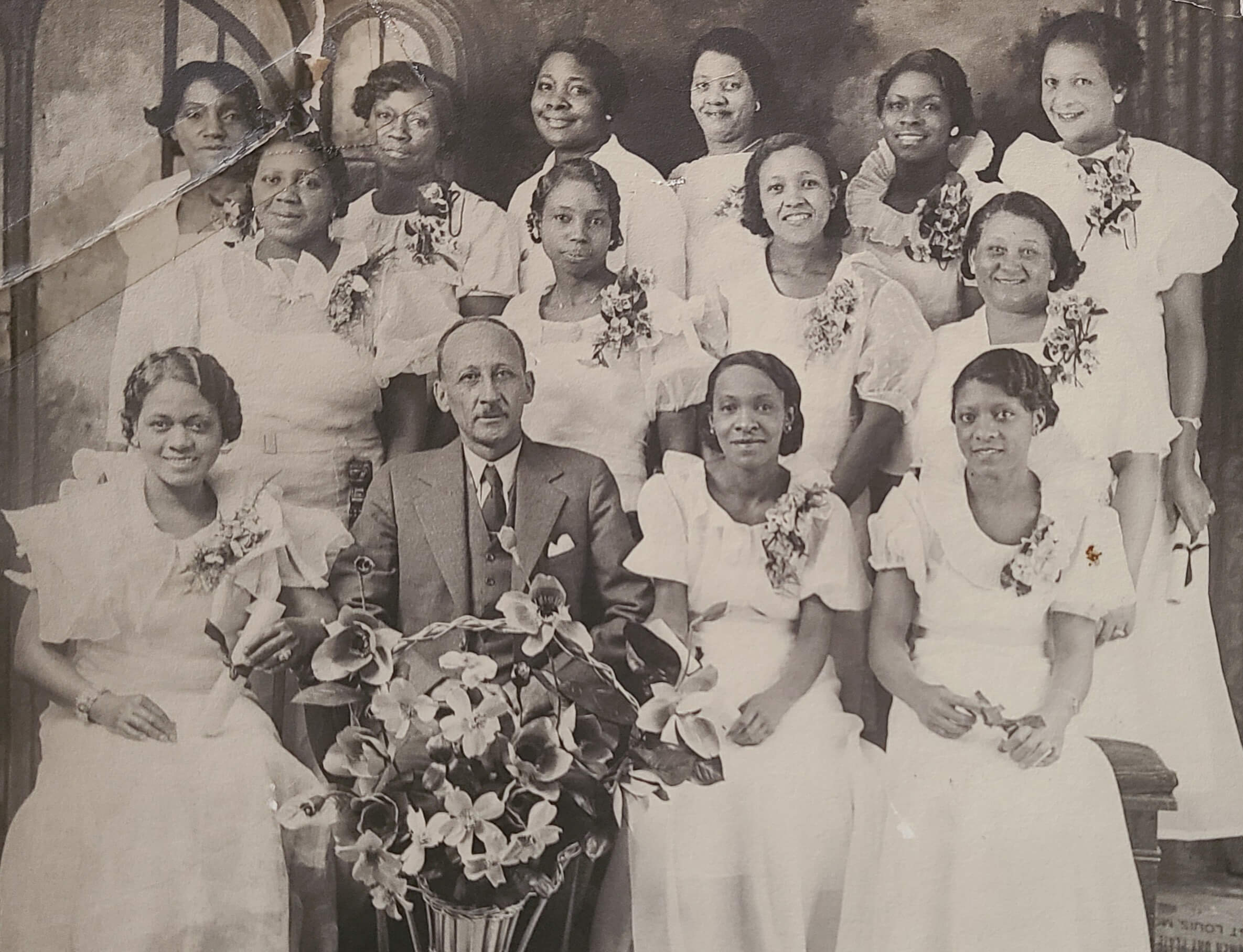 Image is part of the Robert O'Neal Multicultural Art Center (ROMAC) Black Cincinnati History Collection.

THE CINCINNATI COLORED FEDERATION CLUB
Since 1904, the Cincinnati Federation of Colored Women's Clubs has served local communities through mutual aid and organizing. During the Great Migration, they provided temporary housing for Black families. The federation purchased a mansion in Walnut Hills in 1924 as a meeting space, where it continues to operate to this day.
THE CINCINNATI REDS
Considered one of the oldest franchises in baseball history, the Reds were founded in 1882. Their name derives from the original, "Red Stockings." They briefly changed their name to "Redlegs" at the height of the communist Red Scare from 1954 to 1959. They won the World Series in 1919, 1940, 1975, 1976 and 1990.

THE ETHIOPIAN CLOWNS (CINCINNATI CLOWNS)
The Cincinnati Clowns (known colloquially at the time as the Cincinnati Ethiopian Clowns) played at Crosley Field as members of the Negro Major Baseball League in the 1940s. One of the team's notable characteristics was their comedic showmanship.
EZZARD CHARLES
Ezzard Mack Charles was born in Georgia in 1921 and moved to Cincinnati with his family when he was 9 years old. He took up amateur boxing while attending Woodward High School. Between 1940 and 1959 (not including two years that he served in the U.S. Army), Charles won 96 of 122 bouts (of which 58 were by knockout). With precise movements and slick defense, Charles became known as the "Cincinnati Cobra." He was inducted into Ring magazine's Boxing Hall of Fame in 1970.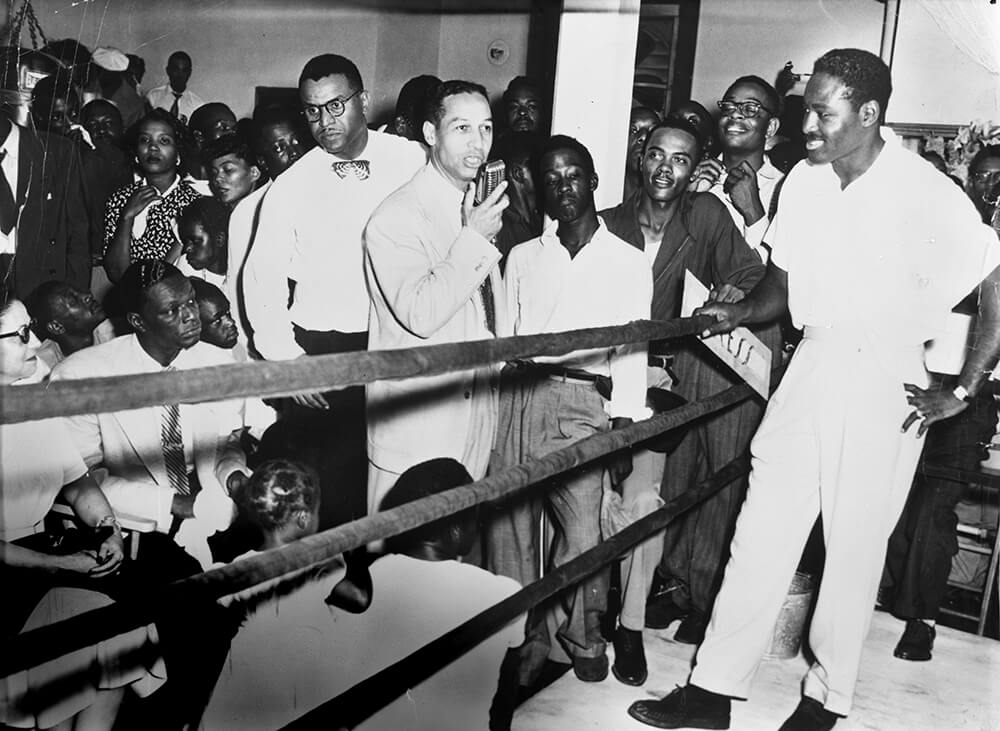 Images are part of the Robert O'Neal Multicultural Art Center (ROMAC) Black Cincinnati History Collection.
HORACE SUDDUTH
Horace Sudduth was a highly influential real estate agent in the West End and Walnut Hills. He helped Black residents lease property, negotiate loans, obtain mortgages, collect rent and sell property.
MAX ELKUS
Max Elkus was a well-known businessman who owned a pawn shop and a men's clothing store called Max's Gentry Shop located downtown. He was also Ezzard Charles' financial backer in support of his boxing career.
MAYOR STEWART
James Garfield Stewart served as Cincinnati mayor from 1938 to 1947 and immediately went on to serve as justice on the Ohio Supreme Court until 1959. Stewart was often described as a colorful politician with a memory for names and faces, with "a sharp legal mind that cut through to the meat of a legal issue real quick," as described by a former colleague.
WENDELL PHILLIPS DABNEY AND THE UNION NEWSPAPER
"For no people can become great without being united, for in union there is strength." That was the motto of The Union newspaper which was owned and edited by Wendell Phillips Dabney. He used The Union to cover news and events that affected the Black community in Cincinnati.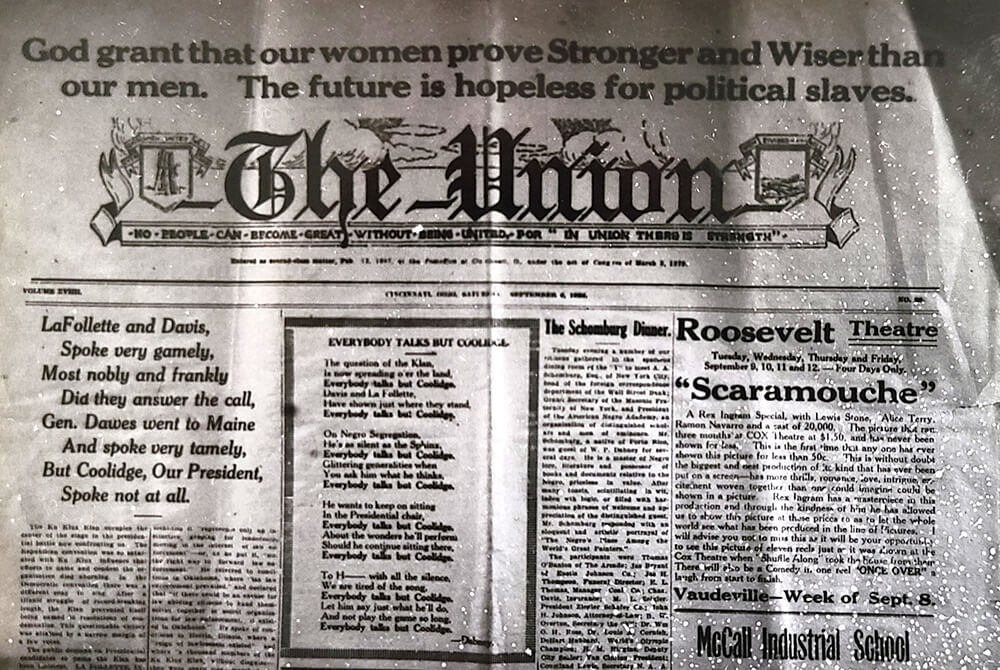 Image is part of the Robert O'Neal Multicultural Art Center (ROMAC) Black Cincinnati History Collection.

REV. WILBER A. PAGE
Born in 1895, Rev. Page was raised in Cincinnati as the son of a Baptist minister. He was an influential spiritual leader and devoted community organizer, increasing the Union Baptist Church's membership from 210 to 1,000 between years 1919 and 1930.

---
PLACES
ALBEE THEATER
The 3,500-seat theatre was considered Cincinnati's finest movie palace. It opened in 1927, presenting live vaudeville shows and eventually films. It was built by E. F. Albee, a relative of the famous playwright Edward Albee. In 1977, the theatre was demolished, and the property today is the Westin Hotel.
CAREW TOWER
Completing its construction as Cincinnati's tallest building with 49 stories in 1930, Carew Tower was designed to mirror New York City's Rockefeller Center with a hotel, shops and restaurants under one roof. Mabley & Carew department store operated on the property between 1877 and 1960.

CINCINNATI COTTON CLUB
From the 1930s through the '50s, Cincinnati's Cotton Club was one of the city's only integrated night clubs where both Black and white patrons could enjoy libations, live music, comedy and dancing from the house chorus line. Guests of the Cotton Club dressed in cocktail attire and enjoyed top talent from the likes of Count Basie, Duke Ellington, Sarah Vaughn and Helen Humes — all were considered jazz royalty. Boxer Ezzard Charles was a frequent guest.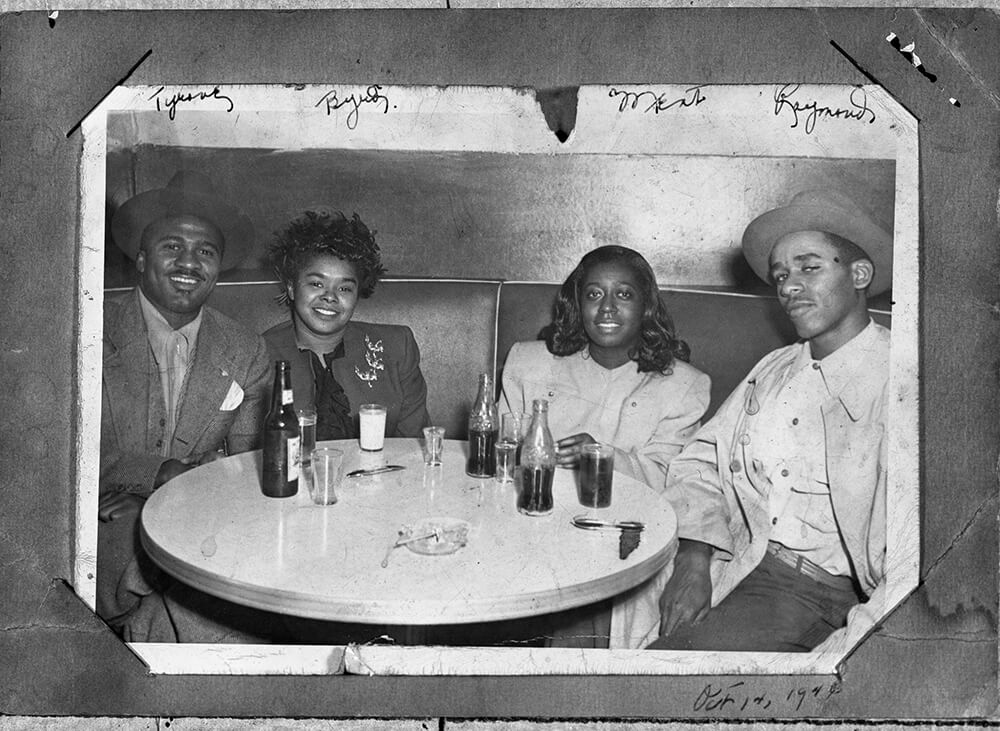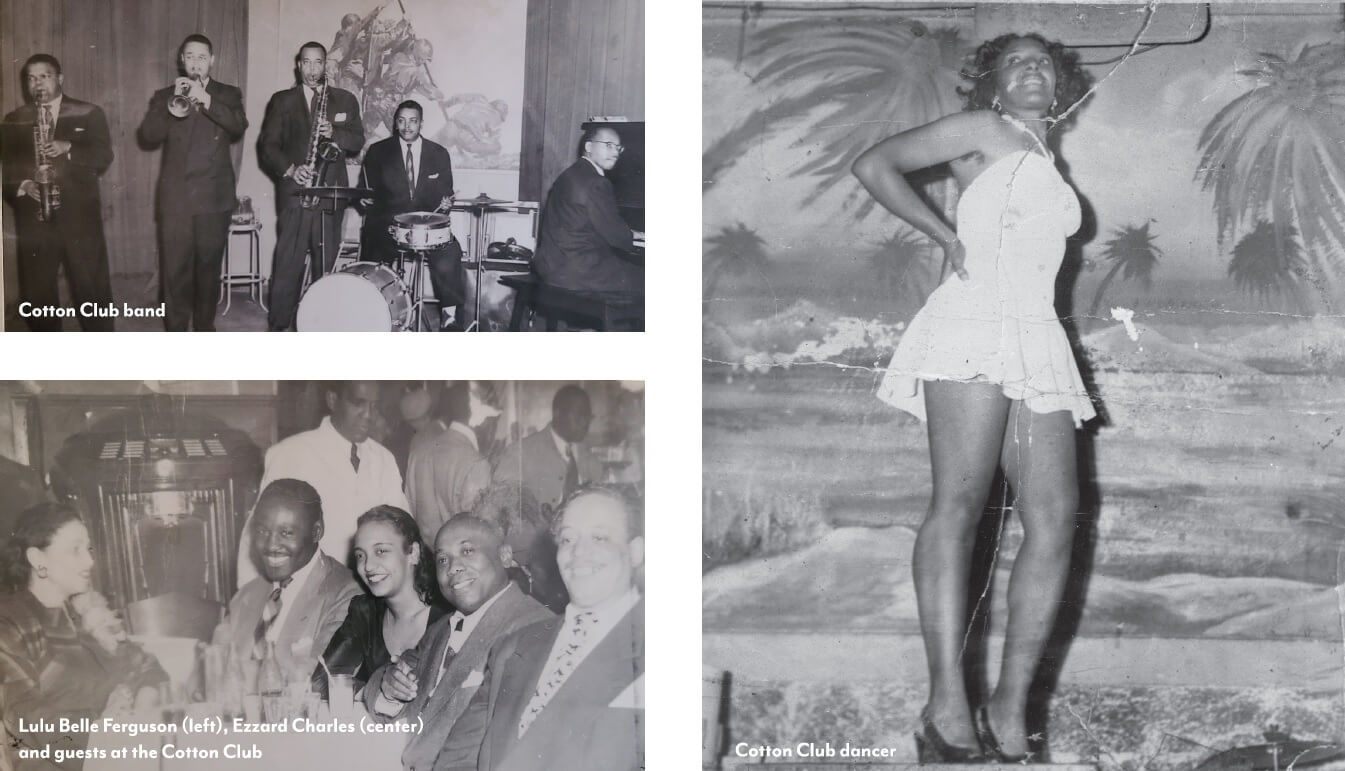 Images are part of the Robert O'Neal Multicultural Art Center (ROMAC) Black Cincinnati History Collection.
CORDELIA'S HOTEL
Cordelia's was only one of four hotels/tourist homes in Cincinnati that allowed Black guests and residents to stay there. It was included in "The Green Book," a guide for Black Americans to identify welcoming spaces during their travels. The hotel was instrumental in mobilizing Black residents to vote during elections.
CROSLEY FIELD
The Major League Baseball park was located in the West End and was the home field of the Cincinnati Reds from 1912 to 1970. Its nickname in the baseball community was "The Old Boomerang," given the V shape of the stadium and field. Before it was named Crosley Field (after Powel Crosley Jr. purchased the team), it was Redland Field.

Photo provided by Cincinnati Museum Center.
EMPRESS CHILI
The small, family-owned establishment was founded in 1922 and originally neighbored the Empress Theatre on Vine Street. The downtown location has long since closed, but locations in Alexandria, Ky., and Delhi Twp. on the West Side are still open. Empress Chili is considered the originator of Cincinnati-style chili.

Photo used with permission of Empress Chili.
FINDLAY MARKET
As Ohio's oldest surviving municipal market house, Findlay Market has been operating since 1855. It was one of nine public markets in the city in the 19th century, where butchers, fish sellers, farmers and produce vendors ran their business — one of whom was Kunkel's Pickles, a pickle and sauerkraut stand that's mentioned in the play.

Image provided by Findlay Market.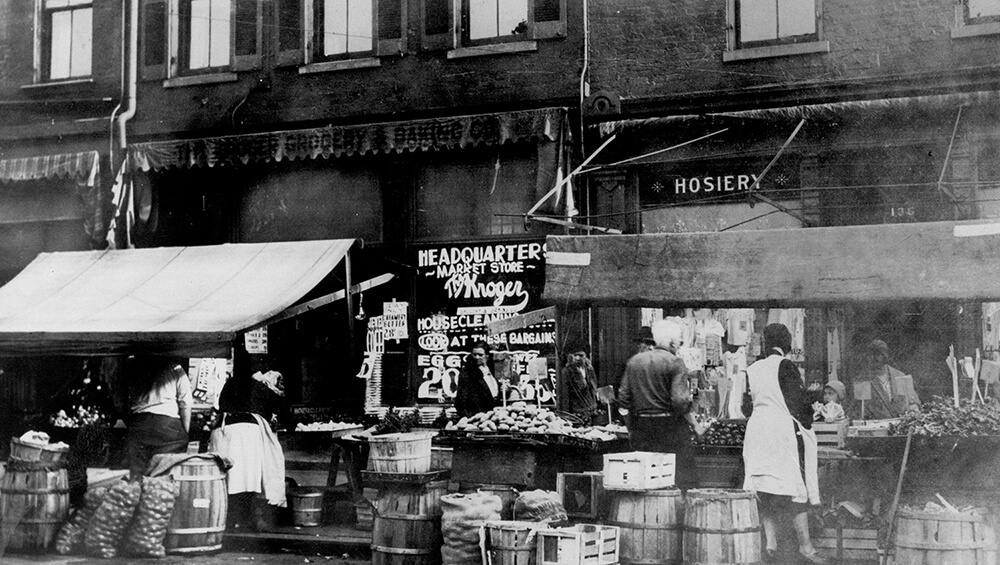 Image provided by Cincinnati Museum Center.

FOUNTAIN SQUARE
Similar to the shops surrounding the square today, Fountain Square served as a public market in the center of downtown. It was established in 1871 and had previously been an open-air esplanade. During World War II, war bonds were sold at a stand in the square.
HUDEPOHL BREWERY
Hudepohl Brewing Company was founded by Ludwig Hudepohl II in 1885 and reflects a wave of mid-19th century immigration from Germany to Cincinnati. The brewery helped establish the city as a major beer industry player, with Over-the-Rhine being the unofficial beer epicenter. Hudepohl is still operating today as a subsidiary of Christan Moerlein Brewing Company.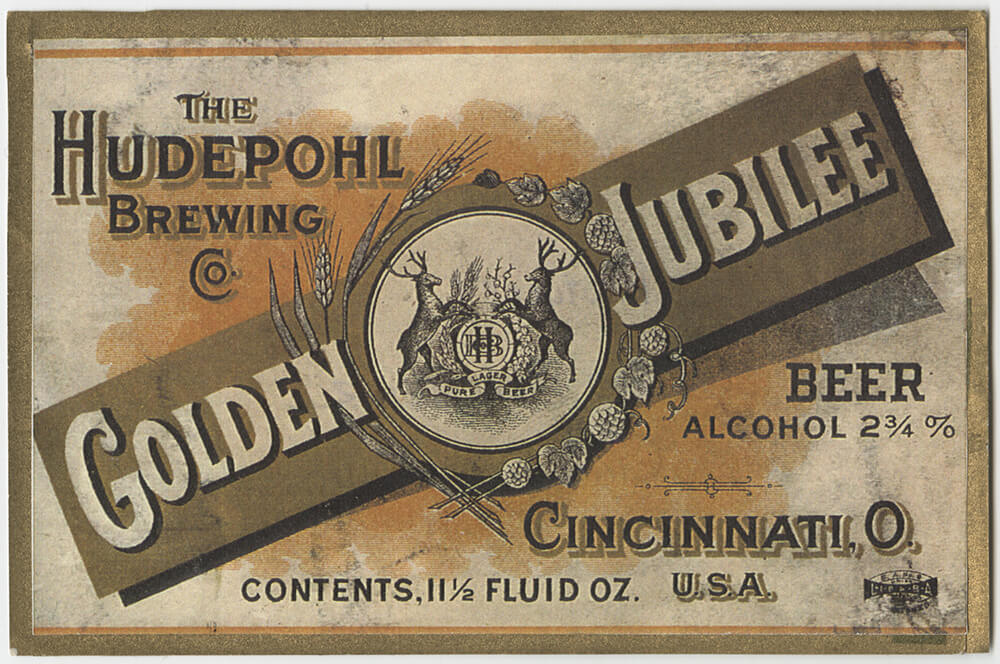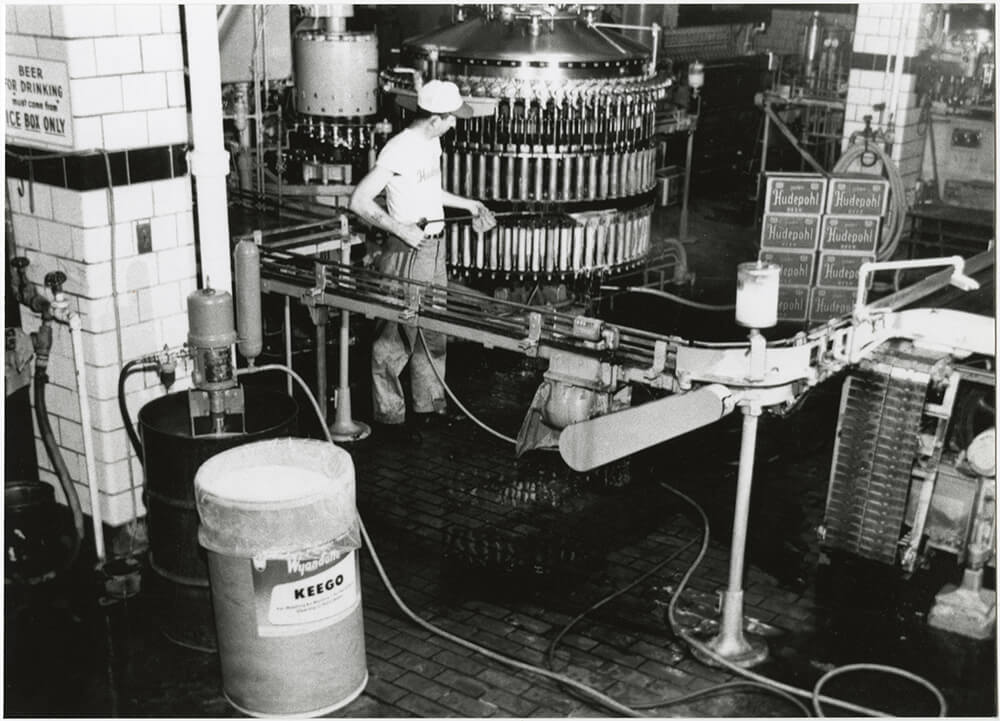 From the collection of Cincinnati & Hamilton County Public Library.
LINN STREET
A main street in the West End, Linn Street connects many major roads west of downtown. It's considered part of the Dayton Street Historic District which includes Winchell Avenue and Bank, Poplar and Linn Streets. The area features German townhome architecture, reflecting its 19th-century history of residences owned by beer brewers and pork packers.
LONGVIEW ASYLUM
In 1860, the state of Ohio opened Longview State Hospital (known colloquially as Longview Asylum) in Carthage. By the 1950s, Longview was accommodating more than 3,500 patients (although, this was not desirable, as the hospital was severely understaffed and lacking in resources). Advances in mental healthcare in the second half of the 20th century drastically impacted the operations of Longview, and the original property was demolished in 1984.
MAIN STREET
The six downtown blocks of Main Street were home to many German immigrants and German residents at the turn of the 19th century. The street signified the unofficial border between downtown Cincinnati and Over-the-Rhine, where the majority of German immigrants resided.
MECKLENBURG'S
Located in Corryville, the restaurant and beer garden was more than an eatery which featured traditional German dishes with touches of American cuisine — many German residents attended heritage meetings and events to learn more about American life. During Prohibition, Mecklenburg's became a speakeasy.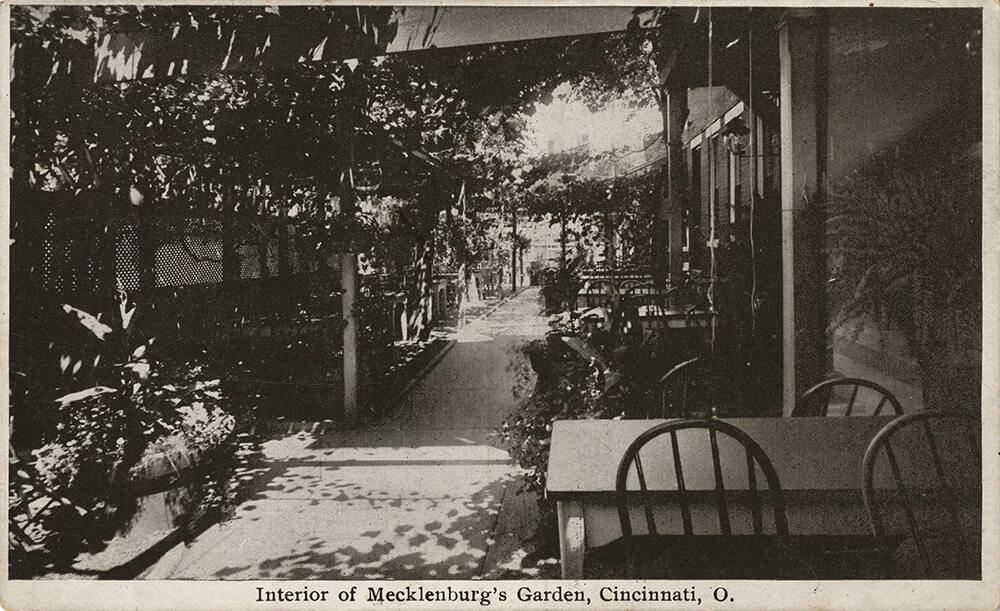 From the collection of Cincinnati & Hamilton County Public Library.
THE OHIO RIVER
The 981-mile river flows from western Pennsylvania to the mouth of the Mississippi River. It was (and continues to be) a crucial commercial route for Midwestern farmers and manufacturers. A devastating river flood in 1937, caused by record-breaking rainfall, resulted in 14 inches of water on land, 350 people dead and nearly one million people homeless.
OVER-THE-RHINE
As the port-of-entry for immigrants to Cincinnati, Over-the-Rhine became home for people of European heritage in the mid-19th century. It was considered "Little Germany" for this reason. Cincy.com writes, "The working class residents could access the original city (downtown) only by crossing bridges, and they likened this to crossing the Rhine River in Germany: thus the name Over-the-Rhine."

Photo provided by Cincinnati Museum Center.
REGAL THEATER
Located at Linn St. and Clark St., the Regal was a performance venue and a community gathering space for Cincinnati's Black residents. The 1,500-seat theatre presented vaudeville acts, films and musical entertainment. It also hosted community fundraising events that supported schools, children and families in need.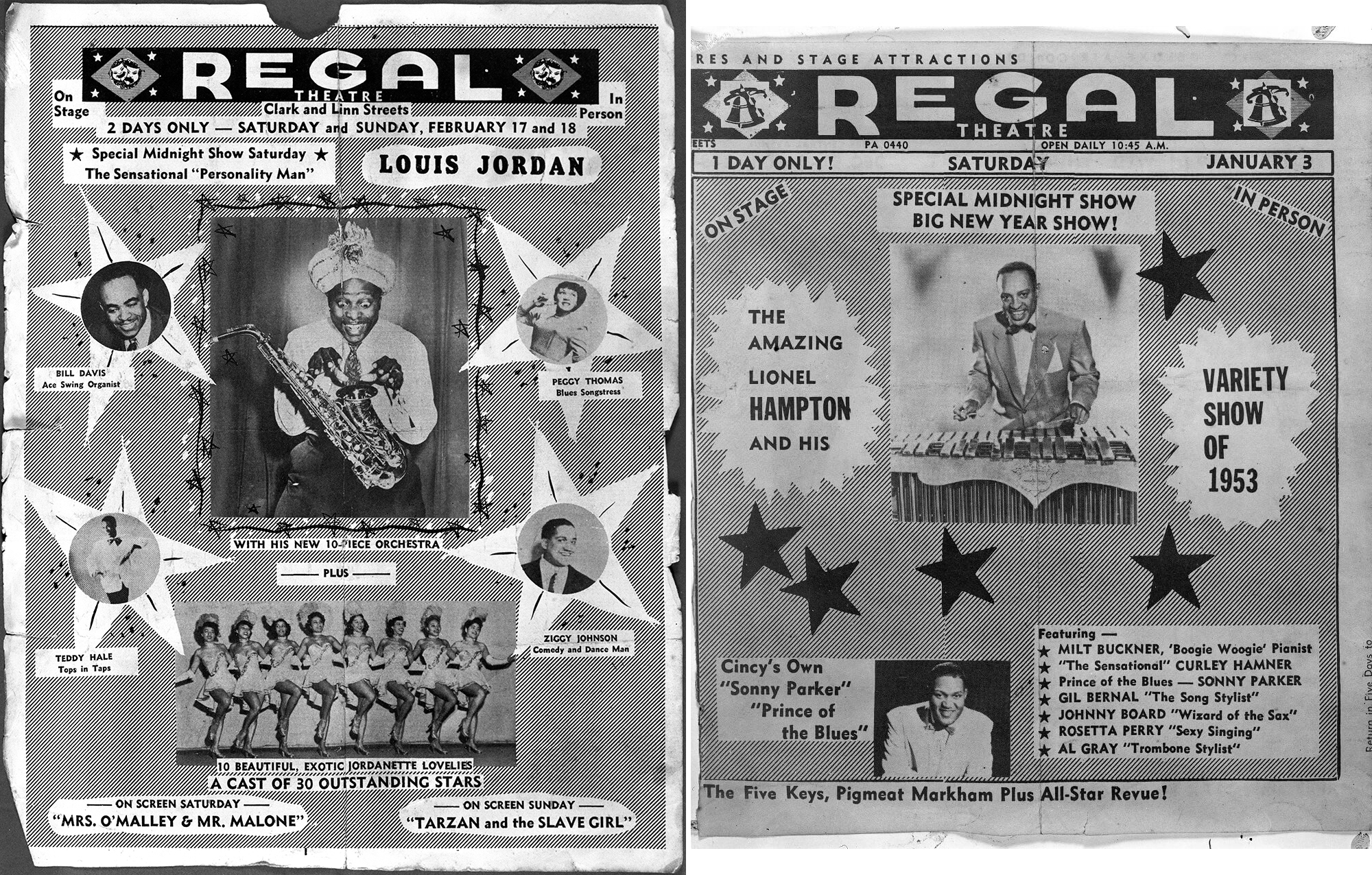 Images are part of the Robert O'Neal Multicultural Art Center (ROMAC) Black Cincinnati History Collection.

REPUBLIC STREET
Republic Street was originally named Bremen Street, and it runs one block in Over-the-Rhine. As mentioned in the play, some Cincinnati streets were changed to sound less like their German heritage, in response to anti-German hysteria that took place during World War I.
ST. JOSEPH CATHOLIC CHURCH
St. Joseph was one of three Catholic parishes in Cincinnati that served German-Catholic immigrants. Combined with St. Mary's Church and St. John the Baptist, the churches formed the Holy Trinity, the first parish in the United States for German residents. It opened its doors in 1846 and continued to serve the West End community through a century of social change and community transformation.
ST. ROSE CHURCH
St. Rose (of Lima) Church is located in the East End neighborhood on Riverside Drive (formerly Eastern Avenue). The congregation was founded by German-Catholic immigrants. Many of the congregants were also connected to the boat-building industry because of its proximity to the Ohio River.
STOWE SCHOOL
Harriet Beecher Stowe School was so named after the author of Uncle Tom's Cabin who was also a Cincinnati abolitionist. It was established largely by Jennie D. Porter in 1914, who was driven to provide Black students with quality education on par with the education white students were receiving. It closed in 1962.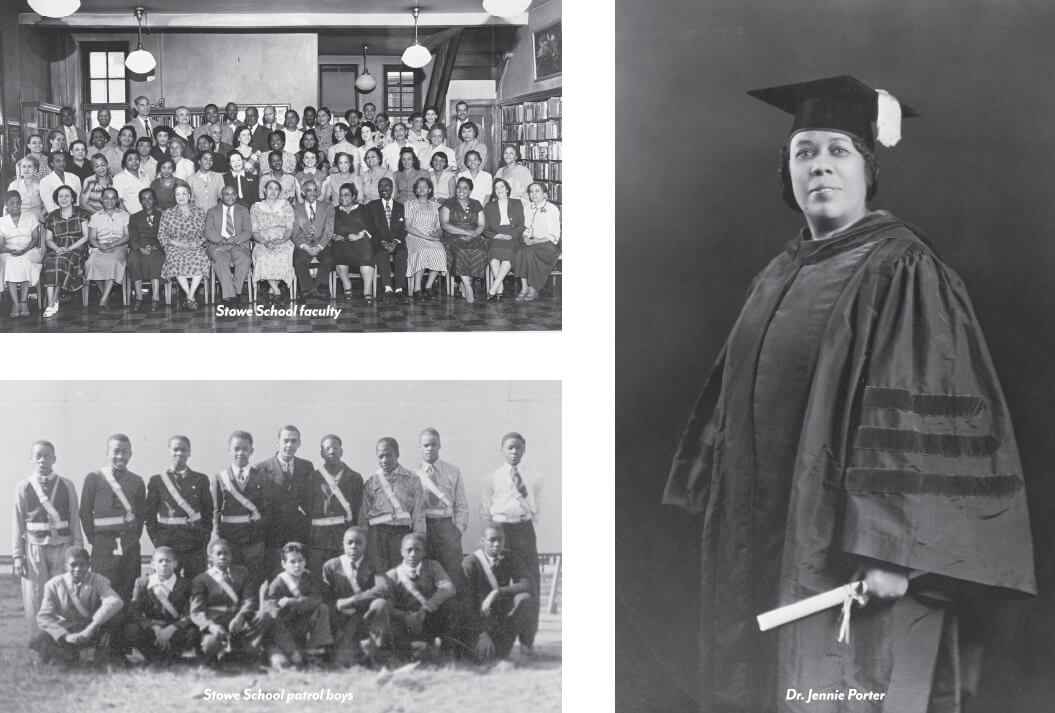 Images are part of the Robert O'Neal Multicultural Art Center (ROMAC) Black Cincinnati History Collection.

TYLER DAVIDSON FOUNTAIN
The iconic Cincinnati fountain was built in 1871 and is also called "the Genius of Water." It was erected as a symbol of temperance and offered cups and ice-cold water from which people could drink — this was done so that they would avoid going to saloons. Water from the spigots was intended for people, while water in the basin was intended for horses and dogs.
UNION BAPTIST CHURCH
The congregation was formed in 1831 by 14 members who had been discriminated against at a predominantly white congregation. Members began meeting in one of their homes until they finished construction of a formal church building in 1835 in the West End. The church was instrumental in helping enslaved people seek refuge along the Underground Railroad.

Image is part of the Robert O'Neal Multicultural Art Center (ROMAC) Black Cincinnati History Collection.
UNION TERMINAL
Union Terminal opened in 1933, connecting 13 different rail lines of seven different systems. It accommodated 17,000 passengers and 216 trains a day. Located in the West End, it marked the arrival of thousands of travelers during the Great Migration.
WALNUT HILLS
One of Cincinnati's oldest hilltop neighborhoods, Walnut Hills was a thriving area of town in the early 20th century, with a variety of housing, a central shopping area and a streetcar connecting it to other parts of Cincinnati. Many Black residents who were displaced from the West End in the 1930s (as result of the Union Terminal construction) migrated to the neighborhood.
WRIGHT AERONAUTICAL
The Lockland Plant of Wright Aeronautical was one of the largest factory facilities during World War II. It was a division of the Wright Brothers' airplane company. The massive property sat on 320 acres of land with 35 acres of factory floor space, and at its peak production, it employed more than 30,000 people.

---
Research compiled by Sam Kerns.