New Play Commissions Guide an Eventual Return to the Theatre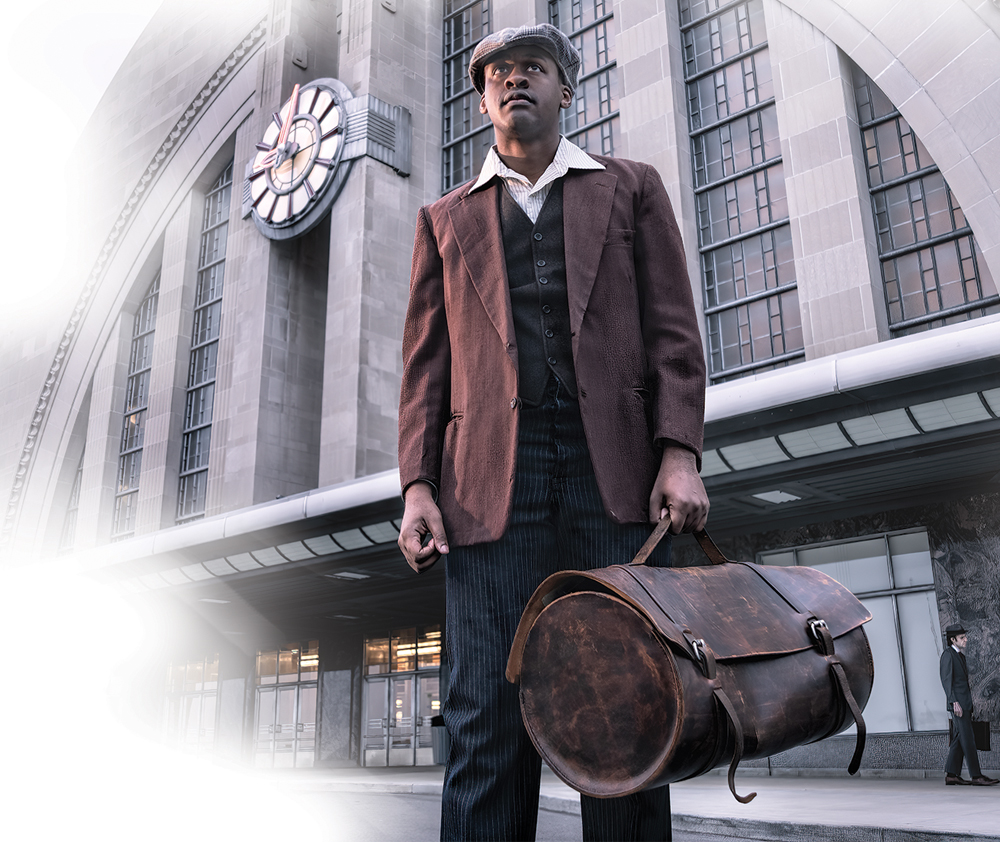 In March 2020, Playhouse Artistic Director Blake Robison penned an op-ed for the Cincinnati Business Courier in the wake of sudden, sweeping changes brought on by the COVID-19 pandemic. He stated, "With theaters shuttered and seasons canceled, arts organizations across the country are in crisis mode." Indeed, what followed in the months after was a series of seemingly impossible decisions. Postponements begot cancellations. Temporary layoffs turned into structural changes. For almost a year now, our two theatres have been closed to the public.
Yet in the same op-ed, Robison expressed fundamental optimism about an inevitable return to theatre. He cited the form's endurance throughout many historical changes and events, and wrote, "I've spent the better part of my adult life gathering people to act out stories on stage. One thing I know is that the arts will endure."
That sense of optimism has illuminated a path to the theatre's post-pandemic future — one that may look slightly different but will still feature mainstage productions both beloved and brand new. Until that time arrives, Robison is focusing on a silver lining: He's been able to more closely nurture the work of playwrights who are writing original stories for the Playhouse. These commissions, like those of recent memory, are made possible by the Jerome Fey Endowment for New Plays.
"We are usually so busy that we don't have the luxury of living with commissions and thinking deeply about them as much as we like," says Robison. "I can now spend more time talking and imagining with the playwrights than I might normally do, and that's been wonderful."
New work has always been a cornerstone of Playhouse programming. On average, each season features two world premieres and/or commissions from musicals and dramas to comedies and revues. Recently premiered audience favorites include americUS by Universes, Cincinnati King by KJ Sanchez and Native Gardens by Karen Zacarías. Before its postponements and cancellations, the 2020-21 season was set to feature two commissions: Deborah Zoe Laufer's Rooted and Keith Josef Adkins' The West End.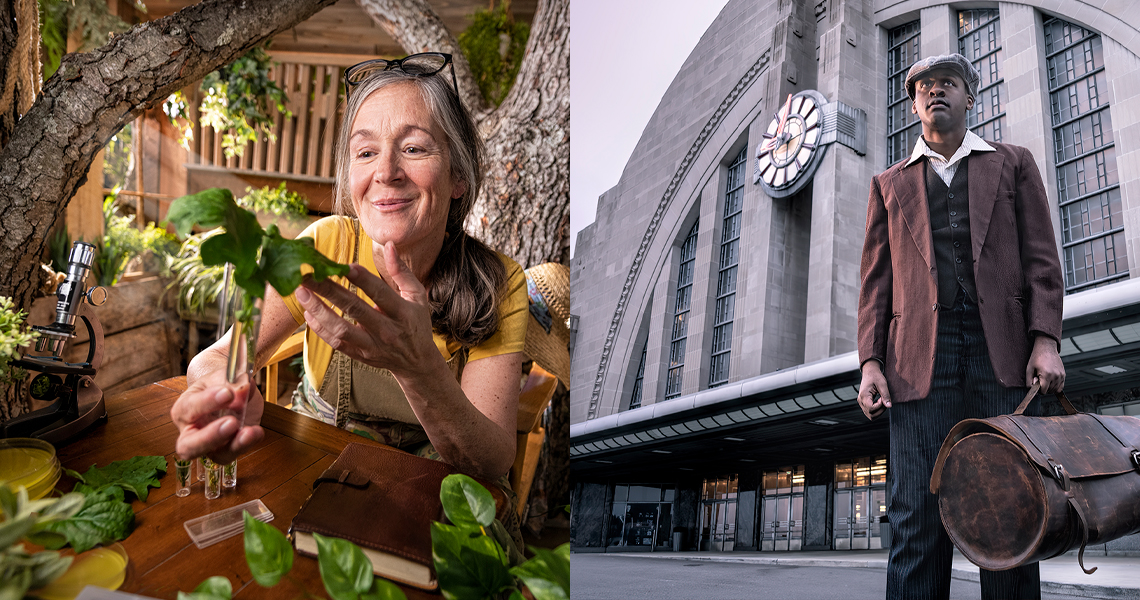 Show visuals for the commissions of Deborah Zoe Laufer's Rooted and Keith Josef Adkins' The West End. Visuals by Tony Arrasmith/Arrasmith & Associates.

"We're not just treading water. There's a lot of work happening right now in preparation for the post-pandemic era," says Robison. "Look at these commissions that we're lining up, look at these great stories we're planning to tell. We're taking the time to invest in playwrights and new plays very seriously."


---
The Distinction of a Commission
When it comes to selecting new play commissions, Robison keeps both Cincinnati audiences and contemporary voices at the top of his list.
"What story, what subject matter, what character and situations are going to be resonant with Cincinnatians, here in 2021? It has to have some sort of relevance, even if it's a light, frothy, entertaining comedy," Robison says. "You have to be able to answer the question, 'Why do this play now? Why does this story matter to us in the current day?'"
Bringing a new play to its feet is no easy task. It goes through multiple drafts, workshops and table reads, simmering in feedback and critique for a long while until a theatre is ready to put it in their season. By the time a new play makes its debut onstage, it's already been through a rigorous development process that's often a few years in the making. A new play commission from a professional theatre like the Playhouse is a distinction that playwrights are eager to earn.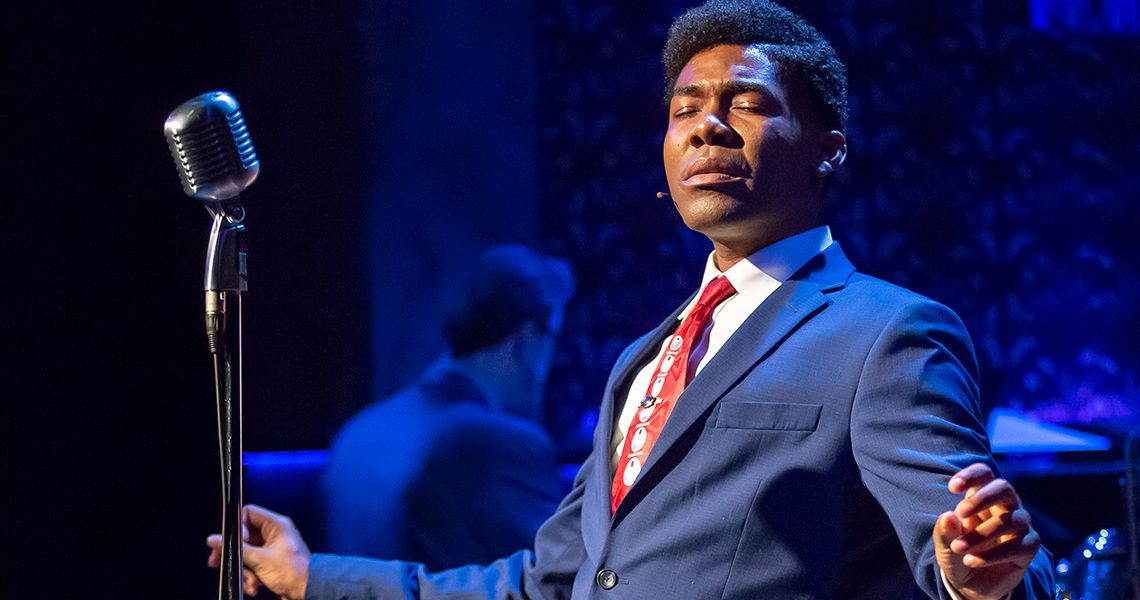 Richard Crandle in the 2018 world premiere of Cincinnati King by KJ Sanchez. Photo by Mikki Schaffner.
"Being commissioned to write a new play is both a huge vote of confidence and a respectful way of paying and treating an artist's time and imagination," says Zacarías. "It takes around two to three years to write a play, go through drafts, and get it ready for possible production. The idea that emerging and established playwrights should do that without any income is almost impossible (yet common)."
"There's no guarantee that [your play] will be produced, or even read. By anyone," explains Laufer. "So, having a theatre value what I write enough to pay me just for writing is enormous. It makes being a playwright possible."
Adkins echoes that reality: "Money isn't everything, of course, but most playwrights rely on commissions and teaching artist gigs to ensure ends meet while waiting for production. Commissions from theatres make it possible for playwrights to have a career, and provide time and space to nurture and strengthen their artistic voices. It's also often an invitation from a theatre to be a part of their community."
Adkins' historical drama Safe House made its world premiere at the Playhouse in 2015. As a Cincinnati native — and now a nationally recognized and produced playwright, television writer and producer — the experience deepened his relationship with the theatre in many ways. Having attended Princeton High School, he recalls the theatre being "a beacon of cultural significance as well as a cultural destination" in his childhood. Safe House reflects his own family heritage and tells the story of a free family of color in 1843 Kentucky.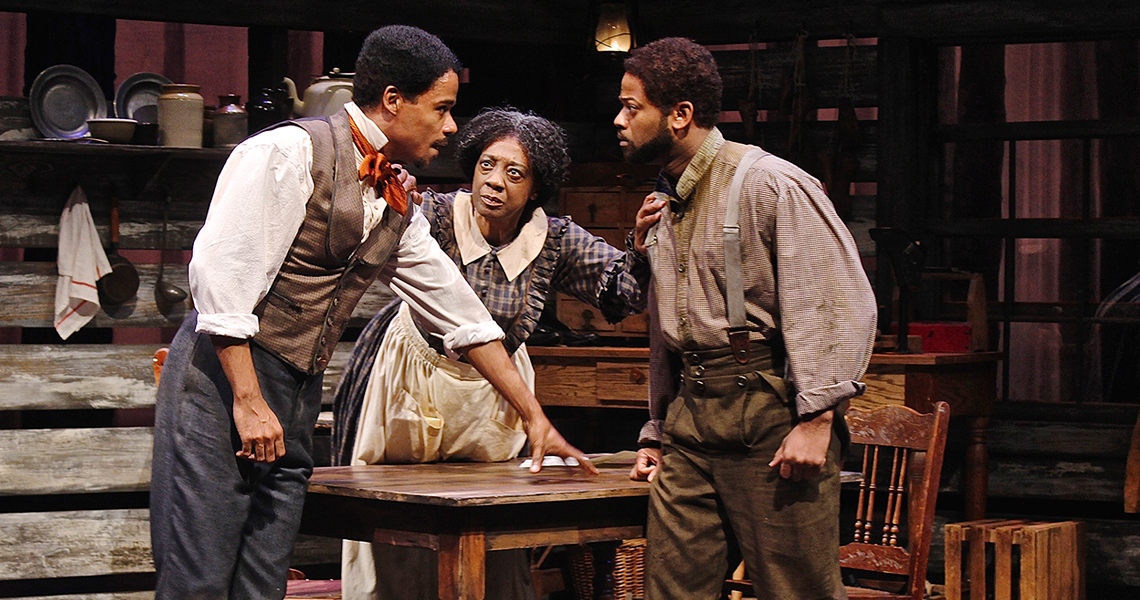 LeRoy McClain, Stephanie Berry and Shane Taylor in Keith Josef Adkins' 2015 Playhouse world premiere, Safe House. Photo by Sandy Underwood.
"I was thrilled to finally be a part of a Playhouse season and for my play about my family's local history to receive a production," says Adkins. "And if memory serves me correctly (and it usually does) the Playhouse went beyond the call of duty to ensure I felt welcomed and that my play received all of the resources necessary to ensure the story was fully realized."
His Playhouse commission, The West End, tells another historical Cincinnati tale: Set in 1941 against the backdrop of The Great Migration, the story follows Grace, the owner of a row house whose unexpected encounter with a stranger prompts the secrets of her past to be revealed. The play was slated to premiere in October 2020. It was then pushed back to debut this January, before the entire season was postponed as result of the pandemic. With many production elements already complete, The West End is likely to be one of the earliest stage offerings when rehearsals and performances can return.



---
How Commissions Are Created
When Robison sets his sights on a prospective commission, he does so in a variety of ways. Sometimes he'll approach a playwright with a vague idea about themes and topics. Sometimes he'll leave the door wide open for creative possibility. Recently, he reconnected with acclaimed playwright Theresa Rebeck, and the two engaged in a creative conversation about what stories she's interested in telling next. Rebeck's Dead Accounts was a Playhouse commission that went on to Broadway in 2012, and her play Bad Dates was a hit with Cincinnati audiences in both 2005 and 2016.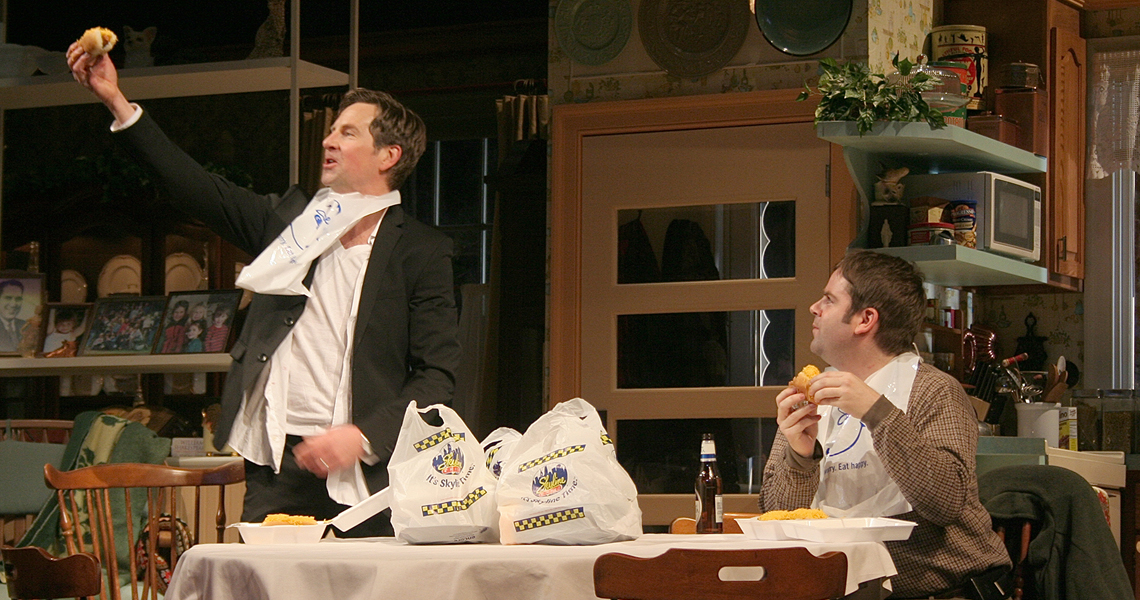 Stephen Barker Turner and Haynes Thigpen in the Playhouse's 2012 world premiere of Dead Accounts by Theresa Rebeck. Photo by Sandy Underwood.
"I was having coffee with Theresa in New York, and I said, 'Wouldn't it be great to do something that fits in with high schools and their reading lists?'" says Robison, adding that they discussed a variety of books that most students read in school before landing on Nathaniel Hawthorne's The Scarlet Letter. "It's such a fascinating morality tale, and it's a good time to readdress it. There hasn't been a stage version of it for nearly 20 years, so that's very exciting to me."
Rebeck, who grew up in Cincinnati, is currently commissioned to write the new adaptation, and it will eventually make its premiere at the Playhouse. Another playwright who's currently under commission from the Playhouse is Nathan Alan Davis — a nationally acclaimed playwright and Princeton University's Playwright-in-Residence. His play Dontrell Who Kissed the Sea won the prestigious Steinberg/ATCA New Play Citation. Davis is working on an original story about his family's heritage in the Tristate region, and the play is a co-commission with Indiana Repertory Theatre.
Adkins says in his experience, some theatres ask him to write a play that reflects their mission, or their local culture/history, while others offer free creative reign.
"If the commission is a wild card, I simply peruse the canon of story ideas in my heart and brain and begin writing," Adkins describes. "If the commission is specific, I begin with a lot of research, find the story or ideas that trigger the most enthusiasm from me, and then I start thinking about the world and the characters who could potentially occupy that world and create the best source of conflict and drama. After that, the play begins writing itself."
When it comes to who Robison selects, he often prefers to reconnect with playwrights whose previous Playhouse productions were enjoyed by Cincinnati audiences. Laufer's play Leveling Up made its world premiere in the Rosenthal Shelterhouse in 2013 and was met with critical and audience delight.
"I'd fallen in love with the theatre, the staff, the audience. There was no question that I was dying to come back," Laufer says of the Playhouse.
Soon after Leveling Up opened, Robison offered her a new play commission, which became the 2018 comedy Be Here Now. Much like her previous experience, it premiered in the Rosenthal Shelterhouse — and Robison offered Laufer another new play commission soon after it opened.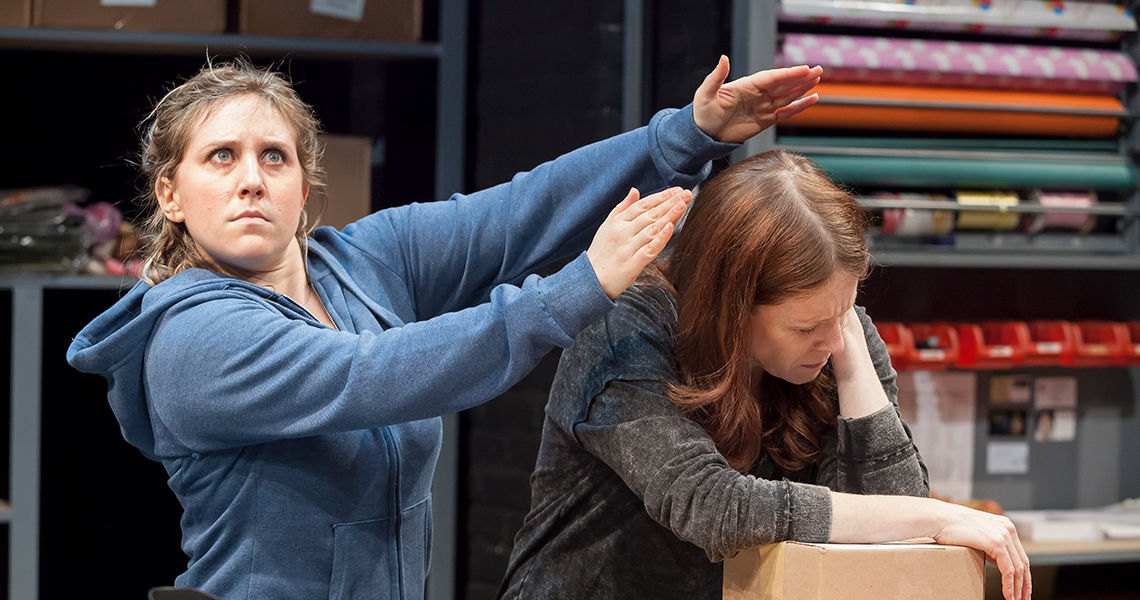 Emily Kratter and Eva Kaminsky in the 2018 world premiere of Be Here Now by Deborah Zoe Laufer. Photo by Mikki Schaffner.

"Blake said, 'I think this might be a trilogy. Want to write the second play?' Yes!" Laufer recalls. "I had been whining to him about a television series I'd been pitching to HBO for a year — it finally came to naught because it involved a cult, and a million cult shows had just come out. Blake said, 'Write that as a play.'"
With that directive, Laufer penned Rooted, a comedy about a woman who unwittingly becomes a cult leader, and features Be Here Now's character Luann. Like The West End, Rooted was postponed following pandemic-related programming changes, and it'll be fully produced once safety allows.
Robison also likes to rely on the talent and trust of playwrights with whom he has longstanding professional relationships. Zacarías' Native Gardens began this way.
"Native Gardens was one of the first commissions that I extended when I got here, and there were no boundaries on that at all," Robison explains. "I said, 'Go write your next thing, Karen! I know I'm going to find it interesting, and we'll develop it together."
Zacarías points to Native Gardens (which has become one of the most produced plays in the country in recent years) as a testament to how invaluable new play commissions are: "It's an investment a theatre makes in writers and a robust contribution to the canon. It's also a commitment to help develop a play and a great way to shepherd new diverse ideas onto our stages."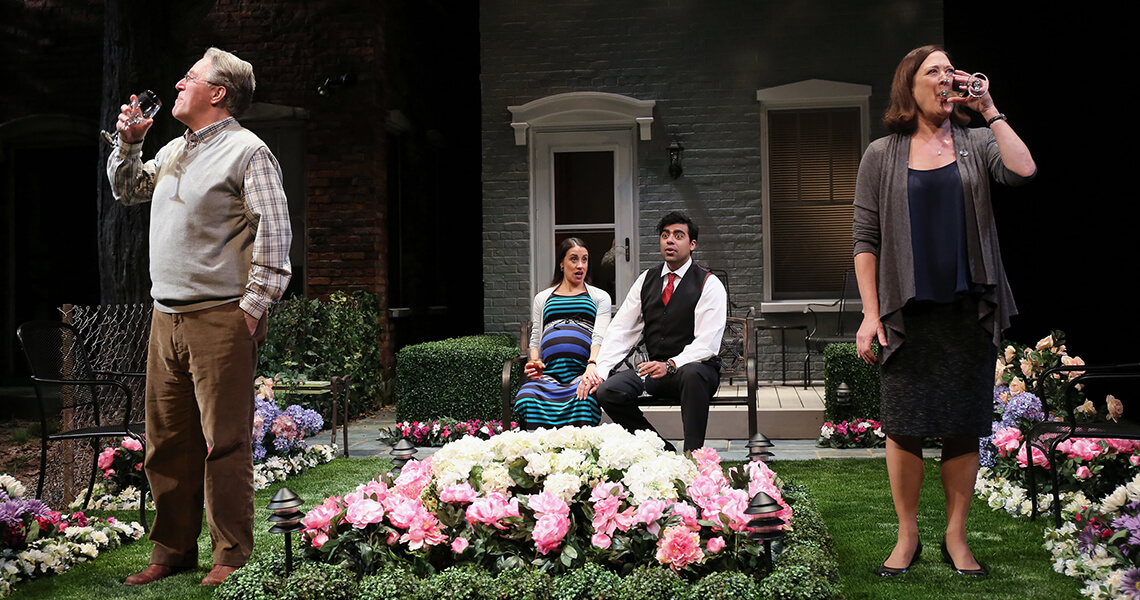 John Lescault, Sabina Zuniga Varela, Gabriel Ruiz and Karen Ziemba in the 2016 world premiere of Native Gardens by Karen Zacarías. Photo by Mikki Schaffner.
Zacarías and Robison have since continued to collaborate artistically. She's one of the theatre's Associate Artists, and her play Destiny of Desire was the last production to perform for the public before the pandemic.
"I feel so at home at the Playhouse," says Zacarías. "Not all commissioned plays get produced by the theatres that commission them, but the Playhouse has a very good record of sticking by their writers and being brave in sharing the ideas that they encourage."
One of those ideas that's enjoyed encouragement of late is Zacarías' stage adaptation of Jack Schaefer's novel Shane — a classic Western about a mysterious man who forms a bond with the Starrett family amidst his travels.
"I read Shane when I was in seventh grade, right after I had immigrated to the U.S. from Mexico," Zacarías explains. "I was struck by the family, the toughness and gentleness and the various examples of how to 'be a good man.' What does it take to make a boy into a 'good man,' and is that different from being a 'strong man?'"
Zacarías is currently developing the script with Robison as part of a joint commission for the Playhouse and the renowned Guthrie Theatre in Minneapolis. It's one of the plays that's getting the silver lining treatment in the absence of a full theatre season. With time to spare, space for attention, and artistic energy readily available, Robison is grateful, despite the circumstances, to focus on the exciting challenge of bringing Zacarías' Western to the Playhouse stage. There's no firm timeline for the production to come to life — just like there's no telling yet when the theatre in Eden Park will bustle again with curtain calls and standing ovations. Until then, these artists will continue to breathe life into brand new stories, anxiously awaiting an overdue return to the stage.



---
About the Jerome Fey Endowment for New Plays
Jerome Fey grew up in Cincinnati in the 1960s, attending and volunteering at the Playhouse in its early days. As an adult he moved to Los Angeles and pursued a career in playwriting, penning Oxford's Will, Blind Faith and other scripts. He founded the Golden West Playwrights' Workshop, taught at UCLA, and served as literary manager of Colony Studio Theatre. Before his death, he arranged for a gift from his estate to allow the Playhouse to commission plays through the Jerome Fey Endowment for New Plays.
Read more about our current and past commissions by visiting our New Stories page.