ACTUALLY: Playwright's Notes by Anna Ziegler
Anna Ziegler's thought-provoking and provocative new play Actually finds two honest and sympathetic young adults navigating conversations of gender, race and consent on a college campus.
Anna Ziegler's play Photograph 51, produced on the West End starring Nicole Kidman and directed by Michael Grandage, won London's 2016 WhatsOnStage award for Best New Play. It has been produced around the country and the world, most recently in Hamburg, Rome, and Stockholm. Her play The Last Match premiered at The Old Globe Theatre and was nominated for the 2016 San Diego Theatre Critics Circle Outstanding New Play award. Boy, which premiered off-Broadway in a Keen Company/Ensemble Studio Theatre co-production, was nominated for the 2016 Outer Critics Circle John Gassner Award. A Delicate Ship was produced at Cincinnati Playhouse in the Park and the Playwrights Realm and was a New York Times and Time Out Critic's Pick. Anna holds commissions from Second Stage Theatre, The Geffen Playhouse and Seattle Rep. Oberon Books has published a collection of her work entitled Anna Ziegler: Plays One. She holds a BA from Yale and an MFA from NYU's Tisch School of the Arts. annabziegler.net
---
As I write this note, on September 27th, 2017, the current administration in the United States has just issued interim guidance that undoes or complicates some of the previous administration's mandates around the implementation of Title IX as it relates to cases of sexual misconduct on college campuses. One of these new measures has to do with the standard of proof used to determine the outcome of these cases; while the Obama administration stipulated that this standard should be "preponderance of the evidence" (otherwise known as "50 percent plus a feather") the current administration has suggested that schools have more leeway to decide what standard they deem appropriate. Now universities can adopt a "clear and convincing" standard, if they so choose, but preponderance of the evidence is still permissible (and in fact will likely continue to be used much of the time since it was also suggested that the same standard be applied to all campus misconduct cases — and many, if not most, colleges use preponderance of the evidence when it comes to those other kinds of cases). When I wrote this play, preponderance of the evidence was the norm. Schools risked serious repercussions if they didn't uphold the various measures set out in the "Dear Colleague" letter penned in 2011 by the Education Department under President Obama.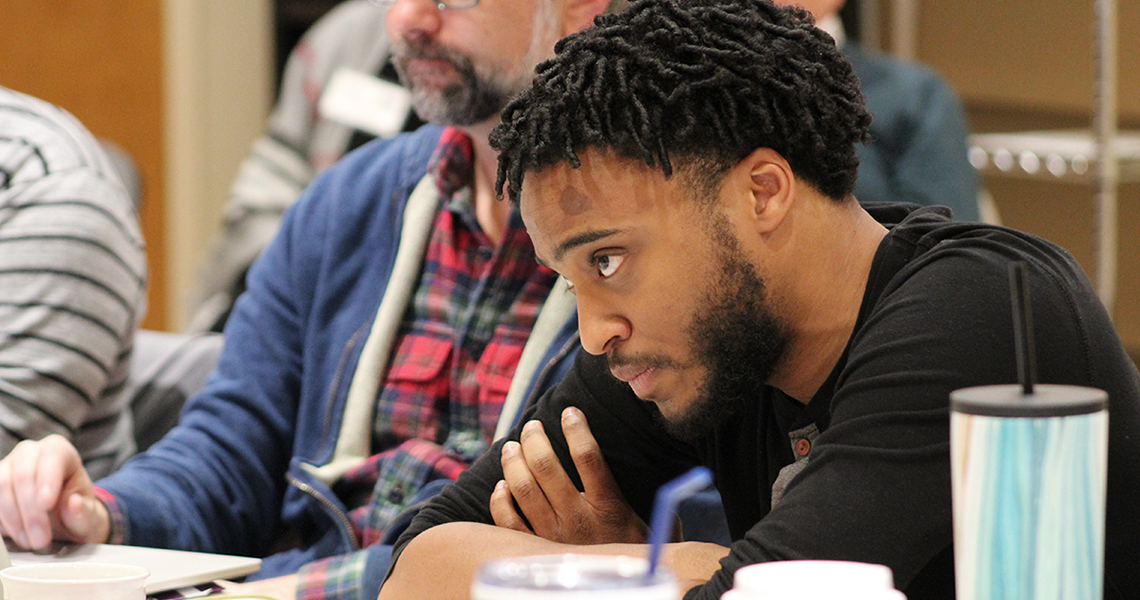 Tyler Fauntleroy (Tom) at the first rehearsal table read for Actually.


The backdrop against which the play was written and the backdrop against which you are seeing it (whenever you are seeing it) is both hugely important and also, from my point of view, beside the point. The play, to me, not only holds up a mirror to a certain moment in time (2015 or 2016, probably) but also hopefully speaks to a larger and more timeless question about who we are as men and as women and what forces drive our actions. It looks at how difficult it can be to determine what happened in a bed between two real people capable of all that humans are capable of — obfuscating, deceiving themselves, not understanding, not wanting to be impolite or to embarrass themselves, of letting need or insecurity take precedence over empathy. It asks that you consider whether "good" people can make bad mistakes — or worse. And if Actually is making any kind of statement, it is that one, about the quality and complications of our souls. What standard of proof is used to determine the outcome of the case is not nearly as important to me as the human question at the heart of the play.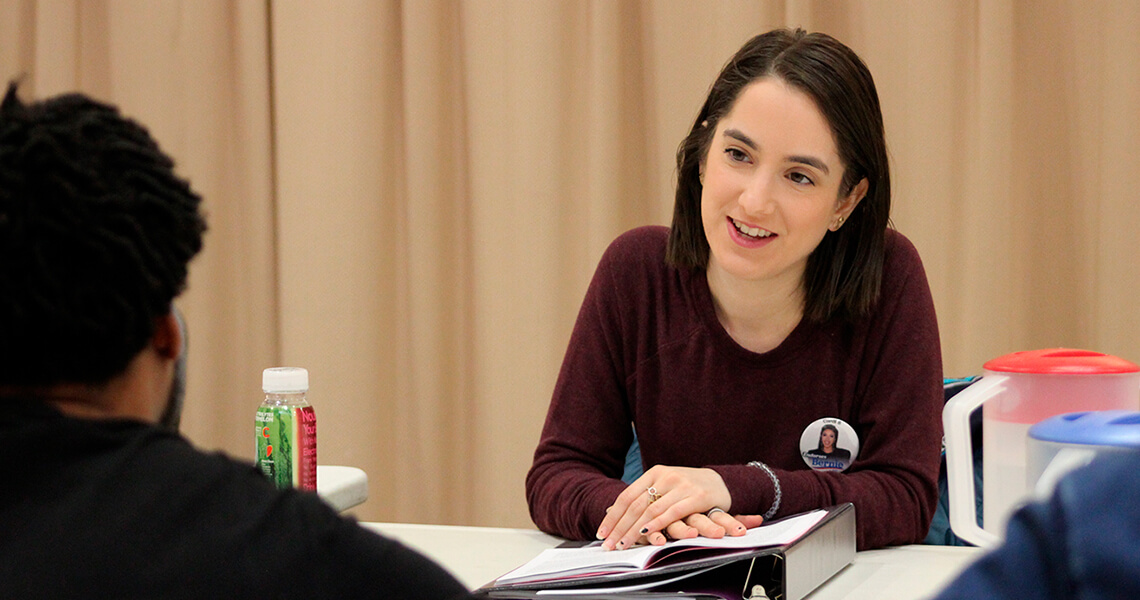 Remy Zaken (Amber) at the first rehearsal table read for Actually.

---
Playhouse Perspectives
Join us for Nightly Talk-backs

Following every performance of Actually, engage in in-depth conversations about the story. These discussions provide an opportunity for patrons to dive deeper into the show's subject matter and connect with other audience members about their interpretations. Talk-backs will be facilitated by the Playhouse education and community engagement team.
Playhouse Perspectives is made possible thanks to a generous gift from Barbara and Roderick Barr.
To learn more about the Playhouse's production of Actually, visit our production detail page.