5 Questions with Kathleen Wise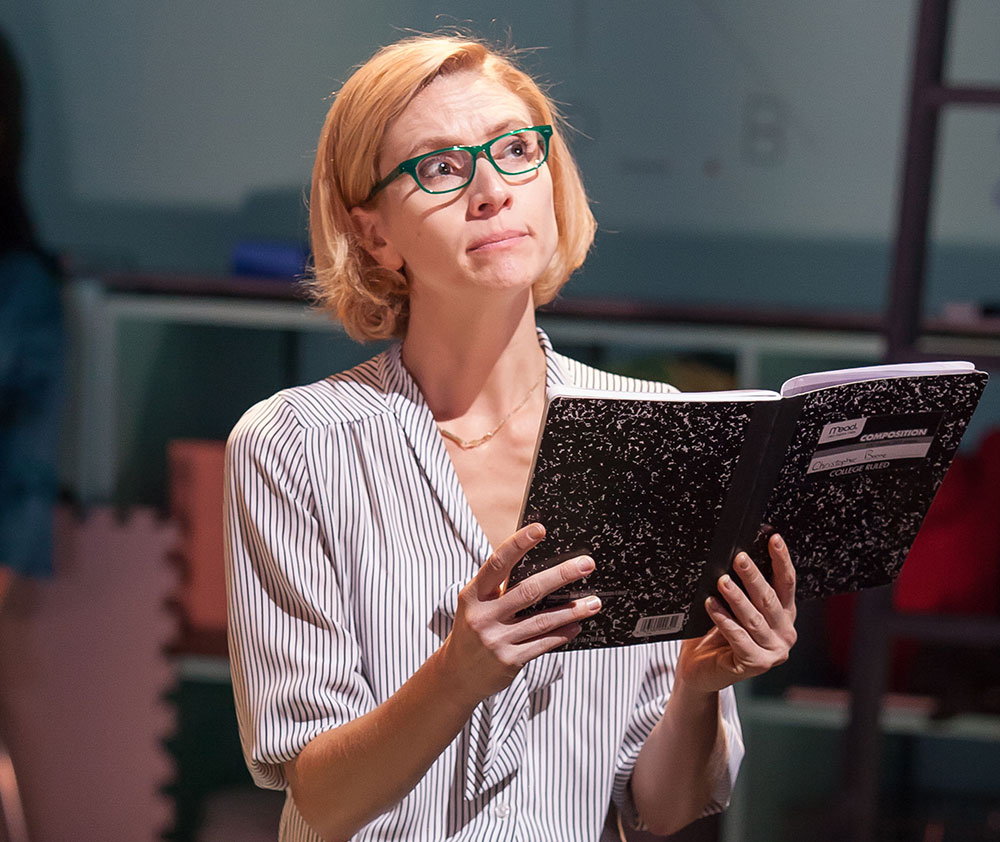 Kathleen returns to Cincinnati Playhouse in the Park having recently appeared in A Christmas Carol (2016). Her theatre credits include
Grounded
(Ensemble Theatre Cincinnati),
Dancing Lessons
(Penguin Repertory Company),
Talley's Folly
(Merrimack Repertory Theatre),
Julius Caesar
(Acting Company/Guthrie Theater),
Vinegar Tom
,
Pity in History
(Potomac Theatre Project/NYC),
The Diary of Anne Frank
(Pioneer Theatre Company/Indiana Repertory Theatre),
Murder on the Nile
(Dorset Theater Festival) and
A Midsummer Night's Dream
(Will Geer's Theatricum Botanicum). She has played leading roles in the independent feature films Ironwood,
Historias del Canal, Antidote
and
4 Nights in the Hamptons
. Other film and television credits include Hulu's
The Path
,
Unforgettable, She's Lost Control, SPLiT, Palimpsest
(Sundance 2013) and the web series
Wildcats!
and
F to 7th
. She wrote and directed the short film,
Sanctuary
, that recently premiered at the 2017 Montana Film Festival. Please visit
kathleenwise.wordpress.com
.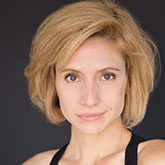 1. How long have you been acting, and where did you receive your training?
In sixth grade, I played a townsperson in the high school musical
Cinderella
. My big sister was the Fairy Godmother and I basically wanted to be her, so it was a dream come true for me. I had one line and was hooked. In high school and college, I did every play I could get cast in but was also very focused on other subjects: writing, French, dance, painting. It wasn't until my senior year at Sarah Lawrence College that I decided to pursue an acting career. I spent two years in Los Angeles where I pounded the pavement for a couple of years and earned my Equity (union) card. When I was accepted into NYU's Graduate Acting MFA program, I headed back to New York City, where I have been based for the past decade.
2. When did you know you wanted to be an actor, and what's your favorite part of the job?
It was always my childhood dream, but the reality of it just wasn't part of my world, growing up in the Midwest with no understanding of how one "becomes" an actor. My dad was a chemical engineer. Both my parents appreciated the arts, but if you don't grow up in Los Angeles, or in a family of artists, pursuing an acting career is like searching for unicorns. My mother always said, "do what you love," so I guess took that to heart. When I was 16, my dad passed away and the high school drama department became a total refuge for me. My drama director, Eve Bolton, was a huge mentor of mine. During my senior year, she said to me, "You could do this, you know. As a career." I remember coming to the Playhouse throughout my youth but I never knew how those actors got to be on that stage. There is no set of rules or "right" path for an artistic career: I spent many years fumbling in the dark, throwing myself into every opportunity, trying desperately to prove my worth, comparing myself to others, beating myself up, mishandling rejection, conquering addiction. So, my favorite part is finally being at the point in my career where I am confident enough in myself to make artistic choices from a place of integrity. It's a journey and the hustle never ends, but there is a perspective that comes with experience (and age) and it has finally allowed me to enjoy the ride a little more. I feel very lucky to get to do what I do, meeting incredible people along the way. That is a rare and beautiful thing.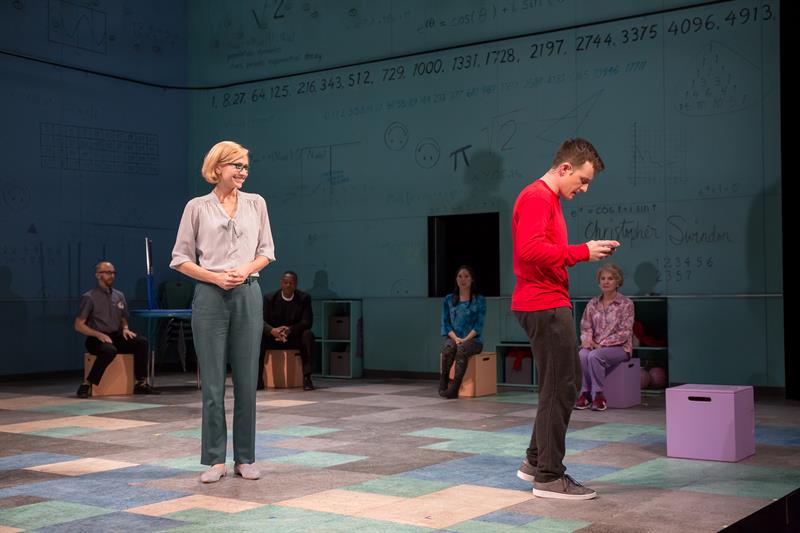 Kathleen Wise, Nick LaMedica and the cast of The Curious Incident of the Dog in the Night-Time. Photo by Mikki Schaffner.
3. What is your all-time favorite role you've performed, and why?
Last year, I did a one-woman show,
Grounded
, at Ensemble Theatre Cincinnati. When Michael Haney mentioned to me that he was directing it in my home town, I begged him to let me send him an audition tape to watch. I had auditioned for the original production in New York City, so I knew the script and wanted desperately to play the role of the Pilot. It's a devastating story and was truly a dream role. Playing that role one was the hardest thing I have ever had to do (artistically), mentally and emotionally. It was humbling, empowering and life-changing.
4. What role have you been dying to play, and why?

Two of my all-time favorite playwrights are Anton Chekhov and Tennessee Williams, and I have never done a production of either. I would love to play any number of women from any number of their plays! I also love Caryl Churchill and all her strong female roles. Oh, and I played Lady Macbeth in high school and didn't have a clue what I was doing, so it would be nice to get another stab at her.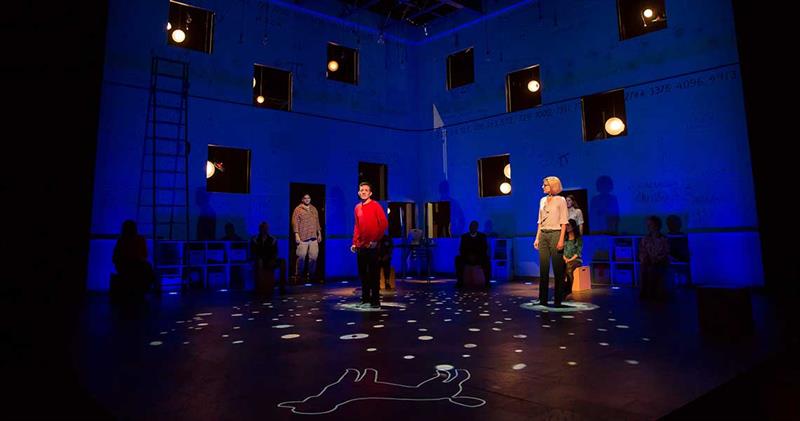 Jimmy Kieffer, Nick LaMedica, Kathleen Wise and the cast of The Curious Incident of the Dog in the Night-Time. Photo by Mikki Schaffner.

5. What has been the most interesting part of working on Curious Incident so far?


This show is like nothing I've ever done. There is an enormous amount of detail and mental gymnastics involved in the choreography. During rehearsals, we were all so exhausted that at times it seemed impossible we would ever get to the point we are at now. So, it is very satisfying now to be at a point where it feels smooth and we can go on a joy-ride with each audience as they hear and watch it for the first time. It's such a special story. I love hearing how moved people are by it. That's what theatre should be.
For more information about the Playhouse's production of
The Curious Incident of the Dog in the Night-Time
, visit our
production detail page
.