5 Questions with Dathan B. Williams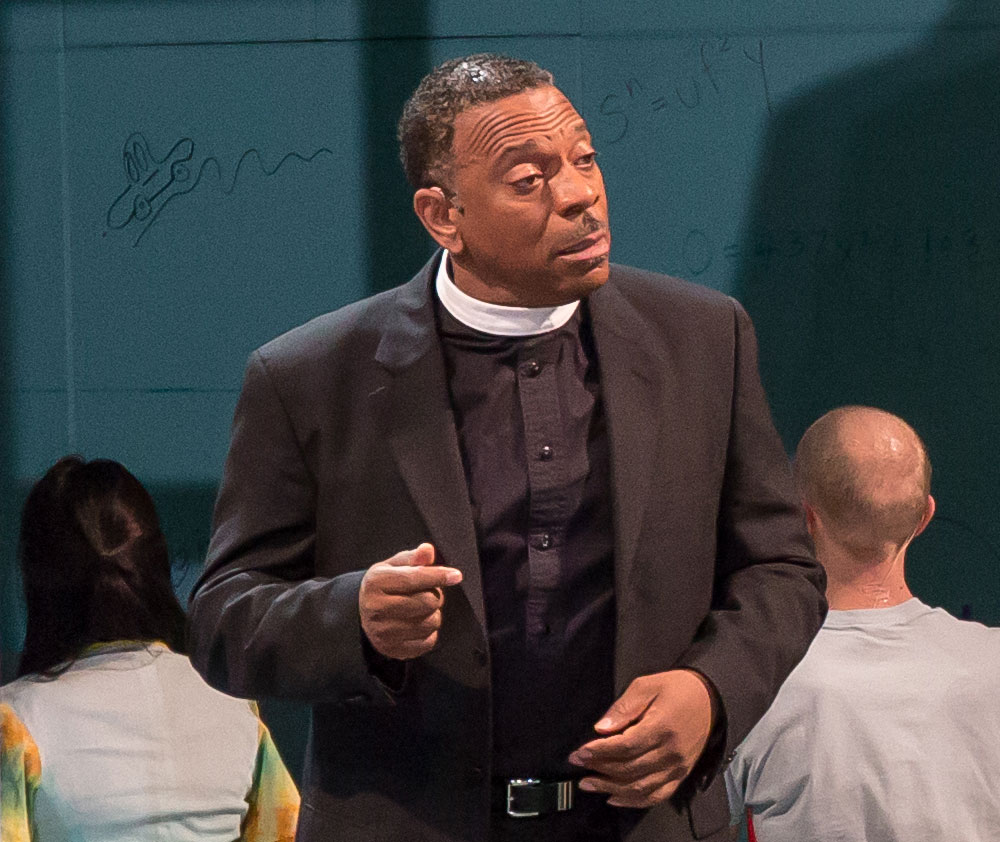 Dathan returns to Cincinnati Playhouse in the Park having appeared in
The Secret Garden
(2015). He has appeared in the original Broadway cast of
Show Boat
(Stevedore/Busker). Off-Broadway credits include Carnegie Hall:
Show Boat in Concert
(Vocal Ensemble); The Pearl Theater Company:
Nathan The Wise
(Saladin); Second Stage:
Buffalo Gal
(James); and TWAS Theatre Company/National Black Theater:
Medea
(Jason), among others. He has appeared in the national tour of
Show Boat
(Stevedore/Busker) and internationally at The Stratford Festival (eight shows between the 1990 and 1991 seasons). Regional credits include Triad:
On Kentucky Avenue
(Paisley); New Heritage Theater:
Mary Stuart
(Lord Burleigh); Pioneer Theatre:
The Count of Monte Cristo
(Abbé Faria); Baltimore Center Stage/Cincinnati Playhouse in the Park:
The Secret Garden
(Ben Weatherstaff); Montclair Shakespeare Center:
As You Like It
(Jaques); Eugene O'Neill Theater Center:
Becoming Tennessee
(Auctioneer);
American Duet
(Uncle Jelly/Nathan) and work at 37 other regional theaters. Film and television credits include
Better Left Unsaid
(Better Left Unsaid TV),
Sex and the City
(HBO) and
Romeo and Juliet
(CBC). He is Associate Artistic Director of The Harlem Shakespeare Festival.
1. How long have you been acting and where did you receive your training?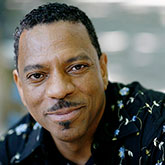 I have been acting since I was a child. As a child, I stuttered, which resulted in my being withdrawn and frustrated with school and the educational process. Then, when I was in the fourth grade, my teacher — Mrs. Sunlightner — handed me a copy of "the balcony scene" from
Romeo and Juliet
, and through the drama of the words and my being unfamiliar with the structure of the text, we discovered that one of the causes for my stutter was that my thoughts were coming faster than my tongue could form the words to express them! Being engaged in the expression of the language placed before me lit a spark inside of me to be heard and understood — without people filling in my words and thoughts for me. It was a life-changing event. Later that same year, I was chosen to play Dr. Victor Frankenstein in our school play and two more discoveries were made: I did not stutter when I was playing a person who did not stutter, nor did I stutter when I had to sing the song that was included in the play. With more voice and speech therapy, I made progress and gained greater confidence in myself and my ability to effectively speak with my family and peers.
I did many community theatre productions throughout high school, and then while in undergrad at Wheeling Jesuit University, I started what I like to call my "informal formal training." In my four years there, while being a part of the school's choir, I got free voice lessons with our accompanist, Mary Ann Hopkins, who studied at the prestigious Peabody Institute. I took tap and jazz dance classes as electives. I performed in 24 musicals, operettas and dramas, and sang vocal concerts with members of the Wheeling Symphony Orchestra. I have an undergrad degree in Social Psychology. My award-winning undergrad thesis was titled, "The Social Implications of the Musicals of Stephen Sondheim."
I did not receive any formal training in acting until grad school. I was living in Pittsburgh, working as an insurance casualty underwriter and traveling on weekends to work with the Wheeling Symphony Orchestra and The Ensemble Company of the Cincinnati Opera on a production of
Die Fledermaus
. I was also playing John Proctor in Oglebay Institute's production of
The Crucible
. The maestro, hearing that I was doing the play, pulled me aside and told me, "You need to make a decision between serious music and the 'play acting' thing." Two days later, the woman who was playing my wife in
The Crucible
told me she was going to audition for a satellite grad school program which would have master teaching instructors from Carnegie-Mellon and Julliard and would be stationed at West Virginia University. The day of the audition, she could not make her appointment. I took her appointment spot and I got in, and now I have an MFA in acting and an undying love of Shakespeare. There is much to be grateful to in my life in theatre.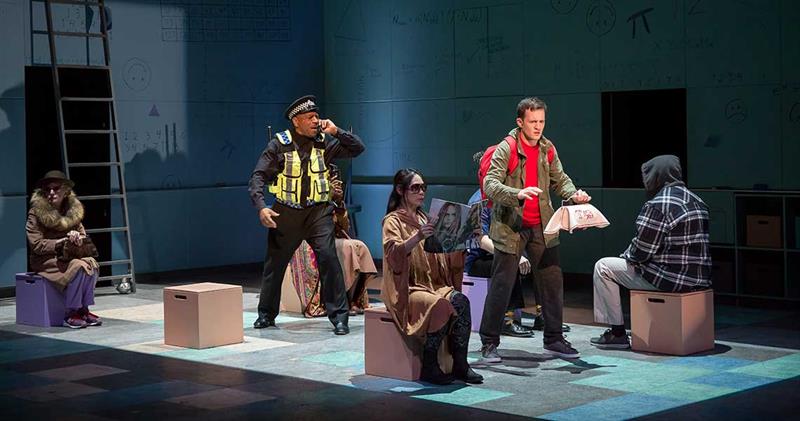 The cast of The Curious Incident of the Dog in the Night-Time. Photo by Mikki Schaffner.
2. When did you know you wanted to be an actor, and what's your favorite part of the job?
I thought that acting would be my "hobby," not my chosen career. I was told that acting was something I should seriously consider while I was getting that undergrad degree by several of my Jesuit teachers. I went to undergrad school intending to study nuclear medicine and ended up with a social psychology degree. I knew in my heart that the arts were giving me a lot for which to be thankful, but I can't say that I wanted to be an actor. For me, part of this job has been accepting that acting is always going to be a part of my life's journey!
As stated, I was working as an insurance underwriter when I found out that I had been accepted into my grad school program. The offer caused a dilemma. I called the person whom I consider one of the wisest people I know — my mom. I asked her advice and the following is what she said to me, "You are presently working at a job that gives you a nice income but I do not see you smile when you talk about your job. Most people spend their lives in jobs that they do not love because they get used to the money. But I think it's better to find something that gives you meaning and purpose in the world. You can't take money with you to your grave. Money certainly makes life easier but it cannot always make you happy. Life is not meant to be lived in regret. If this is something you will regret, then quit your job and go to grad school. And if you are going to do it, do it now. Not next week. Not next month. Do it now." I went in the next day and resigned and went to grad school. I have no regrets about that decision to have a career in the arts.
My career allows me to be part of the world of theatre. I am not always an actor. Sometimes I am a teacher — I recently taught the professional development workshop class at City College of New York and in the past, taught introduction to acting, the history of musical theatre and introduction to Shakespeare at Cornell University. I am a director — this past summer, I directed the one-man show
Stepin' and Me
, which just received three nominations for the International Mid-Town Theater Festival, including Best Solo Play. I am also a dramaturge — in the summer, I adapted Friedrich Schiller's
Mary Stuart
. This past spring, I worked as a costume assistant on
The African Company Presents: Richard III.
I think of myself as a theater inclusion artist and activist.
What I like about the job of acting is the discovery process. We take what is on a page and we breathe life into it, and when we are done with our run, we have to return it back to the powerful creative source of the imagination. Theatre remains, for me, the best way for live audiences to connect to their humanity.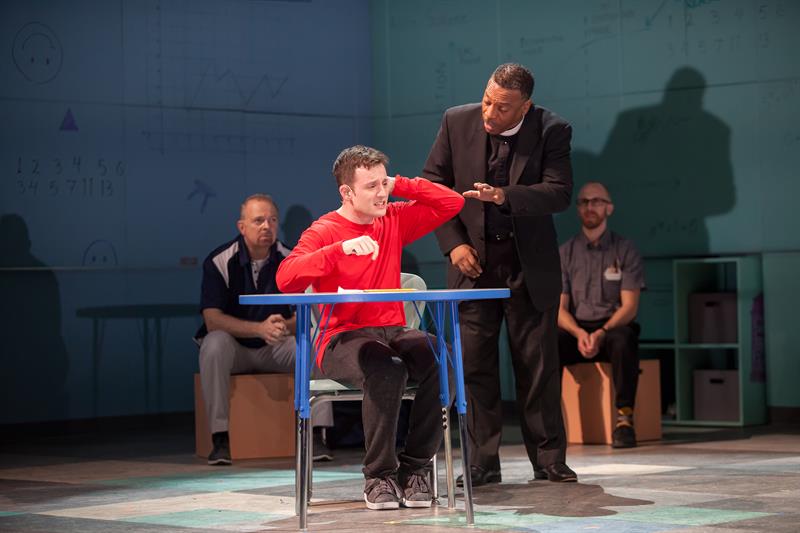 Kevin Cutts (background), Michael Baxter (background), Nick LaMedica and Dathan B. Williams in The Curious Incident of the Dog in the Night-Time. Photo by Mikki Schaffner.
3. What is your all-time favorite role you've performed, and why?
I do not have an all-time favorite role. But I can tell you of some roles and situations that were rewarding to perform:
The Kralahome in my first National tour job in
The King and I
. It was rewarding because it got me my Equity card!
Lucien in
The Boys Next Door.
It was rewarding because, like Christopher in
The Curious Incident of the Dog in the Night-Time
, Lucien is a person with a disability, and every night I got the opportunity to show our audiences that although we are all different on "the outside," we are all the same on "the inside" because we all want to be seen, heard, loved and accepted for who we are as a human being.
Thurgood Marshall in the national tour of
The Color of Justice
. This was rewarding because the tour played in several cities which had talkbacks with lawyers who are still on the forefront of social justice in this country, and I even met some people who knew Thurgood Marshall. Playing the role reminded me of how far we have come and how far we must continue to grow.
My first season at Canada's Stratford Festival. That was rewarding because then artistic director David William had looked through the history of the festival and discovered that at that time — its 40th anniversary — only two actors of color had been full company members. He changed that by doing a search and hiring five actors of color. I was the only American of the five actors.
James in the New York City premiere of
Buffalo Girl
by A. R. Gurney. This was rewarding because I got to work firsthand with the gifted and wonderful playwright, and I am one of four actors of color to originate a Gurney role in New York City.
Abbé Faria in the U.S. professional premiere of Frank Wildhorn and Jack Murphy's musical
The Count of Monte Cristo
. This was rewarding because it marked my fifth production with our director, Marcia Milgrom Dodge, who is a champion of inclusive casting. I was proud to be in a production that featured so many actors of color in leading roles, in a musical that is based on a book by an author whom many did not know — based on our talkbacks with the audience — had a father who was a soldier in Napoleon's army but had fallen out of favor there when new racist laws were established and barred men of color from serving and therefore sent the family into poverty. The original author Alexandre Dumas's paternal grandparents were a French nobleman/soldier stationed in Haiti and a former slave. My paternal grandfather and great-grandfather come from the Caribbean islands. Every night on stage, I felt I was helping the world see the stories of our ancestors. It also gave me great satisfaction to be able to be seen in the role of possibly the greatest mentor ever!
I have been in all 50 of our United States! This was done with a combo of national tours and regional theatre work.
4. What role have you been dying to play, and why?
I have yet to do an August Wilson play and I would like to add that to my list of accomplishments. I have been cast twice in the role of Gabriel in August Wilson's
Fences
but, because of various reasons, never got to play the role. I have auditioned for other Wilson roles, but the one I recognize most is Harmond in Wilson's
Radio Golf
. Many elements of the story I understand from my own personal journey. I also know that Playhouse Associate Artist Timothy Douglas was selected by Mr. Wilson to direct the first production of this play at Yale Rep. I was directed by Mr. Douglas in
Line in the Sand
and would like to work with him on this production… somewhere… hmm ... perhaps even Cincinnati Playhouse in the Park!
I would also like to play Paul in Tony Kushner's
The Intelligent Homosexual's Guide to Capitalism & Socialism with a Key to the Scriptures
. Why? I am a gay man, educated by Jesuit theologians since elementary school, and I have a degree in line with socialism. Do I need more reasons? Other roles of interest include revisiting these roles because I am now the right age to play them; my master's thesis role of Sam in
Master Harold… and the boys
; Alceste in
The Misanthrope
; and Leontes in
The Winter's Tale
.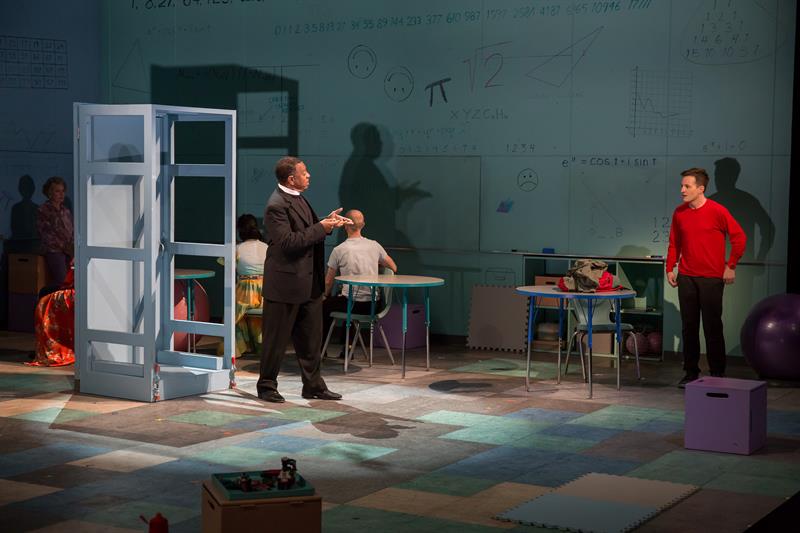 The cast of The Curious Incident of the Dog in the Night-Time. Photo by Mikki Schaffner.


5. What has been the most interesting part of working on The Curious Incident of the Dog in the Night-Time so far?
For ten years I was the public education inclusion and diversity specialist and Brooklyn and Staten Island team leader for the New York State Office for People With Developmental Disabilities (OPWDD), and for three years, I was a teaching artist director for Disney's Musicals in Schools program, where I worked in public schools with many children on the developmental spectrum. Doing
Curious Incident
brings back so many memories — the color of the walls, the mats, the yoga balls, the cubbies — all so familiar to anyone who is a teacher or an IEP for children with special needs. In my 10 years at OPWDD, we were faced with a very special problem: with the inclusion of special needs children in schools. How did we non-threateningly teach what it means to be a citizen of an interconnected and unequal world? We discovered that the keys to the success of inclusive classrooms are through encouragement and enhancement of social skills that enable all children to recognize the commonality of differences and to take responsibility for helping one another to learn about our differences and use those differences to grow and develop into an equal world!
When people would ask me about my job, I often told them I had a "feel-good" job because I knew that each and every day, I was effectively making a change for the better in someone's world. I see those same elements in our storytelling of this play. I think this play has the ability "to rock the audience in the bosom of the universe." At our curtain call, I am able to look out into our audiences and see on their faces that they have been changed. That their view of humanity and what it means to survive in an interconnected but unequal world which, for the most part, has been set up to exclude you has been changed. I see an understanding in their eyes and a recognition in their applause. They have been transported into Christopher's view of the world, "rocked in the bosom of his universe," released and returned to their world with insights. And that has been interesting and very rewarding.
For more information on the Playhouse's production of
The Curious Incident of the Dog in the Night-Time
, visit our
production detail page
.