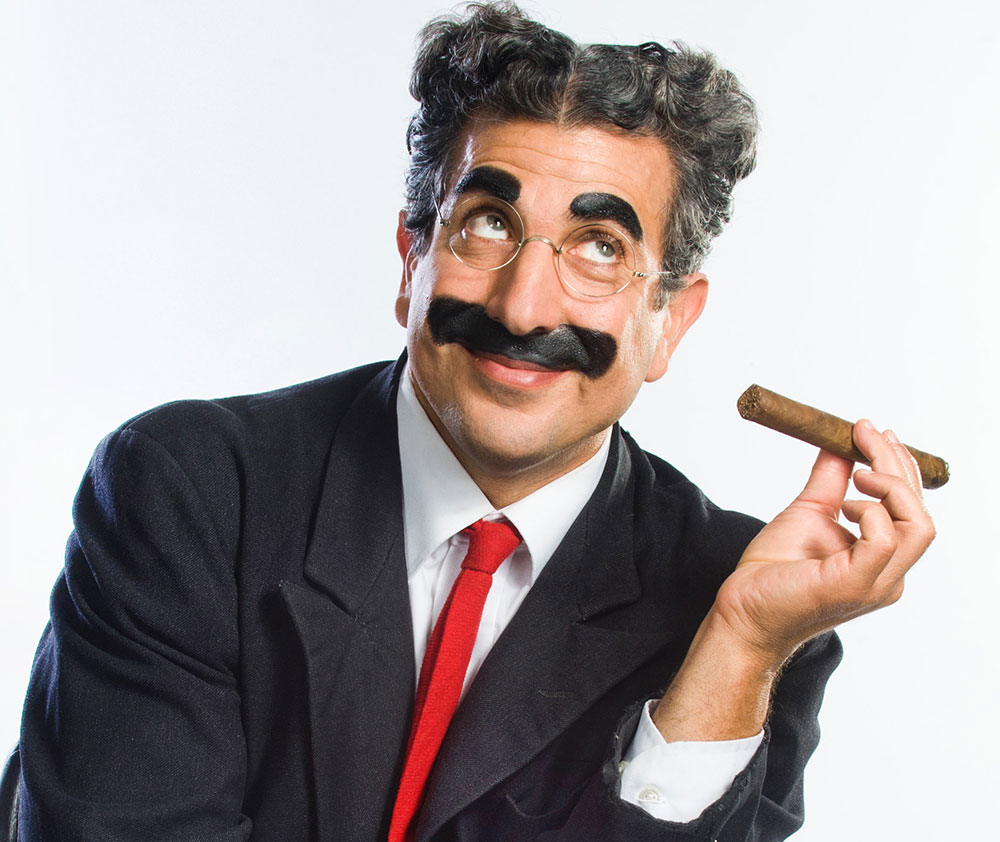 Performer Frank Ferrante still recalls the thrill he felt when he discovered the comedy of the Marx Brothers in their hit movie
A Day at the Races
.
"I was exhilarated by these crazy men," Ferrante says. "They were visually so outrageous. They were breaking rules and they were misbehaving. When you're 9 years old, that's a very attractive thing. It was like lightning had struck and something very special was before me."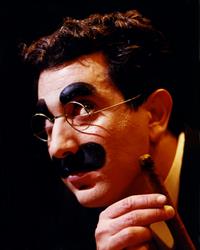 Lightning, indeed. Though he couldn't have imagined it at the time, Ferrante's childhood exposure to the zany antics of Groucho Marx would come to define the course of his career. To date, Ferrante has given more than 2,500 performances in some 400 cities as the iconic, cigar-chomping comedian with the bushy mustache and zingy one-liners. He'll add Cincinnati to that list this fall when his acclaimed production
An Evening With Groucho
brings laughter and music to the Shelterhouse for the holiday season.
Described by
The New York Times
as "the greatest living interpreter of Groucho Marx's material," Ferrante has been performing as Groucho since he was a college student at the University of Southern California. In fact, he produced an early version of
An Evening With Groucho
as his thesis. With confidence that belied his youth, he decided to invite everyone he could think of who had known, worked with or was related to Groucho Marx to see his performance.
One person who accepted his invitation was Groucho's son, the writer Arthur Marx. Marx was so taken with Ferrante's performance that he promised if he ever wrote another piece about his father, he would ask Ferrante to perform it. A year later, Ferrante found himself starring off-Broadway in
Groucho: A Life in Revue
, earning New York's Theatre World Award and an Outer Critics Circle nomination for his performance. He subsequently took the show to London and filmed a special for PBS.
Ferrante's
An Evening With Groucho
takes a real-life event (Marx's Carnegie Hall debut in 1972) and imagines if it had instead taken place when the legendary performer was at the height of his career.
"The premise is what would it have been like to experience Groucho Marx live in 1934 in a one-person show, which never happened," says Ferrante. "He always worked with his brothers during that time."
The show is filled with anecdotes about Marx's life, stories about his famous family and musical numbers from some of his best-loved films, including "Hooray for Captain Spaulding" from
Animal Crackers
and "Lydia, the Tattooed Lady" from
At the Circus
.
The show also incorporates Ferrante's interaction with the audience, meaning that much of the material is improvised from night to night.
"I never know what is going to happen from show to show," Ferrante says. "We have people coming back two and three times to see the show because the improvisation is so heavy that every night is a different experience."
For his performance, Ferrante has frequently earned the kind of accolades that Groucho himself received, having been described as "masterful" by
The Chicago Tribune
, "a tour de force" by
Variety
and "comic genius" by
Seattle Weekly
.
Though Ferrante works on many other projects, Groucho has remained a consistent presence in his life.
"The show is a piece that has evolved and grown over 33 years," Ferrante says. "Now it's just an absolute joy to do, and it will take another step in Cincinnati in terms of the production values and the text. Cincinnati allows me to elevate this piece that I've been doing for a lifetime. I'm very grateful for that."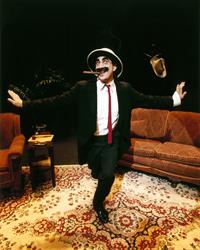 While many audience members will come into the theatre steeped in Marx Brothers lore, Ferrante knows there are others who won't be familiar with the comedian's work.
"You don't have to be a fan or knowledgeable on the subject matter to enjoy the show as a theatrical experience," Ferrante says. "It certainly helps if you enjoy comedy. If you're a comedy aficionado, then you're in the right theatre."
Though there are jokes in
An Evening With Groucho
that are now 85 years old, Ferrante believes the humor remains fresh to today's audiences.
"It's witty, and it's still dangerous," Ferrante says. "He's a truth-teller. He says what he wants to say, and he does what he wants to do and he's unfiltered. He's incorrect in that way. That is refreshing.
"Groucho's humor exhilarated me. It literally took my breath away. And my goal is to do the same for an audience."
To learn more about the Playhouse's production of Frank Ferrante in
An Evening With Groucho
, visit our
production detail page
.
Headline photo of Frank Ferrante as Groucho Marx by Michael Doucett. All other photos of Frank Ferrante as Groucho Marx courtesy of Frank Ferrante Productions.