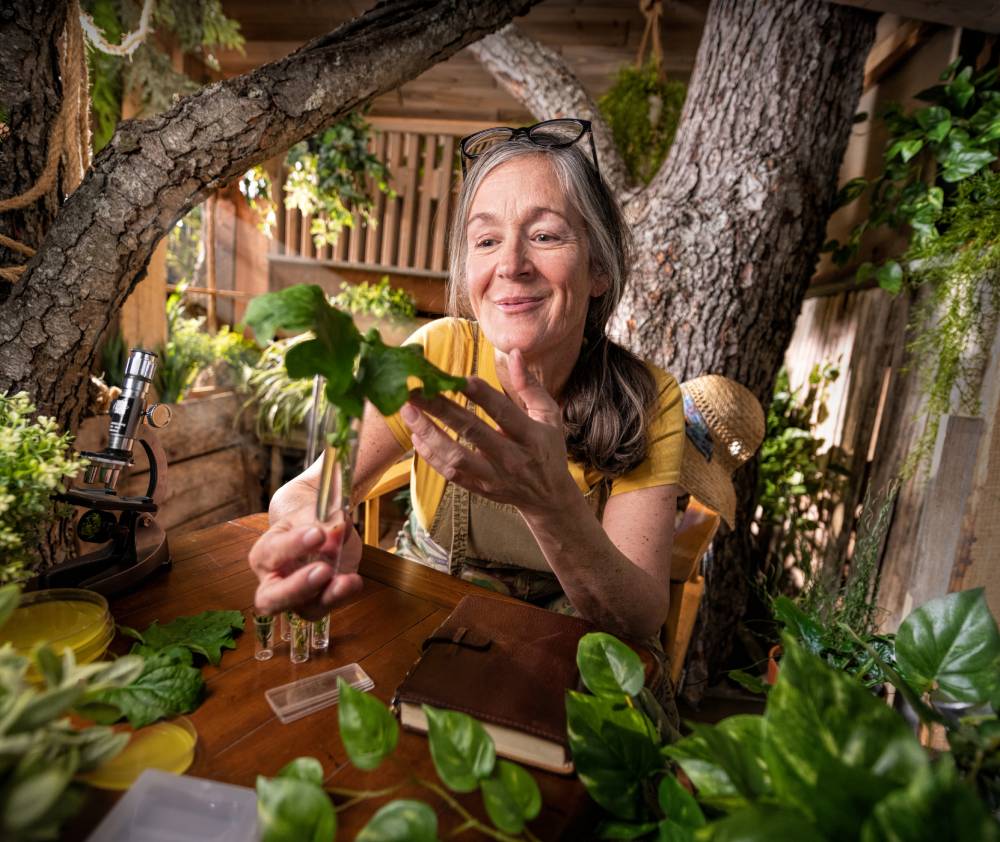 Emery Harris, the heroine of Deborah Zoe Laufer's Rooted, has lived alone in a treehouse for over a decade. She performs research on plants and plant consciousness as an amateur botanist and publishes her experiments on her YouTube channel. Except for her sister Hazel, the social platform is her only connection to the outside world. But unbeknownst to Emery, she's garnered quite a cult following. Literally.

This warm-hearted, quick-witted comedy takes off when Emery and Hazel make a startling discovery one day: a crowd of strangers (Emery's YouTube followers) gathering beneath the treehouse, chanting and singing praises. They have elected Emery as their new-age messiah.

Rooted marks the third world premiere of the Playhouse's 2021-22 season, and it's one of the theatre's recent new play commissions. It's also the third of Laufer's plays to debut in the Rosenthal Shelterhouse Theatre, following Leveling Up in 2013 and Be Here Now in 2018. Both these shows feature Laufer's signature balance of comedic dialogue and lovable characters who face wildly unexpected life changes. Rooted promises the same treatment with poignant nods to modern life.


Deborah Zoe Laufer, Rooted playwright
"I was tremendously tickled, inspired and deeply moved when Deborah Zoe Laufer shared her play Rooted with me," says director Noah Himmelstein, who calls it an ambitious dark comedy with characters that are rich and surprising. "Deb is a master at mining the laughter that comes when people are pushed to their limits, and we delight with recognition.

Audiences can expect to be enveloped in Emery's world of plants and botanical experiments through an ambitious and elaborate set designed by Se Hyun Oh. The treehouse is full of plant life and greenery. It's built around a giant oak tree that stretches so high characters can only enter if they climb a ladder and enter through a hatch.

"As Emery dives into her experiments proving that plants, like people and animals, are structured in consciousness, we also experience it through a heightened theatricality. It's a beautiful and unique place to visit," says Himmelstein.


Noah Himmelstein, Director of Rooted
Thematically, Laufer says, the story embodies feelings around isolation that are particularly resonant today. "Emery has literally put herself up a tree to escape other humans. She's surrounded herself with plants to feel safe." She adds, "The play is very alive with the longing for connection, the fear of connection and what it takes to truly make that connection."

Audiences will also recognize the character Luanne Cooper from Laufer's Be Here Now. Devoted to the pursuit of happiness and yearning for a sense of belonging, Luanne's story evolves into an exploration of healing and existential meaning in Rooted. She enters Emery's world as one of the YouTube followers who finds hope within her work.

"Her story was just beginning at the end of Be Here Now," says Laufer. "And the actress who played her in Cincinnati, Emily Kratter, brought so much love and light and joy and sweetness to Luanne that I had to see her play the role again. And, I'll confess — a 'Luanne' in some form appears in many of my plays. That character, with a purity of intent and openness of spirit, really moves me."

Rooted makes its world premiere debut in the Rosenthal Shelterhouse Theatre on Feb. 12.