Ritchie Valens, The Big Bopper and The Crickets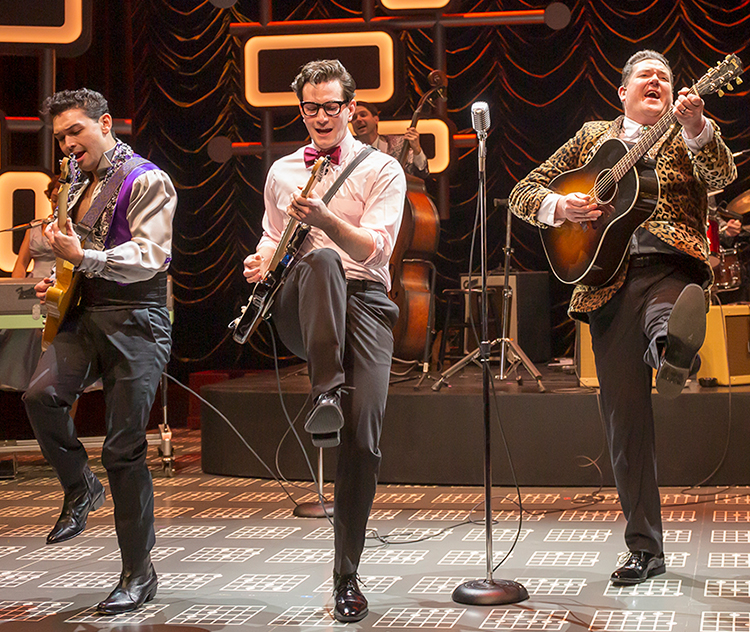 Buddy: The Buddy Holly Story traces the singer's country roots in Texas to his Nashville recordings with The Crickets to his final 1959 tour with Ritchie Valens and The Big Bopper. Learn more about the band that sprung Buddy Holly into rock and roll fame and the singers who accompanied him on the Winter Dance Party bus tour.
Ricardo Valenzuela, a.k.a. Ritchie Valens

Recognized as the first Mexican-American rock and roll star, Ricardo Valenzuela grew up in the Los Angeles suburb of Pacoima in the San Fernando Valley. At 11 years old, his relatives taught him how to play guitar and he became inseparable from his instrument ever since. In junior high, Valens was said to have entertained his friends with music during lunch breaks, and he created an electric guitar out of lumber and electrical parts for a shop class project.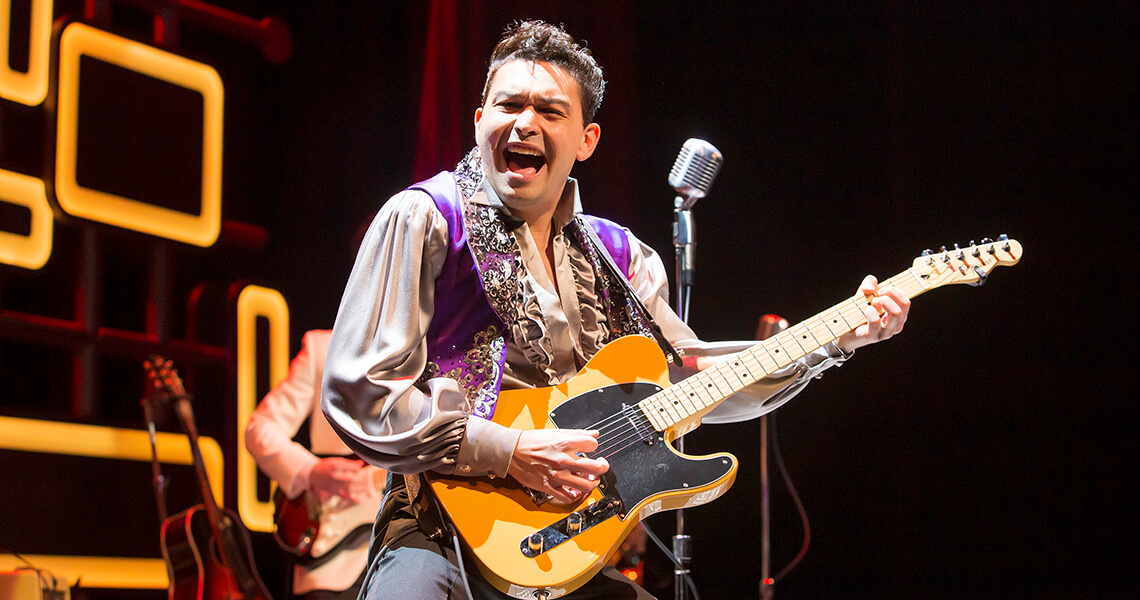 Ryan Jagru as Ritchie Valens in Buddy: The Buddy Holly Story. Photo by Mikki Schaffner.

In high school, Valens joined a local rock band called the Silhouettes. While performing at a local movie theatre, Valens was noticed by producer Bob Keane and got signed by Del-Fi records where he was asked to shorten his name from Ricardo Valenzuela to Ritchie Valens. His debut single, "Come On, Let's Go," was released only a few months later and became a Top 50 hit in the summer of 1958.
Valens' true claim to fame, however, came from his breakout hit, "Donna," a love ballad written for his high school sweetheart. The single was recorded in December that year and reached number two on the Billboard Hot 100 chart. Although "Donna" made Valens a star, it was the record's B-side, "La Bamba," that would become most closely identified with the young Chicano rocker. "La Bamba" put a high-energy, rock and roll twist on a traditional Mexican folk song that Valens had learned from his cousin.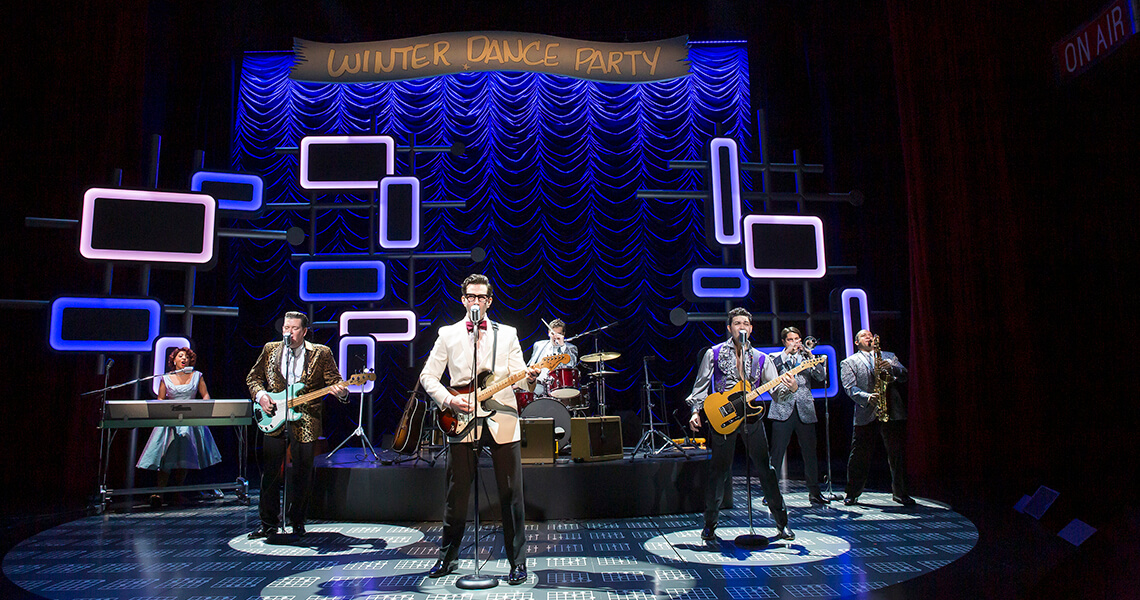 The cast of Buddy: The Buddy Holly Story. Photo by Mikki Schaffner.

As a rising star who had already produced four hit records at the age of 17, Valens was invited to perform on the Winter Dance Party bus tour in January 1959 with The Big Bopper, Holly and other famous artists. In an effort to make their next tour stop, Holly chartered a plane to fly from Clear Lake, Iowa, to Fargo-Moorhead, North Dakota. Valens won a coin toss for the last seat on the small aircraft, but only minutes into the flight, the plane crashed and ended the lives of every person on board.
Despite his short music career, Valens left a significant impact on the Chicano rock movement. His unique blend of Mexican dance music and rock has influenced generations of artists including Los Lobos, Sunny and the Sunglows, and Carlos Santana. In 1987, Valens' legacy was memorialized in the movie La Bamba, and he was inducted into the Rock and Roll Hall of Fame in 2001.
J.P. Richardson, a.k.a. The Big Bopper
J.P. Richardson was the oldest son of a Texas oilfield worker and learned guitar and piano at a young age from his mother. In high school, Richardson played as a defensive lineman on the football team and went to Lamar College to study pre-law.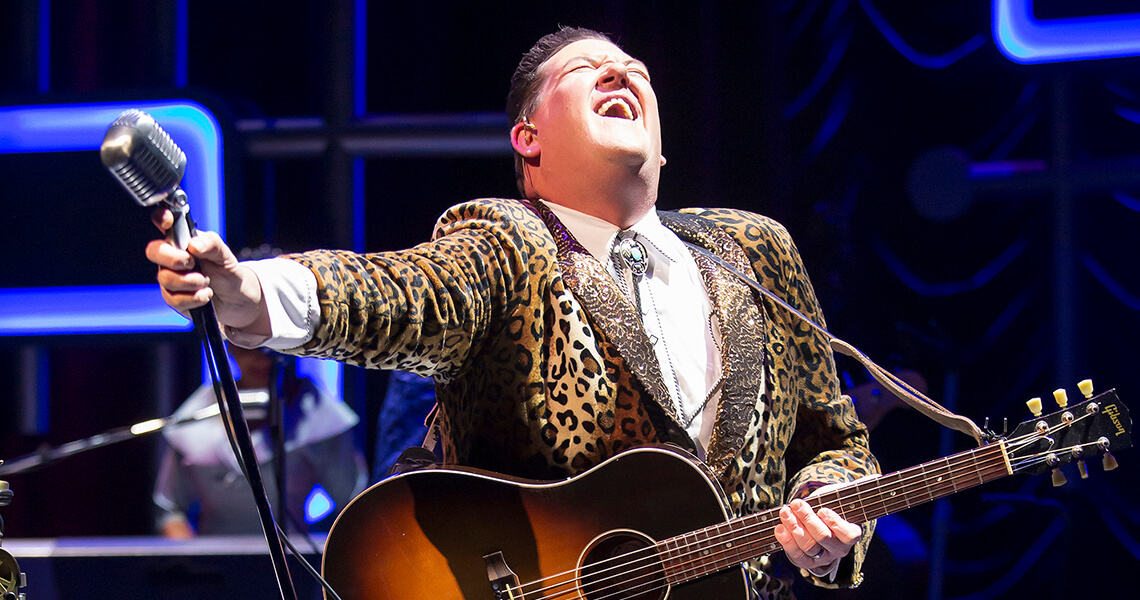 Jayson Elliott as The Big Bopper in Buddy: The Buddy Holly Story. Photo by Mikki Schaffner.

During school, Richardson worked part-time as a DJ at the Beaumont, Texas, radio station called KTRM. When he was hired at the station full-time, Richardson accepted the job and decided to quit college. After getting an afternoon radio slot that focused on rock and roll, Richardson gave himself the name "The Big Bopper" after a dance he saw college students doing called "The Bop."
Richardson started his music career as a songwriter. In 1959, he wrote George Jones' first number-one country hit called "White Lightning." He also wrote a song for Jonny Preston called "Running Bear," in which he also sang background vocals.
In 1957, he was signed by Mercury Records. While Richardson's first single flopped, his second single, "Chantilly Lace," which depicts a young man having a flirty phone conversation with his girlfriend, propelled him into fame and spent more than five months in the Top 40. Later that year, the singer scored another hit with a novelty tune called "The Big Bopper's Wedding," in which he pretends to get cold feet at the altar.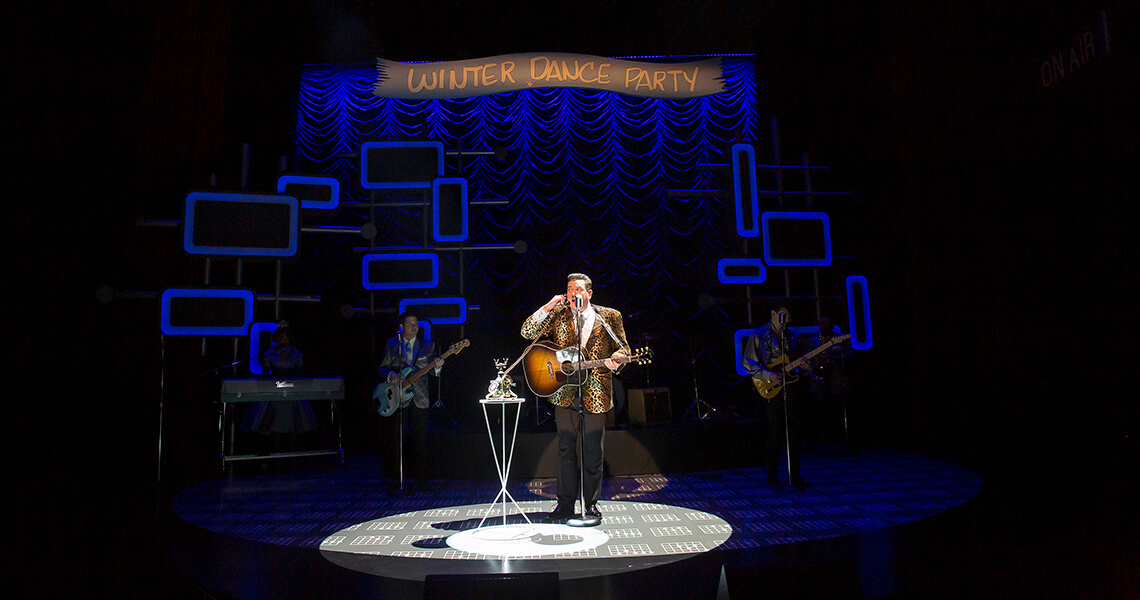 Jayson Elliott as The Big Bopper with Spiff Wiegand and Ryan Jagru in Buddy: The Buddy Holly Story. Photo by Mikki Schaffner.


Sprung into a performing career, Richardson took time off at the radio station to join the Winter Dance Party bus tour. At the age of 28, he passed away along with Holly and Valens in the devasting plane crash often referred to as "the day the music died".
At the time of his death, Richardson's daughter was only 4 years old, and his wife was six months pregnant with their son. Richardson also left behind 20 new songs that he was planning to record. Following in his father's footsteps, Richardson's son had his own music career where he was known as "The Big Bopper Jr." and performed around the world, including some of the same stages where his father had performed during the Winter Dance Party tour.
Recognized as one of the first novelty artists, Richardson is also credited as a pioneer in the development of the music video. His 1958 rock hit, "Chantilly Lace," remains a classic of its time.
The Crickets

With two guitars, bass and drums, The Crickets completely changed the game for rock and roll and inspired an entire generation of teenagers to kickstart their own rock bands. In fact, The Crickets left a lasting influence on nearly every rock artist, including The Beatles who also wanted to have an insect band name.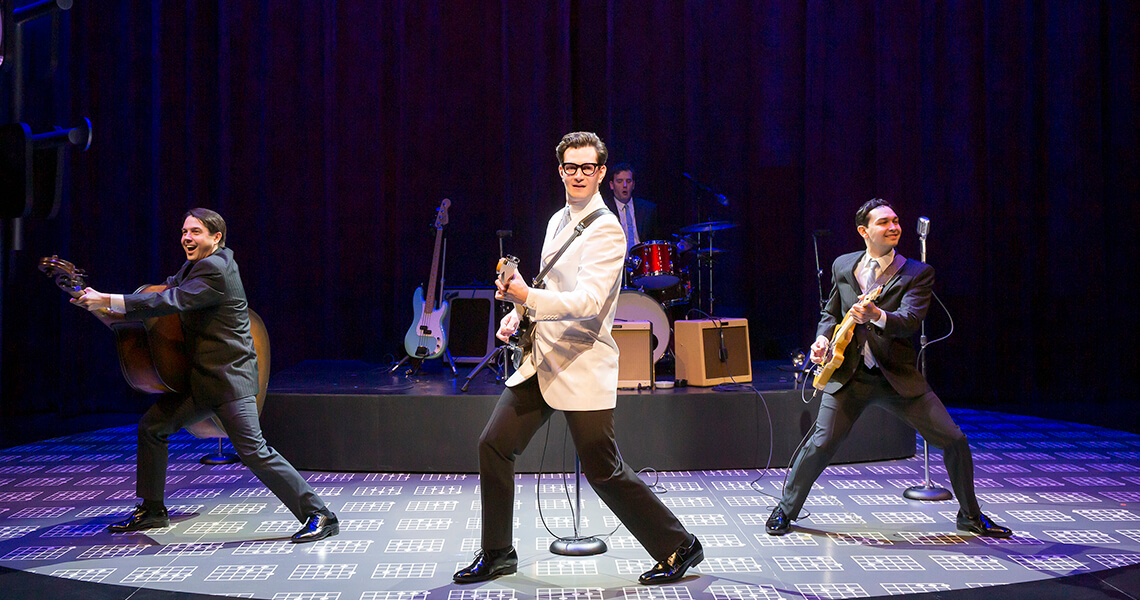 Spiff Wiegand as Joe B. Mauldin, Andy Christopher as Buddy Holly, Ryan Jagru as Tommy Allsup and Joe Cosmo Cogen as Jerry Allison, background, in Buddy: The Buddy Holly Story. Photo by Mikki Schaffner.


Formed in Lubbock, Texas, The Crickets began with singer and guitarist Holly, drummer J.I. Allison and bassist Joe B. Mauldin. With their country-influenced rockabilly style, The Crickets were one of the first rock bands that were self-contained and wrote their own songs. From 1957 to 1958, the band had seven Top 40 singles, including "That'll Be the Day," which charted number one. "Peggy Sue," "Oh Boy!," "Maybe Baby" and "Rave On" were also successful hits.
In October 1958, Holly moved to New York and split from The Crickets because of a conflict he had with the band's producer, Norman Petty. While the other band members chose to stay with Petty and continue to record songs as The Crickets, Holly pursued a career as a solo artist. It is said that the two separate acts planned to meet up again after Holly's Winter Dance Party tour, but because of Holly's untimely death, they never got the chance.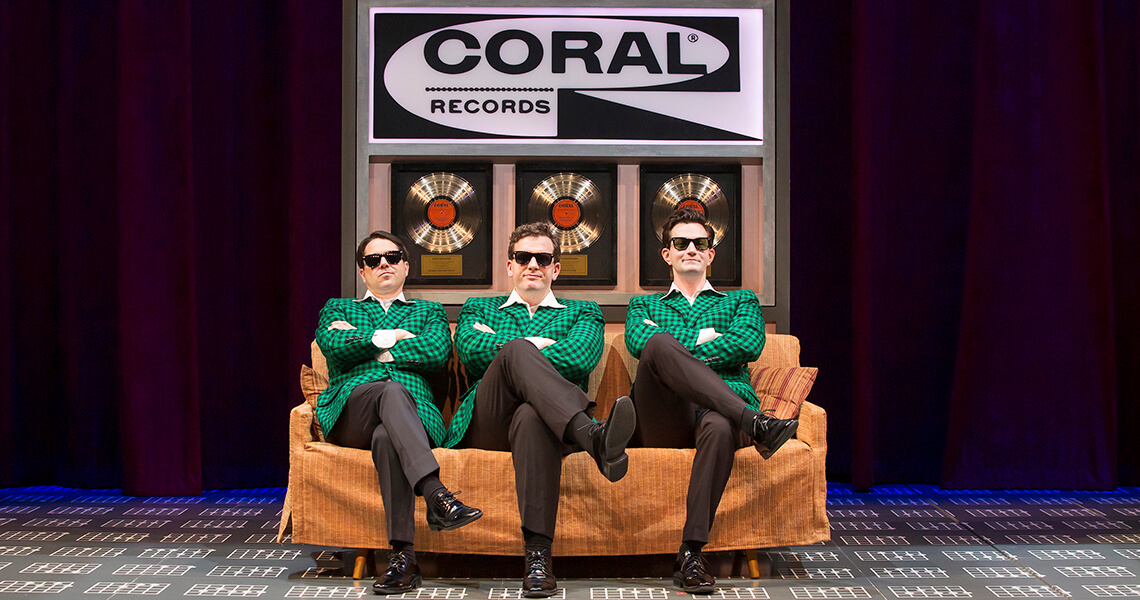 Spiff Wiegand as Joe B. Mauldin, Joe Cosmo Cogen as Jerry Allison and Andy Christopher as Buddy Holly in Buddy: The Buddy Holly Story. Photo by Mikki Schaffner.

From that day on, The Crickets became a band with two careers: one that lasted a little over a year before Holly's death, and another that went on for decades after. In the years following Holly's death, The Crickets experienced moderate success and produced a total of 18 albums. In 1962, their version of Gerry Goffin and Carole King's song "Don't Ever Change" reached the Top Five spot in the British single charts, and they hit the U.K. Top 40 two more times the following year.
To correct a past mistake of not inducting the group with Holly in 1986, The Crickets were inducted into the Rock and Roll Hall of Fame in 2012 and were recognized for their tremendously influential music career. On Feb. 6, 2012, several band members reunited at the site of Holly's last concert in Clear Lake, Iowa, for their final performance as a group.
---
To learn more about the Playhouse's production of Buddy: The Buddy Holly Story, visit our production detail page.