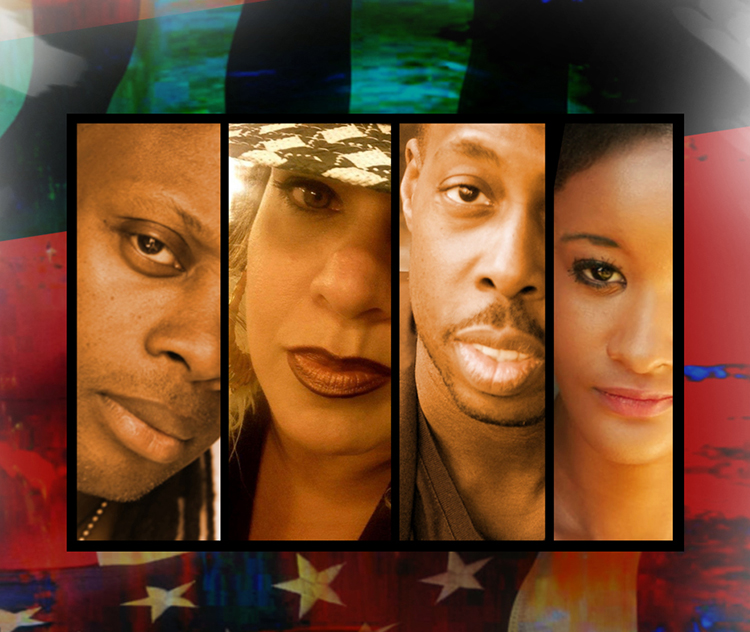 In the 1980s and '90s, the pulse of American culture could be found in slam poetry — a thought-provoking fusion of prose and performance that brings poems to life through spoken word. It's a deviation from "classic" poetry, as it favors the use of free verse, musical rhythm and lyrical prose over traditional poetic structure, and it's intended to be performed orally so that the speaker may engage with the audience. The art form counts among its predecessors Beat poets like Jack Kerouac and Allen Ginsburg, who often frequented New York City's now legendary Nuyorican Poets Café. The Café was, as described by NPR, America's "epicenter of slam poetry." It's also where a performance ensemble called Universes found their theatrical voice.
Universes is a multi-cultural, multi-disciplined collective of artists and poets that originated in The Bronx and have been collaborating for 24 years. Inspired by the poetry movement in New York that artistically defined the '90s, they attended open mic poetry sessions at cafés and clubs around the city. The Nuyorican Poets Café was their main spot. Though spoken-word poetry is usually performed by an individual for just three minutes at a time, Universes performed as a group of five for 15 minutes. They fused spoken-word with theatre, music, movement and dance to eventually create a style all their own.
Mildred Ruiz-Sapp (left) and Steven Sapp (right) at a workshop for americUS in Ashland, Oregon, in August.


"When we first started working, it was pretty much about coming up with just these little moments. We would go into a poetry café — an open mic — and try it out in the room," says Universes co-founder Steven Sapp. "We had a van that we used to sit in, and we would drive the van to some secluded place in New York City on a side street, singing and bringing in poetry." Co-founder Mildred Ruiz-Sapp says fondly of their mobile rehearsal space, "We had the best acoustics."
The more open mics Universes performed, the more time they earned onstage. Fifteen-minute sessions became full-night sets, and performance spaces migrated from cafés to off-off-Broadway to off-Broadway to regional theatres around the country to venues overseas.
One of those locations was the 2009 Humana Festival of New American Plays in Louisville, Kentucky, where they performed Ameriville — a multifaceted story about life in New Orleans post-Hurricane Katrina that's told through poetry, step, R&B, salsa and a cappella singing. The show reflects personal accounts of New Orleans community members, and it dives deeply into the psyche of the region to re-emerge with questions about a troubling chapter in American history. It was this performance that caught the attention of Playhouse Artistic Director Blake Robison.
"I was simply blown away by their performance style, the variety of what they do, and the depth of feeling and thought that they can engender within the audience," says Robison.
At that time, Robison was Artistic Director at Round House Theatre in Washington D.C., and he invited Universes to perform Ameriville there in 2010.
D.C. Theatre Scene praised the production: "The play is peppered with ingenious rhymes and vivid imagery, and the foursome's relentless energy and careful pacing transforms a series of well-written pieces into a breathless, cohesive whole that keeps the audience on the edge of their seats for the duration of the show."
D.C. Theatre Scene drew another significant conclusion, one that points to Universes' mission to engage audiences through stories about social issues: "In a cultural landscape dominated by awful reality television and the destructive 24-hour news cycle, this message has never seemed more vital. The show reminds us of the power of a small group of artists to make the audience reconsider their reality and ask, 'Is this good enough?'"
Indeed, Ameriville is one of a dozen shows created by Universes that examines topics and themes about life in America. Their 2001 production Slanguage is a portrait of contemporary urban life that features poetry, rap, gospel, jazz, the blues and Spanish boleros. Their 2009 show Party People utilizes poetry, dance and original music to weave a complex narrative about social revolutionaries from both the '60s and today; the New York Times wrote that Party People's off-Broadway production may be "the most exciting piece of theatre now up." With their newest show, americUS, they take an honest and unfiltered look at life in America today.

"Every day, every one of us turns on the television set, nervous to know what's going to be on the other end projecting back at us… Are we in a great place? Is the economy rising or dropping? What's happening?" says Ruiz-Sapp. She calls the show a "touch point" to talk about all the issues, feelings and ideas that are "building up on top of us."
The world premiere production is a Playhouse commission. It is directed by Joan Herrington, who has worked with Universes both as a director and a dramaturg.
"americUS is an exploration of what it means to be in America at this time — what our joys are, what our challenges are and how we find our way in the midst of some very crazy days," says Herrington, who describes the show as "a collage in which we weave in and out of the lives of people experiencing what it means to be alive right now in this nation."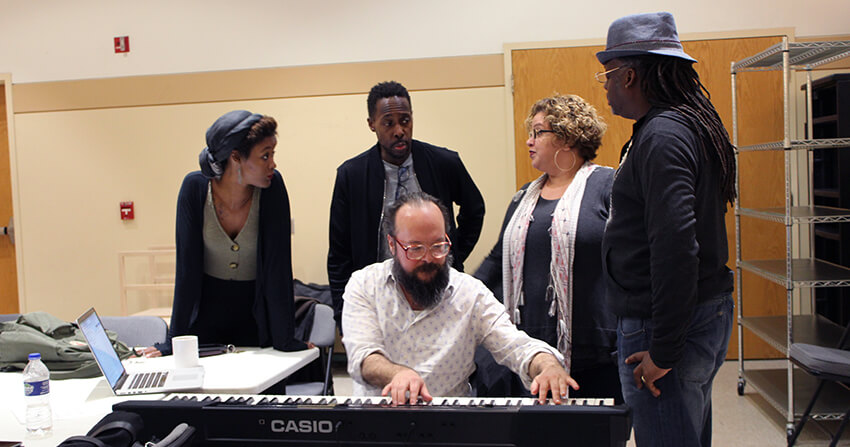 Asia Mark, Gamal Chasten, Mildred Ruiz-Sapp and Steven Sapp (standing) with Broken Chord's Aaron Meicht at an americUS workshop at the Playhouse in December.

Robison sees 2020 as an exceptionally good time to commission a new work from the ensemble. "Everything they do has contemporary relevance… I would call it insightful and visceral social commentary."
The production of americUS brings Universes to Cincinnati for the first time. Sapp says he's excited to not only perform but to engage with the community in conversations about the show's themes and topics. It's foundational to Universes' philosophy — that theatre can and should foster dialogue. He says, "It's exciting because it's a new audience, it's new grounds to walk through, new people to meet and interact with."
Ruiz-Sapp, too, looks forward to adding Cincinnati to their long list of communities where they've performed.
"Every single place we've been, when you think people are different, they're more alike than they are not," says Ruiz-Sapp, gesturing towards one of the major artistic ideas at play in americUS. "We are counting on Cincinnati being just like the rest of us. We're going to walk into it like we've been there before, like it's family, like these are the people that we're living with and the people that are us. No differences, no barriers, no boundaries, no borders."
To learn more about the Playhouse's world premiere production of americUS, visit our production detail page.