Beyond the Stage: 2 PIANOS, 4 HANDS
Did Richard and Ted's lifelong pursuit of becoming concert pianists strike a chord with your own piano days? Or, perhaps you have never played piano but are just now interested in starting. With these tutorials, apps, news stories and events, we hope that you too can discover the joy that brought Richard and Ted to classical music.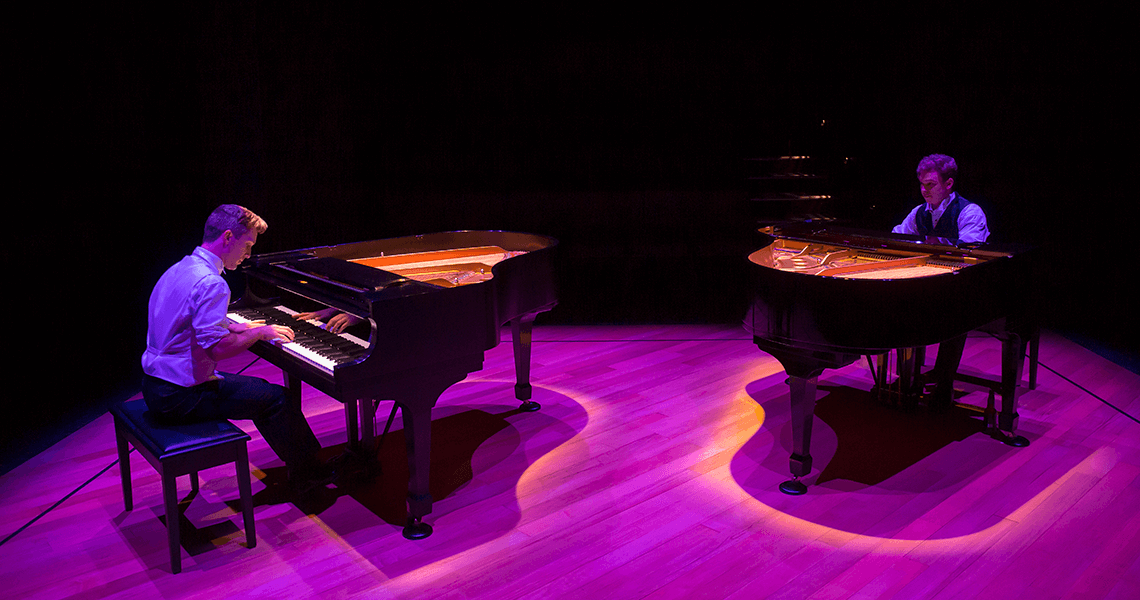 ---
Take a Lesson
How to Read Notes
In this tutorial, learn how to read notes fast using The Landmark System. Being able to read sheet music is an important skill to have before learning how to play song a song on the piano.
How to Play Piano
In this beginner piano lesson, learn how to find notes on the piano, basic piano terminology, hand positioning and chords.
Piano Fingering for Beginners
This lesson concentrates on easy piano fingering for beginners. It takes fingers one through five and gets students comfortable with using them on the keyboard.
---
Learn a Song
Beethoven's "Für Elise"
Sheet Music | Tutorial
Beethoven's "Ode to Joy"
Sheet Music | Tutorial
Chopsticks
Sheet Music | Tutorial
---
Try an App
Magic Piano Smule
Play your favorite tunes on this piano rhythm game! Magic Piano makes you sound like a piano prodigy — anytime, anywhere. Follow beams of light to guide your fingertips to the correct notes on your screen.
Piano Tiles 2
A music arcade game in which the player's objective is to tap on the black tiles as they appear from the top of the screen while avoiding the white. When each black tile is tapped, it will emit a piano sound — making the song come to life. If the player taps on a white tile, the player will lose the game and be signaled by an off-tune note.
Flowkey*
Play your favorite songs and learn all there is to know about notes, chords and the proper technique with interactive step-by-step instructions and high-quality video tutorial of professional pianists. Ideal for beginners and advanced pianists.
Simply Piano by Joytunes*
Simply Piano is a fast and fun way to learn piano for beginners or pros. The app includes courses for different musical tastes and playing levels. Learn the basics step-by-step from reading sheet music to playing with both hands. Suitable for all ages, no previous knowledge required to learn piano.
Yousician*
Yousician is your personal music tutor for the digital age. Learn and play thousands of songs on your real instrument with clear, instant feedback as the app listens along. Step-by-step video tutorials guide you through each lesson and fun gameplay tracks your progress and keeps you motivated to practice and learn.
*Apps are free, but users must purchase a subscription to access premium content
---
Read the News
"The Sound that Baldwin Piano Gave to the World"
Did you know that the founder of Baldwin Piano Co. was a Cincinnati native? In this article by Cincinnati.com, learn about the history of Baldwin Piano Co. from Peggy Kite, the last member of her generation from the family that built the company.
"Cincinnati Teen to Compete in International Piano Competition"
Last spring, Kasey Shao, a sophomore at Walnut Hills High School, was one of 24 pianists selected as a finalist in the prestigious Cliburn International Junior Piano Competition.
---


Visit a Local Piano Bar
Gangsters Dueling Piano Bar & Restaurant
Gangsters puts a new spin on the dueling piano bar concept by featuring a black and white piano as the central focal point of the elevated stage with a dance floor while overlooking the bar and restaurant.
Jag's Steak & Seafood
Located in West Chester, Jag's is a fine dining restaurant, event and entertainment venue with live music in the Piano Bar every night of the week.
Schwartz's Point Jazz & Acoustic Club
Enjoy live music, cocktails and more at Cincinnati's only Euro-Style Jazz and Acoustic Club.
Symphony Hotel & Restaurant
One of the most popular bars in Over-the-Rhine, the Symphony Hotel Lounge features live jazz and full food service from an award-winning kitchen.
---

Listen to the 2 Pianos, 4 Hands Playlist
---
To learn more about the Playhouse's production of 2 Pianos, 4 Hands, visit our production detail page.
Photos of Matthew McGloin and Jefferson McDonald in 2 Pianos, 4 Hands by Mikki Schaffner.