Rosa Guy and the Novel That Inspired ONCE ON THIS ISLAND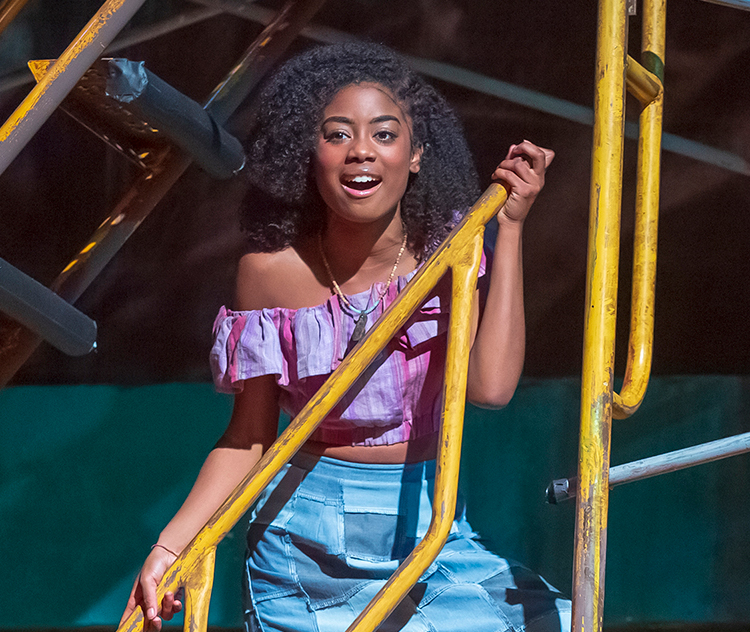 Acclaimed songwriter Lynn Ahrens was hunting for new project ideas in Barnes & Noble when she came across My Love, My Love; or, The Peasant Girl by Rosa Guy in the used books section. When she opened the book, it began, "There is an island where rivers run deep, with the sea sparkling in the sun." Ahrens thought, "This sounds so musical." When she went home that night, she finished the book in "one big gulp" and quickly fell in love with the story. "It was so evocative and beautiful," she told Theater Life. Soon after, Ahrens hailed a cab to her theatrical collaborator Stephen Flaherty's apartment to tell him that she found their next musical.
Once on This Island, with book and lyrics by Ahrens and music by Flaherty, became a 1990 Broadway hit that was nominated for eight Tony Awards. Just last year, the musical won another Tony Award for Best Revival of a Musical. This lively, Calypso-flavored show continues to capture the hearts of theatre-goers everywhere, but we must not forget the woman behind the tale.
Lauren Chanel and the cast of Once on This Island. Photo by Mikki Schaffner.

Guy was a Caribbean-born writer best known for her young adult novels which address race, poverty, family conflict and the experience of urban America as an immigrant. Considered one of the 20th century's most distinguished writers for young adults, her books — published between 1966 and 1995 — were often praised for their exploration of untouched subjects in fiction for teenagers at that time.
Born in Trinidad, Guy moved to Harlem at 7 years old to join her parents, who had already immigrated to New York City, in hopes of a better life. By the time she was 14, she had experienced the loss of both her parents which thrust her into factory work to support herself and her sister. Together, they eventually moved through orphanages and foster homes where Guy realized her love of storytelling by listening to the personal narratives of the children she had met.
"Tiptoeing my way through the casualties of poverty in the ghettos — an orphan in New York, ostracized for those traits which being West Indian and Catholic had etched into my personality — wasn't easy…But I never looked back in hate — but with a kind of sadness, a regret that there had been no books yet written, no guidelines from caring adults who might have made a difference, guiding us over the deep but narrow ravines dividing us," said Guy in an interview with the Top of the Times.
Guy went on to study writing at New York University and act in the American Negro Theater. In 1950, she co-founded the Harlem Writers Guild which became a highly influential group that encourages African-American writers to develop their craft with authors like Maya Angelou. Today, it is the oldest organization of African-American writers.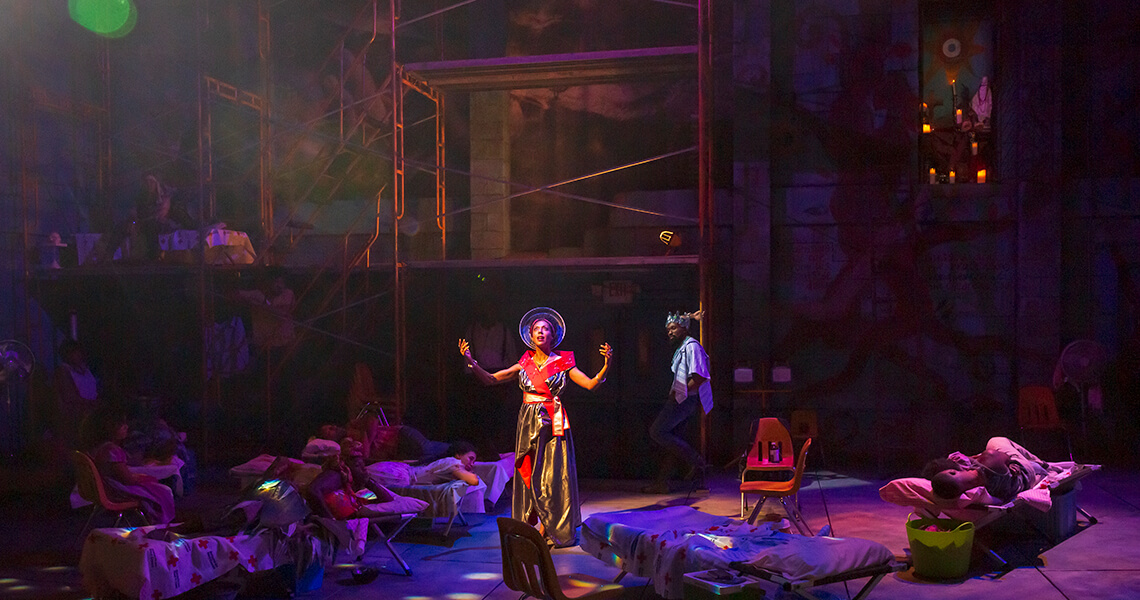 Christina Acosta Robinson and the cast of Once on This Island. Photo by Mikki Schaffner.

In 1966, Guy published her first book, Bird at My Window, which examines the complex relationship between a black mother and her son, as well as society's influence on black men. She became most well-known for her trilogy of novels for young people that detailed the realities of coming of age as African-American teenagers. Chosen as Best Books for Young Adults by the American Library Association, The Friends (1973), Ruby (1976) and Edith Jackson (1978) are all based on Guy's personal experiences as an African-American growing up in New York City without money or family support.
"She's never afraid of the truth," said Angelou, friend of Guy for 50 years. "Some writers dress the truth in a kind of elegant language, so it doesn't seem quite so blatant, so harsh, so raw. But Rosa was not afraid of that."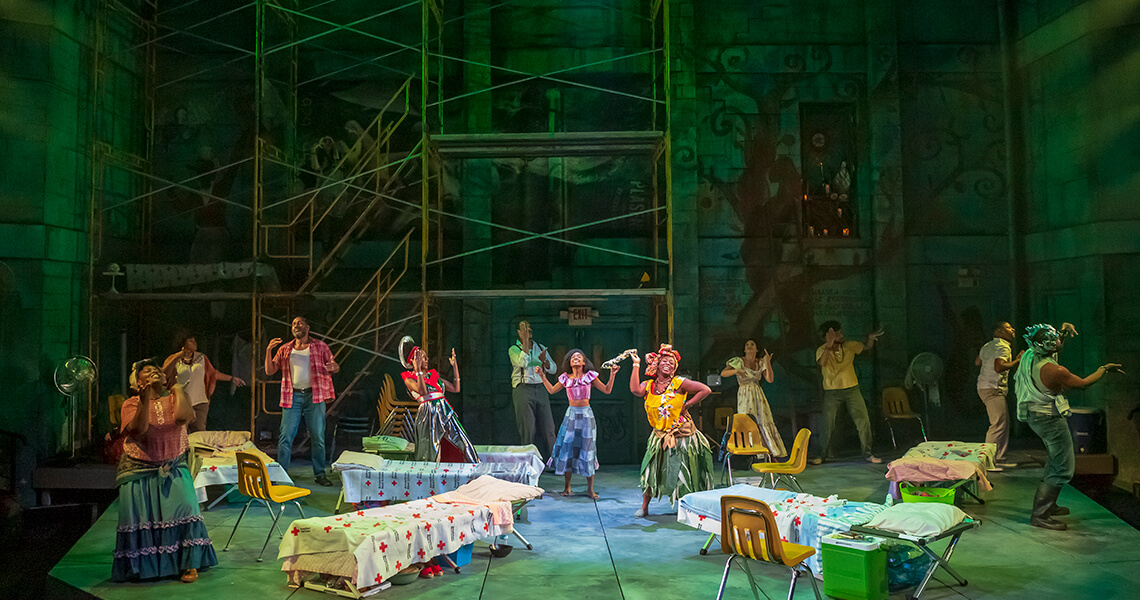 The cast of Once on This Island. Photo by Mikki Schaffner.

In 1985, Guy published My Love, My Love: or, The Peasant Girl which is a Caribbean-inflected retelling of Hans Christian Andersen's The Little Mermaid. A peasant girl falls in love with a wealthy boy after saving his life, but the pompous gods who preside over the island have other plans. This achingly beautiful love story is brought to life in the Broadway musical Once on This Island.
"Ahrens and Flaherty's beautiful, revelatory, Caribbean-infused score ungirds this life-affirming musical," says director and choreographer Robert Barry Fleming. "It's all about sharing a vision of hope, possibility and solidarity in a moment that feels rife with cynicism, adversity and division."
Additionally, set designer Jason Ardizzone-West has imagined a space that altogether represents the immense impact of the elements of nature, the rich and complex history of Caribbean culture, and a group of people who transform their own environment. The musical begins as they seek shelter from a storm and come together to tell the story of Ti Moune in an effort to calm their nerves.
"There's a mixing, a blending of worlds," says Ardizzone-West. "There's the world of the play, kind of literally being set in Haiti, but also the world of the present moment. Here we are, a community of theatre-goers gathering together in a similar way that this community of storytellers is gathering together, and we're kind of all in the same space."
It is hard to ignore how the themes of Once on This Island and My Love, My Love; or, The Peasant Girl also resonate deeply in Guy's life story. Like Once on This Island's Ti Moune, Guy was a woman who overcame adverse circumstances and transformed the environment handed to her in her own life to become a successful and influential author.
"I'm a storyteller. I write about people. I want my readers to know people, to laugh with them, to be glad with, to be angry with, to despair with people. And I want them to have hope with people. I want a reader of my work to work a bit more and to care," said Guy to The Horn Book Magazine.
Once on This Island will capture your heart with its Calypso-flavored music, mesmerizing set and unforgettable story inspired by Guy's novel My Love, My Love; or, The Peasant Girl.
---
To learn more about the Playhouse's production of Once on This Island, visit our production detail page.