5 Questions With Allan K. Washington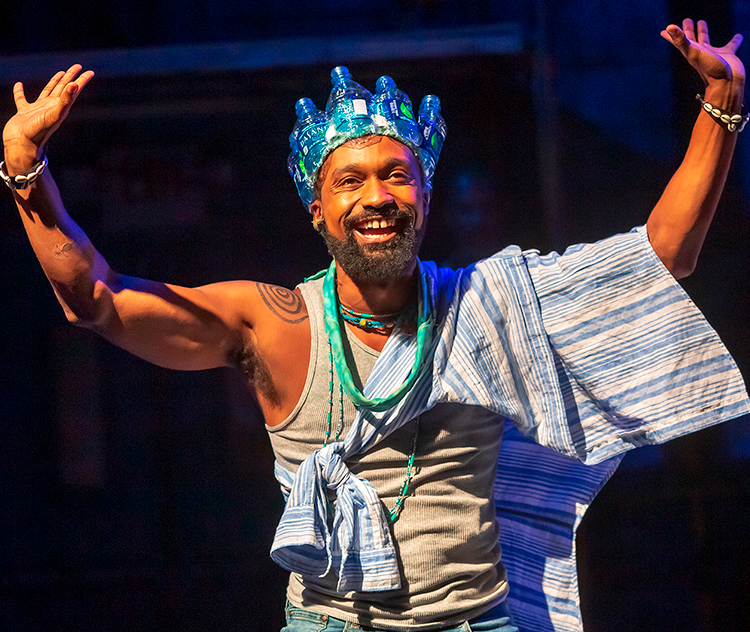 Allan plays Agwe in Once on This Island.
Allan is excited to be making his Cincinnati Playhouse in the Park debut! Broadway credits include SpongeBob SquarePants: The Broadway Musical (Nederlander Theatre) and Once on This Island (2017 revival). Off-Broadway, Allan appeared in A Man's A Man (Classic Stage Company). Regional credits include SpongeBob SquarePants: The Broadway Musical (Oriental Theatre in Chicago), Paint Your Wagon (The Muny), ...Beautiful Room... (Long Wharf Theatre), Wagner's Der fliegende Holländer (Hawaii Opera Theatre), Verdi's Aida (Glimmerglass Festival) and The Music Man (Royal Opera House of Muscat). Allan will be recurring on the upcoming third season of The Deuce on HBO. Other television credits include High Fidelity (Hulu), SpongeBob SquarePants Birthday Special (Nickelodeon), 2019 Kids' Choice Awards (Nickelodeon) and the 2018 Tony Awards (CBS). Allan studied at the University of North Carolina School of the Arts (BFA Acting). Follow him on Instagram @allankwashington.
---
How long have you been acting, and where did you receive your training?
I think my first time on stage was playing a crocodile when I was in second grade in a school musical. I also played the role of Elwood P. Dowd in the play Harvey by Mary Chase when I was in eighth grade. That was my first time being bit by the bug. From there I did many more high school and professional theatre gigs in and around Indianapolis. I eventually got a Bachelor of Fine Arts in Acting from the University of North Carolina School of the Arts. And I've never looked back.
The cast of Once on This Island. Photo by Mikki Schaffner.

When did you know you wanted to be an actor, and what's your favorite part of the job?
Here's an embarrassing story that I love telling: The summer before my sophomore year of high school, I applied to and was accepted to Usher's Camp New Look (this is indeed Usher, the mega-famous pop star). I was elated. When I got there, though, I was having a hard time making friends. Big bummer. But one day, we did an acting master class with Usher and another star of a popular film of the time. I did a scene from Spike Lee's Do The Right Thing. After my scene, Usher looked at me and asked, "Do you want to be an actor?" I said, "…umm, I guess so…" He then peered over his sunglasses and gave a defining, "I think you could do it." And that's when I decided to really take this thing seriously.
I love inviting people into the world and customs of cultures they may not necessarily have contact with.
What is your all-time favorite role you've performed and why?
I'm having a great time playing Agwe! I was a little nervous because in the script, Agwe has a lot to do in the beginning of the story but, more or less, disappears towards the end. But because our director has us onstage the entire time, many more opportunities are presented for Agwe to be a part of the storytelling. And I'll stop there because I don't want to give away any spoilers!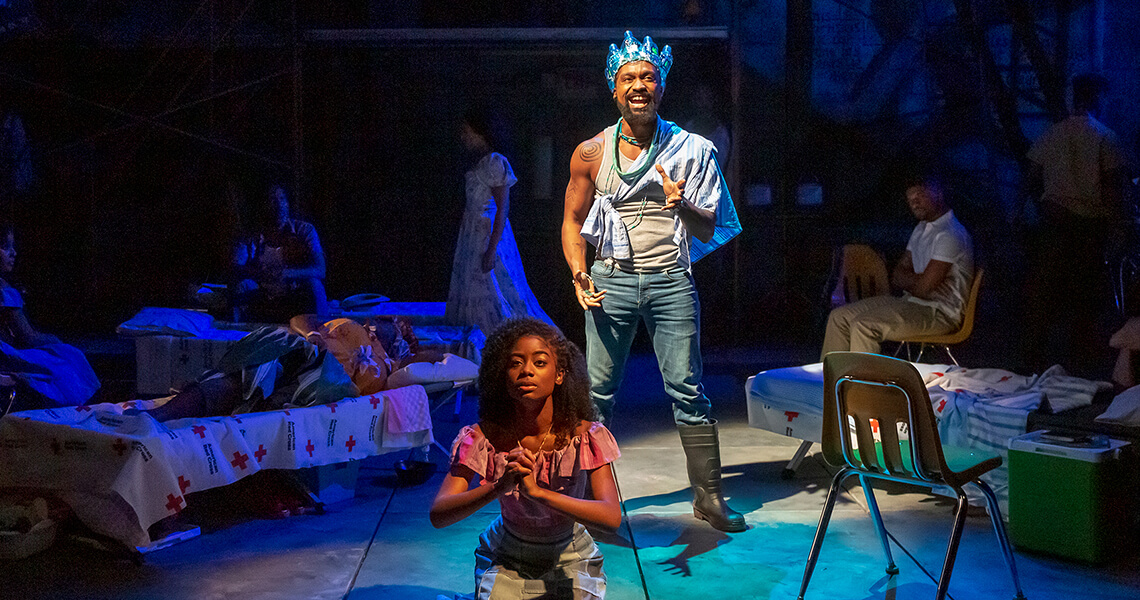 Lauren Chanel, Allan K. Washington and the cast of Once on This Island. Photo by Mikki Schaffner.

What role have you been dying to play and why?
I want to do a new play really bad. I love the work the happens between actors, directors and writers in the process of creating new characters and stories.
What has been the most interesting part of working on Once on this Island so far?
I was recently in the Broadway revival of Once on this Island that closed this past January. So, this is the second time this year that I've performed this show. What's really amazing about this show is the fact that it's so well-written and the story is so compelling that it lends itself to so many different types of interpretations that are always successful. I bet many people reading this have seen a fantastic production of Once on this Island at a high school at some point. That's a testament to really stellar storytelling. And this production of Once on this Island is sure to be one of the best you'll see!
---
To learn more about the Playhouse's production of Once on This Island, visit our production detail page.