A Touching Tale of Love and Loss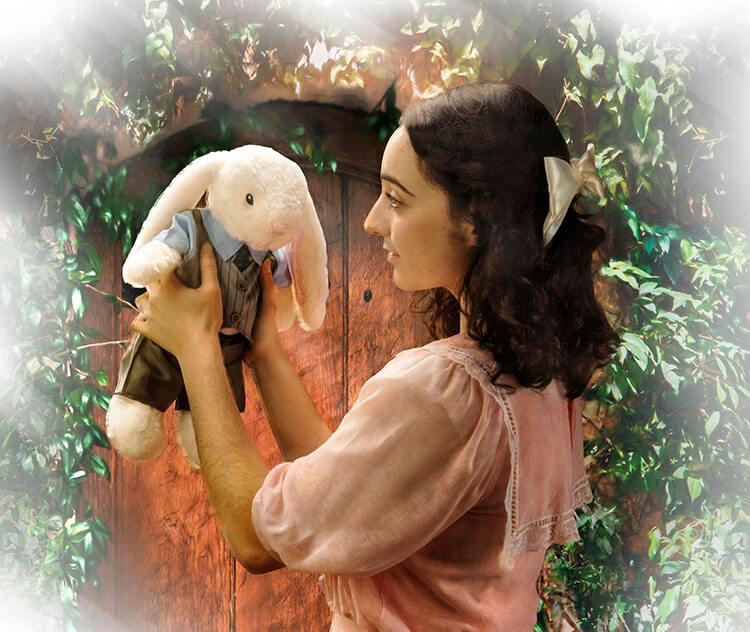 The Playhouse opens its first community touring show of the 2019-20 season with a touching tale of love and loss. Based on the book by Katie DiCamillo, The Miraculous Journey of Edward Tulane follows the life of a conceited china rabbit who learns the meaning of love on an extraordinary adventure through the hands of many owners around the world. This theatrical tour-de-force, directed by Playhouse Director of Education and Community Engagement Daunielle Rasmussen, is performed by a small ensemble of actors from the Bruce E. Coyle Intern Company and features live music, a transformative set and the portrayal of over 20 characters.
DiCamillo is an award-winning children's writer. She became an instant success with her first published novel, Because of Winn-Dixie, and is only one of six authors to have ever won two Newbery Medals (The Tale of Despereaux in 2004 and Flora & Ulysses in 2014). Her books often carry themes of hope among difficult circumstances and a feeling of shared humanity, which are both present in The Miraculous Journey of Edward Tulane. Here's an excerpt from the book: "He repeated the old doll's words over and over until they wore a smooth groove of hope in his brain: Someone will come; someone will come for you." Adapted by Dwayne Hartford, the Playhouse's production brings DiCamillo's achingly beautiful words to life onstage.
Renderings by Playhouse Charge Scenic Artist Kenton Brett.

In a house on Egypt Street, a young girl named Abilene Tulane receives a toy china rabbit for her birthday. In awe of her handsome, stylish and refined new doll, Abilene decides to name him Edward and immediately welcomes him into her family. For years, Edward was showered with Abilene's love, but he was selfish and cared for no one but himself. "Edward had little patience for people," the script reads. "What they said didn't interest him, unless they were talking about him, of course."
One day, however, Edward's world completely changes when he is thrown overboard a ship and ripped away from the security of his dear owner. Edward travels from the depths of the ocean to an older grieving couple, from a garbage heap to a homeless community, and from a scarecrow in a garden to the arms of a sick child. On this miraculous journey, Edward finds compassion in some of the most forgotten places and learns the courage to love, to lose and to love again.
"The Miraculous Journey of Edward Tulane is a beautiful story about learning how to feel empathy for other people and what it means to love," says Rasmussen. "Edward learns to appreciate and ultimately love each person that he comes in contact with throughout his journey. Just as Edward learns more about himself, we can learn from Edward how important it is to see things from other people's points of view to better understand them."
In the Playhouse's production, a group of traveling actors and musicians brings the story of The Miraculous Journey of Edward Tulane to life inside a train boxcar during the Dust Bowl era.
"The set should feel like we opened the boxcar up and this is the location where the train happened to stop," explains Playhouse Charge Scenic Artist Kenton Brett. The traveling performers are "putting on the play with whatever they have on hand," such as "crates, bags and instrument cases."
With numerous scene transitions over the course of the show, Costume Designer Melanie Mortimore is developing reversible costume pieces for quick changes. The actors will often "reverse a vest or change the way a scarf is being used to indicate a change in character." She is also taking inspiration from fashion of the 1930s.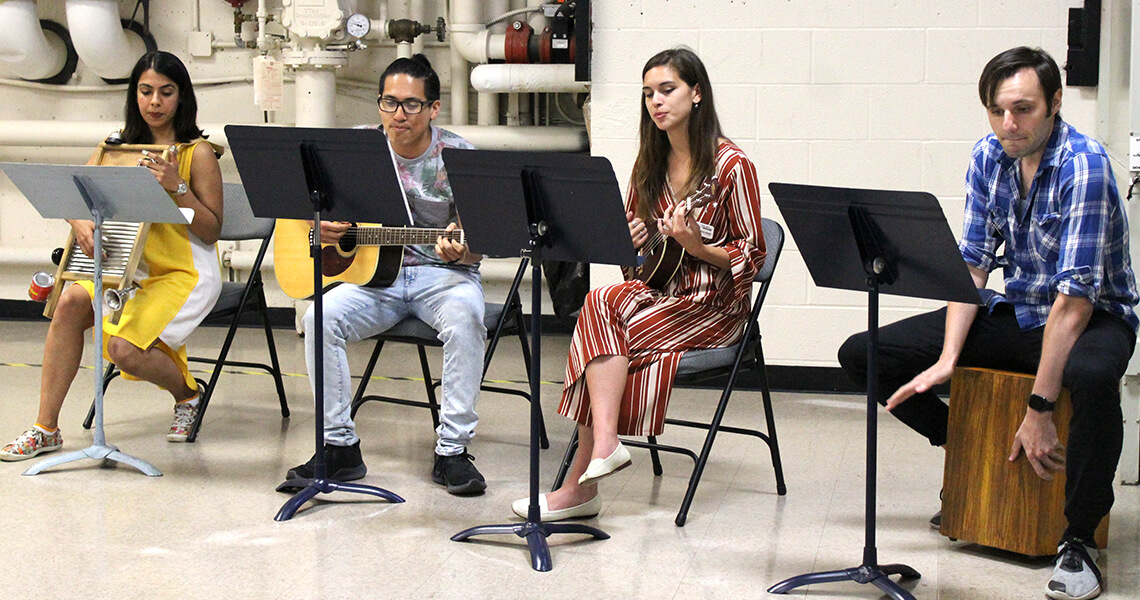 Actors Shonita Joshi (Traveler), Joshua Carandang (Man/Musician), Jo Garcia-Reger (Woman/Musician) and Ethan Graham-Roeder (Musician) perform a song from the show at the meet-and-greet for The Miraculous Journey of Edward Tulane.

Additionally, actors will be playing all of the music live onstage.
"It's going to have the feel of an old Vaudeville hall," describes Sound Designer Trey Tatum. "Expect guitar, ukulele, washboard, plus whatever other quirky instruments we can think of to fit into an actor's hand!"
Lately, Tatum has been spending much of his time discovering innovative ways to create new sounds, such as "using a ukulele as a drum," for example. "Not only will this play help us introduce kids to by-gone songs and live instruments, but hopefully also extended playing techniques," says Tatum.
The Miraculous Journey of Edward Tulane will tour the greater Cincinnati area starting Sept. 28 and is recommended for children 8 and up. Visit our production detail page for more details.