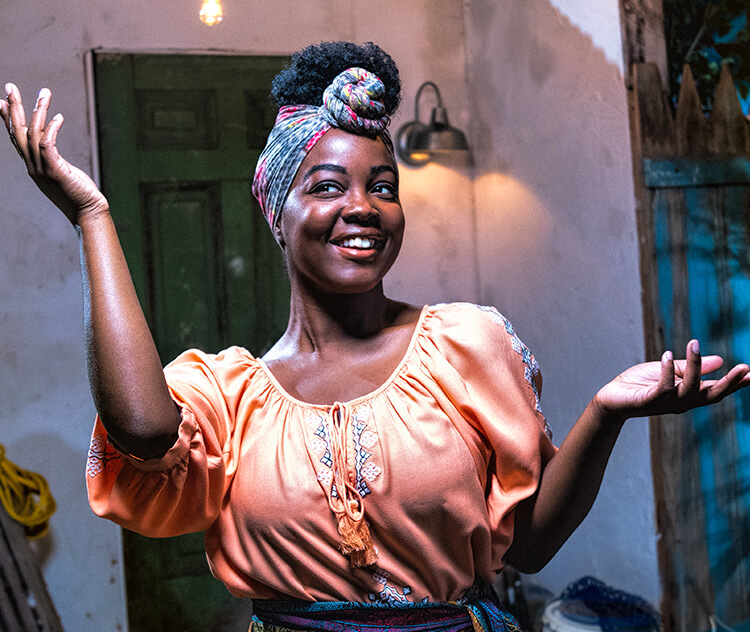 The Playhouse's Marx Theatre season opens with Once on This Island, a vibrant and entertaining musical that earned the Olivier Award for Best New Musical in 1995 following its original London production and brought home a Tony Award for its 2017 Broadway revival. The musical is based on the novel My Love, My Love; or: The Peasant Girl by Rosa Guy, which is itself a retelling of Hans Christian Andersen's enduring folk tale The Little Mermaid. There is storybook magic woven throughout every fiber of Once on This Island, leading The Hollywood Reporter to refer to the show as "an enchanting musical fairy tale with a powerful emotional charge."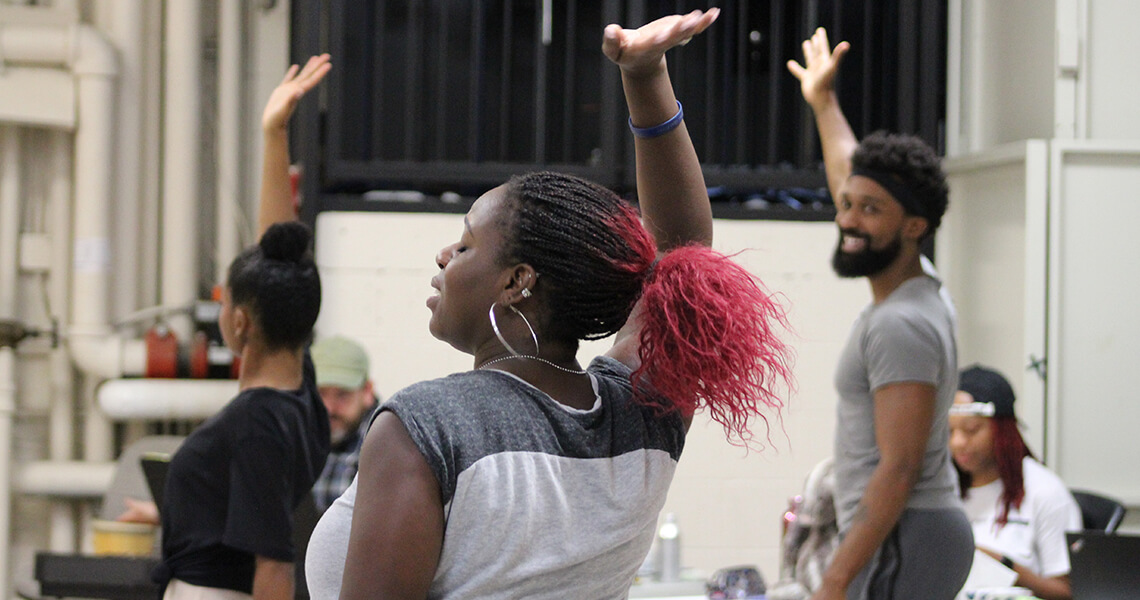 Lauren Chanel (Ti Moune), Bre Jackson (Asaka) and Allan K. Washington (Agwe) in rehearsal for Once on This Island, while Music Director/Conductor/Pianist Brandon Adams and Stage Management Intern Micah Akilah look on.

The epic and joyous musical takes place in the French Antilles, a group of tropical islands in the Caribbean Sea. We are introduced to Ti Moune, a peasant girl whose lively spirit and deep capacity for love lead her on a thrilling adventure. Ti Moune is easy to fall in love with; she is at once curious, compassionate, selfless and brave. Saved as a child from a terrible flood that destroys most of her village, she grows up to wonder why the gods and goddesses have spared her if only to give her such a predictable life. In a moment of desperation, she makes an impassioned plea to the island deities, wishing for something exciting to finally happen to her. She sings toward the heavens, "Oh gods, oh gods, hear my prayer: I'm here in the field with my feet on the ground and my fate in the air, waiting for life to begin!"
For better or for worse, the gods respond. Agwe, God of Water; Asaka, Mother of the Earth; Papa Ge, sly Demon of Death; and Erzulie, beautiful Goddess of Love, hear Ti Moune's prayer and decide to make a wager on whose power will be a stronger influence in the peasant girl's life — death or love? Ti Moune will need the strength of her character and all of Erzulie's powerful love on her side when she meets a handsome young man from the upper class, Daniel Beauxhomme.
"[Daniel Beauxhomme] has a car accident, and [Ti Moune] realizes the gods of the island have fated her to take care of him, to save his life and ultimately — she thinks — to marry him," explains Lynn Ahrens, the musical's book writer and lyricist, to Music Theatre International. "And so she follows him across the island, leaving behind everything she knows."
With love and perseverance, Ti Moune does manage to save Daniel's life — but the gods have other plans. Ultimately, Ti Moune's acts of selfless love unite and transform the entire island in unexpected ways.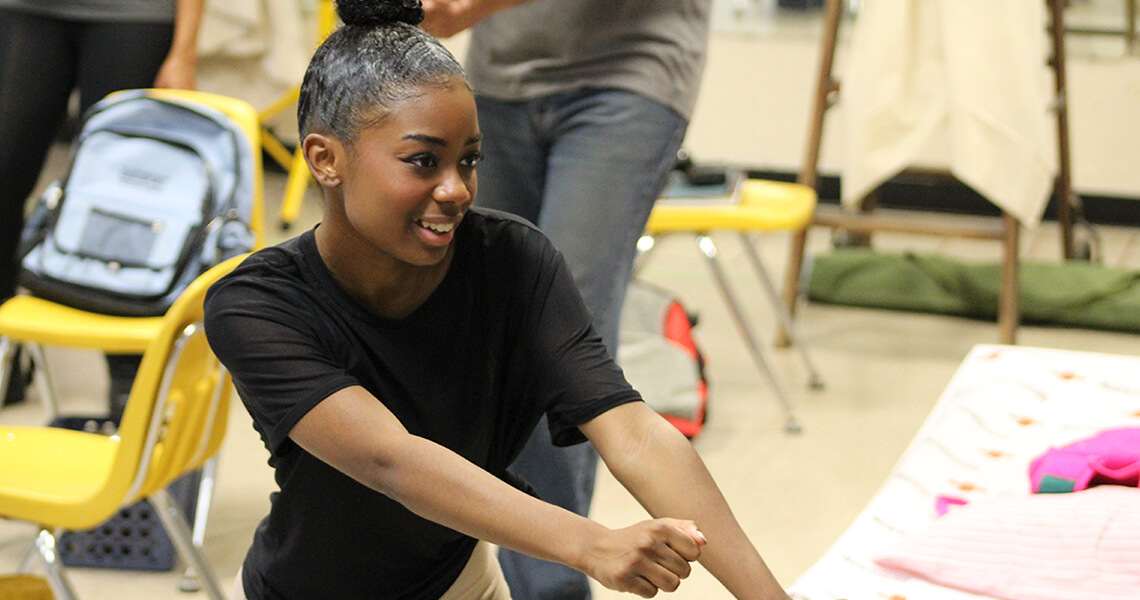 Lauren Chanel (Ti Moune) in rehearsal for Once on This Island.

The heart of Once on This Island is the musical's uplifting, Calypso-infused score by songwriting team Ahrens and composer Stephen Flaherty. The duo has been collaborating since 1988, creating the music for such household names as Ragtime, Seussical, My Favorite Year and Anastasia (both the original film score and the 2017 stage adaptation, currently running on Broadway). Ahrens and Flaherty have garnered countless theatre accolades including the Tony Award for Best Original Score for Ragtime, the Drama Desk Award for Ragtime's lyrics and several nominations for Grammy and Academy Awards. As a team, they received the 2014 Oscar Hammerstein Award for Lifetime Achievement.
Regarding Once on This Island's dazzling score, Flaherty tells Theater Life he was "inspired by Brazilian music, Paul Simon's Graceland with its motifs of South African music, Caribbean beats." He continues, "It became a musical adventure. By using an array of world music elements, I embarked on creating a theatre score unlike any I'd heard."
At the Playhouse, Once on This Island is directed and choreographed by Robert Barry Fleming, who began his tenure as Artistic Director at the lauded Actors Theatre of Louisville in June. Prior to his move to Louisville, Fleming served as Associate Artistic Director at Cleveland Play House and as Director of Artistic Programming at Washington D.C.'s Arena Stage. Once on This Island is a co-production with Actors Theatre of Louisville, marking the Playhouse's first collaboration with the distinguished theatre since their shared production of Doubt in 2008.
Director Robert Barry Fleming and the cast of Once on This Island in rehearsal for the show.

The Playhouse's Once on This Island combines all of the ingredients for an unforgettable theatrical experience: an all-star director, a colorful island backdrop, an energetic cast of characters and a percussive, dance-in-your-seat score that will stick with you long after the show is over. Audiences of many generations, including those families with children ages 10 and up, will enjoy this musical's playful, life-affirming humor and will connect to Once on This Island's poignant themes of family, community and the power of love.
To learn more about the show, visit our production detail page. To get a preview of the music of Once on This Island, listen to the New Broadway Cast Recording!