5 Questions With Peter Hargrave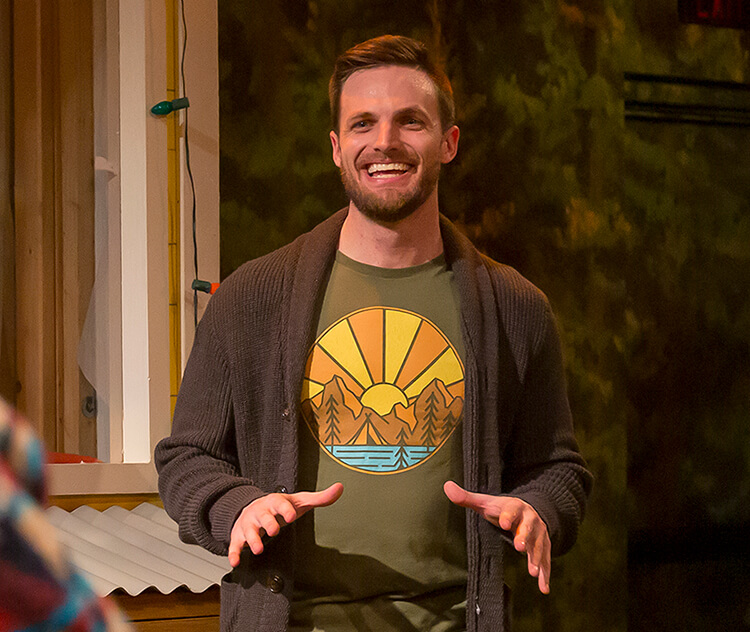 Peter plays Bohdi in the world premiere production of
Tiny Houses.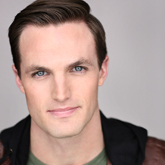 Peter is thrilled to be making his debut at Cincinnati Playhouse in the Park. He most recently made his off-Broadway debut in
The First Annual Trump Family Special
at the Triad Theatre. Regional credits include
Shakespeare in Love, The Diary of Anne Frank
and
The Good Peaches
(world premiere) at Cleveland Play House while attending the Case Western Reserve University/Cleveland Play House MFA Acting Program. Other regional credits include Actors Theatre of Louisville, Gateway Playhouse, Texas Shakespeare Festival, Musical Theatre West and Disney Cruise Line. Television credits include Madam Secretary on CBS. He has a BFA from Abilene Christian University. My most important credit: husband to Kat. Visit
peterhargrave.com
or
@peteyhargrave
.
---

How long have you been acting, and where did you receive your training?

I made my illustrious acting debut when I was 11 as a telegram delivery boy in
Little Women
. Actually, I was just on the run crew — but they gave me a red jacket and told me to knock on the door at a certain line. I think maybe one-fourth of the audience could see my arm. Nonetheless, I got a huge adrenaline rush every time my "part" came up. To be a part of something bigger than myself every night, even in that small of a capacity, was the biggest thrill. I was, as they say, "hooked."
The rest of my body got on the stage at some point soon after. I got my BFA in Musical Theatre from Abilene Christian University and then my MFA in Acting from the Case Western Reserve University/Cleveland Play House MFA Acting program.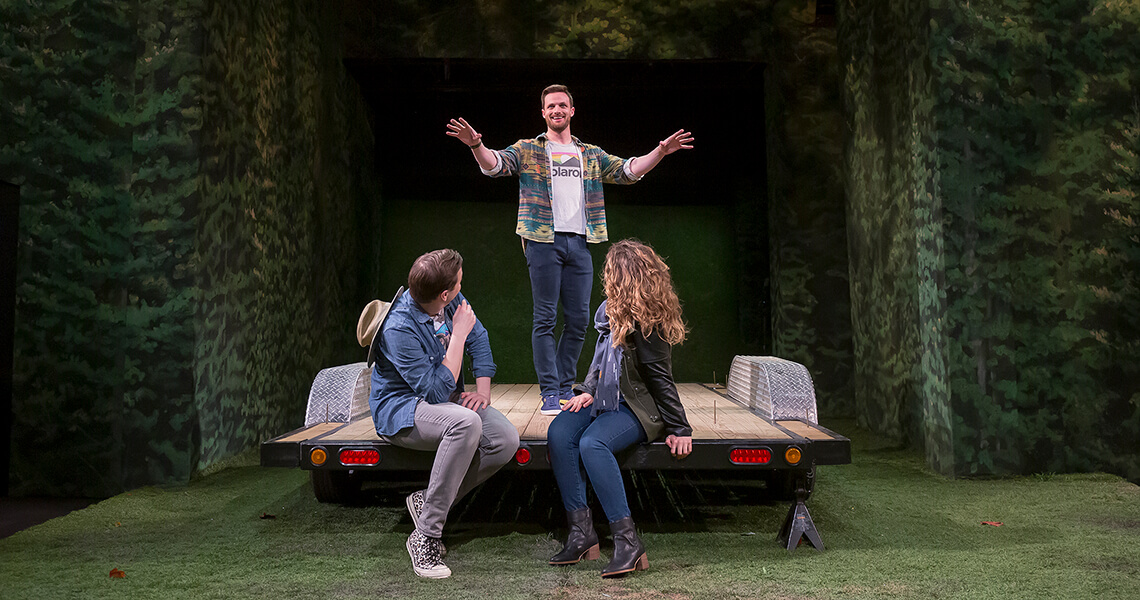 Michael Doherty (Ollie), Peter Hargrave (Bohdi) and Kate Eastman (Cath) in Tiny Houses. Photo by Mikki Schaffner.
When did you know you wanted to be an actor, and what's your favorite part of the job?
I mean, I guess if you come home from football practice and spent hours lip-syncing
Hairspray
into a mirror, that should be a good tip-off, right? The football thing was a real problem for me, though. I grew up in Texas and was living the real-life
Friday Night Lights
.
Simultaneously, I was involved in the dreamiest youth community theatre program you could hope for (which, like a true Troy Bolton, none of my teammates knew I was involved in). I had a great director, we did wonderful shows, and I had the best of friends to do it with. The summer before my senior year of high school, I was starting to get a little interest to play collegiate football. We had just closed my favorite musical that I had done in high school. I weepily went into my parents' room and broke the news to them — they had raised a child interested in being an actor. I feared telling them for no reason; they were beyond supportive from the jump.
It's the people that brought me to the theatre, and it's the people that keep me in it. If you're in theatre in any capacity, there's a sacrifice. It's a sacrifice of money, comfort, time, stability, ego, time with loved ones — all of it. Our reward is we get to come together and do something bigger than ourselves. The reward is also being surrounded by the most empathetic, thoughtful, and generous people who make theatre happen.
What is your all-time favorite role you've performed and why?
Not to be a prisoner of the moment, but Bohdi in
Tiny Houses
is way up there. It's my first time originating a role; we started this production at Cleveland Play House (where I got my MFA), and we had one of my favorite directors at the helm. Chelsea Marcantel has written one of the easiest and most fun scripts for us to go out there with every night. And I love the folks I get do it with.
If I had to pick another favorite experience, it was working on Disney Cruise Line with my wife. We spent our first year of marriage singing and dancing our favorite songs from our childhoods. The shows were high tech, the costumes were fantastic, and we were a part of something (together!) that was way bigger than us (are you sensing a theme here?).
Kate Eastman (Cath) and Peter Hargrave (Bohdi) in Tiny Houses. Photo by Mikki Schaffner.
What role have you been dying to play and why?
I have a "many layered" answer to this question…
Wishful thinking answer: It hasn't been written yet! Much like Bohdi has been for me, oftentimes roles you have the most fun with are the ones that you don't know exist and get to help create.
Reality answer: Actors audition a lot, we get told "no" a lot, and oftentimes you're at the mercy of the show you book (if you're lucky enough for the miracle of booking a show). But any role is a dream role if it helps get me my health insurance weeks!
Perspective answer: Dream roles are always an interesting thing for me to think about because our experience is always so much more than the role itself. What theatre is it at? Who's directing? Are the people in my cast friendly? Do they push me to be better? What is the message of our show? Any one of these things can enhance or spoil an experience. If I'm in a motivated group of artists, treated respectfully and at a purpose driven theatre, I can hand a telegram to a supporting character and be happy.
Simple answer: The titular roles of
Coriolanus, Henry V
and
MacB
, or Hotspur in
Henry IV Part I
. Musical-wise, it's Cinderella's Prince in
Into the Woods
or Scar in
The Lion King
. I also loved
The Play That Goes Wrong
and
Harry Potter and the Cursed Child
. I don't even have to be in those — I could just watch them every day and be happy.
What has been the most interesting part of working on Tiny Houses so far?
I've been amazing how much building the house has informed our play. Good performances and good plays have an accelerating domino effect. One event leads to another leads to another leads to another. If you miss a domino, you lose the play. What better way to make sure we hit all of our dominos than to have a physical manifestation of them being built right alongside us? The set is incredible — it's something you've never seen in the theatre — and the script is so fun I forget what an ambitious physical task it is to build a house every single show.
---
To learn more about the Playhouse's production of
Tiny Houses
, visit our
production detail page.