5 Questions With James Holloway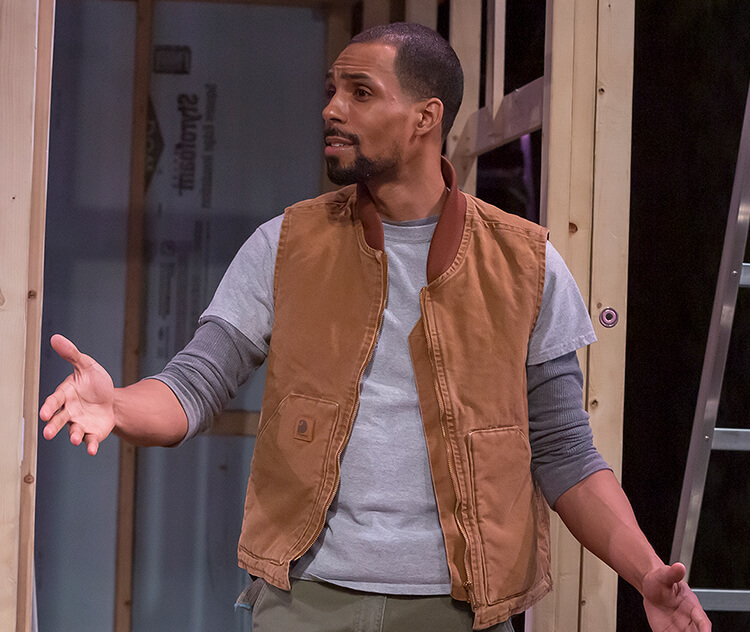 James plays Jeremiah in the world premiere of
Tiny Houses.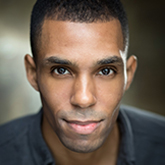 James makes his Cincinnati Playhouse in the Park debut after originating his role in Tiny Houses at Cleveland Play House. Off-Broadway credits include the world premiere of
Separate and Equal
(59E59 Theater),
Macbeth
(Theatre Row),
The Men
(Primary Stages) and
They Think Our Favorite Color is Green
(Kraine Theater). James has worked regionally at Geva Theatre Center, the Tony Award-winning Crossroads Theatre Company, Bristol Riverside Theatre, Flat Rock Playhouse, Alabama Shakespeare Festival, New Theatre, and he won the BroadwayWorld Award – Los Angeles for Best Featured Actor in
Broken Fences
at The Road Theatre Company. Television credits include
Law & Order: SVU, Blue Bloods, Sam & Cat, Grey's Anatomy, The Newsroom
and
Masters of Sex
. Film credits include
The Roe Effect
(HBO),
The Cycle
(HBO) and
Jackson Parish
(BET, Craft Award for Best Actor at First Run Film Festival). He holds a BFA from the Conservatory of Acting at SUNY – Purchase College and a Master's in Classical Acting from LAMDA. Visit
iamjamesholloway.com
.
---
How long have you been acting, and where did you receive your training?
At this point, I've been acting for quite some time. My first school play was in the sixth grade. I played Mr. Beaver in C.S. Lewis'
The Lion, The Witch and The Wardrobe
. I remember having a lot of ease and fun, and lots of the other students' parents, and teachers, were complimentary of my work. So, it planted additional confidence within me. The very next year, I was sent away to Valley Forge Military Academy, and my acting had to take a backseat to learning some invaluable lessons in discipline, leadership and honor. After showing signs of success there, I begged my mom to pull me out. She did, and immediately, I started to receive professional acting and dance training at Freedom Theater in Philadelphia, where I was born and raised. While training at Freedom, I was cast in my first professional play where I received a writing credit for my rap lyrics in addition to my acting performance, while working with now two-time Pulitzer Prize-winning playwright Lynn Nottage on the play
A Walk Through Time,
a play about the influences of Anansi, an African folktale character. During the run of the show, I auditioned for the Conservatory of Acting at SUNY — Purchase College, where I earned my BFA.
Over the course of my career, I got married, moved to Los Angeles had some success and decided to go back to school. I applied to my top choice: The London Academy of Music & Dramatic Art. After flying back to New York City to audition for the program, I was accepted. My wife and I packed our bags, and we moved to London. At LAMDA, I went through some of the best training of my life and graduated with my Master's in Classical Acting. We're now back on the East Coast, and I'm based out of New York City again.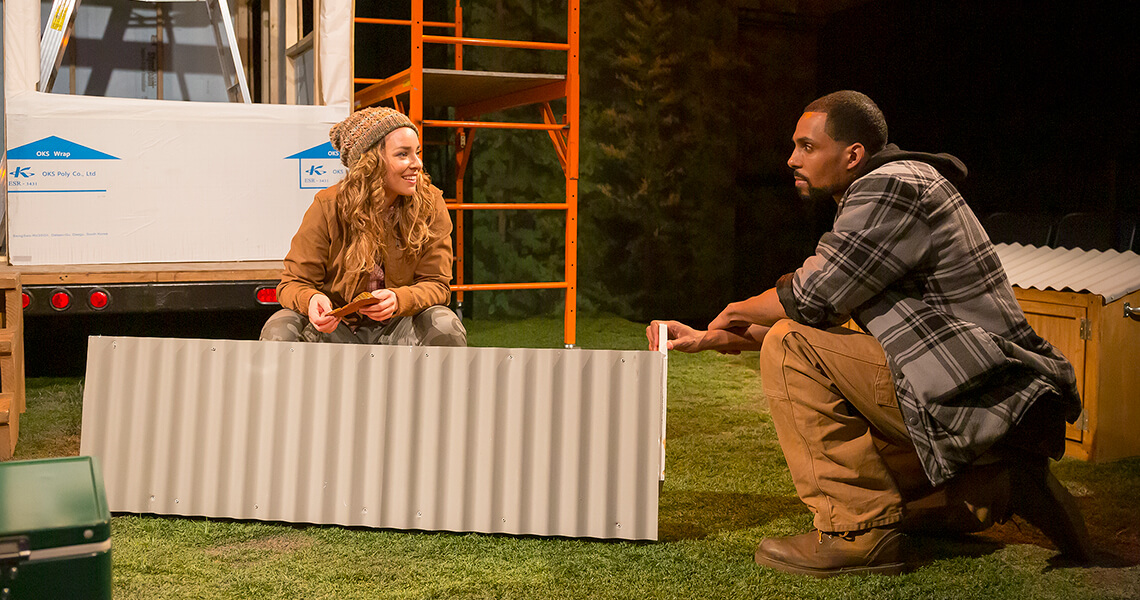 Kate Eastman (Cath) and James Holloway (Jeremiah) in Tiny Houses. Photo by Mikki Schaffner.
When did you know you wanted to be an actor, and what's your favorite part of the job?
Early on. Like 2 or 3 years old. I may not have been able to articulate it as "acting" at that time, but my family has always known me to be the "performer." I believe that we are all placed here for a reason — a purpose. Some of us discover that reason or purpose early on. Sometimes things are revealed at a later point in life. With the structure of my life and the experiences that I've gone through, I can't imagine being led to anything else. It's as if I was spiritually prepped for this path — for this journey — all along. And I believe that that's the case for myself. So, my favorite part of the job is honoring my path — my journey — that was bestowed to me from God. It's a gift, and I'm grateful for it. Honor your gifts. That's all I can say. Honor your gifts.
What is your all-time favorite role you've performed and why?
Playing Mr. Beaver in
The Lion, The Witch and The Wardrobe
because it was my first, and it was completely impulsive. I remember running lines with my mom and being playful. To this day, we still have a good laugh over my first line in the play: "Hush! You must come with med but be very quiet!" I would stretch out the word "very" and make it sound like how I thought a beaver should sound!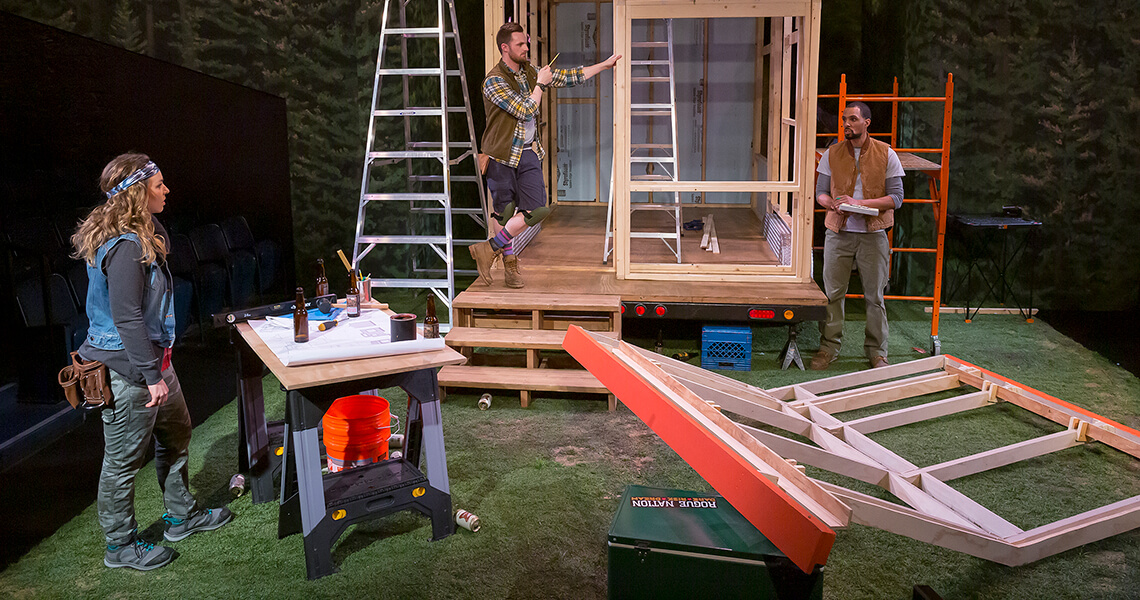 Kate Eastman (Cath), Peter Hargrave (Bohdi) and James Holloway (Jeremiah) in Tiny Houses. Photo by Mikki Schaffner.
What role have you been dying to play and why?


I've got my eye on Aaron Burr in
Hamilton
. I'm deeply struck by him reaching the place of sensitivity and realization that he made the wrong choice and doesn't want to be remembered as the "villain in your history."

What has been the most interesting part of working on Tiny Houses so far?
I don't know. I just really love the play, and this has been such an awesomely fun ride. It amazes me, every performance, that the house gets built. I always look at it in awe. It's just beautiful no matter how you look at it. We're actors that come together and build a tiny house onstage with a spectacular crew. This play enables us to be an ensemble in every sense of the word. I'm grateful for Cleveland Play House, Cincinnati Playhouse in the Park, our phenomenal playwright Chelsea Marcantel, our brilliant director Laura Kepley and my entire cast. Thank you. I wouldn't have it any other way.
---
To learn more about the Playhouse's production of
Tiny Houses
, visit our
production detail page
.