5 Questions With Ashley Austin Morris
Ashley plays Alicia in
The Thanksgiving Play
.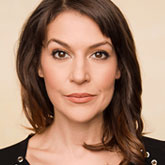 Ashley thrilled to be making her Cincinnati Playhouse in the Park debut. Television credits include
Murphy Brown
(2018 reboot),
The Good Wife, Desperate Housewives, Ugly Betty, I Just Want My Pants Back, The Big Bang Theory, Think Tank, Ms. Guidance,
HBO's
Divorce, High Maintenance, Time After Time, Big Dogs
and
The Last O.G
. Ashley just finished shooting the pilot
Stick Man
, out next year. Feature film roles include
Art Machine, Generation Umm
with Keanu Reeves,
Premium Rush
with Joseph Gordon-Levitt and Clint Eastwood's
SULLY
. Off-Broadway credits include
Die Mommie Die; Bee's; Paper Dolls; In the Daylight
; and
Love, Loss, and What I Wor
e (Westside Theatre and national tour). Other credits include
Reading Under the Influence
(DR2 Theater),
Giants
(Fresh Ground Pepper's PlayGround Reading Festival),
The Other Place
(The Alley Theatre),
The Way of The World
(Folger Theatre) and
Romance Novels For Dummies
at Williamstown Theatre Festival. Ashley is also a stand-up comic and writer. She has performed stand-up on television on Gotham Comedy Live on AXS TV and for the new Oculus VR show. For comedy information and dates, please visit
ashleyaustinmorriscomedy.com
.
---
How long have you been acting, and where did you receive your training?
I have been acting since I was a child. My first play was when I was 9 or 10.
I trained in New York City at Neighborhood Playhouse and HB Studio and then went to University of North Carolina School of the Arts for college and majored in Theatre.
Jennifer Bareilles, Nat DeWolf, Ashley Austin Morris and Scott Parkinson in The Thanksgiving Play. Photo by Mikki Schaffner.
When did you know you wanted to be an actor, and what's your favorite part of the job?
I knew I wanted to be an actress when I was 4. I was watching
The Cosby Show
and didn't understand why their whole family was always home but my brothers were not always home. My mom said they are not related, they are actors, and I said I wanted to be Bill Cosby's daughter, so I would be an actress. I guess this story is weird now. Woops.
What is your all-time favorite role you've performed and why?
I'm loving this role!
I loved playing Bernie in
Romance Novels for Dummies
, but my favorite part was on the remake of
Murphy Brown
. Probably because I always wanted to be on a CBS sitcom. I wanted to be a crazy secretary
in that particular show, so it was a magical experience. I was so grateful to God for something that was so special to me.
Playing Alicia in this play is currently my favorite thing to do. The audience here is a ball, the cast and the crew are a joy, our director was a blast, and the world Larissa has given us is a blessing I look forward to doing nightly.
What role have you been dying to play and why?
I would love to play Harper in
Angels in America
. I also want to play more drunks. I love playing addicts. Why? No clue. I like outrageous people with monkeys on their back because I think we are all outrageous with monkeys on our backs.
I love characters who are broken and trying and failing. I like imperfect people in life and on stage and screen.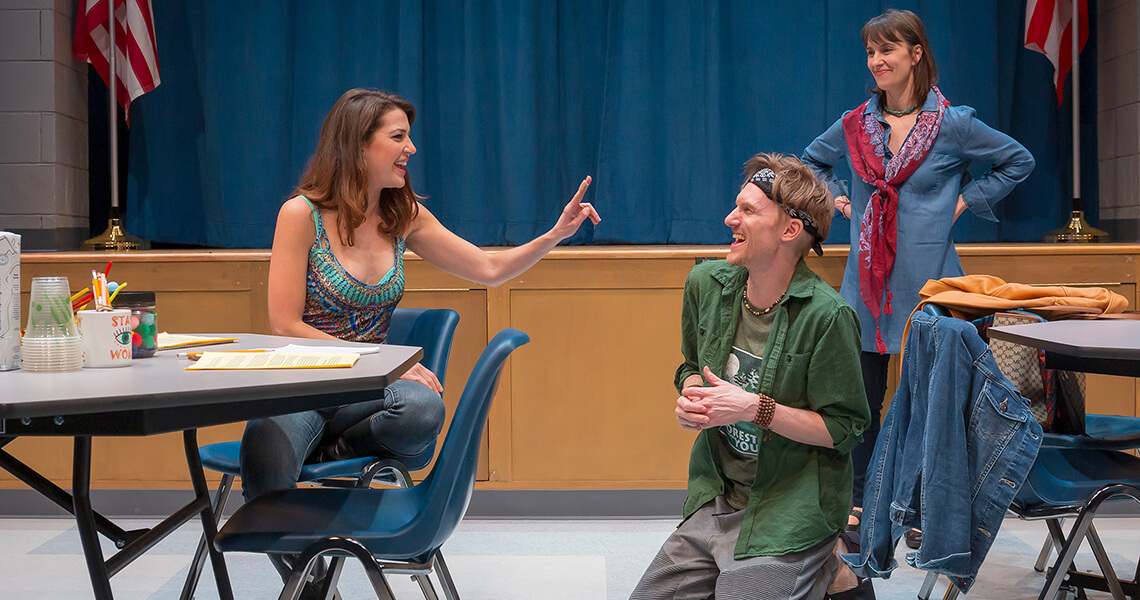 Ashley Austin Morris, Scott Parkinson and Jennifer Bareilles in The Thanksgiving Play. Photo by Mikki Schaffner.
What has been the most interesting part of working on The Thanksgiving Play so far?
The audience. Each audience has its own personality and every night is like a date. I love it.
I love watching my cast mates land jokes. Learning from this group is fantastic. They are all gifted and inspiring.
I also love what I have learned with regards to Native American people. Something I did not know was the horrifying numbers of native women who are sex-trafficked from reservations — this is due to legal jurisdiction not applying to the reservation. It's horrible. A charity that is doing a lot of good is the
Coalition to Stop Violence Against Native American Women
.
---
To learn more about the Playhouse's production of
The Thanksgiving Play
, visit our
production detail page
.