Playwright's Notes by Audrey Cefaly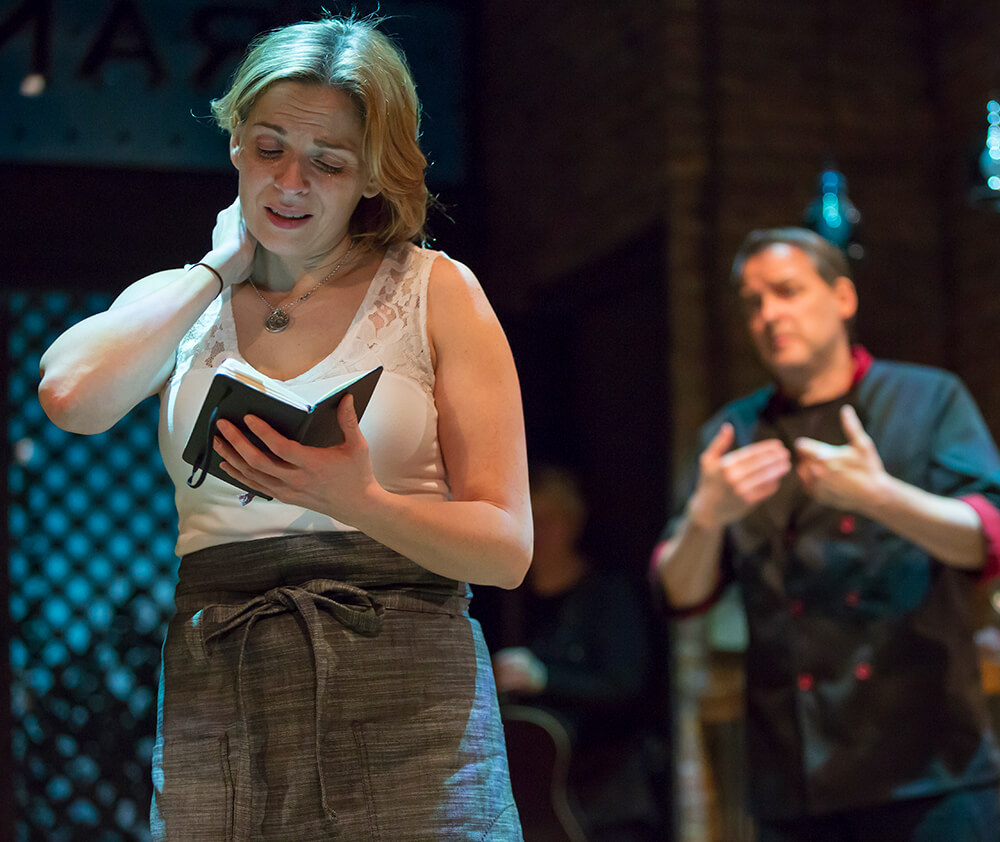 Written by Audrey Cefaly and directed by Playhouse Artistic Director Blake Robison,
The Last Wide Open
is a romantic, world premiere play with music that features original songs performed onstage. Characters Lina and Roberto work together in an Italian trattoria but rarely talk. When a late-night thunderstorm finds them alone at closing time, they find their lives intersecting in mystical ways.
The Last Wide Open
is a love story that's played out in three movements and imagines how the universe conspires to bring us together.
Cefaly provides her notes below about writing the lyrics for the play's songs and collaborating with composer/sound designer Matthew Nielson to record original compositions.
---
I'd known since before there was actual music in
The Last Wide Open
that the play itself was a "love song." It felt to me like a piece of music, by design, with three thematically related but tonally distinct movements joined together by a central narration. There's also an exposed apparatus to the "storytelling" aspect of the play, so adding satirical takes on garden variety "love songs" felt almost compulsory.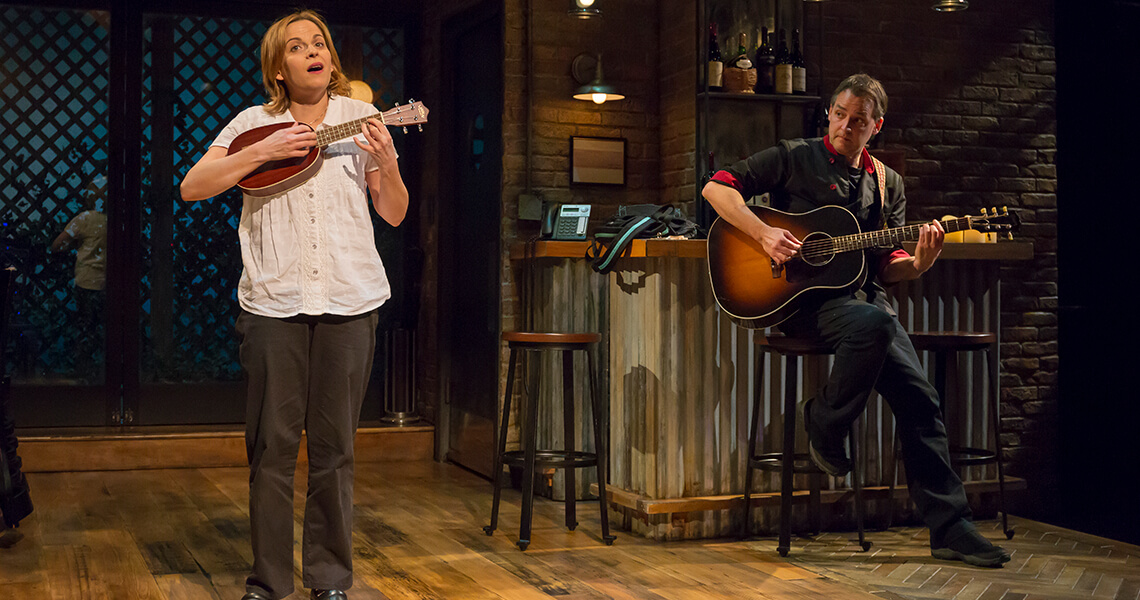 Kimberly Gilbert and Marcus Kyd in The Last Wide Open. Photo by Mikki Schaffner.
A few months into the adaptation, I reached out to Matthew Nielson and asked him if he'd be willing to jam with me on the songs. He and I are working on adapting my play
Maytag Virgin
into a musical, so we'd already worked quite a few songs together — me writing the lyrics and him working the compositions. It quickly became obvious that the songs would work best in the transitional sections of the narrative, as counterpoint to the movements themselves. So, that meant we'd need maybe five or six songs. Matthew has a wealth of experience writing music for theatre and was able to turn my many scratch tracks into pieces that were unique to his aesthetic and that fit together stylistically as a "family" of songs. We wrote nearly a dozen tracks in total and then whittled the final song count to five. This process occurred over many months of script revisions, table reads, late-night chats and talks with Blake Robison about the merits of each song, specific to each transition.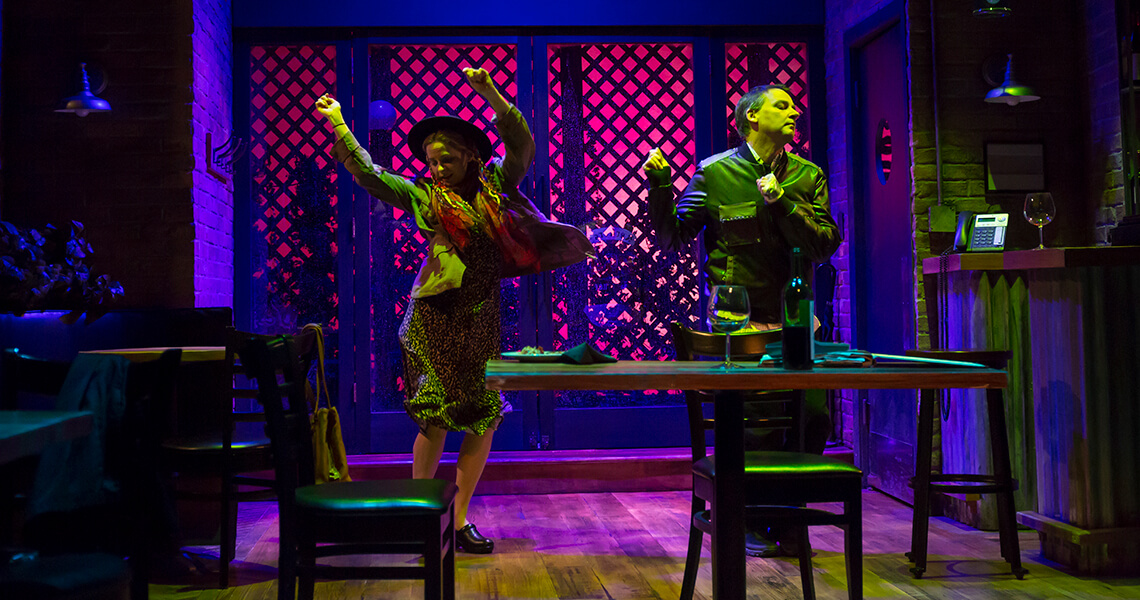 Kimberly Gilbert and Marcus Kyd in The Last Wide Open. Photo by Mikki Schaffner.
What's the saying? Love hurts. In "The Song Before The Love Songs," Lina plays her ukulele and sings directly to the audience:
"They say that there's a song in your heart / That's a funny thing that they say / Who is this 'they' I wonder / Have they ever looked at the sky when it's endless and grey…"
It's an admittedly cynical way to start a love story, but it very quickly puts us in her head space (i.e., love hurts; people say it's all these good things, but not from where "I" sit). Roberto's songs, in contrast, paint him as the eternal optimist, always in the service of "possibility." In "The Long Ago Song," for example, Lina laments, "I'm done with all the chapters," and Roberto quickly shoots back, "No you're not!"
The last song of the play was borne out of my many meditations on the idea of "reckless apathy," and Matthew and I went through many versions and placements of the now eponymous The Last Wide Open. What was once featured as a transition song is now featured epigram-style to the play itself as a humorous exhortation to "wake up and live":
"This is the Last Wide Open / Yeah you might as well be circling the drain / You better stop that train to 'Nowhere, Pronto' / Or get off when the good Lord calls your name."
---
The Last Wide Open
will be performed in the Shelterhouse Theatre until March 10. To learn more about this world premiere production, visit our
production detail page
.