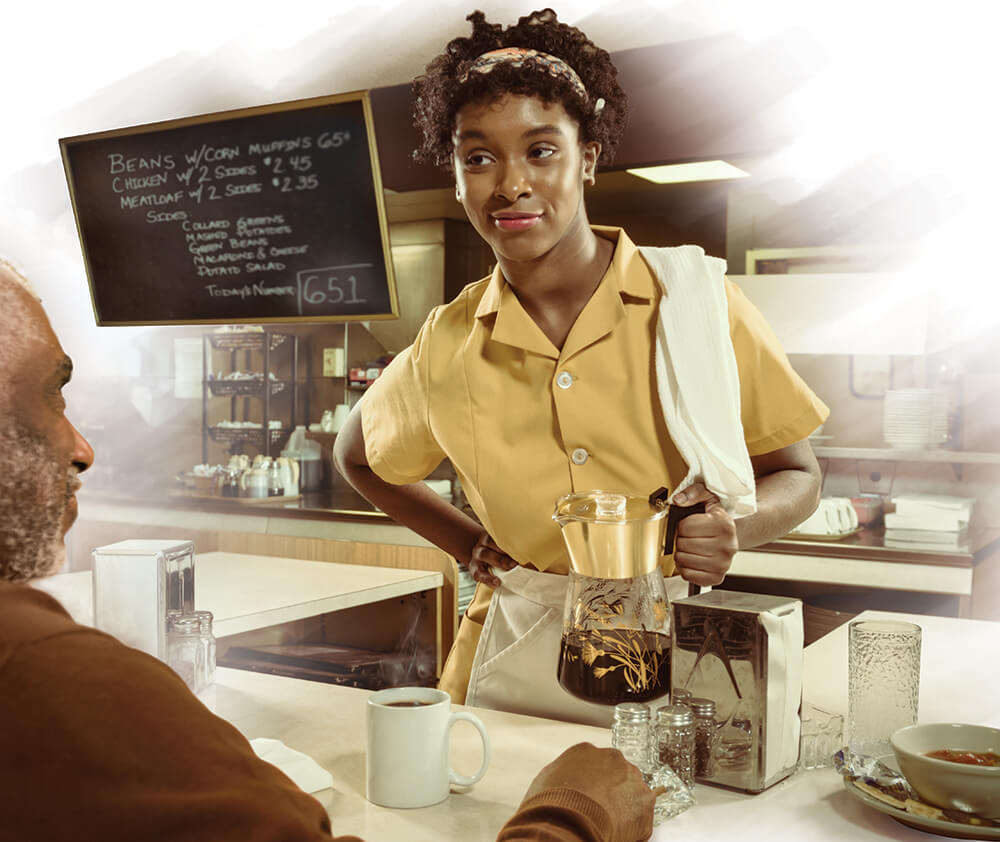 August Wilson's
Two Trains Running
is a compelling story about ordinary people who find themselves swept up in a rapidly changing world. With depth and honesty, this masterpiece explores the lives of unforgettable characters as history unfolds around them. At the center is Memphis, who owns the diner where his community gathers to share news, drink coffee and gamble. He is sizing up his future; in an act of eminent domain, the city is forcing Memphis to sell his diner so that it can be razed.
Two Trains Running
is part of Wilson's trailblazing 10-play series about the African-American experience called the American Century Cycle. From 1979 to 2004, Wilson wrote one play for each decade of the 20th century;
Two Trains Running
represents the Black Power and civil rights movements of the 1960s. The play, like nine of the 10 plays in the cycle, is set in Wilson's childhood home of Pittsburgh.
The cast of August Wilson's Two Trains Running with Director and Playhouse Associate Artist Timothy Douglas.
Wilson is widely regarded as the world's foremost African-American playwright and as one of the most important and influential voices in the history of theatre. He won both a Pulitzer Prize and a Tony Award for his 1987 play
Fences
; he took home his second Pulitzer Prize in 1990 for
The Piano Lesson
.
In Wilson's
Two Trains Running
, we learn that Memphis' diner is not quite as busy as it once was. The diner still hosts a handful of regulars. Wolf ties up the phone, running a numbers racket to make his living. Across the street is West, the wealthy proprietor of the local funeral home who has plans of his own for Memphis' building. Sterling, recently out of the penitentiary — "They say I was born with luck but they didn't say what kind" — makes passes at the wary Risa. As for Risa, she has gone so far as to scar her own legs to avoid this kind of attention from men, but she has more to say than we first realize. Hambone, on the other hand, has only one thing to say; a disability causes him to repeat the same line over and over as he relives an unresolved grievance. Holloway acts as the diner's philosopher, surveying the racial injustices he witnesses around him. "[The white man] give you three dollars a day for six months and he got him a railroad for the next hundred years," asserts Holloway. "All you got is six months' worth of three dollars a day."
Two Trains Running
made its Broadway premiere in 1992.
The New York Times
reviewed, "The glorious storytelling serves not merely as picturesque, sometimes touching and often funny theatre but as a penetrating revelation of a world hidden from view to those outside it." Laurence Fishburne took home the Tony Award for Best Featured Actor in a Play for his role as Sterling; Cynthia Martells (Risa) and Roscoe Lee Browne (Holloway) were also nominated for their performances. The play itself was nominated for the Pulitzer Prize and the Tony Award for Best Play.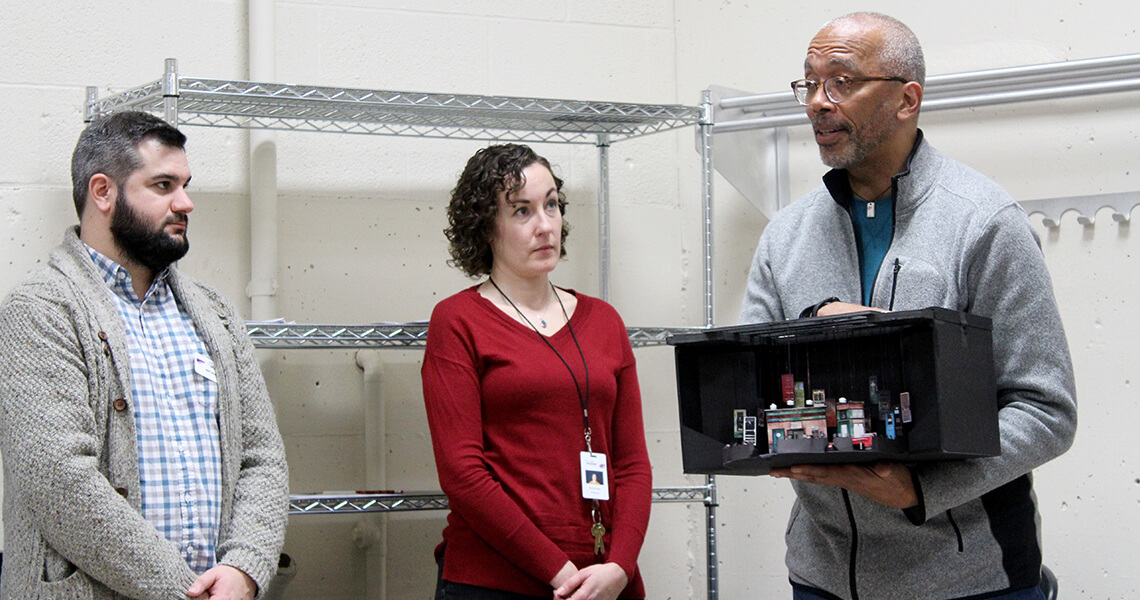 Director and Playhouse Associate Artist Timothy Douglas shares the set model by Tony Cisek for August Wilson's Two Trains Running at the Meet and Greet for the show, as Playhouse IT Manager Matt Parsons and Interim Assistant Production Manager Jessica Lucas look on.
At the helm of the Playhouse's
Two Trains Running
is Associate Artist
Timothy Douglas
, one of the country's preeminent directors of Wilson's plays. Douglas has directed several productions of Wilson's work, including the Playhouse's recent
Jitney
.
"Douglas'
Jitney
has an undercurrent of joy, despite the desperate straits of many of its characters," said
CityBeat
of the 2016 production. "Lost loves, quick tempers, questionable motives and broken families are all represented. But stories are often told with as much good nature as sadness, and Douglas has coached his excellent cast to allow the full humanity of the stories to blossom and soak in."
Douglas' experience with Wilson's plays extends even further, having directed
Fences, Radio Golf, The Piano Lesson, Seven Guitars, King Hedley II
and others. Says Douglas, "When August Wilson's plays first came on to the scene, one of the major impacts was in filling the void that was the lack of authentic black lives and voices on mainstream American stages." He elaborates, "Mr. Wilson remained committed that these plays would land with genuine and enduring integrity and was adamant that black directors be the ones to helm his plays in order to enhance their intended cultural and social authenticity."
The play explores topics such as inequality and injustice, balanced with moments of humor and optimism. Though it marks the seventh play of Wilson's Cycle,
Two Trains Running
stands on its own, painting a compassionate portrait of ordinary people in the midst of transformation.
To learn more about the Playhouse's production of August Wilson's
Two Trains Running,
visit our
production detail page
.