A Classic Goes Off the Hill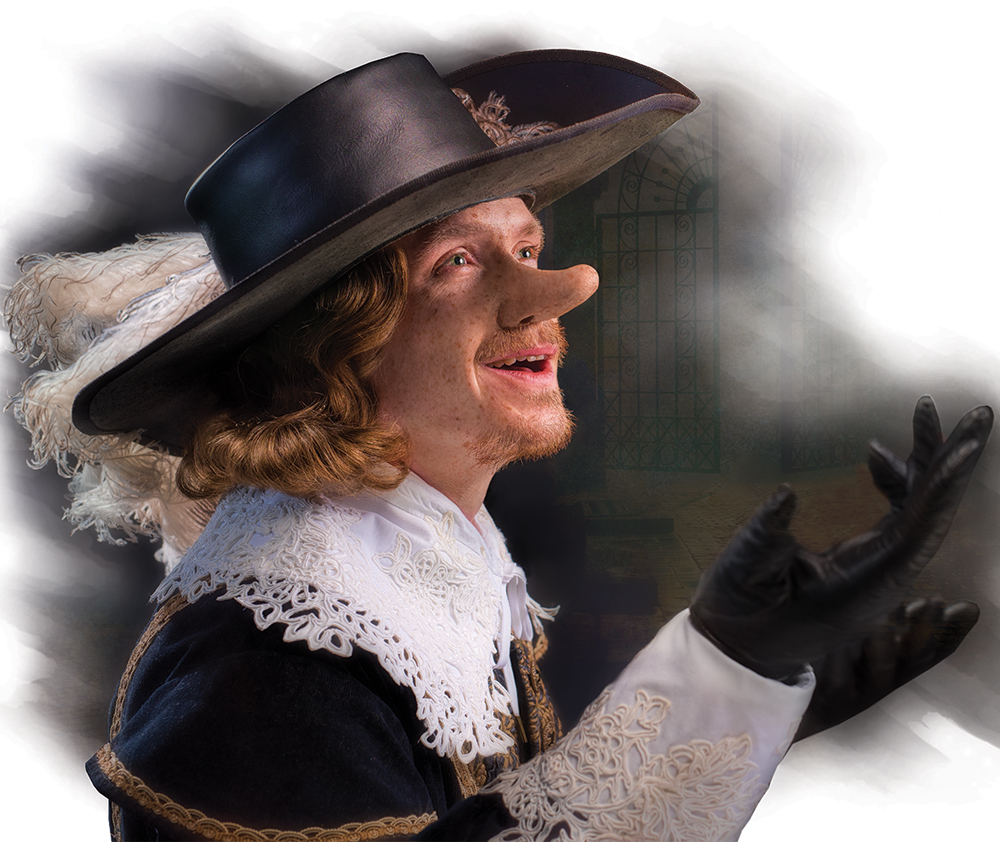 The Playhouse's family-friendly,
Off the Hill series
tours its second production of the season this January and February to community centers in Greater Cincinnati.
Cyrano
is a comical romance performed by members of the Playhouse's Bruce E. Coyle Acting Intern company and features clever wordplay, swashbuckling swordplay — and an enormous shnoz.
The story takes place in 1640s France during the Thirty Years War. The hero is a skilled swordsman named Cyrano who is gifted with crafting a witty turn of phrase. Yet having a significant "Mount Everest of a nose" causes him to believe that he will never have his love returned by the beautiful Roxane, and so he conceals his feelings for her. Matters become complicated when a handsome soldier named Christian joins the French regiment and piques Roxane's attention as the object of her affection. But not unlike Cyrano, Christian battles his own insecurities and worries that he isn't clever enough to please Roxane. The two men make a deal: Christian will use Cyrano's words to woo Roxane, and in return, Cyrano will selflessly ensure Roxane's happiness.

The cast of Cyrano: Playhouse Bruce E. Coyle Acting Interns James Stringer (De Guiche/Le Bret/Ragueneau/Christian/Monk/Narrator/Solider), Gabrielle Kogut (Duenna/Roxanne/Narrator/De Ligniere/Soldier) and Damien Boykin (Cyrano).


Cyrano
is a youth-oriented adaptation that's based on the 1897 classic play
Cyrano de Bergerac
by Edmond Rostand. The play has endured more than a century because of its beloved, noble hero and the tragicomedy of the story's love triangle. Its themes of virtue, conviction, and the conflict between inner and outer beauty make it ideal for younger audiences.
"As a parent, I am always hopeful that our plays will open the door to deeper conversations about things that concern children that they don't always have the words to express," says Playhouse Director of Education and Community Engagement Daunielle Rasmussen. "This story can help children give voice to their own internal struggles."
Rasmussen says that while the full-length version of this play is traditionally told on "a grand scale," this adaptation simplifies the story into a production that's a perfect fit for an Off the Hill show.
"Through this condensed version, we can focus on the relationships between Cyrano, Roxane and Christian as they each yearn to be loved. In this way, the story is about so much more than just inner beauty versus outer beauty," says Rasmussen.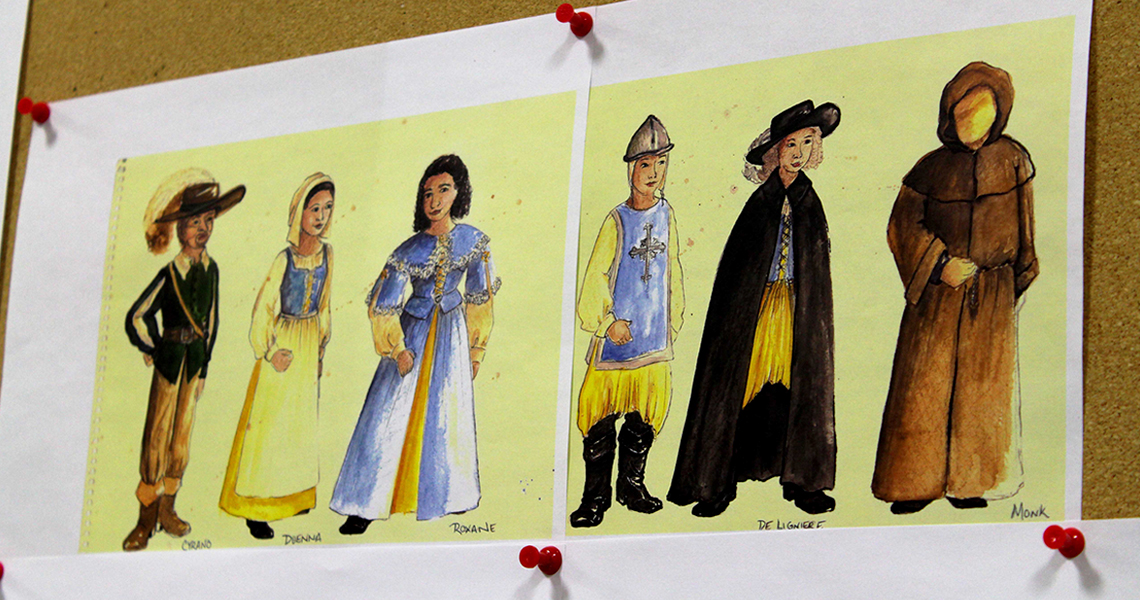 Costume renderings for Cyrano by Costume Designer Melanie Mortimore.
Likewise, Playhouse Directing Fellow Katie Baskerville, who helms the production, says she is most interested in exploring the characters more fully in the framework of this rendering.
"As director, I am interested in exploring the tragic flaws of each of the primary characters," says Baskerville. "They have such pride in their positive attributes, values and convictions; and yet this same pride holds them back from true happiness due to incredibly human doubts, insecurities and misconceptions."
Equally important to this adaptation is the script's inherent comedy that's designed to entertain audiences.
"In my approach, I strive to lean in to the lightness and comedy of the extreme willpower of Cyrano, Christian and Roxane as they conceal their insecurities, in order to give the sincere moments of heartbreak, love and loss the stillness and weight that they call for," says Baskerville.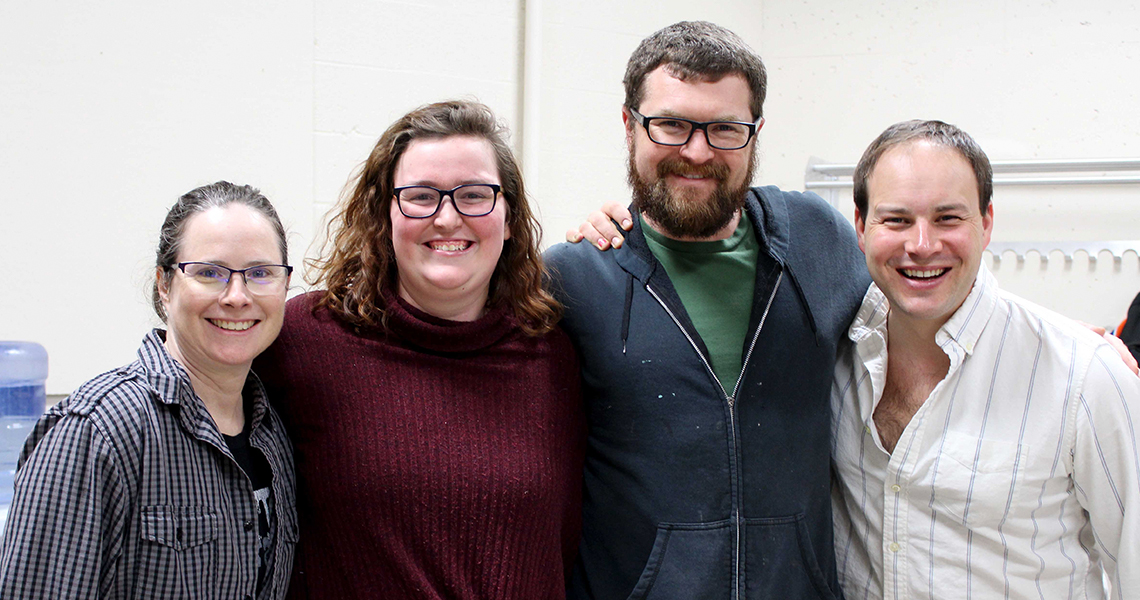 Costume Designer Melanie Mortimore, Director and Playhouse Directing Fellow Katie Baskerville, Set Designer Kenton Brett and Sound Designer Trey Tatum at the meet and greet for Cyrano.
The production's visual aesthetic is designed by Playhouse Charge Scenic Artist Kenton Brett, who has designed the sets of many Off the Hill shows in recent years. The world that Cyrano, Roxane and Christian occupy relies on creatively built, transformative elements that are not only grounded in the story's 1640s-time period but constructed for ease of transport.
"Though most of our scenic elements will be made of foam and plywood, the finish will be that of old-world lumber, stone and iron," says Brett. "This show relies on fast changes of costume pieces and will require equally fast changes in location. This led me to the solution of using fabric elements hung from the portal behind curtains to reveal new locations by simply moving a prop and opening a curtain. Of course, it wouldn't be
Cyrano
without Roxane's balcony — the only real set piece beyond the portal."
This amusing and thought-provoking production is recommended for children ages 8 and up. Visit the
production detail page
to learn more about the cast and creative team, and to find a performance in a neighborhood near you.