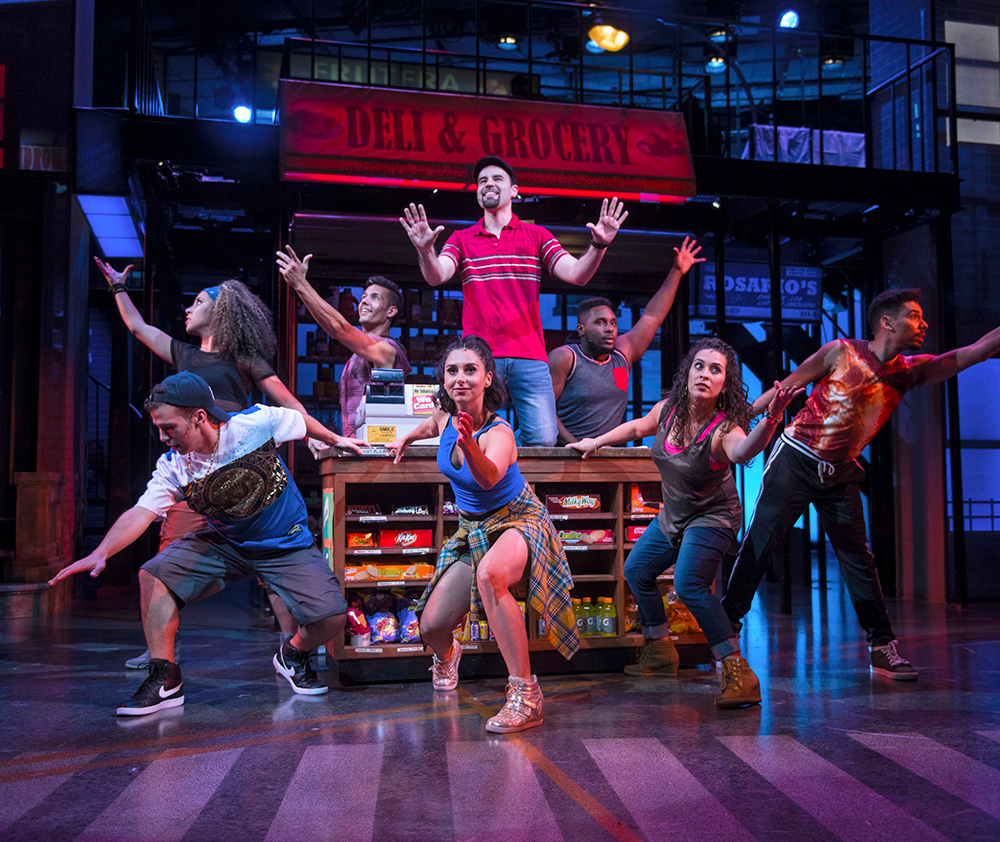 In 2007, eight years before his musical
Hamilton
caught Broadway by surprise, composer and lyricist Lin-Manuel Miranda was beginning his hip-hop revolution with
In the Heights
. Miranda and his team took home four Tony Awards for In the Heights, including Best Musical and Best Original Score; this electric musical was also nominated for the Pulitzer Prize for Drama in 2009. Variety praised the smash hit, saying, "The depth of feeling, together with the wit of Miranda's lyrics, the playful dexterity of his rhymes and his dynamic score … make the show an uncalculated charmer."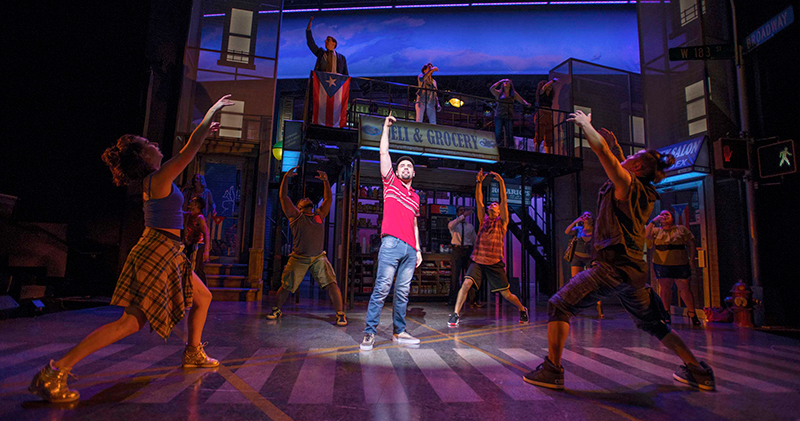 The cast of In the Heights. Photo by Michael Brosilow.
With its Latin-flavored score and high-energy choreography,
In the Heights
captures the vibrant spirit of a tight-knit, New York community. From his Washington Heights bodega, Usnavi follows the nonstop rhythm of his friends and family as they navigate their hopes and dreams, loves and losses, fortunes and fates.
Orbiting Usnavi are his almost-grandmother, Abuela Claudia ("
she practically raised me / this corner is her escuela
," sings Usnavi in the opening number), his almost-girlfriend Vanessa and his spirited cousin Sonny. Along with a handful of long-time neighbors and bodega regulars, Usnavi's barrio teems with optimism and hope. Vanessa is pinching pennies for a new apartment in a swankier part of town. Sonny yearns to improve the neighborhood where they already live, an area which is quickly being gentrified. Nina, home from her first year at Stanford University, feels the weight of her parents' dreams and wonders about her own future. Business-savvy Benny wonders if Nina's future might include him. In the Heights examines two days which will change the course of each character's life.
This energetic musical's binge-worthy soundtrack includes fan-favorite songs such as "Breathe," "96,000" and "When You're Home." Fans of
Hamilton
will recognize Miranda's quick-witted, tongue-twisting style in lyrics such as this line, from a moment when
In the Heights
' hero Usnavi remembers his parents: "
But they never got better, / passed away that December, / and left me with these memories like dyin' embers / from a dream I can't remember
…"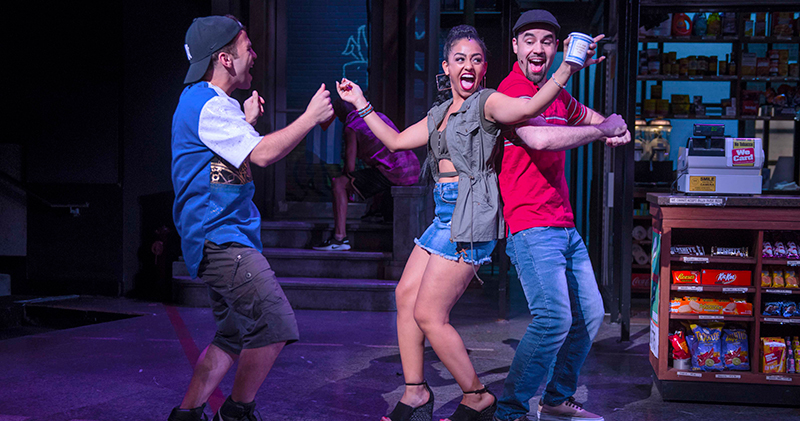 Nicolas Garza, Stephanie Gomeréz and Ryan Alvarado in In the Heights. Photo by Michael Brosilow.
With warmth and humor,
In the Heights
also tells the story of several recent immigrants, including descriptions of their hardships in reaching New York, their aspirations for their children and the stories they carry with them. Director May Adrales feels this is an important topic today.
"The immigrants I know are the hardest working people," says Adrales. "They make something out of nothing. They make a home here against impossible odds and make a place better than when they found it."
Adrales is an award-winning theatre artist and Associate Artistic Director at Milwaukee Repertory Theater. Her
In the Heights
is a co-production between Milwaukee Rep, Seattle Repertory Theatre and Cincinnati Playhouse in the Park. When asked how this three-city model changes her approach, Adrales says she took great care in casting — a process which took place across five American cities.
"To tell a story that is this personal and this inspirational," says Adrales, "we wanted to put together a family. And this gem of a cast has come together like family, weathering many surprises, long weeks, sickness and countless moments of joy."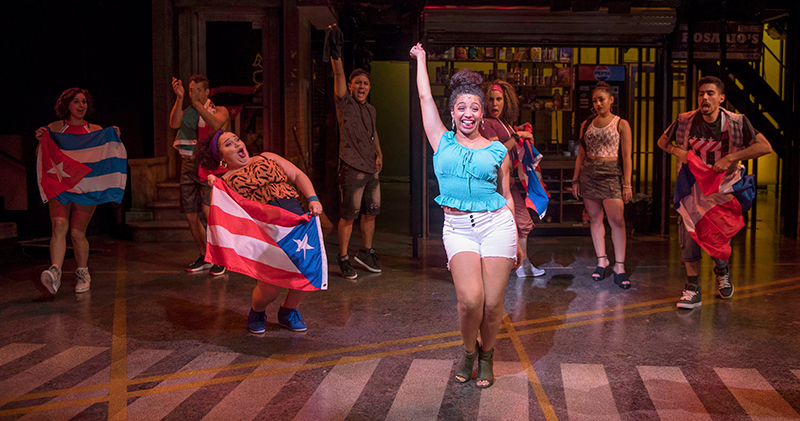 The cast of In the Heights. Photo by Michael Brosilow.
Much like
Hamilton
,
In the Heights
has been praised for the rich new roles it has created for actors of color. Cast member Lillian Castillo (who plays Daniela) told the
Milwaukee Journal Sentinel
, "If you're a Latinx person, you hear that music, you're like, 'Oh, that's me, that's my family, that's my mom, that's my grandma.'"
In the Heights
bursts with not only a multicultural appeal but a multigenerational one as well. Throughout his tenure, Playhouse Artistic Director Blake Robison has maintained a special focus on multigenerational programming — plays that speak to all ages of theatregoers. Robison thoughtfully seeks out stories that work on multiple levels and engage grandparents, parents, teenagers and children alike.
In the Heights
, with its relatable themes and its can't-look-away energy, is just the kind of show to join
A Christmas Carol
and
Treasure Island
in fulfilling that mission for the Playhouse and captivating audiences young and old. As
The New York Times
declared, "When this musical erupts in one of its expressions of collective joy, the energy it gives off could light up the George Washington Bridge for a year or two."
To learn more about the Playhouse's production of
In the Heights
, visit our
production detail page
.