The Music and Language of IN THE HEIGHTS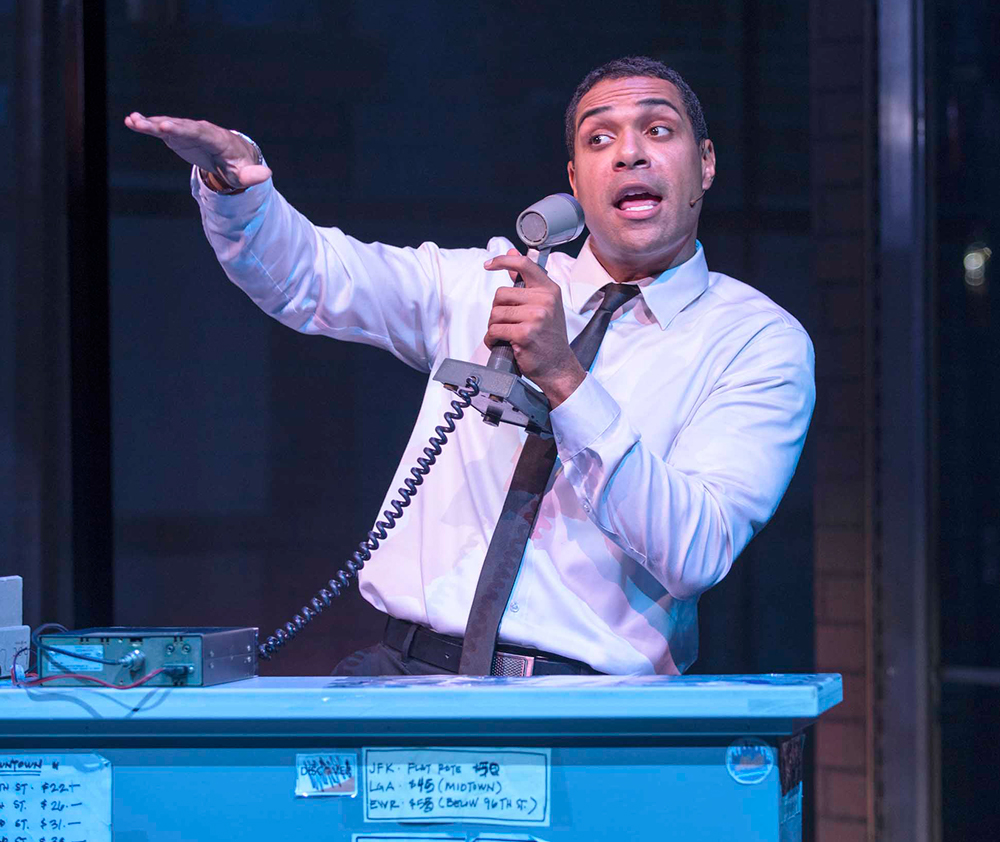 When it first hit Broadway in 2008,
In the Heights
won a Grammy and four Tony Awards, including Best Orchestration and Best Score. Take a deeper dive into the acclaimed music and language of Lin-Manuel Miranda's first smash hit.
---


THE MUSIC
In the Heights
combines the multiple musical styles listed below to capture the flavor of Washington Heights and the world of our protagonist, Usnavi.


Rap and Hip-Hop:
In songs like "In the Heights" and "96,000," Usnavi and other characters use rap and hip-hop to narrate and move the plot forward and to highlight the generational differences between the characters.


Traditional Musical Theatre:
Ballads such as "Breathe" and "Inutil" present more familiar musical theatre styles. Miranda's lyrics also reference classic songs. For example, in "In the Heights" he says, "It's gotten too darn hot, like my man Cole Porter said," referencing the famed American composer and songwriter's lyrics to "Too Darn Hot" in Kiss Me, Kate.

Latin Rhythms (Salsa, Merengue, Samba):
Latin rhythms and musical styles reflect the many cultures that come together in the show. "The Club," "Paciencia y Fe" and many of the songs utilize these styles in some way.


Soul and R&B:
In songs like "When You're Home," Miranda combines Motown-inspired soul music with the other styles that flow throughout the show.
---
Below is a Spotify playlist of the original cast recording, including the songs mentioned above. Get a taste of the music of In the Heights by listening before you come to see the Playhouse production, or enjoy the music after you witness it live onstage.
---

THE LANGUAGE
The interplay between Spanish and English is an essential part of the storytelling of In the Heights, due to the deep Puerto-Rican and Dominican roots of the community that the story follows. Characters merge the two languages in different ways depending on the context.

When asked about the use of Spanish in the play during an interview with Swarthmore College, Lin-Manuel Miranda said:
"It's enormous fun to write in two languages. It's enormous fun to write songs where we rhyme Spanish with English. We had a great system of checks and balances, in that our director Tommy spoke no Spanish, so I'd write sections and he'd go, 'Okay, you lost me.' … I wanted everyone to feel as welcome as possible in this neighborhood, the same way I felt welcomed in Anatevka when I saw Fiddler on the Roof, even though that's totally outside my experience.

"I remember having fights with my Spanish teachers in high school… I had a very Spanish-purist Spanish teacher who was like, 'Spanglish is fun, but it's a mongrel thing between two things.' And that just is not how I experienced [it], and I'm biased. I spoke Spanish at home and English at school, and I spoke a mix of both but, at the same time, what's fun is then consciously picking, 'Well, okay, why do I feel the impulse for this character to speak in Spanish here?' I'm someone who very much writes first and then goes back and edits and goes, 'All right, well, let's be smart and how are we using this?'

"One of my favorite sections, it was one of the last sections we wrote for the show, is a section in Nina's song, 'Breathe', where the community is singing to her in Spanish and they're singing about their expectations for her. They're saying 'Nina, Nina. No me preocupo por ella.' … and she sings, 'They're not worried about me.' The challenge of having her basically translate all of the burdens and expectations they're placing on her. Every line they sing, she sings it back to them in English, increasingly freaked out until she bursts into this whole other soliloquy."
The integration of Spanish and English is used in several ways in the musical:

• Characters use code-switching or word substitution: "All drivers, atención! Bajen las ventanas, apaguen el aire! I got three cars overheated already."
• Borrowing and phonetically adapting an English word to make it sound more Spanish: "It's an estrech, but I can do it."
• Phonetic translation is directly adapting a word based on the sound of the English word: quara for quarter, pantijos for pantyhose.
• Direct translation from Spanish to English or vice versa.
• Characters speak or sing certain parts only in Spanish.
• Characters speak or sing certain parts in Spanish and then translate to English.
• Conversations occur with one character speaking Spanish and the other responding in English.
---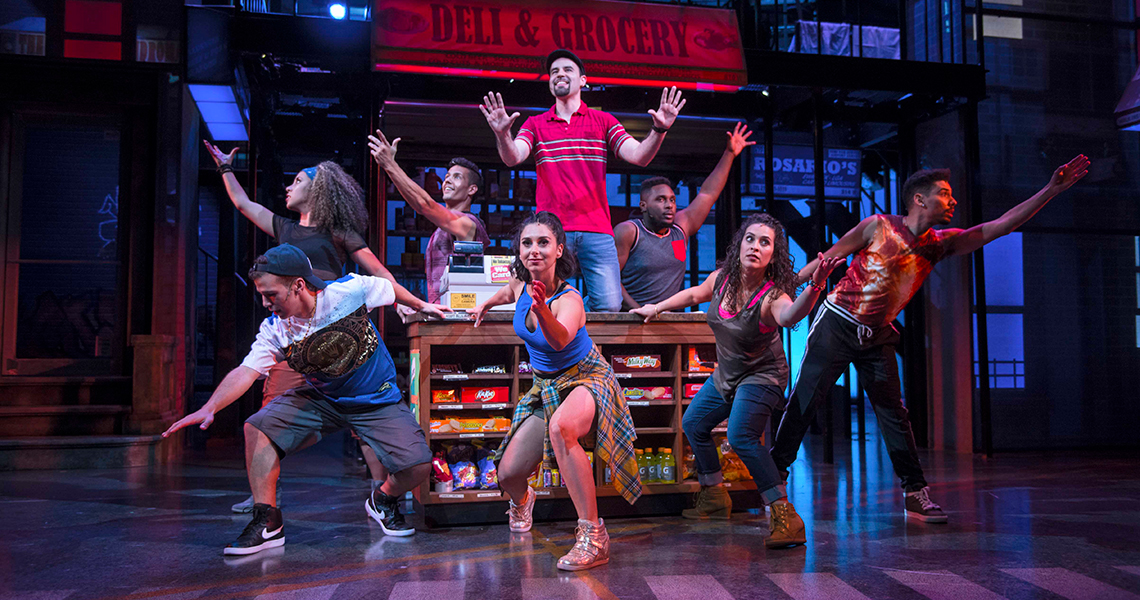 To learn more about the Playhouse production of In the Heights, visit our production detail page.

This blog includes dramaturgical content written and provided by Milwaukee Repertory Theater.

Pictured (top to bottom, left to right): Benny (David Kaverman); Nina (Sophia Macías) and Usnavi (Ryan Alvarado); Usnavi (Ryan Alvarado); Nina (Sophia Macías) and Benny (David Kaverman); Vanessa (Stephanie Gomeréz), Nina (Sophia Macías), Ensemble (Alexander Gil Cruz), Daniela (Lillian Castillo) and Piragua Guy (Henry Gainza); Benny (David Kaverman); the cast of In the Heights. All photos by Michael Brosilow.