5 Questions With John Ford-Dunker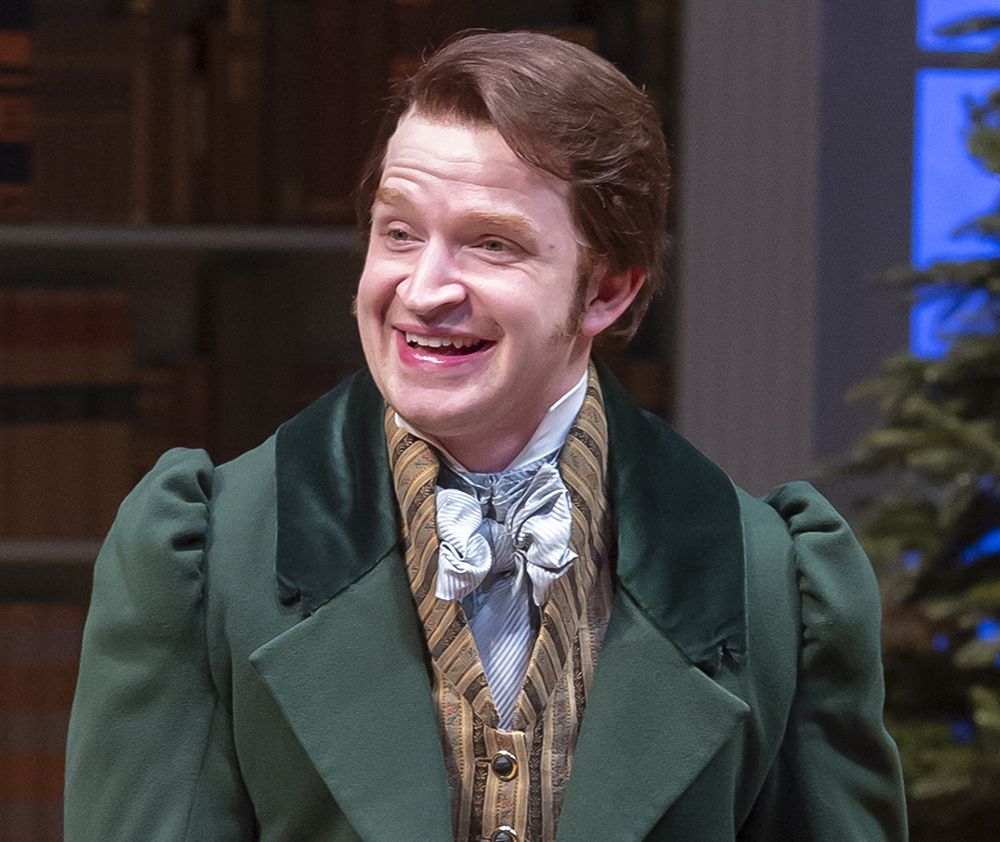 John Ford-Dunker plays Charles Bingley in
Miss Bennet: Christmas at Pemberley
.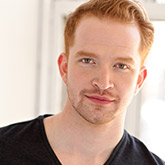 John is honored to be making his Cincinnati Playhouse in the Park debut! His regional credits include
Red
(Geva Theatre Center);
King Charles III
and
The Curious Incident of the Dog in the Night-Time
(Pioneer Theatre Company); and
That High Lonesome Sound
,
So Unnatural a Level, A Christmas Carol
and
The Glory of the World
(Actors Theatre of Louisville). Other credits include
The Glory of the World
at Brooklyn Academy of Music,
soot and spit
at New Ohio Theatre,
Macbeth
with Old Hat Theatre Company and
Hands on a Hardbody
at Park Playhouse. Recent television credits include "Clueless Gamer with Aaron Judge" on
The Conan O'Brien Show
. John is an alum of the University of Wisconsin-Stevens Point, as well as the Professional Training Company at Actors Theatre of Louisville. A native of Fargo, North Dakota, John currently resides in Brooklyn, New York. His original music can be found on
Soundcloud
under his name.
---

How long have you been acting, and where did you receive your training?
I have been acting since I was 6 years old. My first play was called
The Wiz of the West
and it was a strange, western take on
The Wizard of Oz
… I think. It was put on by the Missoula Children's Theatre touring company. One of my cousins who was in that show with me lives in Cincinnati now and was at
Miss Bennet
's opening night! I received a BFA in Musical Theatre from University of Wisconsin - Stevens Point and was also a member of the Professional Training Company at Actors Theatre in Louisville during their 2014-15 season.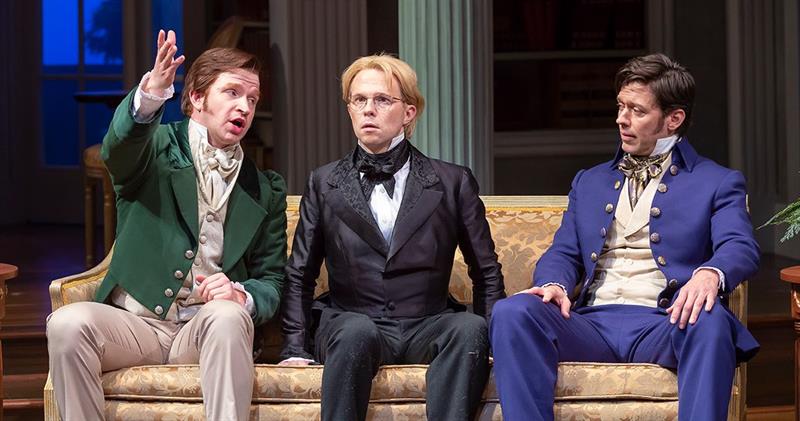 Charles Bingley (John Ford-Dunker), Arthur de Bourgh (Andrew Fallaize) and Fitzwilliam Darcy (John Keabler) in Miss Bennet: Christmas at Pemberley. Photo by Mikki Schaffner.

When did you know you wanted to be an actor, and what's your favorite part of the job?
I went on a drama trip to Minneapolis/St. Paul when I was in high school. We saw two shows, both of which I remember vividly. One was a production of
Macbeth
at The Guthrie Theater. The other was
The Lost Boys
of Sudan by Lonnie Carter, a docudrama about a group of boys who were displaced (to Fargo, my hometown) during the Second Sudanese Civil War. That show imprinted the value of theatrical storytelling on me in a totally new way. My favorite part of the job is learning from the other actors. I learn more on each show I do than I could possibly learn in a classroom setting.
Immersion
, if you will.
What is your all-time favorite role you've performed, and why?
Ken in John Logan's
Red
. It's a story about Mark Rothko, the painter, and his relationship with a fictitious apprentice who is just starting out as an artist himself. It was the first gig I booked after Louisville and I couldn't have been more similar to Ken. The guy playing Rothko was a master in his own right, so there was a very magical duality between the story we were telling and the ones we were living.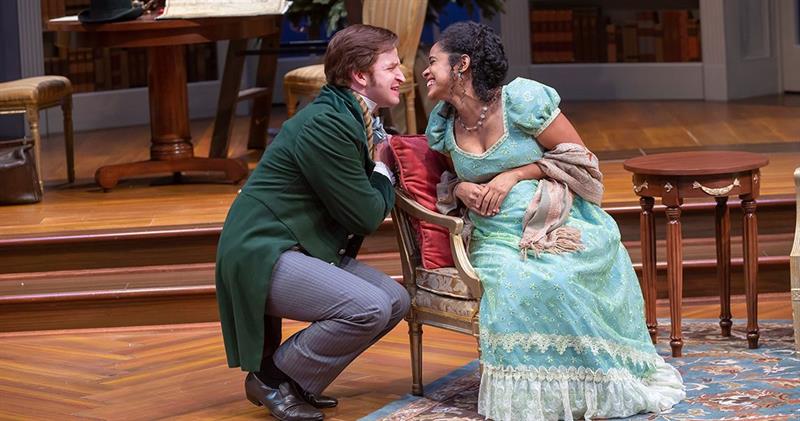 Charles Bingley (John Ford-Dunker) and Jane Bingley (Maribel Martinez) in Miss Bennet: Christmas at Pemberley. Photo by Mikki Schaffner.
What role have you been dying to play, and why?
I'd love to play Jason in Lynn Nottage's
Sweat
. It's a play that's being done a lot regionally now and with good reason due to the mirror it holds up to a lot of marginalized voices. I've started to find a bit of niche playing bad guys (shocker) in stories that champion marginalized communities, and while Jason isn't necessarily a villain, he is a character that a lot of straight white male folks in Middle America could learn from right now.
What has been the most interesting part of working on Miss Bennet: Christmas at Pemberley so far?
The last four shows I've done have been dramas, so it has been great to work the comedic muscles again. I've also rediscovered how much of acting is listening, not just to the other actors but to the audience as well. I find that actors (for the most part) are some of the best listeners around. In fact, if someone in your life is telling you that you're not a great listener, perhaps consider taking an acting class!
---
To learn more about the Playhouse's production of
Miss Bennet: Christmas at Pemberley,
visit our
production detail page
.