CINCINNATI KING: Music Director's Notes by Richard Livingston Huntley
Richard is the music director and drummer for
Cincinnati King
.
Richard, a resident of New York City for 25 years, now resides in Austin, Texas. He has performed in over 30 countries worldwide, including major jazz, blues and world music festivals. He has performed and/or recorded with jazz greats George Coleman, Dave Liebman, Harold Mabern, Mulgrew Miller and Esperanza Spaulding, Brazilian legend Dom Salvador, singer-songwriter Natalie Merchant, New York bordello blues band Hazmat Modine, and the Gangbe Brass Band from Benin, Africa. Recent recordings include a piano trio with pianist Nikolaj Hess and bassist Cameron Brown titled The Art of The Hang, and a recording with Finnish guitarist Niklas Winter to be released in 2019. He holds an MM from The Manhattan School of Music, where he was on the faculty for 12 years, and is a featured clinician worldwide. He is an endorser for Handmade custom drums, Bosphorus cymbals, Regal Tip sticks and brushes, and Beato drum bags.
---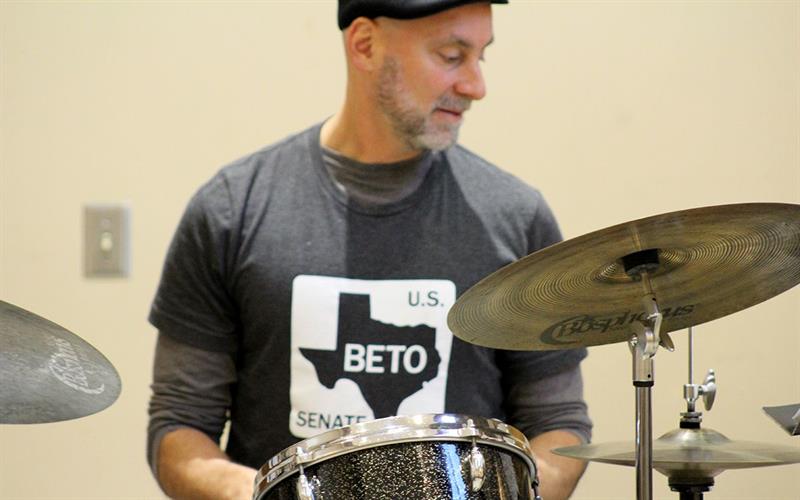 Music Director/Drummer Richard Livingston Huntley in rehearsal for Cincinnati King.
I remember clearly the first time I had heard multiple versions of the King records hit song "Blues Stay Away From Me." The eerie, plaintive twang of The Delmore Brothers, the gutbucket cry of Lonnie Johnson and the doo-wop-infused Otis Williams and The Charms. I was blown away — I listened to the three versions repeatedly one afternoon, over and over again. How could one song be arranged, sung and delivered with such a completely different feeling, grooves and swing?
Being a jazz musician myself, I knew of King Records mostly through James Brown. But I had no idea of the breadth and scope of the King catalog, music that would revolutionize the world and usher in rock 'n' roll. King had the organist Bill Doggett? Blues guitarist Freddie King? Country music? So many styles and flavors — music that was pulsing and swinging with an intensity and spirit that sounds just as vibrant and fresh today as the day it was released.
This playlist — curated by Music Director Richard Huntley — served as inspiration for the music in Cincinnati King.
As I started doing more research, I began to see the connections running through the music and musicians.
Take Tiny Bradshaw's band, for example. Steeped in the big band swing of the 1930s and 1940s, the band combined jump blues with a backbeat, setting the stage for rock 'n' roll. Notable musicians in that band included the legendary saxophonist Sonny Stitt, the great bassist Curly Russell (who incidentally played with Art Blakey and Jazz Messengers, which was the very first record I bought). And the drummer Philip Paul — who played with Charlie Parker, Dizzy Gillespie and Bud Powell — my heroes!
As I dug deeper, I learned that King had an interracial studio band, which, for the 1950s and 1960s, was very rare indeed. Who were these fabulous unsung heroes who could create such exquisite and memorable music — music that would be the foundation for rock 'n' roll, soul, R&B and country music? Who could record a song flawlessly in one take, turn on a dime and record in a completely different style, while delivering consistent and outstanding performances — every time?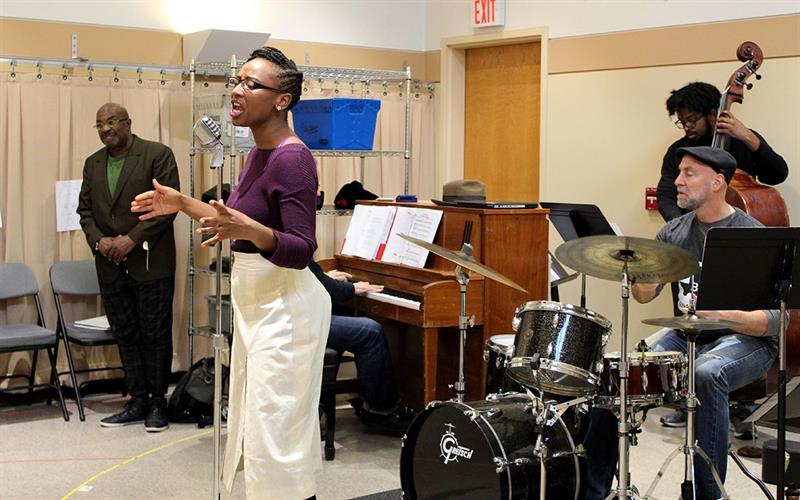 Stanley Wayne Mathis (Philip Paul), Anita Welch (Woman), Ralph Huntley (Pianist), Terrell Montgomery (Bassist) and Richard Livingston Huntley (Music Director/Drummer) in rehearsal for Cincinnati King.
This was in an era, mind you, when the music was recorded at the same time, with musicians in one room playing live — with no over dubs or "punch-ins" to correct a mistake. One had to play it correctly or live with the consequences — there were no computer programs to correct a wrong note, a ripple in the groove or a waiver in the pitch.
That, to me, is the real genius of this music, and I truly hope it inspires deeper listening, discovering and enjoyment.
---
To learn more about the Playhouse's production of
Cincinnati King
, visit our
production detail page
.