A Zany Blend of Amusements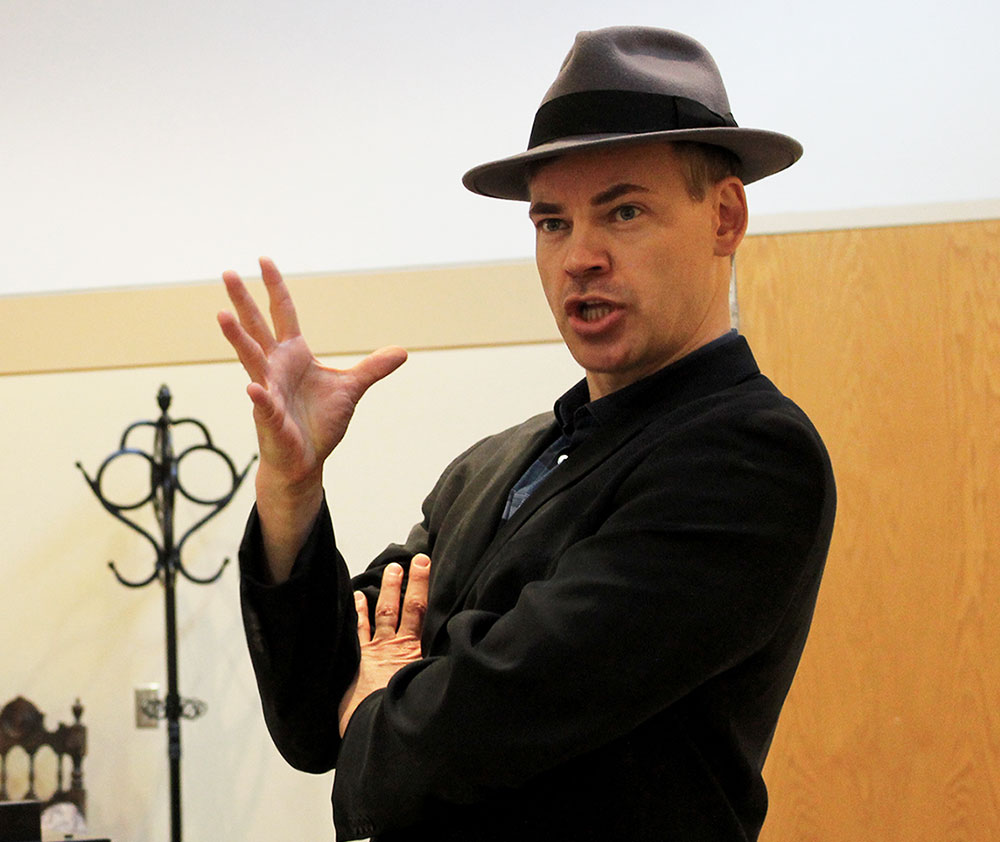 The musical comedy whodunit
Murder for Two
starts with a bang when the great American novelist Arthur Whitney is found dead on the night of his surprise birthday party. When a dimwitted detective takes on the case, interviewing the dozen suspects on the scene, the evening unfolds into a riotous murder mystery that's a fusion of favorite theatrical genres.
Murder for Two
was written and composed by Joe Kinosian and Kellen Blair. The pair first collaborated at the BMI Musical Theater workshop in 2008 and realized they had similar interests in books and film, as well as similar senses of humor.
"We thought about what we both liked, which was Agatha Christie and the Marx Brothers," Blair explained in an interview with
The Playbill Collector
. "The way that they incorporated music into their comedy was exciting. The structure of a murder mystery seemed great for a first show."
In addition to their influences of Christie and the Marx Brothers, Kinosian and Blair incorporated other well-known genres like theatrical farce, vaudeville and musical hall, and British panto. Shaken, stirred and set to piano, the result is a zany, 90-minute, murder mystery musical that pays homage to some of the most humorous and amusing styles of entertainment.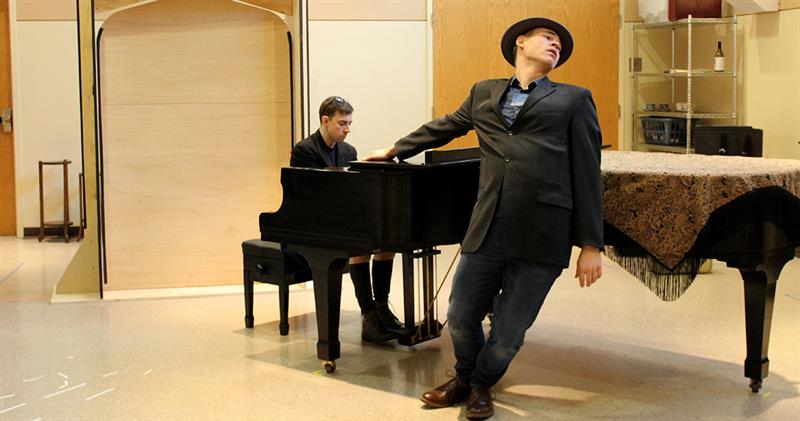 Eric Shorey (The Suspects) and Eric Van Tielen (Marcus Moscowicz) in rehearsal for Murder for Two.
Agatha Christie's Murder Mysteries
Regarded as "the Queen of Crime," Christie published more than 80 mystery novels throughout a 50-year career. Through serial characters like detectives Hercule Poirot and Miss Jane Marple, Christie set the standard for the mystery novels that we know today. She was both psychological and creative in her writing, and she formed highly developed characters who spoke in carefully composed dialogue. Stories unfolded like real-world investigations before they ultimately landed in a double-barreled switch finish.
What to watch for in
Murder for Two
:
• A murder within minutes of the show's start
• A slew of suspicious suspects
• A detective who's determined the crack the case
The Marx Brothers
Brothers Chico, Harpo, Groucho, Gummo and Zeppo Marx left an indelible mark on theatre and film. With years of successful (and, more often, unsuccessful) theatre performance behind them, the Marx Brothers were well-seasoned, comedic mavericks. Their farcical, onstage antics offered a seamless transition from vaudeville theatre to the excessive, slapstick comedy of film. Their humor was madcap, ensemble-based and full of ridiculous hijinks.
What to watch for in
Murder for Two
:
• A seemingly simple murder investigation thwarted by lunacy
• Physical comedy set to vaudevillian music styles
• Moments of Groucho-inspired, deadpan humor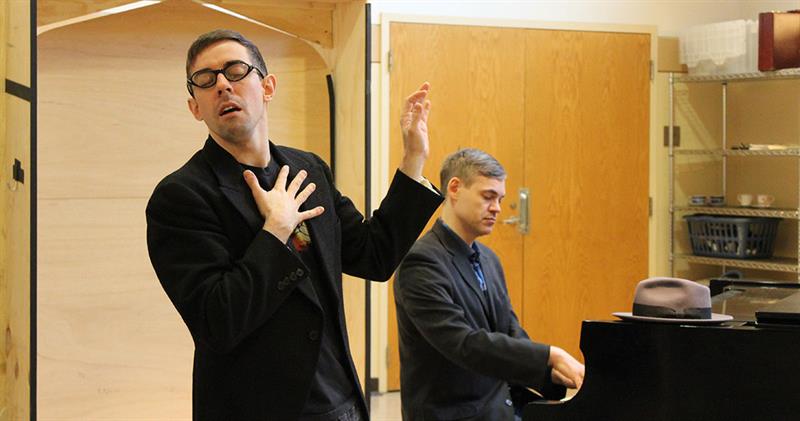 Eric Shorey (The Suspects) and Eric Van Tielen (Marcus Mascowicz) in rehearsal for Murder for Two.
Farce
A theatrical form of drama, farce is defined by absurd and improbable plots, exaggerated characters in outlandish situations and hilariously crude, lowbrow comedy. Its entertainment origins trace to 15th-century France, where performers combined clowning, acrobatics and caricature into a single piece. Farce also grew out of the Italian performance style commedia dell'arte. Popular in the 17th and 18th centuries, commedia dell'arte used farcical aesthetic in stock situations, improvisation and puppets to draw constant laughter from the audience.
What to watch for in
Murder for Two
:
• Whacky characters, such as the murder victim's widow who wants the detective to also figure out who stole the ice cream
• Crudely written dialogue with plays on words woven delightfully throughout
• An invisible character with whom the detective interacts onstage
Vaudeville and Music Hall
Vaudeville and musical hall variety entertainment grew directly out of the farce genre. What sets it apart is its integration of live music. This style of performance was hugely popular in America from the 1890s to the 1930s and was typically seen on frontier settlements and in beer halls, taprooms, taverns and any social venue that served working class audiences. Onstage theatrics included juggling, miming, acrobatics, stand-up comedy, dancing and magic.
What to watch for in
Murder for Two
:
• Snazzy piano playing by both members of the cast
• Comedic, musical performance styles
• A single actor who embodies a dozen, over-the-top characters
Eric Shorey (The Suspects) and Eric Van Tielen (Marcus Moscowicz) in rehearsal for Murder for Two.
British Panto
A product of English theatre, British panto (pantomime) is a traditional form of comedic, satirical performance. Actors typically portray characters opposite of their gender and infuse their performance with slapstick comedy, in-jokes, song and dance, audience participation and various types of buffoonery. British panto shows typically take place around Christmas time and offer humorous retellings of well-known children's stories and fairy tales.
What to watch for in Murder for Two:
• Plenty of slapstick and buffoonery
• The portrayal of female characters by a male actor
• Self-referential in-jokes that get progressively funnier as the play goes on

Can't wait to see how Murder for Two brings all of these entertainment styles together? The mystery unfolds in hilarious fashion in the Shelterhouse Theatre starting May 5. To learn more, visit our production detail page.


Photo of Eric Van Tielen above in rehearsal for Murder for Two.