5 Questions With Olivia Cygan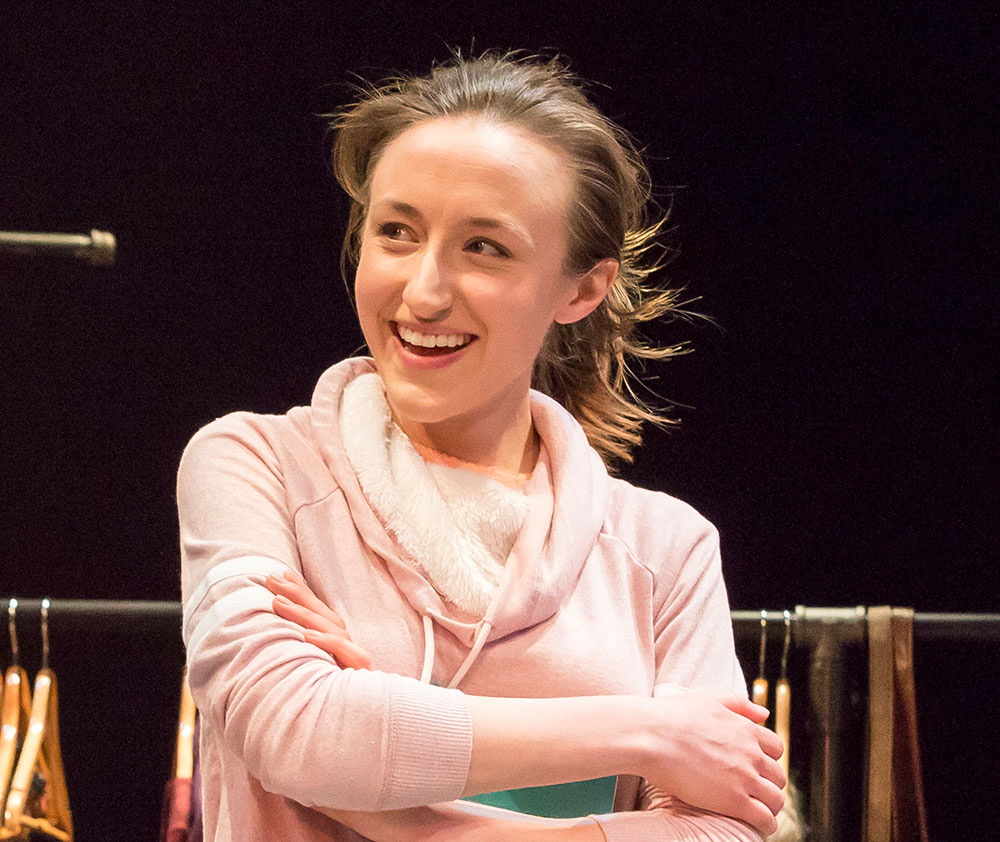 Olivia Cygan plays Lexie in the world premiere of
Sooner/Later
.
Olivia is delighted to make her Cincinnati Playhouse in the Park debut! She is a New York-based actor and a proud native of Chicago, where recent credits include the world premieres of
The Burials
at Steppenwolf Theatre Company and
Feathers and Teeth
at Goodman Theatre, as well as The Gift Theatre Company's production of
Richard III
at Steppenwolf. She has also had the pleasure of working with TimeLine Theatre Company, Piven Theatre Workshop, Hamlet Isn't Dead and others. Television credits include
Gotham
on FOX. Olivia is a recent graduate of Northwestern University and has trained at the Stratford Festival, the Royal Academy of Dramatic Art and with Kristin Linklater in Scotland. Love to MPPP, GG, W. @oliviacygan
How long have you been acting, and where did you receive your training?
I worked for the first time when I was 10, and I was really, really lucky to live in Chicago, a city where it was possible for a kid to try out "real" acting in a healthy, lower-key, good-for-the-soul kind of way. I was lucky to be in rooms full of kind, humble, hardworking pros and luckier to have parents who made sure I climbed actual trees and read books and did my math homework, too. I studied theatre at Northwestern University, and I was fortunate to meet professors there who offered me opportunities to work in the city while I was still a student. It was pretty extraordinary to leave acting class, hop on the train and go do a play eight times a week.
When did you know you wanted to be an actor, and what's your favorite part of the job?
That first show was a dream. I was a few decades younger than most of the other actors, but they treated me like a peer and a professional. I remember the thrill of being onstage, but I remember more clearly lying in bed on Sunday night, near tears because I missed the people and the smell of the theatre. It is always about the people. And the backstage snacks.
Theatre is democracy and it's my first form of activism. I interact directly with the audience in this play, and I've been struck all over again by the power of hundreds of strangers entering a room and committing to share an experience. Audience members' hearts beat in unison. (Science says so!) What an enormous privilege, in 2018, to have some hand in creating that opportunity. Pretty much my mission in the world.
Mary Bacon, Olivia Cygan and Todd Cerveris in Sooner/Later; photo by Mikki Schaffner.
What is your all-time favorite role you've performed, and why?
Oh, man, impossible question! How fortunate am I to say that every role has felt like my favorite while I've been working on it. It's tricky to talk about Lexie without giving too much away, but it has been a wonderful challenge to play someone whose need is this deep and immediate. The first part of the show feels a lot like a romantic comedy but Lexie's stakes are Greek in proportion. Reconciling those two is a reminder that need and humor often go hand-in-hand and that everything we fight for onstage should be as important as life or death.
What role have you been dying to play, and why?
Hannah in
Night of the Iguana
by Tennessee Williams. She's an artist and her mission in life is to paint people pictures of themselves that are generous and true. I mean, come on! She works for selflessness and grace, but she's ultimate proof that still waters run deep and rough. I'm drawn to women it's easy to idealize. Juliet in
Romeo and Juliet
isn't an "ingenue" in the traditional sense — she's a passionate, hormonal 13-year-old girl who becomes a wiser, braver, more decisive 13-year-old girl. Her language is beautiful and her will is extraordinary, but you gotta remember that she probably has zits.
I also want to play a dog. Or a puppy who's still like. "why are my ears and paws so big?!"
Todd Cerveris, Olivia Cygan and Mary Bacon in Sooner/Later; photo by Mikki Schaffner.
What has been the most interesting part of working on Sooner/Later so far?
This is a team of deeply good, fun, funny souls. Really, the most interesting, joyful part is getting to know everyone in the room through conversations about the play and the world. Until previews, though, the missing "character" in our room was the audience. Much of my role is direct address, and it was a joy when we finally had a house full of people. You hope to meet the audience energetically, offer them the chance to laugh with you, invite them into the world — but you have to let them know, in the body and spirit of a teenage girl, how urgently this story needs them. You must leave space for them to think and feel but you must ask and fight for what you need. It's a totally wonderful job, and Playhouse audiences are some of the most generous and engaged I've met. It has been such a pleasure.
To learn more about the Playhouse's production of
Sooner/Later
, visit our p
roduction detail page
.