A Musical Comedy to Die For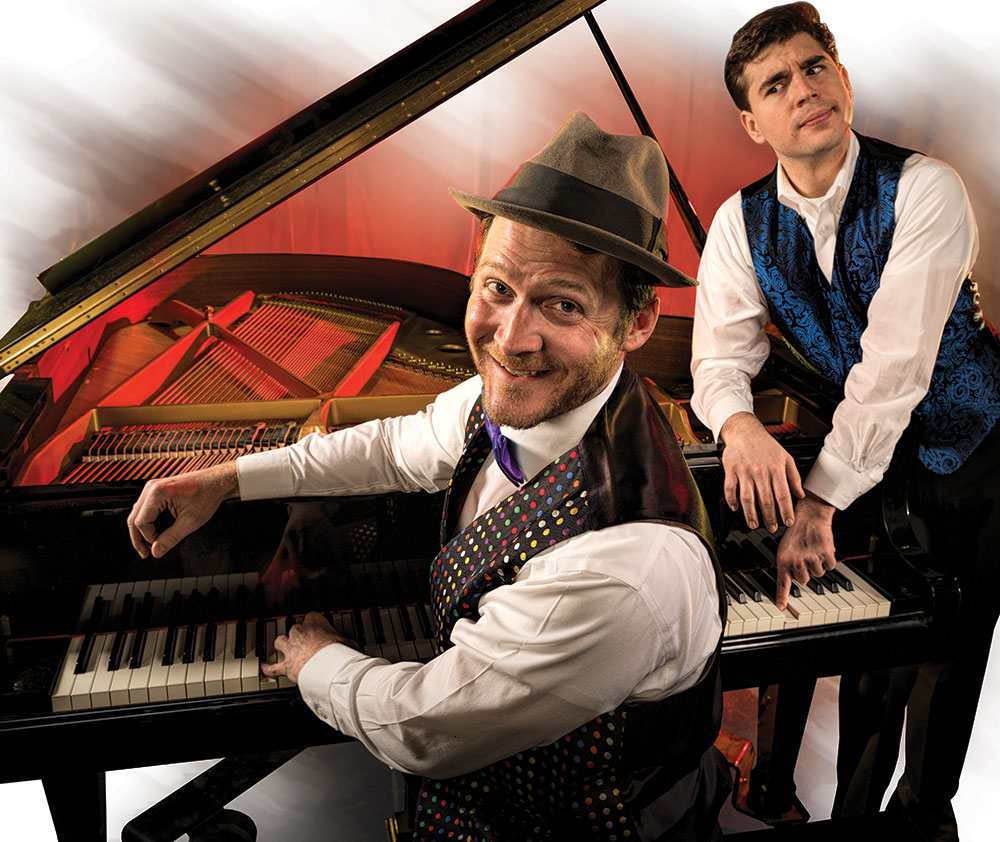 Who killed the great American novelist Arthur Whitney? When he's found dead in his isolated, rural mansion on the night of his surprise birthday party, every guest as a motive. Could it be his loopy, scene-stealing widow? Or the glamorous, but menacing, prima ballerina? Maybe it's the loose-lipped, overly friendly psychiatrist? The mystery unfolds in hilarious fashion as one actor plays an overwhelmed detective and another plays a dozen suspects — and they both play piano.
Written and composed by Joe Kinosian and Kellen Blair,
Murder for Two
is a comical throwback to classic whodunit novels of the 1920s and is performed with zany, vaudevillian sensibility. The show's inspiration came when Kinosian and Blair were paired up to collaborate at the BMI Musical Theater workshop in 2008.
"Early on we had the idea: what if the Marx Brothers performed an Agatha Christie play?" Blair explained in an interview with 5th Avenue Theatre. "The detective would be trying to take things seriously because the stakes would be so high, but inevitably things would just devolve into chaos."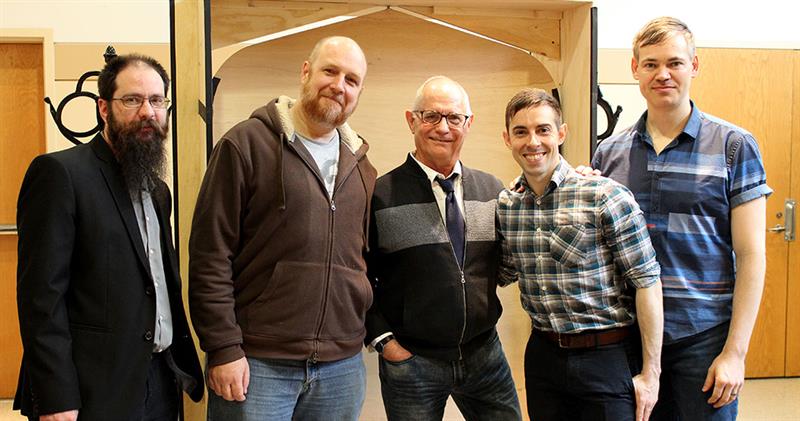 Sound Designer Jason Sebastian, Music Director Steve Goers, Director Paul Mason Barnes, Eric Shorey (The Suspects) and Eric Van Tielen (Marcus Moscowicz) at the Playhouse's Meet and Greet for Murder for Two.
The play's approach — that it calls for two actors to play more than a dozen characters — reflects the time that it was written in more ways than one. When Kinosian and Blair collaborated, the theatre industry was in the thick of scaling back extravagant productions in favor of more economical shows as the result of the financial crisis of 2008. These circumstances, combined with the authors' newness to the industry's big leagues, influenced them to be shrewd and resourceful.
"We wanted to do something on our own, but we had no representation, no connections or resources," Kinosian said in an interview with Red Barn Theatre. "So, we decided to write something a little more financially feasible that we could produce ourselves. Something to amuse our friends and ourselves and that we could do at the Duplex Cabaret in the Village, where a lot of us hung out."
"It occurred to us that we probably wouldn't get very far as two newbies with a big expensive show on our hands," Blair said. "Once we decided to go 'small,' we actually found it really rewarding to start brainstorming how to use those limitations as not a hindrance but in fact an integral part of the storytelling."
The result is a highly entertaining farce defined by its exaggerated characters, music hall entertainment and silent film-style comedy. And the results speak for themselves: when
Murder for Two
made its world premiere at Chicago Shakespeare Theater in May of 2011, it was extended four times and ran for a total of six months. Its off-Broadway production at Second Stage Theatre was extended twice before it was transferred to off-Broadway's New World Stages for a nine-month run. The musical then enjoyed an 18-month national tour, a
Murder for Two: Holiday Edition
premiere at Bucks County Playhouse and nominations from the Drama Desk, Outer Critics Circle and Lucille Lortel awards. Kinosian and Blair also won the 2011 Joseph Jefferson Award for Best New Musical Work.
Not bad for a couple of "newbies."
Eric Shorey (The Suspects) and Eric Van Tielen (Marcus Moscowicz) at the Playhouse's Meet and Greet for Murder for Two.
The Playhouse's production of
Murder for Two
is directed by Paul Mason Barnes, who makes his Playhouse debut with the musical comedy. Directing credits across the country include the Repertory Theatre of St. Louis, Denver Center Theatre Company and the Folger Shakespeare Theatre, among many others. He is a founding producing director of the Great River Shakespeare Festival in Winona, Minnesota, and of the Oregon Cabaret Theatre.
"Kinosian and Blair have framed a fun and delightfully intriguing story with a delectable confection of zaniness and style," says Barnes. "My job will be to honor their story and the style with which they've chosen to tell their story as best I know how."
Barnes brings with him a decades-long career that ranges from classical plays to musicals to comedies to new works. Experience with shows such as
The Mousetrap
,
Noises Off
and
Stones in His Pockets
equally inform his approach of Murder for Two. Still, the unique performance style that calls on two actors to embody multiples characters poses its own artistic obstacles.
"Kinosian and Blair have certainly provided a broad and challenging variety of people for us to bring to life," says Barnes. "And I'm looking forward to getting acquainted with each and every one of them."
This musical comedy whodunit — which
The New York Times
called "ingenious" — begins previews in the Sheltherhouse Theatre on May 5. For more information, visit our
production detail page
.